20 Reviews
Recommended by 95% of couples
Quality of service

4.8 out of 5 rating

Average response time

4.8 out of 5 rating

Professionalism

4.8 out of 5 rating

Value

4.6 out of 5 rating

Flexibility

4.8 out of 5 rating
1 User photo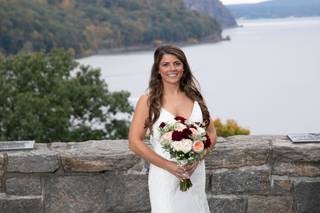 Taryn P.

Married on 10/17/2020

Ultimate Dream Team!

The team at Angel Bridal is by far the most amazing group of women who are so knowledgeable and talented I am not sure why you would go anywhere else. I bought my dress, canceled my wedding because of COVID then tried it on 2 years later- hoping I still liked it. Thank GOODNESS I did but there was one small issue- I had lost some weight. They had to essentially take all of the lace off of my dress, add new straps, take it in everywhere- all without losing the shape of the dress. Every time I went in there saying I loved it they refused to let me leave with it because it was not up to their standards! After 3 visits and A LOT of laughs, I had the dress of my dreams. I cannot thank them enough for making me feel so perfect on my big day. Please, do not even bother going anywhere else. They cater to you in so many ways and will not let you walk out of there without loving the way you look.

angel bridals's reply:

Thank you Taryn! We so enjoyed working with you and your Mom and can't wait for you to send photos!!
Yes, your dress needed a bit more TLC than others, but when we have a designer/seamstress on board it makes the fitting process
less challenging.

Meghan

Married on 10/06/2018

I originally found my dress at another store but I wanted to order through Angel Bridal. Everyone there was so accommodating and made sure my dress was perfect. I had a few fittings before taking the dress home because Rosemary wouldn't let me go before everything was complete! I loved my dress and how it fit perfectly!

Maureen

Married on 07/14/2018

I went into Angel Bridals yesterday with my daughter & her bridal party looking for bridesmaids dresses. They had many different styles for the ladies to choose from. Some wanted off the shoulder, while others wanted some type of straps. Ro assured us that they could add any size strap from spaghetti to lasagna:) Everyone left there feeling happy with the choice they made and I was even able to find my "Mother of the Bride" dress! Very happy we went to Angel Bridals first (and last) we never felt rushed and their prices are extremely reasonable. We can see why they have such rave reviews.

Are you interested?

Send a message

Stephanie

Married on 10/02/2016

Words can't express how happy I am that I found Angel Bridal. I purchased my wedding gown elsewhere, and found Angel when I was searching for bridesmaids dresses. I ended up choosing Angel for bridesmaids dresses, my mom purchased her gown here, and then they saved the day when my alterations at another salon went horribly wrong! I absolutely loved my Sophia Tolli dress and its cathedral length train but problems arose when it was time to figure out the bustle. The shop I purchased the dress recommended either a one point over bustle or 3 point over bustle for my heavy lace train. Not only did it look like a mess & drag on the floor, it would have never held up through the night. After a great experience shopping for bridesmaids & mother of the bride dresses, I knew I wanted to bring my dress to Angel for my (corrective) alterations. They did such an amazing job on my hard to bustle train. I ended up having a whopping 25 or so points (french & over bustle combo). I knew I was in great hands the second they started to dissect, brainstorm and pin my dress. I was beyond impressed and so thrilled with the final look. The bustle stayed up all night and Angel Bridal is to thank! I highly recommend Angel Bridal. My only regret it not finding Angel earlier and purchasing my dress from them!! Rosemarie, Vicki, and Rosalba are amazing, sweet, knowledgeable and SO talented!

Natalie

Married on 08/22/2015

I had gone to a few local bridal salons and then I even hit up a few of the commercial shops. My mother and I were driving down main street and a particular bridesmaids dress in the front window of Angel Bridals caught our eye. We had time to kill so we stopped in to check it out and that is when we met Rosemary. There are no words to describe the overall positive, calming, loving energy that comes over you when you walk into the store. While looking at some dress options for my girls, I found my mother in the far back corner of the store, sobbing, holding a dress. She was in love. After nearly and hour and some encouragement from Rosemary, I tried it on. Once I saw myself, I was sobbing too. Throughout the planning process I was frantic, anxious and feeling discouraged. On this day, everything changed. I was happy! I was confident! I found my dress! And my bridesmaid's dresses too!
Rosemary, Vicky and Rosealba are truly angels. They make you feel like family and truly do care about every person that comes through their doors. Every time we were in for a fitting or just for a quick "hi and bye", we encountered another bride, mother, or customer who had worked with the ladies in the past and were back for more!
The alterations that were done made my feel like I was wearing a piece of art. I cannot say enough about how my expectations were exceeded.
Go visit them and you will not be disappointed!

Kristen

Married on 10/18/2014

This is my 3rd time using Angel Bridal but this time for my own wedding. They have been amazing from beginning to end. Vicki knew when I was having trouble deciding on my wedding dress exactly how to help and it was after leaving there I knew what dress is my wedding dress. Even though they did not carry the designer they were able to order the dress for me and at the lowest cost. All of my bridesmaids ordered their dresses their as well and they all had made comments on how great everyone is there. Even when the designer had made a mistake on my matron's dress it was handled very quickly and their was no issues with the dress when it came in. My mother and my future mother in law also ordered their dresses their as well and they loved them. Even customizing my future mother in laws into a halter. All the ladies at Angel Bridal are very helpful and friendly.

moh here, these ladies are amazing. you feel like you are with family. everyone is super help and truly accommodating. kind of sad i picked up my dress and don't have a reason to go back.

Alexandra

Married on 10/06/2012

They were so nice and easy to work with! They give you the personal attention that I didn't get from other stores. My dress was beautiful and was a great price.

The women at Angel Bridals were such a pleasure to have met and glad I found their shop for my bridesmaid dresses! With dilemmas always arising as a bride, Angel Bridals helped keep me calm when needed. ..While I had to switch a bridesmaid out and switch another girl in with only a few fittings to spare and the girls being different, Angel Bridals helped make the dress work. Everything planned out and recommend Angel Bridals dress shop and also their tea party arrangements!

Stephanie

Married on 08/03/2012

If you are looking for a place that takes the time to find the perfect dress for you and makes you feel special, then this is the place to go. The owners are always there and will work with you on pratically anything you want. The were wonderful to work with and made sure that I stressed about nothing!!!!!! We most definitely highly recommend this place to anyone looking for a wedding dress, bridesmaid dress, or mother of the bride dress. If you find something you like in another store, more than likely, they can get it for you. 5 stars all the way!

Paula

Married on 11/05/2011

A most lovely team of caring and beautiful souls awaits you at Angel Bridals. I cannot say enough about their personalities and service..... I was told the seamstress had "hands of gold" - this is an understatement. Fabulous!

Jessica

Married on 06/14/2008

Angel Bridals went above and beyond to make my dress fit perfect for my wedding. They were very professional and cost effective, They were great at handling getting two wedding gowns altered within a week of my wedding. The seamstress did an amazing job. I Highly recommend this vendor.

Jennifer

Married on 02/19/2005

A small bridal shop where you get a lot of personal attention and great service. I found my dress in another shop and brought all the info to Angels, where they ordered it for me. The bridesmaid dress I found originally wound up to be discontinued and the staff at Angels was so helpful in locating and ordering new dresses. They are so friendly and have a lovely selection of accessories. Highly recommended!

Anna

Married on 04/11/2014

So, what can I say about the Team of Ro & Vicky...ABSOLUTLEY Fantastic! They are the loveliest women you can work with. I was actually a little sad after my last fitting and picking up my dress becuase it was like being with family when you were their. I happen to just see their shop a few times since I have friends in that area. As soon as I walked in it was like being home. I didn't even pick my dress. Ro told me to try it and I initially said "no, not my style", but she looked at me like only a mother can and just said...Things look different off a hanger! and guess what I put the dress on and it was like that "WOW" factor happened. They know their stuff these two ladies.
I got not only my dress, my bridesmaids flowergirl and mother of the bride. Hey why ruin a good thing when you have it. Their service is amazing. Not like any other place I went to. they take pride in what they do and they want you to be happy. They treated my mother so well since she was sick and sometimes had to cancel or make longer appointments since she moved a little slower. Love these ladies and I thank them again for making me my girls and my mother look beautiful on my special day. Everyone was in awe of my dress...and they made it a very very special experieince for us.
Anna

Kristine

Married on 02/09/2008

I absolutely LOVE this shop. To the point that when I picked up my dress, I was actually sad that I wasn't going to have any more reason to go there! Let me start by saying that when I walked in this store, I already HAD my wedding dress…or so I thought. Ok, I found a dress at another shop, that I liked…it was being discontinued, and I realized that I could get the sample at a really great deal. I was not in love with the dress, but I did like it, and my mom and sister loved it. I couldn't pass it up. I just figured that as self critical as I am, I won't love myself in any dress, so I should just take the deal. Well, a few weeks later, I took one of my Bridesmaids to Angel Bridal, to look for BM dresses. I had seen Angel online, and thought the shop looked cute, and I was planning on going there to look for my own dress, before I wound up with the dress I bought. So, I knew I wanted to look at BM dresses there. First of all, I emailed the store owner, asking about making an appointment, on a Sunday, since that's the only day that was good for my BM, because that's when her husband is home to watch the baby. When I didn't hear back right away, I called, and asked. I was told that they weren't open Sunday, I said "thank you, I'll call back…" Then, I check my email, and Rosemary, the owner had written my back. She said, "I think you called about a Sunday appointment, but on the phone you didn't explain the situation to the extent that you did in your email. I would be happy to open the store for you on Sunday, just tell me what time you want to come!" I couldn't believe it! They were going to open up just for me! So, right away, I knew I was on the right track. We get to the store, and Rosemary let us in, and locked the door behind us, we had the place to ourselves, and Rosemary's full attention, it was GREAT! The store is adorable, I felt like I was in my grandma's sewing room, instantly comforted and at home. Colleen tried on some dresses, and as she did, I looked around…and that's when it happened…I saw faux fur peeking out from one of the racks. I thought maybe it was a cape, which I had been considering, since I was having a winter wonderland theme, and really wanted a wintery, snow princess type look. Well, it wasn't a cape, it was a DRESS! I didn't even want to look at it. It was too perfect, and I knew I was just going to fall in love, and be even more disappointed with my first purchase. Well, Mom and Rosemary convinced me to try it on. That was it…I felt like Holiday Barbie, and I felt beautiful…something I didn't think was possible. Rosemary explained that this dress was a sample, from a company that went out of business a few years back. Most dress shops send their samples back to the manufacturer. However Rosemary said that if a dress is different from what they have on the racks, they'll hold on to it, to give brides more options. Thank goodness for that! The dress was a bit snug, but she said that there was plenty of seam allowance, and that it could easily be taken out. She saw my hesitation, but also, could see that I was in love…I was just so anxious at the thought of buying a second dress! What would I do?!? So, she said that she'd hold it…take my time, try to sell the other dress, decide what I want to do. Well, there was no question, I had to have this dress…I told her what the other dress cost, ($400) and she said…"that's what this one is…" That was it…I came back two weeks later, and bought the dress…I still have that first dress hanging in a garment bag, unaltered, waiting for someone to love it as much as I love it's replacement…
Now, back to the shop!!! Colleen picked out a dress…and from that, we decided that the girls would all choose Alfred Angelo designs, just so the colors would be the same. I said, "I hate strapless dresses, so I'd prefer if you don't choose strapless. And I'd like the dresses all to be gown length…" And told them to all choose whatever they liked. I went with them separately, so no one felt pressured, and Rosemary gave everyone personal attention ever time. They have so many different sample sizes too! Two of the BM's were a size 22 and they were able to try on dresses. One was a 16, she tried on dresses, and then there are the size 0-2 girls and they tried on dresses! It was wonderful; no one had to feel left out! One of the girls even chose a dress that had spaghetti straps, but came with a wrap, and they created sleeves out of the wrap! It came out amazing! In the end, everyone was happy, and looked gorgeous. I am SO grateful to Rosemary, and this store, I can't recommend them enough!! The only suggestion I have, is that if you're going to have anything done to the dress, ask if it falls under the alteration cap. They set the cap at $65, but I think that's just for basic alterations, letting out, taking in, a hem, etc. Anything else will be extra. Some of the girls didn't realize this, so were surprised by their alterations price…which caused me MUCH anxiety. But, Rosemary did the break down, and I saw why they charged what they did with the custom alterations, and it was fine…But, in retrospect, that all could have been avoided if we'd asked more questions. But, it all worked out in the end!! If you're looking for that dress shopping experience you always imagined, GO TO ANGEL BRIDAL!!!


Michelle

Married on 12/31/2016

I had such an amazing experience with Angel Bridals. I grew up in the area but now live in the UK. When I decided to plan an international wedding in six months, I was convinced there would have to be some compromise on the dress. At my mother's suggestion we made an appointment at Angel Bridals during a visit three months before the wedding. From the moment we walked into the shop, it felt like we were meeting with old friends. They took their time, let me try on a number of dresses and, when I found the *almost* perfect one, they figured out exactly what needed doing to make it "mine". They also skilfully managed the balance between slightly stressed bride and over-excited MOB. Needless to say, I found my dress at the first place I went to, and the follow up organising, straight through to my last fitting a week before the wedding (Christmas week) were fantastic. Thank you so much Rosemary, Vicki and Rosalba for making what could have been one of the most stressful parts of planning a wedding one of the more enjoyable!

The ladies at Angel Bridals are AMAZING! Rose Alba did an amazing job altering my wedding dress. Rosemarie was an absolute joy to work with. I highly recommend Angel Bridals for bridesmaids dresses, wedding dresses and alterations.

Kendra

Married on 07/16/2010

I found the most beautiful bridesmaid dresses at Angel Bridal! I live in Connecticut and my girls are from all over the island. AB was extremely accommodating since we weren't all able to come in at the same times.

I didn't purchase my wedding dress from AB but they did my alterations which were perfect!

All the women in the shop are super nice and supportive!



Lauren

Married on 06/27/2014

Angel Bridals did a fantastic job on my wedding dress. I was disappointed to learn that they didn't carry the wedding dress I wanted, but I knew that they would do a beautiful job with the alterations and I didn't want anyone else to touch it. I am so glad a brought my dress to them. I originally purchased a size 8 and then I went crazy working out and getting in shape before the wedding. I lost approximately 20 pounds. They altered my dress and made sure it fit perfectly. My dress was all lace so this was no easy task. I think I only went there for two fittings and that was only because I didn't have the belt I wanted added to the dress with me the first time I went. I never tripped on my dress, it was the perfect length and even though it was strapless, I never had to pull it up. It fit like a glove. Two weeks before my wedding I learned that my maid of honor got ripped off online and received a faux Alfred Angelo dress. The dress was the completely wrong color. Angel Bridals helped me after I bought a size four dress off of eBay for my friend who was really a size six. They altered the dress with less than two weeks notice and she looked beautiful the day of the wedding. They truly saved me. Their prices are a little high, but I also believe you get what you pay for. They offer flawless work and when it comes to your wedding dress you should never cut corners.

To be honest I never take the time to write a review. But I was so unsatisfied, unhappy and very very disappointed with Angel Bridal. When you go there they are as nice as can be until you make a purchase. I purchased my wedding gown and my mother purchased her gown.

It is so exciting when you finally get the call that your wedding gown has arrived. I went as soon as I could to try it on and they made the experience awful. They were so consumed with another party of women to try to make a sale that my experience was just upsetting. I was not a picky bride in any way but my gown was a big deal to me.

Then it came down to alterations for my mothers gown and mine. They were clueless to say the least. Thank goodness my mom went to school for design so she new what to tell them because I had to no clue. But the fact that my mom had to tell the so called professionals what to do is a major red flag. They kept trying to say that it was fine when the fact was it really wasn't!

It ended up my mother was extremely unhappy with her dress but at this point did not have enough time to get a new one. She was the mother of the bride and deserved to feel beautiful. As for my dress it turned out it was big and I kept having to pull it up which I clearly stated I didn't want to have to do. Thank goodness I had asked for straps to attach, which I wanted to use later in the night but pretty much had to put on right after the ceremony. It was also to long so I had to hold it up all night which I also made clear that I didn't want to be bothered with!

Like I had mentioned I never take the time to write a review but this place aggravated me enough to sit down and warn future brides. Every bride wants there dress to be perfect but this is not to place that will make that happen!
Are you interested?
Send a message