27 Reviews
Recommended by 100% of couples
Quality of service

5 out of 5 rating

Average response time

5 out of 5 rating

Professionalism

5 out of 5 rating

Value

5 out of 5 rating

Flexibility

5 out of 5 rating
Awards
1 User photo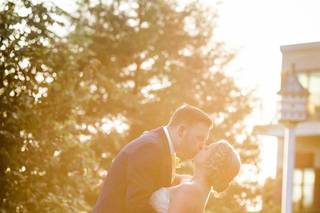 Sarah

Married on 10/07/2018

Beautiful Pictures

Amy did an outstanding job on the photographs. She was very accommodating and allowed me to trade out my engagement session for a photo album instead. Amy took amazing pictures and really made me feel down to earth. She sent me 2 pictures that night and posted a sneak peek a week later. I can't wait to see the rest of the pictures! Thank you, Amy!

Diane

Married on 05/27/2018

Amy was an amazing photographer for our wedding! Despite a torrential downpour, she helped arrange a last-minute first-look, agreed to get drenched to make our photo visions a reality, and put up with countless combinations of family photos with myself and my now-husband. All the while she was professional, accommodating, and fun. Not to mention that, months earlier, she took a series of awesome engagement photos with my then-fiance and our new puppy -- making us feel relaxed and have fun in front of the camera. I'm sure the wedding photos will be even more amazing. I would recommend Amy to anyone -- less expensive than many photographers out there, but amazingly talented and great to work with!

Clara

Married on 05/19/2018

Amy was amazing! Super friendly and sweet and in our budget! We've only gotten our sneak peak photos so far but everyone is saying how amazing the pictures look and how well she captured all the happiness throughout the day, even with all the downpour and muddy wedding dress! We highly recommend her!

Are you interested?

Send a message

Samantha

Married on 10/21/2017

Amy is so sweet! My family keep talking about how much the enjoyed Amy's sweet nature and Marcus' charisma. They were a great team! If our wedding photos come out anything like our engagement photos, we will be extremely pleased. I can't imagine the picture you captured at the receptions but I can't wait! We highly recommend AmyO Photography!!

Stephanie

Married on 10/21/2016

Amy O was by far the best choice to be the photographer for our wedding! Not only did she arrive at the venue before we even got there, but she was by our side the entire time! We had a little issue with the threat of rain, but Amy made the process of taking pictures outside fast and easy as she was well prepared with a list of everything we wanted! We have just a few sneak peeks right now, but we cannot wait to see the pictures! If they come out half as gorgeous as the engagement session photos we did with Amy, we will be so pleased! It was such an easy and pleasurable experience to work with Amy! I highly recommend her to anyone looking for a photographer for their wedding day...you won't regret your decision!!

Beautyofdreams

Married on 08/13/2016

Amy was amazing to work with. She did our engagement and wedding day photos! It was 100 degrees outside for my wedding and Amy handled it like a champ. She was so responsive and easy to communicate with. She open to my inspirations for the wedding and extremely organized. I love the sneak peaks I have seen so far. She is really talented and has a great eye for photography and capturing the best moments. I highly recommend working with her!

Amy is awesome! Our wedding and engagement photos are so gorgeous. She captured the glee we felt that day perfectly, and was great at making sure that all the moments we wanted to remember were photographed. She also has a great eye for the right shot. Her demeanor makes it so easy to be natural around her. We are thrilled with every aspect of our experience with her.

Conor

Married on 09/20/2014

Amy was easy to work with- she listened to what we wanted and was responsive when we contacted her. We're pleased with how she worked the wedding and really happy with the quality of our photos. Excellent value for the money. Thanks again, Amy!

My husband and I couldn't be happier that we chose Amy to photograph our special day!

Amy was very responsive throughout the entire planning process. We chose the 6-hour session and added on an extra photographer (Becca) and are glad we did, because they were able to split up and capture multiple sides to our wedding. Both, Becca and Amy were very flexible with the few changes that had to happen last minute due to a thunderstorm that started right before the ceremony.

I'm generally a very camera shy person, but Amy made both, my husband and I feel at ease. She didn't make us hold any pose for a long time, which allowed us to be natural with each other and made us feel comfortable in front of the camera.

So far we've only seen the sneak preview, but already love our photos! Can't wait until we get to see the rest!

Thank you, Amy!!!

Alison

Married on 08/16/2014

Amy was our photographer and, honestly, she was everything and so much more than I had hoped for!! The photographs she took were breathtaking and she was so kind and wonderful to work with.

My mother kept telling me "take it all in, this is your big day, it will go by fast!" but I never realized how true those words were. I was so overwhelmed with the wedding ceremony and reception that I can barely remember it all! The photos are all I have to remind me of everything, and Amy took absolutely amazing photos, and a lot of them!! She literally captured every single moment throughout the day/night. I could not have asked for more <3

She truly made our wedding day special and memorable :)

________

Another amazing tidbit is that all of the photos are downloadable from her site, full quality, no extra fees. If you want prints and such, those will be extra, but I used Snapfish.com to make a wedding album.

Allison

Married on 08/09/2014

Amy was amazing! Friendly, professional, and amazing work! She has a strong sense of light and shadow - key to good photography! She did a great job ensuring we got shots with all our closest friends and family, without intruding on the day or the magic of the moment! We cannot recommend Amy enough! Our pictures are amazing!!

Amy was a complete pleasure to work with, took fantastic photographs of our wedding, and had a very reasonable rate. She was very proactive leading up to the wedding- meeting with us, always in touch, providing paperwork, etc. On the day of the wedding she was so professional, effective, and great- a very nice person! She was able to organize our large families into all the necessary group photos, took gorgeous bride and groom portraits, and great candids. We included a second photographer in our contract, and that was such a good idea! She was also lovely to work with. We definitely recommend Amy!

Brittany

Married on 06/27/2014

I was referred to Amy by a family member who had used her for their wedding photography. I went and looked at the photos taken and loved them! I contacted her immediately for her information. She was extremely responsive. She went through all my options and after talking to her I booked her! She did our engagement photos which were a little out of the ordinary and she killed it. We took our engagement photos at the same place our wedding was to be held. She knew how much I wanted to have recreated shots from the engagement session to the wedding and months after our engagement session she remembered the same shots to take for the wedding. She has a great eye for taking photos and understanding everyone's personalities. Im so glad I paid to have two photographers also, a second perspective was nice. Amy was on time everytime we met and super upbeat. She gave me a deadline of when I would have my photos and they were not any later. She also gave us a couple sneak peeks while we were on our honeymoon which was nice. I would definitely recommend Amy and I do all the time.

Michele

Married on 06/14/2014

I had the pleasure of having Amy shoot our recent wedding in June. From viewing her portfolio, I knew I loved her photojournalistic style and attention to detail and her warm personality sealed the deal. So far I only have a preview of our pictures but I am over the moon so far as they are FABULOUS! Amy was very professional on the day of and she was pretty quick with all communication leading up to our big day even in the midst of busy wedding season. My guests commented on how pleasant she was and how she always managed to be kind of behind the scenes in a way. She was very flexible with us and when we were unable to keep our engagement photos apt. due to a family death, she allowed us to the use the credit toward an extra hour with her on the wedding day. I have also bothered her with crazy retouching magic questions and she still managed to be pleasant and polite. Weddings are very hectic, and she stayed cool calm and collected throughout every bump in the road that day. I provided her a few inspiration pictures by email before the big day and she delivered! So excited to see the rest of our pics. I definitely recommend Amy and plan to work with her in the future.

Kelly

Married on 05/03/2014

We can't thank Amy enough for everything she did on our wedding day. Amy you truly made our day more memorable than we had ever imagined. Your professionalism, amazing personality and creative eye for capturing our perfect moments is impeccable. Thank you for everything!!

Holly

Married on 11/02/2013

Amy is in amazing photographer! She shot wonderful photographs of our wedding. She is also excellent at directing large groups of people. She is warm and calm which makes guests very at ease. She is also an amazing person. So sweet and full of energy. We were grateful to have her take our photographs. She captured so many sweet moments and these memories will last a lifetime.

Courtney

Married on 10/12/2013

I am in love with all of my pic from my wedding!!! They all turned out beautiful and special to me! The lighting and color is ever awesome Hd it great to look back at my pic cause it makes me live that moment again! Amy is very good and helpful about what she does if you need a photographer you need Amy!! She work very hard and know she excepting a baby and still worked her heart out just for my wedding day!!! She will be the only photographer i will be calling for now on thank you Amy!

Sincerely
Courtney Click

Jenna

Married on 09/07/2013

Amy was amazing! The pictures were amazing and she was so nice and easy to work with! Great price, too!

Doug

Married on 08/31/2013

I honestly couldn't say enough good words about Amy.

Everything was perfect from first contact to follow up. She arrived early on the day of the event. Even went out of her way to travel 2 hours to our event!

She got us the photos much quicker than we expected too! She got tons of great candid shots!

We found the quality of service to be just as good if not better than other photographers in weddings we have been to that were 4x the price.

Do yourself a favor, save some money, and let Amy capture your event you wont regret it!

Brittany

Married on 07/27/2013

Amy was a dream to work with! She was professional, punctual, creative, and our engagement and wedding photos were absolutely fabulous!!! She also made us feel extremely comfortable, and often throughout our ceremony/reception I wasn't even aware she was photographing us. I couldn't have asked for a better experience, and I am so thrilled she was able to capture our special day. I would highly recommend Amy to anyone in need of a photographer for their wedding or engagement session.

Virginia

Married on 05/18/2013

Great value! Very easy to communicate with, and took care of all of our requests!

Jess

Married on 05/11/2013

One of the most important decisions you make when planning your wedding is who you choose as your photographer. There is only one chance to capture the most important day of the life you are beginning together. We were so happy with the choice we made to use Amy as our wedding photographer. From the very start Amy was extremely easy to work with. She is punctual, friendly, offered great ideas and she understands exactly what you are going through because she has been in the same boat with planning her own wedding. Most importantly, she takes amazing photos! She got shots that we were like how did she get that??? We never even saw her taking some of the pictures! She goes through the photos herself and makes sure that they all look good afterward too. We were blown away by how beautiful our pictures turned out for our wedding, especially considering that it rained after our ceremony. She had great ideas on what to do to get the best shots. And she was sooooo affordable. I thought we would never be able to afford a good photographer and Amy turned out to be way cheaper and WAY better than the other photographers we looked at.

If you are looking for someone to capture your day, that you can afford and TRUST... Use AmyO photography. I assure you, you will be so happy that you did!
Jessica & Doug Close

Laura

Married on 05/05/2013

Amy did a wonderful job at capturing our beautiful day! We were very happy with the pictures and they are forever captured memories!
Karl & Laura Langkam

Michele

Married on 03/16/2013

Amy is professional. And also very s her sweet. She enjoys work and it shows. She captured our wedding beautifully. The pictures were perfect. And she doesn't overcharge like most photographers. Best out there.

Laura

Married on 12/04/2010

Amy was absolutely a dream to work with. She was punctual, responsive, and did a fabulous job. All of her shots were really creative and our wedding and engagement photos turned out looking like they came from magazines. I cannot recommend her and her team highly enough.
Are you interested?
Send a message