29 Reviews
Recommended by 99% of couples
Quality of service

4.9 out of 5 rating

Average response time

4.9 out of 5 rating

Professionalism

5 out of 5 rating

Value

5 out of 5 rating

Flexibility

5 out of 5 rating
12 User photos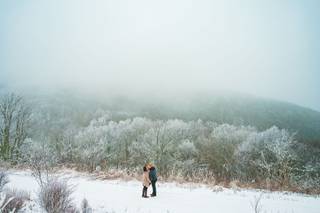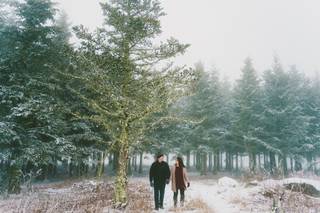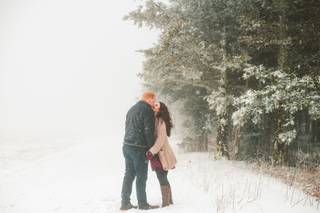 + 8

photos
Emily P.

Married on 12/19/2020

She's amazing!

Ariel is the best to work with! She is the absolute sweetest and has the best eye for what she does! She made sure to get to know us and what we really wanted. We had such a fun time shooting our engagement pics with her and were so happy to have her at our wedding too!

+ 8

photos

Katie M.

Married on 04/07/2020

Hire Her! She's amazing!

Ariel's professionalism, artistry, and flexibility are unbeatable, especially during a time of lots of change. My husband and I hired her for a big wedding in Hendersonville, NC in October. Once we realized that we'd need to scale down due to COVID, we decided to have a fun, family only event. Ariel went above and beyond to work with us to ensure that our needs were met and drove down from NC to our home in ATL to document our special day, which happened to be on a holiday. She beautifully captured the joy of the day, coaching us during our couple shots to really feel comfortable with her presence. She felt like another member of the family. Our portfolio captured who we are as individuals, a couple, and a family, and we couldn't be happier with the colorful, natural photos we received. Hire her!

Zoe L.

Married on 10/07/2018

Incredible Photographs

We are beyond thrilled with our images from AMW photography! As a wedding photographer myself, it was tricky to find the perfect photographer for our day. But from the first phone call with Ariel I felt at ease talking with her. She listened to all our quirky wedding ideas and got excited about them with us. Her eye for composition and light is absolutely beautiful. She captured our amazing engagement photographs in the mountains and created gorgeous images on our wedding day. One of our favorite engagement photo comments was "y'all look like you're on the cover of a romance novel!" She's that good.

Ariel was also sweet, calm, and a joy to work with. I highly recommend AMW photography to anyone looking for a photographer!

Are you interested?

Send a message

Steven

Married on 08/04/2018

Gloucester Castle Wedding

We had the most incredible wedding in August and the one thing that continually stands out is how amazing Ariel was as a person and as a photographer.

One comment that we still keep hearing from our friends and family, is how our pictures did not just capture the important memories but the emotion and mood of the whole evening. She really has a gift.

My now father in law was so impressed with how one photographer was so subtle in her presence and yet captured such detail and depth in her pictures. We often find ourselves looking at the photos and every time feel we are back in that moment. They are truly brilliant.

When you look back on your wedding day, there are many things you reflect upon and could possibly do different. This is the one thing we would never change.

We couldn't recommend Ariel enough


Logan

Married on 08/13/2017

Ariel Is beyond outstanding. Her photos are literally flawless, gorgeous, and captured the very essence of us as a couple and the spectacular outdoor venue where we got married. She works incredibly well with all ages (aka herding cats) and I worried about nothing. I would work with her a million times over in the future.

Kathryn

Married on 10/09/2015

I cannot say enough about Ariel and Matt. Ever since they met us a few months before our wedding for our engagement shoot, they put us at ease in front of the camera. Finding a photographer was probably one of the tougher parts of wedding planning. After talking to Ariel on the phone, I just knew she would be perfect. They captured SO many beautiful moments at our wedding many of which I didn't even notice the day of. They turned a day full of bad weather into some gorgeous photos. You can definitely tell they are a husband/wife team because they worked seamlessly with each other. We received SO many compliments not just about the pictures… but how fantastic they were to be around! I wouldn't even think twice about hiring AMW again or recommending to friends!

Katie

Married on 10/11/2014

A close family friend recommended Matt and Ariel of AMW Studios to us. Beginning with our first interactions with them, through email and Skype, we were impressed with their professionalism, patience, and overall friendliness. We quickly realized, without hesitation, that they were perfect for the job and there was no need to look any further.

We booked AMW Studios nearly 12 months in advance but remained in close contact with them throughout the wedding planning process. Matt and Ariel took time out of their busy schedules to meet with us on several occasions to discuss the wedding details and to get to know us on a more personal level. They made each planning session and the wedding day itself feel as though we were hanging out with long time friends. They were caring and attentive. They made us smile, laugh, and feel relaxed, which was clearly portrayed in all of our pictures.

When choosing our wedding photographer, it was most important for us to find someone who was creative and able to capture our love, excitement, and joy. We wanted someone who blended in with our guests. We wanted someone who would capture the true, raw moment rather than interrupt the natural flow of the day and force people to pose for still shots. We wanted someone who used creativity to produce unique images that would accurately tell our love story. Matt and Ariel did all of this and more. Our pictures are absolutely beautiful. They are more than we ever imagined and will help us relieve our special days for years to come. Matt and Ariel are truly incredible people and photographers. Without any hesitation, I would recommend Matt and Ariel to anyone.


Jennifer

Married on 08/31/2014

Ariel and Matt were absolutely incredible! We wish we had more events to be photographed just to spend some more time with them :). They did a beautiful job with all of our photos and accommodated all of our requests. We did our engagement pictures, rehearsal dinner, a bridal party field day, and wedding pictures with them. Up next: trash the dress!! Everyone in the wedding party had a great time with them there and we can't wait to see the rest of our pics!

Jonathon

Married on 06/28/2014

We really really enjoyed Ariel and Matt, fantastic photographers and all around fun people too. They went above and beyond and the only limit was what we were willing to do (get in a stream for a shot? sure! Go to the top of a mountain? Absolutely!)

And beyond just the willingness for the shots, the pictures came out beautifully! They both have quite an eye and impeccable timing. I was dancing and totally forgot they were there, and yet they were right where the fun stuff was happening, the candid shots came out looking very natural.

They captured the memories perfectly and I will enjoy looking back at these pictures for the rest of my life!

Caroline

Married on 03/29/2014

I am so happy we chose Matt and Ariel to photograph our wedding. They made us feel incredibly comfortable in front of the camera for both our engagement session and our wedding. You can tell they both love what they do and it shows in the pictures. AMW was very easy to work with throughout the planning process, and they made sure that all of the important moments were captured on our wedding day. I would definitely recommend AMW.


Heidi

Married on 10/26/2013

Matt and Ariel were fabulous to work with. They made our wedding day perfect! So easy to work with and laid back but pictures are amazing. Truly profesional and the best around!

Ariel and Matt are two of the most talented people we have ever met. They both have such an artistic eye, we cannot believe some of the shots that they were able to get during our wedding. They captured our wedding day in such a way that we'll remember the entire day and range of emotions exactly as they were. They made everyone feel incredibly comfortable behind the camera and they were so quick and effective that we were able to fully enjoy the day the no one felt like the wedding was dominated by taking pictures. They were incredibly responsive before our wedding and made time to meet with us to discuss details and ensure they had a good sense of what was important to us as a couple. The turn around time has been amazing, we were able to see a few highlight shots within days and they posted a highlight gallery for friends and family within a couple of weeks (during a very busy wedding season, I must add!). We cannot wait to see what they arrange for our album. We very highly recommend AMW Studios to anyone who is looking for photographers who really know how to document a day or an event with the highest level of detail and with pristine quality. Ariel and Matt went above and beyond what we expected and have given us the best wedding present in the world, our wedding day captured exactly as we want to remember it!

Anna

Married on 07/06/2013

If it was possible, I would give Ariel and Matt of AMW Studios a 10 out of 5 on this review. Not only are they two of the most talented, creative and gifted photographers out there, they are such a pleasure to work with! In searching for photographers for my wedding, I had three priorities - the first was that their work had to be jaw-dropping. I wanted photos with amazing color, lighting and creativity - I could see from their website that Ariel and Matt absolutely had this down. Their photos are so VIVID, crisp, and absolutely stunning. My second priority was that the style of photography had to be lively - I loathe posed, formal photos, and did not want that for my wedding. What I wanted were photos that truly captured the love and life present on that day - people laughing, people crying, people rejoicing. Ariel and Matt know how to capture these special moments that will stay with you throughout your life - it is such a unique gift, and they have it. Third, I wanted photographers with whom my then-fiance and I would click. Especially my then-fiance, who really hates being photographed. Matt and Ariel have an amazing dynamic with one another than makes you as a couple feel so relaxed - they are HILARIOUS!! They make you laugh so that in your pictures, you see true emotion and happiness.

On the day of our wedding, Matt and Ariel arrived early to scope out locations for our first look, out family photos, etc. They had the most wonderful ideas throughout the whole evening, whisking my husband and I away from our party at one point because the sun was setting, and they wanted to capture a few special photos for us. The results - AMAZING. Our pictures are so beautiful, it makes me want to cry every time I look at them (tears of joy, of course!). Each photo captures love, family, happiness and warmth.

If I could, I would hire these two to document every major event in my life. They are spectacularly talented, and wonderful people, to boot!!

Tyler A.

Married on 10/05/2012

Choosing a wedding photographer is one of, if not the biggest decision a couple makes while planning their wedding. My wife and I looked at photographers from across New England and New York and without a doubt AMW Studios pictures are second to none. This has only been confirmed by working with Matt and Ariel for our engagement photos and wedding photos.

In a world where every average Joe with a camera and a computer is a "photographer" it is so nice to work with such talented professionals like Matt and Ariel. We could not be happier with our wedding photos and are happy to have met and worked with Matt and Ariel.


Caitlin

Married on 06/24/2012

Ariel and Matt are beyond spectacular! Consummate professionals, fun and amazingly creative, they not only captured our wedding day beautifully, but they enhanced the day with their presence. From the very beginning, they were an absolute pleasure to work with. They are very responsive, answered all of our questions, and did whatever they could to make the process easy and stress free for us. Their style is unobtrusive yet they manage to capture every detail beautifully. And the end product is outstanding! They make every effort to get to know their clients well before the big day to ensure that they deliver the perfect product. I cannot say enough about how utterly fantastic they are! Choosing to work with Ariel & Matt was by far the best planning decision we made.

Janifer

Married on 06/16/2012

Super Foto, Very professional!

Madeline

Married on 11/13/2011

Everything Ariel & Matt provided was fantastic. They're fun and easy to be around, which makes the incredibly daunting task of documenting your big day that much easier. The packages are not only well organized and thorough, but they are willing to customize them to fit your needs and desires. Meeting up for coffee to pick out a package is more like catching up with friends than having a vendor appointment. They even took my fiance (who is military and lived out of town) to lunch when he was able to come by for a visit (we didn't even have wedding business to do!).
They also make sure to document the whole day, not just give you a set number of hours they'll be available. The "vibe" of our day was perfectly captured when you flip through our gorgeous wedding album. Ariel & Matt also fit in like on of our friends the morning of the wedding, getting in on the jokes and having fun with the bridal party (and also being extremely patient!)
I tell every New England bride-to-be about them as soon as they have a ring on their finger (and even some out of the region) as I just love looking at weddings they've shot. I miss my wedding, but I hope to be able to link up when we hit the next milestone of our family!

Tara

Married on 11/05/2011

Ariel and Matt of AMW Studios are incredibly talented photographers. From our first meeting with them, we realized that they would be easy to work with, flexible, and more than willing to do what was necessary to capture our wedding day the way we wanted. Throughout the planning process, they were in touch with us as necessary, yet they were laid-back, and we really appreciated their easy-going nature. On our wedding day, they captured amazing images from pre-wedding, to the ceremony, to the reception. They were organized and completed the formal pictures quickly (which is what we wanted), and they captured great shots without being intrusive. Quickly after our wedding day, we received a wonderful digital slideshow, set to music, which we were able to share with our families and friends. We also received our digital proofs in a timely manner, and there were hundreds of pictures from which to choose. When it came time to create our album, Ariel and Matt gave us as much guidance as we wanted, and they paid close attention to detail, resulting in a solid product and one which we undoubtedly will enjoy for years to come. We highly recommend Ariel and Matt!

Heather

Married on 07/16/2011

The moment we got engaged, I began looking for a photographer. The most important thing, besides the venue (and the man!) is a photographer because this is your "forever" memories of your special day. From the moment we met with Ariel and Matt, we knew that they were a perfect fit for us.
From their flexibility for engagement shoots, to their personability and ability to get us to relax and act like we have been the target of the paparazzi for years, we are so glad that we chose them. Every time I look at my wedding photos I remember their talent. These are the shots I have dreamed about since I was a little girl. We can't wait to use Ariel and Matt to document the next chapter of our lives.

Kevin

Married on 07/09/2011

Ariel and Matt exceeded our expectations and we still get compliments over a year later about them. I can't recommend them enough and hope everyone chooses them as their photographer.

Maureen

Married on 06/25/2011

Ariel and Matt of AMW were one of our favorite vendors. They went above and beyond in all of our dealings with them, and were always professional and responsive. They also made things fun and easy, which was appreciated (they even got my camera shy husband to relax during all of the shooting!). Our album and photos are all gorgeous and really portray the emotion of the day. We highly recommend them!

Chris

Married on 05/21/2011

AMW Studios provided stellar photos and professionalism for our wedding. We always felt comfortable through the whole process and were amazed by the flexibility that AMW demonstrated. We would recommend them to any couple looking for great service and most importantly, awesome pictures!

Leslie

Married on 05/14/2011

Ariel and Matt were great! They were the first and only photographers that we met with to document our wedding and we would not have had it any other way. They were friendly, honest, and supportive through the entire process. They handled my divorced in-laws with grace and sensitivity, and even were able to key into our feelings when we were overwhelmed by last minute demands by our family members. Matt even ran to get me water! Most importantly, however, the photographs were creative and beautiful. They captured not only the images of the day but also the emotion and personalities of us and our guests.

Frank

Married on 08/13/2010

Ariel and Matt have been superb from start to finish. They are very responsive on the phone and email. If you're a shutterbug like myself, you'll truly appreciate their style. Their website portfolio is exactly how my wedding pictures came out, great color saturation and they work extremely well together. I can't say enough on how much of a value their packaging is and their proofing gallery was efficient and usable. Trust me, book them now before they really hit it big!

Julia

Married on 06/20/2009

Ariel and Matt were wonderful at our wedding. They kept things moving and were smiling the whole time. Our album came quickly and now we are working with them to get albums for our parents.
Are you interested?
Send a message