279 Reviews
Recommended by 92% of couples
Quality of service

4.6 out of 5 rating

Average response time

4.7 out of 5 rating

Professionalism

4.6 out of 5 rating

Value

4.6 out of 5 rating

Flexibility

4.5 out of 5 rating
26 User photos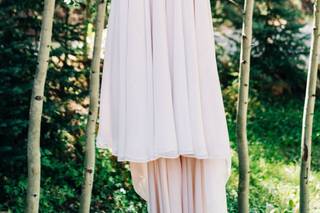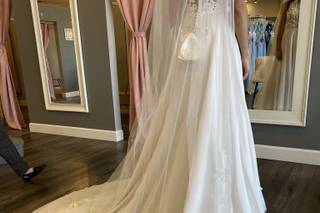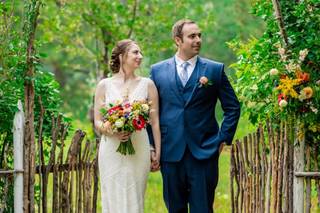 + 22

photos
Rachel B.

Married on 07/03/2022

Melissa is AMAZING!!!

My wedding dress shopping experience was PERFECT with Melissa from Amanda's Bridal. My parents, MOH, and myself can not stop raving about how helpful, knowledgeable, and professional she was throughout the entire process. Seriously, go see her for whatever you need!!!! I went here for my first dress shopping experience, went to another place later that day, left and went RIGHT back to Amanda's for another visit— because that's how amazing Melissa was.

She not only helped me sort through what I was looking for, but gave me the guidance I needed to feel confident in all of my choices. She also found the dress I ended up buying- which I NEVER would have tried on on my own.

Not only that, but the store has a wonderful selection with such a strong variety of dresses and everything you would ever need. I had a very complicated situation, with my wedding potentially be moved 8 months SOONER than originally scheduled, and they were still able to find a perfect dress for me. I can not recommend Melissa and this store enough!

Megan

Married on 10/09/2021

Amazing Service & Selection!

The staff at Amanda's Bridal was absolutely amazing throughout the entire process. Kali was so wonderful for my first appointment trying to help me figure out what style of dress I wanted while making sure I never felt overwhelmed. I never felt rushed or pressured. She ended up pulling this totally unique dress and still never pressured me to make a decision when I said I just wanted to have my measurements taken "just in case." (Halfway through the measurements, I ended up saying "yes" to the dress!) The staff was so accommodating to me as I was coming in from about 3 hours away. They went above and beyond to assist with ordering accessories over the phone, and even steamed my veil at my last fitting to save me a trip. Jane did an absolutely fantastic job with my alterations. I would recommend Amanda's Bridal and Tux to anyone for their exceptional service, professionalism, and quality!

Sarah B.

Married on 08/07/2021

Amanda's Bridal and Tux has good prices and good value

I had been searching on line for unique and reasonably priced wedding dresses. After one false start with a competitor who wasn't nice to my friends who came with me, I had a totally difference experience at Amanda's. The clerk who helped me was so knowledgeable and gracious to my mother who had to attend virtually due to the pandemic. She was so kind and spoke directly to my mom and addressed all her questions courteously and professionally. I absolutely loved my dress and I had so many complements on my wedding day. They have an in-house seamstress who was very reasonable priced and my dress fit beautifully. I highly recommend them.

Are you interested?

Send a message

Emily J.

Married on 07/31/2021

I Said YES to the ABT Dress! A++ service

I had the most amazing and special bridal dress shopping experience (even during COVID) at Amanda's Bridal. I met with Melissa who was the best stylist/consultant and I'm so grateful to her and her expertise! She captured my vision PERFECTLY, asked me all the right questions, and had great (and honest!) feedback to help me find "the one". I had a few other appointments lined up and she was so understanding and respectful of that and told me that if I wanted to swing by the next day after those other appointments, all I had to do was call. After a long day of trying on other dresses at other shops, I ended up returning to Amanda's... They fit me in last minute with no issues and I was able to have my special "say yes" moment with my mom while she was visiting from out of town. Amanda's has a great selection of dresses and a phenomenal team of expert stylists like Melissa to make you feel like the most beautiful and cared for bride. I'm over the moon with happiness and proud to call myself an ABT Bride.

Taylor S.

Married on 09/03/2020

I love my dress!

Amanda's Bridal was so helpful in helping me find my dream wedding dress! They have a decent sized collection of dresses, each and every one of them gorgeous! I'm thankful for the help finding my dress, and then alterations!

Caitlin

Married on 08/29/2020

Overall Great Experience

I had a phenomenal experience with Amanda's Bridal! They had so many beautiful styles and designers to choose from. What I had originally thought I wanted ended up being completely different and the bridal specialist helped adjust and provide me additional styles along with the girls I brought with me (October 2019). I felt the specialist gave me 100% of her attention for the time slot I had reserved for trying on dresses and I had the "say yes to the dress" moment. I had two alterations appointments and the seamstress was quick and easy to work with making the dress fit me perfectly. My mom does not live in town so when I picked up the dress and we were practicing bustling it, we were really struggling as I couldn't see the back when it was demonstrated to me. Also, due to COVID the friend who went with me to the alterations appointment was no longer able to attend the wedding. We called the store and the ladies were so nice and told us to bring the dress in and we would practice bustling it together. They went above and beyond by calling the seamstress to confirm how it should bustle and they were so patient with my mom and I teaching us how to do it. I am so thankful for their continued care for me even after the dress was purchased and alterations complete. Can't thank them enough!

Ariah

Married on 07/11/2020

Phenomenal!

Where to begin? Amanda's Bridal is AMAZING! I wouldn't consider myself a bridezilla (Isn't that what we all say), but I do have a very unique taste. I had shopped at 5 different bridal shops and wasn't having any luck on finding "the one". I had high hopes and expectations, I wasn't sure if I would find exactly what I was looking for. From the moment I walked into Amanda's Bridal, everyone was so sweet and accommodating! Not only do they have photos of how the dress may look on, on every single dress but your stylist will also make the best recommendations! I never felt rushed or pressured and I would get honest feedback. I can't find the paper where I wrote down my stylists name but she was fantastic! All the lovely ladies at Amanda's Bridal truly made me feel beautiful and special. If I can make one recommendation to every bride to be, it would be to go here first! Save yourself time! I have a few friends who have found their beautiful gowns here, I promise it's worth it! I can't tell you how many compliments I received on my phenomenal dress, they truly completed my look to the fullest. Can't thank you enough Amanda's Bridal!

Stephanie S.

Married on 09/28/2019

Found a wonderful dress

I love the dress I found at Amanda's. I had a great experience shopping for dresses. Everyone was very helpful and friendly.

Joisan

Married on 09/21/2019

Bridesmaid dresses & tuxedos

They were very helpful with most of our guests being out of town. They knew how to get the measurements for everyone and what they needed to do when they came in. Very helpful for brides that are unsure of what they want. Also great price range that we wanted

Kacey

Married on 09/12/2019

Couldn't be happier

Everyone at Amanda's was a delight to work with.
They were excited to help me find the right dress and so sincere in their well wishes on the final day when I picked it up before my wedding.

Cathy

Married on 08/31/2019

Wonderful Selection, Help Every Step of the Way

Amanda's has a wonderful selection of dresses for any budget. Wonderful sales associates who find the right dress at the right price without any pressure.

M Hulsey

Married on 08/23/2019

For a bride-to-be who didn't have a clue what she wanted, this was a good place to come for help.

I just got the wedding dress here. I went in to try on dresses without any idea what kind of gown I wanted. The girl that helped me was super patient and gave me a lot of feedback as we moved through a lot of different styles. I brought four other people with me and they kept bringing dresses up to try and she handled it all very well. She even helped me stand by my final decision when we got down the final three choices. They do the alterations in house or you are free to take it elsewhere, and they steamed the dress for free prior to my wedding so it would be wrinkle free. I loved my whole experience here.

Hannah M.

Married on 07/19/2019

Saying Yes

I chose Amanda's due to the reviews I had read. They all seemed to be very good! I also liked their price point. The dresses ranged from a couple hundred to just around 2,000$ which was my budget. I picked out some dress styles I liked and then some were picked for me. To my surprise, I picked the dress that was picked out by the stylist. She's been doing this a long time and she knew exactly what would flatter my body and make me feel comfortable. I would HIGHLY recommend Amanda's bridal.



+ 2

photos

Megan

Married on 06/29/2019

Amazing place!

I had an amazing experience! My aunt actually got her dress from here, 16 years ago! Everybody was so helpful and nice!

Alison T.

Married on 06/08/2019

I highly recommend Amanda's Bridal!!

I had a wonderful experience with Amanda's Bridal, from my first visit to my last! All of the staff there were kind and helpful, especially Tobie, who helped me find the dress of my dreams! Tobie also helped my maid of honor find the perfect dress. She always gave us helpful advice and was very supportive throughout the whole process! I was very impressed with Amanda's dress selection. I tried on a variety of different styles, all of which were beautiful in their own ways. I thought the prices were very reasonable too, considering the quality and detailing of the dresses I tried on. I was so impressed with my first time trying on dresses that I didn't bother visiting other bridal shops, as I had found three dresses that I loved during my one visit. They were also very accommodating during the alteration process, and even did last minute changes to help alleviate painful straps. The final product was perfect and I looked and felt beautiful in my dress!

Courtney

Married on 06/08/2019

I didn't actually get my dress here, but I had such a great experience with Heather, that I wanted to write a review! She was helpful, kind, and patient. It was truly a pleasure working with her, and she quickly got a sense of what I was looking for. I had a tough time making a decision and did find a great dress here. Definitely put Amanda's on your list; you won't regret it.

Erin

Married on 05/31/2019

Amazing experience from start to finish

Amanda's was the only place that I went to try on Wedding dresses. They listened to what I wanted, helped me prioritize my picks, and helped me find my dream dress. I was a little disappointed I wasn't given the opportunity to take a picture with their I found the gown at Amanda's sign with my entourage.

The seamstress was knowledgeable and made me feel certain my bustle would hold and it did. I felt beautiful on my wedding day and it is thanks to this wonderful place!

+ 2

photos

Ashley

Married on 01/26/2019

Lots of Options

Loved my dress that I got from Amanda's Bridal! There a lot of options for a variety of different price ranges. Would recommend checking this place out!

Zoe

Married on 11/10/2018

I was certain I would not find a dress for 700 unless I went to a consignment or off the rack. But MELISSA gave me so many options well under my price point. I'm talking 300-500 bucks. After listening closely to me, MELISSA actually picked out THE dress. Awe never felt rushed or judged and she gave us her honest opinion on everything. She went the extra mile several times. she found a panel to make a certain dress fit and made me try on a dress for sizing, which was so great. Overall a wonderful experience. I recommend even if you have doubts you should let the ladies at Amanda's help you.

Katie

Married on 09/16/2018

I really enjoyed working with Amanda's Bridal. I had looked online at dresses and knew I liked Maggie Sottero styles and that Amanda's carried them. I set up an appointment and my maid of honor and mom came with. They were great to work with - making me feel comfortable even though I was really nervous that nothing would look good. I ended up purchasing the first gown I tried on - it was a Maggie Sottero and fit like a dream! For alterations, they were easy to work with also. Overall, very positive experience. No complaints.

Bryanne

Married on 09/02/2018

Tobi was absolutely amazing! I was very nervous about this process and she not only made me feel comfortable but she made it fun. I couldn't pull the trigger the first day and she worked with me to come back the next day and I found my dress! I highly recommend Amanda's Bridal!



Morgan

Married on 08/18/2018

Worked with Heather and she helped me find the dress of my dreams! She wasn't pushy and actually told me to buy the dress in a few weeks when it would be 15% off! I loved that! Plus they shipped it right to my house. So happy and absolutely loved my dress

Rachel

Married on 08/18/2018

I can't recommend Amanda's Bridal enough! Tobie was amazing. I told her what I was looking for and she found the perfect dress for me. It was the first one I tried on. She was professional, friendly, knowledgeable, patient and just the best. My dress is gorgeous and perfect (and a great price too!)

Eliana

Married on 08/11/2018

I primarily worked with Jennifer and I must say, it was one of the easiest shopping experiences of my life, let alone for a wedding dress! Jennifer made my visit warm, welcoming, and exciting. She was extremely honest with me about what dresses were available in my size to try on (I'm 6'0 tall and a solid size 18), which designers would have the best structure for the look I wanted, and what all of my options were.

When it came to actually trying on dresses, Jennifer only pulled ones that were within my budget and she listened very well to my likes and dislikes in gown design. We found The Dress within 20 minutes!

I decided to sit on my decision for a couple months, just to make sure, and when I came back two months later to purchase, Jennifer remembered me, remembered my dress (without looking at my file, may I add), and had everything ready to go for me as soon as I walked in the door.

Also, in addition to actually purchasing my dress at Amanda's Bridal & Tux, I'm using their alteration services and they are SUPERB. The cost is very reasonable, especially for somewhat extensive and laborious alterations, and they're great about keeping all of their brides on schedule leading up to the wedding.

I cannot recommend Amandas Bridal & Tux highly enough!

Laurel

Married on 06/29/2018

Perfect dress and wonderful service!

I originally picked Amanda's because I had heard good reviews in the past and they carried dresses by a designer I was interested in. They also carried other similar collections by other designers. The staff who assisted me during my appointment was supportive and responsive to my requests. She was able to suggest other dresses to try based on my preferences and had solid knowledge of the inventory carried in the store. She also provided input and suggestions for my veil and accessories. I found my dress on my first appointment and it could not have been more perfect. I spent $1,500 total for both my dress and veil.
Are you interested?
Send a message