Reviews
5.0 out of 5 rating
Quality of service

5 out of 5 rating

Average response time

5 out of 5 rating

Professionalism

5 out of 5 rating

Value

5 out of 5 rating

Flexibility

5 out of 5 rating
100%
Recommended by couples
Awards
87 User photos
+ 83

photos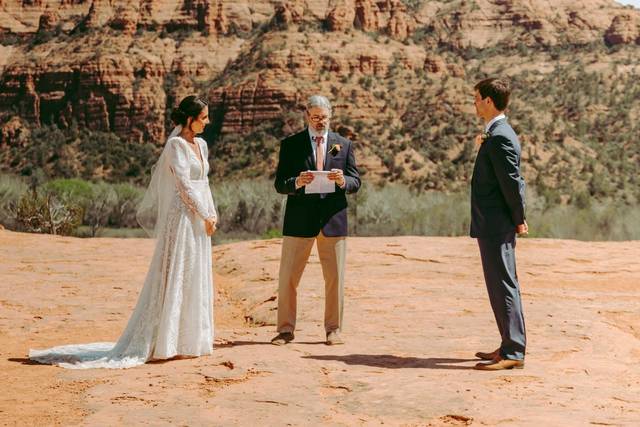 Lexi

Married on 04/15/2023

Couldn't Love Allison More!!!

Allison and her team were an absolute dream to work with. From the moment I contacted her, Allison was nothing but prompt, responsive, helpful, and just kind. She answered my unending stream of questions, and made planning our Arizona wedding from Virginia a very easy and enjoyable process! She was not only extremely flexible in the creation of our perfect day, but also offered suggestions and her expertise, which was always greatly appreciated. Besides being insanely talented and accomplished, the coolest thing about Allison is her genuine personality. She offered a fun yet organized presence on the day of our wedding, and made us feel at ease and as though we were just pals spending a perfect day together! I will never be able to adequately express my gratitude for the moments that were created and captured, but am eternally grateful for the images that we have to remember them by. We ended our day feeling completely fulfilled and enchanted by the pure magic and Allison and her team helped us create!

+ 6

photos

Allison Slater Photography's reply:

Lexi, we are so so appreciative of you and Michael! Being a part of your wedding day was such an honor and you two are some of the absolute most kind people we've worked with. Thank you so, so much!!

Emily L.

Married on 04/05/2023

Kauai Adventure Elopement

We are beyond happy with our experience using Allison as our elopement photographer and officiant.
Allison was extremely organized, professional, and positive from day one. Allison put a lot of effort into her research on locations, permits, hair and makeup, flowers, etc. for our elopement day. This made our whole experience stress free, giving us the opportunity to truly enjoy each other and the experiences throughout the day. We were a little nervous about getting photographed and feeling awkward; but Allison somehow made it feel very natural and we quickly forgot about the pressure of being photographed. We feel so grateful to find a photographer who was willing to wake up at the crack of dawn for a sunrise ceremony, brave the crazy Kauai weather changes, and adventure up a mountain for sunset to complete the perfect vision of our wedding day. We are so in love with our photographs and will cherish them and the memories of that day for the rest of our lives. We highly recommend Allison to any couple who want to make their wedding day as special and stress free as ours was.

Allison Slater Photography's reply:

YOU ARE AMAZING. Thank you so much for your kind words!! It was truly such an epic and adventurous day throughout the island and I'm incredibly honored to have been a part of it. THANK YOU!!!

Erica W.

Married on 04/03/2023

Best elopement photographer if you want to do something adventurous

Allison made planning our Maui elopement so much less stressful! Hawaii has very strict laws regarding photography and I felt 100% confident in her obtaining and following the laws so we could get our dream wedding location shoots. She also explained in detail to us what we needed to do and sent us a very informative book going over typical elopement packing/planning. At times she was more like a wedding planner giving us lots of information on photo spots around the island. She definitely went above and beyond to help us with anything we asked her help with. You can tell she has a lot of experience doing these kinds of fun wedding elopements. On the day of our wedding, she came prepared and on time. We had a big rainstorm the night before and she helped communicate a new plan for the day that would still give us everything we wanted. Hanging out with her during our wedding day felt like we were hanging out with a friend we had known for years! She would ask us genuine thought-provoking questions about the two of us and really emphasize that this was our day to do what we wanted. Not only is she super organized and easy to talk to but she's an incredible photographer! She took the time to tell the full story of our day not just the beautiful scenic pictures but the behind-the-scenes too. All our friends and family can't believe how gorgeous our wedding photos came back! I'm so glad we chose Allison to help us capture our wedding day. Thank you Allison

+ 9

photos

Allison Slater Photography's reply:

This is hands down the kindest review I've ever received about your entire experience for your elopement in Maui, Hawaii. THANK YOU - genuinely. I so appreciate the trust you put in me to both execute and document your day in the way it deserves. You two are so awesome!

Are you interested?

Send a message

Joelle C.

Married on 03/11/2023

What a professional!

Allison is so thorough, so kind and so talented. We booked her for our engagement photos this summer and we are thrilled with how they turned out. She's done some major location scouting and offers so much insight on a variety of magical spots. I was nervous about us looking awkward but NOPE she made us feel comfortable and the photos came out beautifully. If you're looking for something special and someone special to help you achieve it, she's your gal. I highly recommend her!

Allison Slater Photography's reply:

JOELLE! You are so incredibly sweet. Thank you so much - your engagement session in Sedona was SUCH a dang fun time and I loved hanging out with you both during our hike and your photos. You two are the best!!

Madison T.

Married on 09/14/2022

Ten out of 10

I've known Allison since grade school. Although she eventually moved out of state, I've followed her along on social media and truly enjoyed watching her business grow. Before I met my husband and had no ambitions on getting married myself, I still found myself in awe looking at her photos.
Several months before my husband and I were engaged, I showed him her instagram page and he was genuinely impressed. Normally when I'd show him something wedding related… especially before we were engaged… he wasn't interested. Can't say I blame him.
Later on when we were (finally) engaged, we originally wanted to have a traditional wedding.
After a many weeks of no sleep and becoming very overwhelmed, we decided to put our plans on hold. Until…. I came across a breathtaking elopement photo Allison shared from Sedona. In that moment I decided that's what we were doing. I told my husband and he obviously was all for it!
From the moment I reached out to Allison about doing our elopement, everything was such a breath of fresh air.
From locking down the location (Dolomites, Italy) to mapping everything out, she made things effortless and exciting. When we finally got together in person, she was professional but very easy going and fun to be around. She was creative when coming up with ways to make us laugh and not feel awkward for some of those more intimate shots. Although it was the three of us that day, she was also intentional about giving us moments where it felt like it really was just the two of us.
We recently got our entire album of photos and we are over the moon happy with them. Our family and friends have said they look like they belong in wedding magazines. The icing on the cake has been having those who originally were not in support of us eloping, turn around and say if they could go back in time, they would have done what we did…. ;)
Do NOT hesitate when it comes to choosing Allison as your photographer. You'll walk away with an experience of a life time, and a new best friend. Thank you Allison. We miss you already!

+ 4

photos

Allison Slater Photography's reply:

I genuinely don't even have the words to be able to thank you two enough for not only YOUR kind words but for bringing me a part of such an incredible intimate elopement in Italy. Man - it was truly so good to see you after over TEN years and to celebrate your day. You guys are seriously some of the coolest people and I'm already counting down the days until we meet up again somewhere else. Thank you so, so much. You are incredible.

Featured

Mattie R.

Married on 05/15/2022

Best. Day. Ever.

When my husband and I first started planning our wedding, we knew we wanted it to be a small group in Yosemite, but we still needed help with all the details. We hadn't been to Yosemite before together, so we knew nothing about vendors/best locations/timing. Allison was so thorough, communicative, and caring. She called us within like a day of filling out her intake form, and really listened to what we wanted. She clearly put so much effort into making the whole day feel like "us." She made us a whole timeline, organization of the types of photos we wanted, and locations for our first look and post-wedding adventure hike! On the day of our wedding, she was so upbeat, kind, and made sure to capture all the little details and sentimental aspects of our relationship. The photos are absolutely gorgeous, and it means the world to have had someone as cool, professional, and caring to be our wedding planner and photographer. 10000000% recommend!!

Allison Slater Photography's reply:

Man, your elopement in Yosemite was seriously breathtaking. All of the meaningful, sentimental aspects of your day were ones that I really treasured and loved being able to document for you two. It was a day with gorgeous views and dang good memories. I really, really appreciate you two and your kind words!! Thank you!!

Sienna C.

Married on 05/10/2022

Allison is wonderful!

If you are interested in having an adventure elopement, look no further! Allison was so great to work with from start to finish. My husband and I both come from very traditional families, and it was really hard knowing that in "following our hearts", we were disappointing our families. But at the end of the day, we are SO GLAD WE DID. Allison provided us with SO much helpful information and support throughout the whole process. You can tell she's done this many times, in that she has a system and plan for everything. I remember reading her website and feeling like she really understood the experience of a couple choosing to elope. I also really loved the process of finding our location, answering questions about my partner and I, and feeling present and intentional about planning our day. I'll never forget the feeling I had pulling up to our ceremony site, after the very remote and bumpy journey, like we were truly in the privacy of nature and in front of one of the most BEAUTIFUL VIEWS I've ever seen in my life. My partner and I looked at each other and said, "Yep, no regrets." And I know that it would not have been possible without Allison. She is so warm, genuine, and strikes the perfect balance of taking charge and giving space. We are so happy with our photos and most importantly, the memories of our adventure.

Allison Slater Photography's reply:

I don't even have the words!! Your day was full of so many special and unique and authentic moments between the two of you - it was the day you two deserved to have, and I'm so grateful that you did. You guys are AMAZING.

Sarah C.

Married on 05/02/2022

Better than I ever could have imagined!

After finding Allison's website, I knew I wouldn't find anyone better! Working with Allison was even better than expected. Allison helped me find the perfect location and captured the most beautiful shots for our engagement pictures. They were everything I could have hoped for! Allison did such a great job and made us feel comfortable and gave us an enjoyable experience during our session. I would definitely hire Allison again in the future and recommend her for anyone looking for pictures you will be able to cherish for a lifetime!!

Allison Slater Photography's reply:

Sarah - thank you so much for your sweet words. I super appreciate it and absolultey loved helping you two plan out your engagement session location and taking your photos! All the best to you both!

Ashley A.

Married on 04/24/2022

Incredible, Wonderful, 10/10 Would Recommend

My [now] husband and I spent weeks trying to figure out how we wanted to say "I do."
It was really important to us to make it true to who we are and really took time to plan our special day.
Long story short, we ended up having 3 special days. Our "legal" wedding day at our local courthouse, our elopement and exchanging of vows with Allison in Utah and then a wedding celebration with friends and family back home.
My husband and I spent hours scrolling and looking at options for a photographer that could capture our exchanging of vows with our families in Zion National Park.
We ended up landing on Allison Slater's website and fell in love with her work.
From day 1 of reaching out to Allison for more info to receiving our entire photo gallery, it was such a interactive and unforgettable experience.
She was in constant communication with us from location selection to vendor recommendations, she covered it all in the time leading up to our elopement.
On our elopement day, Allison came to the AirBnb where I was getting ready, and I felt like we had known each other for forever.
She was so kind and personable. You could instantly tell that she is passionate about her work. She instantly put my nerves at ease and made sure our day played out exactly as we had planned.
We recently received our entire gallery and we are blown away.
Sharing our photos with our friends and family have made my heart so happy. She truly captured our day so that our memories will last a lifetime.

+ 5

photos

Allison Slater Photography's reply:

Not me publicly crying at a coffee shop while reading your kind words!!! THANK YOU. Genuinely. Couples like you and Michael are reasons why I love what I do - celebrating you guys and helping you to create such a special day was truly and honor for me. You are incredible. Thank you, thank you, thank you!

Larissa L.

Married on 03/21/2022

Engagement

What an amazing experience we had with this surprise engagement!! Allison was so perfect for this surprise and was willing to work with me in everything! The pictures were stunning! And I could not have asked for a better person to capture the most precious moment!

Allison Slater Photography's reply:

Thank you so much!! I was super stoked and honored to be a part of it. You two are the best!! What an epic day without a doubt.

Ben

Married on 03/01/2022

Best in the West

I cannot more highly recommend Allison and her work. Where to begin... My fiancé and I had an incredible shoot with her at the Imperial Dunes in CA! Allison's manner is incredible and her work really stunning. We are so thrilled with the pictures and with the genuinely fun time we had out there on the dunes. She's imaginative and really thorough, and after this experience, we fully intend on using her services for our wedding and any other event we may need a photographer for going forward! I can't recommend her highly enough! P.S., we had car trouble and she ensured we made it home safe. People like her are hard to come by. Thank you Allison for everything!

Allison Slater Photography's reply:

Ben! Thank you so much for your super kind words - I had such a fun time with you and Jessica out on the dunes for your engagement session. You two were such a joy to photograph and it was an epic adventure to say the least! I cannot WAIT to photograph you two again for your wedding day. You guys rock!

Maddy S.

Married on 02/11/2022

Yes you should book Allison!

I can not talk highly enough about Allison - she made our day easy and effortless which was what we had always hoped for. From our first phone call with a vision to our final photo of the night Alison was our right hand lady who guided us what could be a stressful season of life.

I would tell ANYONE who is looking for a photographer for their wedding to reach out ASAP (because she is a busy lady). I mean look at this magic!!

Allison Slater Photography's reply:

You are seriously so incredibly sweet. Thank you for your words and for trusting me with your day! It was so awesome to be a part of - you guys are so great. Hope you're doing well!!

Bailee

Married on 01/26/2022

Amazing experience!!

We really enjoyed our photo shoot with Allison! She was very helpful in keeping the mood light and fun so our pictures turned out more natural. The finished product was breathtaking. Allison is fun to be around and work with. She help make our engagement photos a memory we will cherish forever!

Allison Slater Photography's reply:

I'm so stoked that you guys came out to Sedona for your engagement session - what an epic location and incredible day. You two are the best!!

Natalia E.

Married on 01/07/2022

Gifted photographer!

Allison did an amazing job capturing all the special moments of our wedding! She was communicative during the entire engagement and very fun to be around during the wedding while photographing us! Allison even provided us several "sneak peak" photos of our day within the following week which we loved! :) Would absolutely recommend her to anyone!

Allison Slater Photography's reply:

Thank you so much!! You guys were SO easy to take photos of and our day was dang awesome. Super appreciate you!!

Nicole M.

Married on 09/28/2021

Perfection!!!

Allison was not only an incredibly talented photographer, she is sweet, kind, helpful and has a huge personality. she cares about her business and making her customers happy to the point where you feel like you are friends! she is so knowledgeable and well informed about where to plan elopement's! We booked the two day adventure elopement package with her , and for the second day she suggested a place I'd never heard of. I tried googling it and searching on Instagram and found NOTHING! We decided to trust the process and Allison- and went along for this crazy adventure and she took us to a location unheard of that was truly breath taking in every way possible!!! Trust Allison and book your wedding or any special occasion with her because she will not disappoint you! I wish I could bring Allison on every trip I plan now!

Allison Slater Photography's reply:

Girl, you're making me tear up! Your 2 day elopement adventure was absolultey incredible and so breathtaking. It was an absolute blast photographing your day and celebrating you two!!!

Ashley C.

Married on 09/13/2021

10/10 Allison is the BEST

The weird thing about your wedding day is you don't get to ever relive it. You only have the memories, and the pictures, to capture every beautiful moment you experienced that day. When you think about wedding pictures, you imagine the ones where you both are perfectly posed and look flawless. And then you get your pictures back from Allison, and you realize it's about every other picture then those beautiful ones. It's about the candid smile and hug you gave your new mother-in-law, or the look on your dads face at your first look, or the laugh you and your husband shared during your first dance. Then you think back and realize you didn't even know those pictures were being taken. That's what makes Allison incomparable to the rest; she captures both the posed and candied perfect moments. My husband and I had the pleasure of having two photoshoots with Allison. We decided to do our wedding pictures earlier than our wedding, so we didn't have to spend the extra time on the actual day of our wedding. Not a conventional idea, but Allison made us feel so comfortable with the idea. The pictures came out beyond our wildest expectations, and we had a ton of FUN hanging out with Allison. She completely took away the "awkwardness" of the whole photoshoot thing. We also got the pleasure of having Allison at our elopement in Yellowstone National Park. She absolutely blew these pictures out of the (national lol) park. She made everyone SO comfortable, and fit into my family like she was one of us. Everyone in our family said something along the lines of "wow! Those pictures came out amazing! Normally I hate myself in pictures, but she did I really good job, I actually like myself in these pictures!" I think it's so important to touch on how genuine Allison is as a person. She is one of the coolest, understanding and down to earth humans I've ever met. I'm so grateful for her photography skills, and for her as a person. If you're considering using Allison, do it!!!! You'll only regret NOT using her!

Allison Slater Photography's reply:

Okay, not me crying over here at my desk!!! Man, Ashley - it has been so incredible to be such a part of your engagement and elopement journey. Your adventure bridal session was such a blast and your elopement out in Yellowstone was amazing and so epic. I'm super grateful for the two of you, thank you so much!!!

Chris T.

Married on 09/09/2021

Allison was incredible! We wish we could give her 10 stars!!!

Allison was incredible! She was not only knowledgeable and professional, she was so much fun to hang out with and helped plan our entire wedding day! With Allison, you don't just get an incredibly skilled photographer, you get someone that is there to make sure your wedding day is the absolute best day possible!

Allison Slater Photography's reply:

THANK YOU!!! You two were seriously such a fun time - photographing your elopement was truly an honor. You guys rock!

Anna B.

Married on 05/05/2021

Best Photographer EVER!

Allison is absolutely amazing! my husband and I got married on cinco de mayo and I cannot say enough great things about Allison! She captured our day so eloquently, was assertive in the sweetest way and has already given us some sneak peek photos. If I could give Allison 100 stars, I would. I cannot thank her enough for the wonderful work she did!

Allison Slater Photography's reply:

Your cinco de mayo intimate wedding was SO EPIC and absolultey breathtaking. I'm so stoked that I got to be a part of it and celebrate you two!! You're the best!

Renee

Married on 12/31/2020

One word.....AMAZING!

Allison is the best! We did an adventure session with her at Yosemite and from the very first email to the final delivery of our gallery, she was very polite, helpful, outgoing, professional and creative! I would not have chosen anyone else, she captured my vision for our session perfectly! She's very organized and sociable, made us feel super relaxed and I appreciated all of the little details for our session. I look forward to another session with her in the future and would recommend her to anyone. Can't wait to fill our walls with her images, we love them all!

Allison Slater Photography's reply:

Renee! Man - I super appreciate you. Thank you SO much for choosing me, trusting me and sharing with me how much you loved your experience! I had such an incredible time with you both and am so excited for you to hang these new images in your home! Thanks girl!!

Kat G.

Married on 11/11/2020

If i could give her 6 stars i would

Honestly hiring Allison was the easiest and best decision we made for our wedding. I am a wedding coordinator from St. Louis and needed the best for my wedding. Allison captured my wedding vision perfectly. We did an adventure engagement session in Sedona and she made getting to a difficult location easy and effortless. Her knowledge of the trail was amazing. She photographed our wedding in Tucson in November and every photo was magazine-worthy. We will be using her for more adventurous sessions for anniversary photos. Hiring Allison will be the easiest and smartest decision you will make. EMAIL HER TODAY!

Allison Slater Photography's reply:

Genuinely, it was so incredible to photograph your wedding day - SUCH an honor as a fellow wedding vendor! I'm so stoked for you guys. Thank you so much for your kind words!!!

Nicki D.

Married on 10/02/2020

The Best Elopement Photographer Ever!

After realizing our original wedding plans weren't going to happen here in Minnesota (thank you pandemic), we knew we wanted to elope in Arizona but didn't really know where to start. The idea of planning another entire wedding felt extremely overwhelming until we found Allison. She's not only a photographer, but a planner as well. She made planning so easy every step of the way while making sure our day was exactly what we were dreaming of. She made the entire process stress-free and took so much off our plate!

The day of was truly unbelievable thanks to Allison's planning. Allison was extremely organized, yet so laid back which made for the most blissful wedding day. Our parents both commented that it seemed like she was an old friend and we'd known her forever. We felt so comfortable in front of the camera and she truly captured the entire story of our day.

We travel often and always say "the pictures don't do it justice." Allison's photos are quite the opposite. She truly captured how absolutely magical our wedding day was. It's honestly impossible to choose our favorites because they all are just beautiful. Allison is incredibly talented and we cannot recommend her enough!

+ 2

photos

Allison Slater Photography's reply:

You two had such a journey with your wedding day and MAN am I so happy and honored to be a part of it! Even though your day ended up not being how it was originally planned, I'm so dang happy to hear how incredible of a time you guys had. You two were so excited throughout the entire day and it really was SUCH a joy! I'm so stoked that you two are now officially married. CONGRATS again!!! You guys are so great!

Linda H.

Married on 09/28/2020

Most amazing day ever...

Of all the things to be grateful for today, one of the things I am most grateful for is choosing Allison Slater to photograph our Elopement. I know this may sound silly, but, seriously, she's amazing and if I could give her 25 stars I totally would!

From the first contact, to rescheduling due to COVID and then actually making it to the big day, she was an absolute dream to work with. She was not only a photographer, she was a tour guide, planner and hiking expert extraordinaire.

Thank you to the most awesomely talented Allison Slater for making our vision come to life and for the most amazing wedding photos that we will cherish for a lifetime.

If you are in search of an elopement photographer, do yourself a favor, stop reading this and go book Allison right now. You will NOT regret it.

John & Linda Hurler
9/28/2020

Allison Slater Photography's reply:

Linda! Thank you both so, so much. It was so incredible to be a part of your elopement day and help you two plan it all out! I was so honored and am still constantly re-living your day. I so appreciate you!!!

Jessie K.

Married on 08/27/2020

Best Photographer Ever!

Allison is absolutely amazing. Like many COVID couples, we had to make several changes to our wedding plans, but Allison was ready to help and encourage us every step of the way. Even after we moved our wedding location across the U.S., she was happy to travel (safely, of course) for our intimate ceremony and assist us in finding the best photo locations from thousands of miles away. She has a genuine love and excitement for what she does and she made us feel so comfortable and happy on big our day. We could not recommend Allison enough and hope that someday soon we can travel out to AZ and link up with her again!

Allison Slater Photography's reply:

Jessie! Girl you guys were so resilient to everything that 2020 threw your way. Even though your plans had a to change a bit from your original vision, it was SO dang gorgeous and an amazing day. You both are so awesome and super appreciate the both of you!!

Jessica B.

Married on 06/22/2020

Styled desert shoot

Shooting with Allison Slater Photography was such a genuine and magical experience!! You could tell Allison really loves what she does and is passionate about photography and capturing authentic moments, which made the shoot more personable and comfortable with my husband! The photos are beautiful and she was very quick at sending the photos back to us, which was a nice surprise! I highly recommend anyone to Allison Slater photography and we would definitely use her again!!

+ 2

photos

Allison Slater Photography's reply:

Jess! Girl you are so awesome - thank you so much for all of your kind words and for sharing your experience with me! You and Fred were SUCH a blast to take photos of and dang was it a fun night. I super appreciate the both of you!

Kelsey

Married on 06/11/2020

Engagement Pictures

Choose Allison Slater as your special day photographer! She is simply the best!

My fiancé and I traveled from Florida to Sedona for our engagement photos with Allison. The whole process was seamless, which took the stress off our shoulders. I thought I would feel so awkward being in front of the camera but we were so comfortable! Not to mention our pictures were PERFECT! We truly had an amazing time and experience with Allison as our photographer.

Allison Slater Photography's reply:

Kelsey!! Thank you so, so much - I'm so stoked to have been able to take your engagement photos. That night was SO incredible and such a blast! You two are so great!
Are you interested?
Send a message