Reviews
5.0 out of 5 rating
Quality of service

5 out of 5 rating

Average response time

5 out of 5 rating

Professionalism

5 out of 5 rating

Value

5 out of 5 rating

Flexibility

5 out of 5 rating
100%
Recommended by couples
48 User photos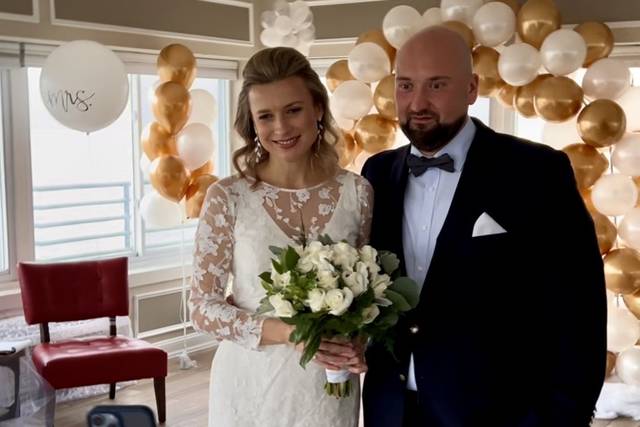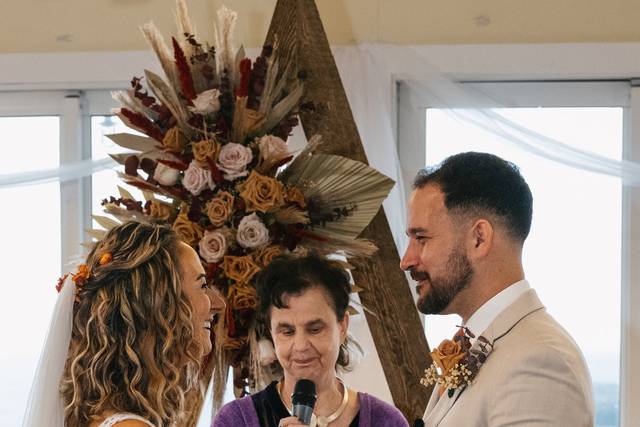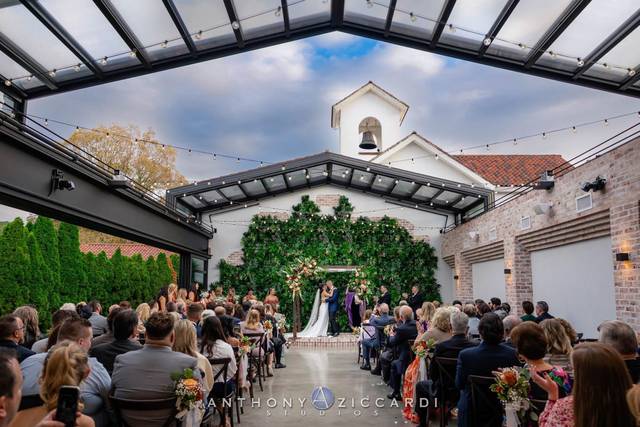 + 44

photos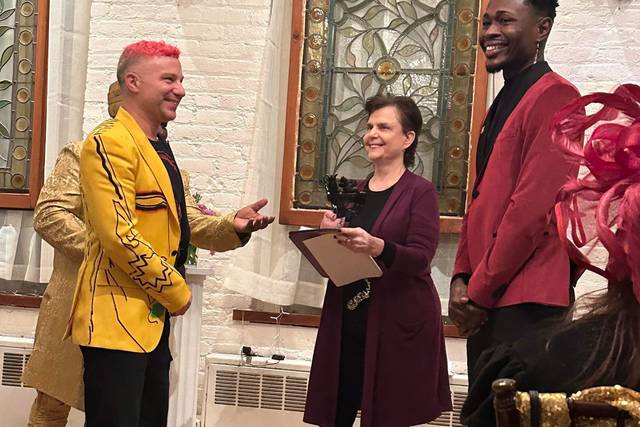 Featured

Kendall V.

Married on 12/31/2022

Dr. Sheila truly knows Love.

As the bride, I was really nervous about hiring an officiant for our wedding day. I wanted someone who deeply understood the love between my spouse and I, and not try to squeeze in all of these religious traditions to appease our differing families. From the first meeting with Sheila, she understood this completely. She got to know us, without use of checklists or questionnaires, just by simply meeting with us and diving deep into conversation. Sheila was able to offer advice and expertise to create a ceremony completely unique to us; and she delivered. The entire ceremony, I felt so calm and at peace just listening to the words Sheila had written about our love story. She spoke of our love through stories and poems which allowed our guests to take it all in through whichever perspective resonated with them. She incorporated our loved ones in the ceremony and honored those who could not be with us so beautifully, which really touched our hearts. Our guests raved about how amazing our ceremony was, and this really set the tone for the rest of the night! On top of all of this, she was so professional, handled our documentation with ease, and is just a kind soul overall. Thank you, Sheila for an incredible experience. I would highly recommend her to any couple who truly cares about their love.

Vital S.

Married on 11/26/2023

Awesome preparation and genuine festive experience

Sheila was so considerate and involved from the start, sent questionnaire and I was truly surprised that all of those responses were used during the ceremony which made it special and meaningful. She made many calls upfront to ensure the wedding will be perfect. We led the process professionally and gave the word to the extended family on a video call who was all abroad , it was a nice touch. It felt like she was not only doing the job but going extra mile to be there with us and for us. We got our certified copies right next day meaning she did follow through and accommodated our needs. I highly recommend Sheila Gay Gross as an excellent master of the ceremonies, wedding registrar and awesome professional.

Jeff F.

Married on 11/10/2023

Fantastic Friendship and Service

A Remarkable Officiant Experience

When my fiance and I were searching for an officiant to conduct our wedding ceremony, we were fortunate enough to find a true gem in Shelia who exceeded our every expectation. From the moment we met her, we knew that she was the one who would bring our vision to life, and boy, did she deliver!

What truly set her apart was her genuine and heartfelt approach to tailoring our ceremony to encompass all faiths. It was incredibly important to us that our wedding be a celebration of love that respected and embraced the diverse beliefs of our families and friends. This remarkable officiant understood that, and she effortlessly weaved together elements that made everyone feel included and valued.

But it wasn't just her inclusivity that made her stand out. She took the time to truly get to know us as a couple, and it was evident in the way she spoke about our journey during the ceremony. Her words were carefully chosen and beautifully crafted, capturing our love story in a way that made our hearts swell with joy and gratitude. It was as if she had known us for years, and her warmth and sincerity made the entire ceremony feel incredibly personal.

One of the aspects we appreciated most about her was her unique way of conducting the ceremony. She managed to strike the perfect balance between professionalism and a personal touch, effortlessly engaging the crowd and ensuring that everyone felt connected to the moment. There was an undeniable energy in the air as she guided us through the ceremony, and her ability to create such an intimate and welcoming atmosphere was truly remarkable.

Above all, what truly touched us was how she captured our love so perfectly and thoughtfully. It was evident that she had invested her heart and soul into understanding our relationship, and her words reflected that understanding. Our guests were moved to tears as she spoke of our connection, our dreams, and the commitment we were making to each other. It was a moment we will cherish forever, thanks to her incredible talent for capturing the essence of our love.

In conclusion, we cannot recommend this officiant highly enough. Her ability to tailor a ceremony to all faiths, her genuine interest in getting to know us, her engaging presence, and her unique way of conducting the ceremony were all truly exceptional. If you are searching for an officiant who will infuse your special day with love, inclusivity, and a touch of magic, look no further. She will ensure that your ceremony is a heartfelt celebration that you and your loved ones will treasure for a lifetime.

Are you interested?

Send a message

Domenique A.

Married on 10/21/2023

Excellent!

We highly recommend Sheila! Sheila went above and beyond for us and we can't thank her enough for that. We planned everything last minute and she was extremely accommodating. She's kind, down to earth, has a great sense of humor and really has a passion for what she does. We really couldn't ask for a better ceremony and are grateful that we found her. She made our ceremony unique and special.

Mary N.

Married on 10/14/2023

True Magic!

What Sheila delivered as the officiant for our wedding was so much more than I can even put into words here. Our ceremony was truly magic. Sheila got to know us on a deep and personal level in the months leading up to our day. From the moment we first spoke with her, we knew we were in for something special. And that's exactly what we got. Sheila asked all the right questions and got right to the heart of who we are as a couple and somehow then translated all of that in a beautiful and poetic way to the 130 people we had present. There was not a dry eye in the room, EVERYONE felt the love and had their heart opened in some way. And that's exactly what Sheila does, she makes it so that everyone there feels included and gets to share in the love. We are still getting compliments on what a beautiful and unique ceremony we had and I can't imagine a more perfect way to be initiated into the sanctity of marriage. What Sheila does is truly an art and we are so grateful. The most magical day of our lives, thank you Sheila!

Leland N.

Married on 09/30/2023

Sheila made our day even more special!

Sheila's ceremony was beautiful and moving, heartfelt and authentic, and her presence elevated our wedding in a way we were not expecting! Our guests were so touched and impressed by Sheila's wonderful words and ability to include everyone in our union. Highly recommend Sheila as she is truly the best!

Sarah B.

Married on 08/26/2023

Outstanding!!!

Sheila is incredible. She surpassed all our expectations and made our Ceremony even more memorable than we could have hoped. So many people came up to us and said it was the best Ceremony they'd every been to, largely because of how much energy Sheila brought to the event. I can't recommend Sheila enough, she will make your special day even more unforgettable!

Emily K.

Married on 08/24/2023

Thanks Sheila!

We had a lovely wedding officiated by Sheila. It was very small and intimate, but Sheila helped us to make it very personalized and special. It will be a memory we'll never forget. We really appreciate the time and care she took to plan the ceremony.

Allison M.

Married on 08/12/2023

Thank you Sheila!

Sheila performed the absolutely most beautiful, heartfelt, intimate ceremony. She made every guest a part of the ceremony, while including special details for both families to remember forever. Sheila gets to know the couple so completely that she is able to create a story within which she weaves their love throughout the ceremony. It was magical! Never have I or our guests been to a more amazing ceremony. She sets the bar very high for others to follow. Sheila set the tone for the rest of the wedding, which was spectacular. Without reservation I highly recommend Reverend Dr. Sheila Gay Gross to officiate at what will be one of the most important and memorable days of our lives.

M Hausman

Married on 07/01/2023

Making it Special

We decided to tie the knot , after being together a long time. We wanted to keep it simple , small but meaningful. I spoke to Sheila after interviewing other officiants and I was immediately struck by her quick understanding of what we wanted. We also had a meeting where she learned more about us as a couple . On the day of, she led a beautiful ceremony , which touched on all the things that were important to us.

Sam A.

Married on 06/29/2023

Shelia is amazing and made our ceremony our favorite part of the beautiful day for us!

Shelia is an amazing wedding officiant, in which we highly recommend. She sincerely gets to know her clients and their love story. We spent 2 hours on a FaceTime call with her, in which she learned 14 years of our history/love story. She really cares about her clients and makes it known that you can call/text her anytime throughout the process and after! Our guests raved about our ceremony and how it was so beautiful, memorable and different than most wedding ceremonies. Sheila allows a family member from each side to come up and speak about the couple (we loved hearing what they had to say and so did our guests). She added special touches to our ceremony that really made it stand out from others but most importantly she listened to our story and retold it beautifully and in a way that was engaging for all of our guests too. Sheila, our ceremony was our truly one of our favorite parts of the day, thanks to you!

Susan S.

Married on 06/29/2023

Sheila married my son & now daughter in law. She elevated the day & of course the ceremony.

Sheila's approach & humble leadership brought everyone together to focus on the bride, the groom & their love. It was so beyond special to feel the unification & the sentimentality blossom. As the mother of the groom & knowing how beautiful their love is, I am so grateful for her expertise and spiritual approach. Thank you Sheila it was an amazing ceremony.

Michael K.

Married on 03/04/2023

Sheila is just incredible!

Sheila took the time to have conversations with us and to get to know each of us. By doing so, she was able to write a ceremony that genuinely represented who each of us are individually as well as who we are together. I cannot tell you how many people told us after how moved they were by the ceremony. We followed our intuition when searching for an officiant and it led us to Sheila. She is a treasure. You will not go wrong in having her officiate your ceremony!

Lauren A.

Married on 01/02/2023

Incredible!!!

My husband and I are so incredibly grateful to Sheila for officiating our marriage. She really went the extra mile for us.
She was accommodating, warm, humorous and went out of her way to be there for the date we wanted.
She took the time to get to know us and curated the ceremony to fit our needs, specifically in being respectful of our wishes to not have a "religious" ceremony, but a spiritual one instead.
Even though we only had two witnesses there with us (dear friends of ours) she was able to make it feel SO special.
Sheila has a wonderful way with words and a
great aura to her.
We would highly recommend her to anyone wishing to have their wedding officiated by someone who will put genuine energy, care and love into their special day.
Thank you Sheila!

Susan D.

Married on 12/31/2022

Reverend Dr. Sheila Gay Gross is the best!

Reverend Dr. Sheila Gay Gross just wed my son and daughter-in-law! She was beyond awesome!!!! She had such wonderful ideas when it came to personalizing their ceremony. She made sure everyone felt included even their guests. Her communication before the day of the ceremony and that day was above and beyond. I would highly recommend her for your big day, you will happy you chose her!

Kelli M.

Married on 12/18/2022

Warm, Intuitive and Flexible Celebrant

I could not have found a better officiant for a combination ceremony to celebrate my son's new family with our family and friends in NJ. Sheila got that it's all about sharing a mom's love for her son, daughter in law, and baby, and it was so special and unique!

J W

Married on 12/12/2022

Beautiful Ceremony

The ceremony was so beautiful. My wife and I were so touched by the ceremony along with our guest! There was not a single dry eye in the room as Shelia really took the time to understand and get to know us she was able to provide such a beautiful and touching ceremony to us, a day and ceremony we will never forget and always talk about

Niki

Married on 11/19/2022

Sheila will create the ceremony of your dreams.

My husband and I met Sheila at one of our friends wedding, and we LOVED how she did their ceremony. She made it very personal, agnostic and special. She did ours very much the same - it felt like one of our closest friends was conducting our ceremony. My husband and I couldn't help but tear up looking at each other hearing what she wrote for us, it just rang so true and hit so close. I would recommend using her over and over!

Regina L.

Married on 11/05/2022

Best Officiant Ever!

We cannot recommend Dr. Sheila more! She truly made our wedding ceremony unforgettable. She struck the perfect balance between laughter and happy tears, and captured the love between my partner and I in a way that was both authentic and heartfelt. Her attention to detail was evident in every word she spoke, and we felt like she really took the time to get to know us as a couple. Our guests couldn't stop raving about how wonderful the ceremony was, and we owe it all to Sheila. Thank you for making our day so special and unforgettable!!

Gairy C.

Married on 10/08/2022

Unbelievable Experience

My now wife and I were searching for the cream of the crop of officiant's especially being new to the area and unsure of what to expect in New Jersey. What we received was an experience that could not be put on paper in words or price especially on our budget.

We started out explaining where we were in our thought process. We told Sheila that we were really shopping around different officiants and she understood that as well. She was not pushy and very easy to talk to. We did reach out to other officiants, but my then fiancée said "Sheila is the one. I am amazed at her responsiveness and attentiveness."
I could not believe how on point she was. Sheila did not disappoint!

Once we decided on her, she told us how excited she was and how unique our experience would be with her. She was not kidding. It was nothing like we expected at all. She took time to understand our individual personalities and incorporated that into our special day.

We had endless communication, which I didn't think was overboard as it felt more like a conversation with a family member than a stranger. We called Sheila on numerous occasions and she was very responsive while giving us different ideas on how to to make our day unimaginably great. She was very well reserved and listened intently to our needs. We told her what we were expecting and how small we wanted to keep the wedding. She then gave us a recommendation for different venues along with dates. Then reality set in for us.

Our venue had to be moved a few times. Coming from West Indian and Hispanic families, our guest list just kept getting bigger and bigger.
Sheila accommodated our changes without any objections and even suggested a few more venues, she never made it seem difficult. Once the venue changed she not only made the timing work, but she delivered such a beautiful and personal ceremony that everyone was captivated with her expertise.

To my wife and I, it was the most special and heartfelt ceremony. Everyone had the chance to relive our love story of 11 years. We couldn't have asked for anything better. Our family talked about Sheila all night long.
She truly is The Best!

Vicki C.

Married on 10/01/2022

Amazing Highly Recommend!

I highly recommend Sheila to anyone who wants a unique and memorable ceremony! Sheila took the time to get to know my wife and I over many weeks and in turn, lead to a very special ceremony we loved and will remember forever. I just rewatched our wedding video and was smiling/crying/laughing throughout! It was very interactive and not just a boring snoozefest we all become accustom to. After our wedding, several of our guests gave glowing praise for how much they enjoyed Sheila's style. If you don't want just a generic ceremony with all the usual cliches and boring motions, please take the time to reach out and see if Sheila could provide you the something special you seek.

Steven H.

Married on 09/15/2022

Wonderfully personalized and beautiful ceremony.

We searched the internet for an officiant and was drawn in by the previous reviews. We connected on our first call and new Shiela was the one for us. We provided some history and a bit about each of us and she created a beautifully crafted ceremony that felt like she new us our whole lives! Thank you for making our day that much more special!

Nazek S.

Married on 09/10/2022

Just perfect

I met Sheila and Immediately connected with her. Working with her was a great experience. She was very thorough and created a beautiful ceremony for us. Love her personality and energy. She is willing to go the extra mile to make sure everything is perfect. Absolutely love her.

Suzan S.

Married on 08/20/2022

Unique and special ceremony

Our daughter and son in law wanted a special and unique ceremony. Sheila did just that, plus some! It was captivating, touching, interactive and full of love and joy. I had a guest come up and say, "I want to get married again and use Sheila, it was so special!" Sheila has many ideas and experience about what works well. She spent a lot of time with my daughter and son and law and really seemed to know them and customize it beautifully at the ceremony. Both sides were accustomed to church weddings, but this proved to be a more than exceptional solution. None of us were disappointed. Sheila was very responsive and a pleasure to work with. This mother of the bride was thrilled! Thank you Sheila!

Willie F.

Married on 08/06/2022

One of the Best Officiant around!

Sheila from the initial phone call to the date of the blessing was nothing less than considerate and truly felt like she was there for you and your event. She walked my wife and me through the preparations and gave her recommendations from events that she had done similar to the one we were doing. Our guests had nothing but good things to say about Sheila after the event and told us their interaction with her allowed them to find peace with certain issues they were having in their life at the time. She is very friendly and has a lot to share in terms of knowledge and experience. We felt truly blessed on that day and even to this day. We couldn't have chosen a better person to help us start this next chapter of our lives. Thank you from the bottom of our hearts, Sheila.
Are you interested?
Send a message