63 Reviews
Recommended by 99% of couples
Quality of service

4.9 out of 5 rating

Average response time

4.9 out of 5 rating

Professionalism

4.9 out of 5 rating

Value

4.9 out of 5 rating

Flexibility

4.9 out of 5 rating
Awards
86 User photos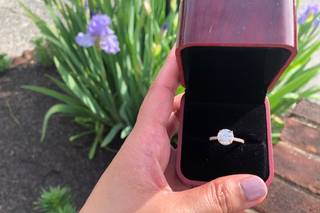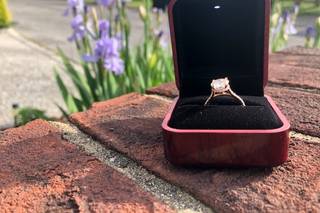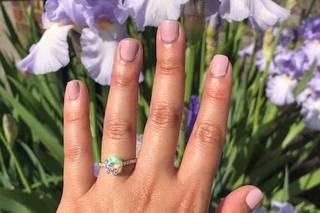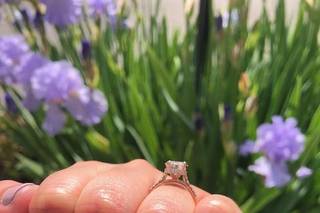 + 82

photos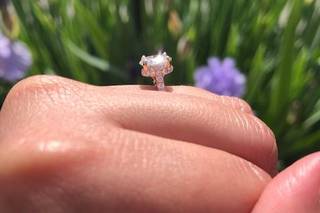 Jennifer J.

Getting married on 09/15/2023

Seven months later and still exceptional service!

I truly can not say enough great things about Vlad and Alexander Sparks. I purchased my rings over 7 months ago and Vlad is just as fantastic now as he was before my purchase. I was initially very worried making such a large purchase online from across the country from a company I'd never heard of and a person I'd never met. After a facetime chat I decided to take the chance. So so glad that I did! Nothing but professional and exceptional service! I am a forever Vlad and Alexander Client. Sincerely, Thank You, Vlad!

Janella L.

Married on 09/03/2022

Buy your ring here if you want a excellent price and service!

Phenomenal service! I wanted to do a review on this company after a few months of owning it. I've owned my ring since April 2021. I've been looking at rings in case my now fiancé wanted to pop the question. I went to 3 big jewelry stores in the area here in Nashville. Some had good customer service, but it was never both customer service and prices so that's when I started looking online.

I found Alexander Sparks with Facebook ads so I decided to go to their website, read reviews, look at their videos and pictures. The rings all looked gorgeous and I liked how reasonable the prices were. I got to choose my ring and knew which one I wanted to get. My fiance ordered it with the specifications I wanted. The site was easy to order from.

Customer service was second to none. Just because it has an online platform does not mean you take a hit on customer service. If anything, I found it better than the big box stores I went to. Vlad answered all of my questions. He was very helpful after I ordered it. We got the ring in two weeks. I was so surprised how fast it came. It was beautiful. It sparkled under the sun and it just blinded you. It came in the cutest ring box. You opened it and a light shined on the ring. I mean it was stunning.

I ordered a 4.75 but after a few days I realized that it was too big for my finger. Vlad once again came to the rescue to get it resized. I sent it back to him and got it back in a few days. The diamond on the band was misplaced and I contacted Vlad about it and he immediately sent for it back and got it replaced. He also helped replace my ringbox which I dropped in all the hoopla and he was so kind to send me another.

Overall, even with all the little snafus, I would order from this store all over again. I love my ring. I'm confident that this company will do what they can do make sure you're well taken care of, whether you go into their store or order online. Vlad is on point with his customer service.

This is the Becky ring in rose gold if you guys wanted to take a look at it.

+ 3

photos

David E.

Married on 06/09/2022

Best diamond jeweler in the world

I have been planning to purchase an engagement ring for almost 6 months. I've done research on hundreds of diamond jewelers along the way and I am so glad I came across Alexander Sparks. Vlad the owner is the most professional and helpful diamond jewelers period. He assisted me throughout the process in finding me the right ring for my surprise proposal I will be doing with no pressure what so ever. I flew in from Houston Texas to New York City to meet him. Within 15 minutes he found the ring that I am looking for with an exceptional price and quality. He have hundreds of options but he know his inventory 100%. If you are planning a proposal or just getting a gift for yourself or anyone i highly recommend you give him a shot and I guarantee you will not be disappointed.

Are you interested?

Send a message

70A6D24Bde85Ef0C3F5Bcbd54Dcb91B1Da487518

Married on 09/18/2021

the BEST customer service

While searching for the perfect engagement ring, my fiance and I had reached out to many different ring shops but none compared to Alexander Sparks. Alexander Sparks is simply the BEST when it comes to custom designed rings!! He worked with us every step of the way & was very patient and responsive with all our questions. He even sent us pictures along the process to ensure it was exactly what I had envisioned! I can't wait to get my wedding band from here as well!!

Ashley B.

Married on 05/30/2021

Amazing !!

I knew i wanted a ring from alexander sparks the minute i saw their page. Vlad helped my fiance fine the perfect ring and i could not love it more. I had a specific idea for what i wanted as a wedding band - I emailed Vlad pictures of what I wanted and within 2 weeks I had my very one custom wedding band. Its been almost a year since we got engaged and i wear my ring everyday - i asked Vlad if he could fix the scratches on the bottom of my band, I sent it in and within a day i had it back and it looks brand new! You wont go wrong with Alexander sparks or working with Vlad!

Ja'quis W.

Married on 05/22/2021

Absolutely Amazing Rings

Alexander Sparks has an amazing selection of rings. After searching weeks for my fiance's dream ring, I found the treasure trove of rings when I found this place. Everything that they have to offer is top notch and absolutely beautiful! My fiance is in love with her ring and I have to thank the team at Alexander Sparks for this. They were always available to help answer any questions I had and made the ring buying experience so much more enjoyable. I recommend anyone who is looking to buy an incredible ring for their special someone to shop at Alexander Sparks. It is a decision you will never regret.

Branden R.

Married on 02/01/2021

My experience was amazing. Had direct contact through entire process. The rings came out beautiful!

I highly recommend!! Great customer service. Beautiful rings!

Norman H.

Married on 01/09/2021

Great Experience would order again

Ring arrived in a timely fashion and the ring itself was just as described.

Brandon L.

Married on 10/17/2020

Pleasent and Exciting

My fiance has long adored the Alexander Sparks line of moissanite rings and I think they are absolutely stunning. Thank you for the service !

Angela D.

Married on 10/10/2020

I got the ring of my dreams from Alexander Sparks!

My future husband and I decided that it would be best for us to pick out our rings together. I can be very picky, especially about something that I will be wearing for the rest of my life. I wanted something that was conflict free, affordable and beautifully sparkly! We decided to look into diamond alternatives. It wasn't long before we discovered the beautiful moissanite stone. We could not find any jewelers in our area that sold moissanites so we decided to look online. All of the rings we looked at were pretty but never really felt right.

It wasn't until we found the Alexander Sparks instagram that we felt like we could make a purchase. I became obsessed with their page! They were constantly posting videos and pictures of their beautiful rings. This was perfect because I was concerned about not being able to see the stone in person before making a purchase. I started watching all of the videos that were posted on the page. When I saw the "Haley" setting, I knew it was the one. I wanted a simple solitaire ring when a pave bane. I also wanted a hidden halo and diamonds around the base of the basket.

The only concern I had about the setting was the width of the band. It was a dainty 1.5mm. It was beautiful and feminine but I was afraid that I could bump my ring onto things. I am very clumsy and would not want to damage my ring. I sent them a message asking if they could customize the setting to have a thicker band. They responded right away and completely accommodated my request. Once I got sized by a local jeweler, I sent them all my measurements and requests for the ring.

Everytime I sent them a message, I could get a response WITHIN MINUTES, even on the weekends or late nights! I was so incredibly impressed with the service I received. I remember placing the order on a Sunday and not expecting them to respond until the day after. But they started working on my ring right away. They even sent me videos of the finished ring before shipping it out! I placed the order on June 16th and received it on July 1st. I was expecting at least a month for a customized ring but I was pleasantly surprised with their turnaround time.

I got to have a sneak peek of the ring before my boyfriend hid it away. I was speechless! The ring is even more beautiful in person and it is everything that I could have imagined. I can't believe I get to have my dream ring at such an incredible price! I would highly recommend anyone that is looking for a ring to go through Alexander Sparks. Now I just have to wait for my boyfriend to pop the question!

**Sorry about the pictures. They are screenshots from the videos I was sent. I have not taken pictures of the ring itself because I only got a short sneak peek.

Alexander Sparks's reply:

💗💗Thank you so much you it was blast working on your customized ring. 😍😍😍😍💗💗💗💗💗💗💗💗💗💗

Toni

Married on 10/03/2020

Excellent customer service

I had the pleasure of working with Vladimir. He went above and beyond for me. You can tell he really thrives to make his customers happy!!! Will be working with him again!!!

Reem

Married on 07/17/2020

Engagement ring

I could not be more satisfied with the service and the quality of the ring I received. Customer service was awesome in responding to my messages and shipped the ring overnight so I can get it in time for my trip.

Sarah

Married on 06/19/2020

Wonderful!!

Not only did I get my DREAM ring, Vlad expressed shipped it to us so that we could get it in only FOUR days!! He was incredibly helpful and responsive and we absolutely could not be happier. Thank you!!!

Alexander Sparks's reply:

:) Enjoy your beauty and thanks again for choosing us working on your dazzling ring. Will look forward making more sparkling jewelry for you in near future :)

Tirzah

Married on 05/20/2020

Awesome Service, Amazing Craftsmanship, and Overall OUTSTANDING COMPANY!!!

I was hesitant to order something online from only seeing this company on Instagram. However I did a lot of research and review searching and decided to give them a try. Every piece they posted on Instagram was gorgeous and their prices are so reasonable. After my fiance and I got engaged and we were ready to purchase the ring, I reached out to them on Instagram to begin discussing my dream ring. The person through Instragram was so helpful. They gave me plenty of information to help me make an informed decision. Information like sizing, type of metal (14k or Platinum), carat weight/mm, and pricing. They made suggestions which I followed and my finished product was AMAZING! This is the most beautiful ring. Not only is the craftsmanship outstanding, but the diamond quality is brilliant. The process was so smooth. They kept in touch with me throughout the entire process and even made sure I received my ring in time for our engagement announcement. I could not be happier. For anyone who is doing the research I was doing before choosing Alexander Sparks, I hope this review helps you because this company is the entire package. I promise you will not be disappointed.

Anonymous

Married on 04/11/2020

Great experience!

I found Alexander Sparks on Instagram and fell in love with the Jenny ring!! I showed my boyfriend and he was skeptical to buy online without having seen it in person, but the reviews looked legit and Vlad was very quick to respond. My fiancé ordered the ring and got it within 2 weeks and it is GORGEOUS. I am getting compliments right and left. If you are skeptical about moissanite or buying online, you can trust Alexander Sparks!

Katie M.

Married on 12/17/2019

My Sheena Ring!

My Sheena Ring Is GORGEOUS!!! So Sparkly!! Exactly what I wanted!! Thank you all! ❤️💍

Jacob H.

Married on 11/02/2019

Stress-free experience

Will be buying the wedding band from here as well. Easy to work with, flexible with requests and customization.

Michael G.

Married on 10/10/2019

Very professional

The ring was more beautiful then I could have expected. My wife absolutely loves it.

Nou

Married on 10/08/2019

Beyond my expectations

They worked along side with me every step of the way to insure I got exactly what I wanted. My questions were answered quickly. I even got a text of my ring when it was made- shipping was quick. I'm a happy customer. A lot of people have stopped me dead in my tracks to ask about the ring and Complement my ring. It shines like crazy ! It's so beautiful! My brother is getting married in April and he loves my ring so much he asked for me to help him buy his future wife's ring. I can't wait! I'm already shopping again with Alexandersparks.

Alexander Sparks's reply:

:) Thank You So Much!!!! and We would love to design something really special for your brother.

Elena T.

Married on 09/30/2019

Excellent choice

I would like to express my gratitude to the team of Alexander Sparks, that they value their customer and treat respectfully customer's needs ans requirements. I've ordered a Moissanite ring for my mother for her 50yo anniversary. The ring is stunning! It was literally the ring from the dream😍 Definitely I will work with Alexander Sparks in future!

Daniel R.

Married on 09/28/2019

Perfection!

I have to say, this was the greatest experience I have ever had when it comes to buying anything online. Their customer service was the best I have ever had the opportunity to work with. I had a rush order and Vlad with their customer service updated me every step of the way. He was able to get me the ring in perfect timing. And she said yes!!!! We couldn't be more happy with the craftsmanship and the way we were treated. I felt like royalty by the way they made sure everything happened. Thank you guys so much!


Agata O.

Married on 09/21/2019

Easy to order, delivered on time, very happy customer:)

I was looking for a wedding set that is beautiful, unique and affordable. I came across Alexander Sparks store on Pinterest. I started looking at moissanite engagement rings..... I kept researching more and more about this presiuos stone. I told my future husband and father of 3 kids that this is what I wanted. He asked me if I am sure, if I am not gonna feel bad since it's not a diamond??? My answer was , 1000%sure. We have 3 kids, about to buy a house, do we really need to be spending tones of money to get a diamond???? I dont think so. I chose 2.00 ct. Krystal moissanite ring. I didnt want to go with matching wedding band since I thought it may look a little boring:). I decided on Medina diamond eternity band and I just love how they look together. We may be looking into adding another band in a near future. I told my "boyfriend" of 10 years that I need 10 year anniversary band:). Getting married was never really my priority but now since I got my rings I actually get excited thinking about it:). We ordered on 8/14 , process was smooth, no problems...and I got the rings today 8/23, delivered to my door by FedEx . Thank you for making such a beautiful and affordable rings.

Yadira H.

Married on 09/14/2019

Couldn't have asked for more!

My fiancée was super excited and in tears of his beautiful her ring was. Truly appreciate the quality and service.

Andrew C.

Married on 09/14/2019

Professional and Stress Free

Vlad is the man! Like most men I had an idea of what I wanted but not completely, considering the amount of options available. After some back and forth ideas, Vlad and I finally chose the perfect ring. Vlad is excellent at responding quickly and providing renderings. Once finalized, it took just over a week to finish the ring and have it in my hands. All I can say is WOW, ring came out beautiful and the bling bling is insane. My fiancee is obsessed with it and gets compliments everywhere we go. I am very thankful to Vlad for making this process extremely easy and designing the perfect engagement ring!

Victoria A.

Married on 08/24/2019

AMAZING truly so impressed and happy!

From start to finish this company was truly amazing. They designed a custom ring for me and I just couldn't imagine being happier. Vlad is so fast to respond, so caring and wonderful. I feel so blessed to have a go to jeweler now for any needs I will have! Thank you so much and if you're considering them you need to work with them you will not be sorry!
Are you interested?
Send a message