37 Reviews
Recommended by 96% of couples
Quality of service

4.9 out of 5 rating

Average response time

4.8 out of 5 rating

Professionalism

4.8 out of 5 rating

Value

4.8 out of 5 rating

Flexibility

4.8 out of 5 rating
22 User photos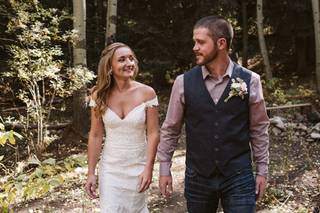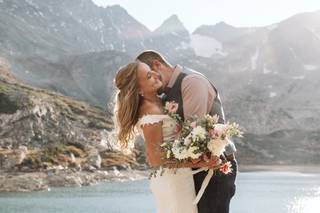 + 18

photos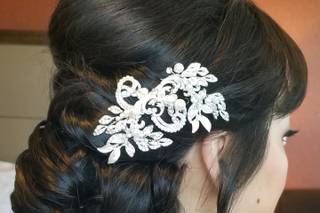 Heather H.

Married on 09/05/2021

Heather is talented and super fun to work with!

I am so glad I found Heather for my wedding! She was easy to coordinate with and is amazingly talented. My bridal hair and make-up looked flawless even through our after party! She's also really fun and easy to converse with; all my bridesmaids and mom had a blast getting ready with her and her assistant, also named Heather! I would highly recommend Heather for hair & make-up for your next event or photoshoot.

Airbrush Makeup, Tanning & Hair by Heather's reply:

Heather-
You were a beautiful bride and nothing short of sweet to work with. I enjoyed being a part of your special day! The 3 Heather's Rocked it!!!
Wishing you the BEST!!
Xoxo

Kelsie L.

Married on 09/30/2020

Excellent experience!

Heather was truly awesome! When my husband and I chose to elope my one big fear was not being able to have trial hair and makeup done (because of our own timeline, it just wouldn't work out to have it) but Heather did amazing work for me! She listened to what I wanted and made me feel comfortable enough to be honest if I wanted to change something, to me that's so important. I have had my makeup and hair done for multiple weddings that I've been in and I've always gone and tweaked things after because I was too nervous to speak up, for the first time I didn't have to touch anything after Heather was finished. I'll be the first to say I'm picky with my hair and makeup and on one of the biggest days of my life Heather made that the least of my worries! The hardest part about eloping was getting ready alone and Heather really helped with that, we had great conversation and laughs while she made me feel beautiful. Thanks so much Heather for being part of our special day, and being so great!! ❤️

Airbrush Makeup, Tanning & Hair by Heather's reply:

Kelsie,
Thank you so much for taking the time out of your day to leave a review and send some pictures!!! I LOVE LOVE LOVE your photos! And look how amazing you still looked after that hike! I hope your time in Colorado was amazing! I really enjoyed my morning working with you. Brides like you are why I love my job so much!!! Enjoy your new married life you are an adorable couple:)) Sincerely, Heather

Annie

Married on 09/13/2019

Heather is wonderful!!

Heather is amazing and great at her job. From day one she was responsive, professional,and very friendly. I enjoyed having Heather be a part of my day she was enjoyable and easy to talk to while she did our hair and makeup. I loved all the hair styles she did for my bridal party. And I absolutely loved my hair and makeup. I had a few rough trial runs for hair with my regular hairstylist and I was very nervous for the day of results. A quick meet and greet 5 min trial with Heather put me at ease. She blew my expectations away on my special day. I loved my hair and makeup and I received so many compliments from guests. Thank you so much Heather for making me feel amazing on my wedding day.

Airbrush Makeup, Tanning & Hair by Heather's reply:

Thanks so much Annie for your great review and opportunity to work with you and your girls!! It's ladies like you who leave me loving my job!! Best wishes:))
Heather

Are you interested?

Send a message

Mimi N.

Married on 06/06/2019

Amazing airbrush makeup & hair artist!


Heather did a phenomenal job on mine and my sister's hair and makeup for my wedding; we received SO many compliments that night. I planned my Colorado from across the country, and Heather really worked with my schedule to plan a trial run months before the wedding and fit us in for spray tans before the wedding. She was always well prepared and quick to respond to any communication. She really listened to me when I wanted to change anything about my look or hair, and it was easy to trust her. Airbrush makeup truly lasts all night and really looks flawless in photos.

Heather not only made me look beautiful for my wedding, I truly felt beautiful as well. Also, get a spray tan before your wedding! It make my skin look glowing and so even - best decision ever!

+ 2

photos

Claire

Married on 05/18/2019

Amazing! Made me feel beautiful and just like myself!

I loved working with Heather! She is fun, easy to work with, and will create exactly what you're hoping for! Heather did my hair and make-up, along with all my bridesmaids and the MOB and MOG's hair and make up. We all have nothing but amazing things to say about Heather and her team. Heather listened to exactly what we wanted for our hair and make-up and graciously allowed us to tweak things along the way to make it perfect! I couldn't have asked for a better experience. Would recommend Heather to anyone! She made me feel beautiful, confident, and myself for my wedding day!

Andrea

Married on 07/22/2018

I picked this company as this was a preferred vendor, and I could later see why they came so highly recommended!
While Heather was not available for my wedding day, she did make arrangements for me, which were pretty last minute (less than a month, I believe) as my previous stylist had to cancel. She arranged for Raquel to meet me at our hotel the day of my wedding to do my hair and makeup and my sister's hair... at 5 in the morning!
She did an AMAZING job! My hair was exactly how I wanted it and was able to incorporate the hairpiece that I brought in super creatively and my make-up looked so lovely. I felt so beautiful on my special day, which is important! When it was my sister's turn to have her hair done, I realized that I had forgotten a detail... I never picked a hairstyle for my sister, my only bridesmaid! No problem, Raquel was able to make a really amazing hairstyle for her that looked perfect! She even helped put in my veil which I'm glad she did because it kept getting snagged or pulled on throughout the day and never fell off!
I would highly recommend them, as they do an amazing job and are so willing to work with you to make your day go as smoothly as possible! I've included photos of how our hair and my make up looked. Everything was perfect.

+ 4

photos

Airbrush Makeup, Tanning & Hair by Heather's reply:

Thank you Andrea! Thank you for putting your trust in us! You looked great:)

Gina

Married on 12/09/2017

Heather did a great job on my makeup for my wedding! I had considered going with a local salon but they kept acting like they were doing me a favor and giving me the runaround. I called Heather and I had an amazing experience from start to finish. She quickly assembled a quote for myself and a few other folks attending the wedding for hair and makeup. She arrived promptly and was well organized with all the stuff she needed to setup. She got everyone ready on time and even stayed through our on site ceremony and helped touch up my makeup after I got snowed on in a serious way. Very professional and reliable I would definitely recommend Heather!

Erica

Married on 10/08/2017

Honestly I thought I didn't care much about my hair and makeup, I of course just wanted to look nice on my special day. That was until I went through three trials (before I met heather) and was ether horrified or my look fell flat after two hours. Heather and her assistant were truly over the top both in communication, putting me at ease and doing an absolutely fabulous job. My hair and makeup lasted 12 hours +. I felt beautiful and I was so pleased with my photos. Don't think twice about hiring heather, I wish I would have found her first and not wasted money on other trials. She is the best!!!!

Jessica

Married on 07/02/2017

Heaher and her team did an amazing job for my wedding. I had a picky bridesmaid and they went above and beyond to make us all happy. Thank you for all your hard work!

Michele

Married on 12/04/2016

Heather was amazing! We had a winter wedding with a vintage feel, and she did such a wonderful job- my hair and makeup were perfect through most of the night! Our wedding was in Vail, and she woke up before dawn to get up the mountain for our big day. She did the hair and makeup for the whole party and successfully stayed on schedule, even having time to spare! Her rates are competitive and her experience was evident when I asked her on the wedding day for a different hairstyle than the ones we had previously tested. Give her a shot- you won't regret it. Thanks for making our day that much better, Heather!

Brenna

Married on 09/17/2016

Heather did an amazing job for my wedding. I had a remote mountain wedding and Heather showed up on time with her assistant and stayed right on schedule all day. Every one loved their hair and makeup and during my trial she really listened to what I liked or didn't like. So glad I booked Heather for my wedding!

Carmen

Married on 06/18/2016

Heather is an amazingly talented hair and makeup artist. She performed her magic for our daughter's wedding in Fraser CO on June 18. She did hair and makeup for our party of three; Bride, Matron of Honor and Mother of the Bride professionally and pleasantly. She made me look and feel beautiful and I can't thank her enough for doing that. Weddings are uniquely special and that is what Heather is...unique and special.

Emily

Married on 06/10/2016

Heather and her team of 2 assistants did an amazing job on hair and make-up for 11 people (myself included!)! From the moment I met Heather back in October 2015 I loved her down to earth demeanor, professionalism, and also her extreme friendliness. It was so easy to converse with her during my 2 trials, and by the time the wedding arrived it was like seeing a friend :) My make-up was flawless, but she provided a touch up kit for the day just in case! My hair was perfect and she even helped put my veil in. We had a blast getting ready all morning long on 6/10/16. She was right on time and ready to perform her magic! Oh, and trust her when she says go for the false eyelashes - they enhanced my overall look even more! Her one assistant was ahead of schedule so she was flexible to do a friend of mine that wasn't on the list.

Katy

Married on 05/28/2016

I am so so so lucky!! Heather saved me and is amazing!! I had a makeup artist that no showed to 3 trials and by that time I was pretty strapped for someone. Everyone I contacted was pretty pricey and Heather happened to be available for me last minute!

She did an amazing job! I have very very very curly hair and worked with it to make it look spectacular, moreover, it stayed up all night!

I don't wear makeup and didn't want to look overdone, she made my makeup perfect. Subtle enough that in person it didn't look too obvious but it made my pictures look wonderful.

thanks so so much Heather, you are wonderful!

Katy

Married on 10/03/2015

Heather was amazing to work with! My Bridesmaids looked great and felt great all night at the wedding. Highly recommend Heather and her team for hair and makeup services.

Airbrush Makeup, Tanning & Hair by Heather's reply:

So sweet of you to give a review so quickly Katy!!! You and your girls were so beautiful and fun to work with! Email some pictures over to heather@makeupartistheather.com if you get a chance!

Gloria

Married on 03/28/2015

Heather was very easy to work with. She was very professional, prompt and kind. She did a great job on each of us to make us look amazing for our big event. I would use Heather again if the need arose.

Courtney

Married on 09/20/2014

Heather did an amazing job on my hair and makeup for my wedding. She also did hair and makeup for my matron of honor, as well as my flower girls. We all loved it! My hair and makeup lasted through the after party until the last guest left at 2:00 am! The trial run was excellent and she really listened to what I asked for. She came to my house to do hair and makeup the day of the wedding, it was so nice to have that done in the comfort of my own home. I would highly recommend her to anyone looking for a professional, beautiful job!

Heather did my hair and make-up for our elopement in Vail and I was really pleased with the result. I am very self conscious and unused to makeup and dress up but she was kind, professional and patient, calming my nerves which I so appreciated. Thank you Heather for your invaluable contribution to our magical day.

Haley

Married on 07/26/2014

I am so thankful I found Heather for my wedding! As I was having a destination wedding and am not from the Denver/Summit County area, I was nervous about finding someone. Heather was incredibly responsive, helpful and professional. Once we arrived for the wedding and I met Heather, I was instantly put at ease. She is so easy to talk to, listens to what you want and works to make sure you are completely satisfied. My makeup and hair could not have been better! Each of my bridesmaids had their hair and makeup done and Heather truly made each girl look so beautiful - from fair to dark skin, short to long hair! She knew exactly what we wanted and made sure we got it. I would highly recommend Heather for any bride - she will make you feel so beautiful!

Stacy

Married on 01/04/2014

Heather was both professional and fun to work with. We did a trial so I could see if I liked the airbrushed makeup (which I did), then we arranged the wedding day makeup. Turned out to be a snowstorm but Heather was very flexible on meeting and adding in some of my friends at the last minute. My makeup looked beautiful and lasted all day and night. Very pleased :)

Laura

Married on 03/03/2010

It was such a great pleasure to work with her. She was actually the make-up artist for one of my bridesmaids' wedding and I knew I wanted her to do my wedding make-up when we first met. She was sweet, friendly, very professional and knows just how to make a girl look glamorous! I would definitely recommend her to everyone!She turned these girls into make-up lovers! I would highly recommend her to everyone!

Mary

Married on 02/06/2010

I've had a really wonderful experience with Airbrush . I had very bad experience with other makeup artist. I loved it!!!!!!! They are there in a very early morning, they are patience and calmness in dealing with the ordinary wedding stresses. I want to thank them for doing such a great job and would highly recommend them to anyone looking for talented makeup artists

Robin

Married on 01/15/2010

Wonderful to work with was able to handle additional people on the day of the wedding. Easy to discuss my looks with and open to changes. Everyone commented on how pretty my makeup was. everyone in your bridal party made me feel a part of the day and was more than happy to be a part of your big day!



Rebeka

Married on 09/19/2009

Heather was great. She went out of her way to come to our wedding site. She did a truly outstanding job with my hair and makeup and with my 3 bridesmaid?s make-up. I got so many compliments on how great my bridesmaids looked. We all looked wonderful and it was all thanks to Heather and her great talent. I would recommend Heather for any occasion. Thank you Heather for doing such a great job!

April

Married on 07/30/2009

Heather is very talented and patient. She helped make my wedding perfect. I couldn't have asked for anything more. The make-up was flawless and I felt amazing. The hair was just as I imagined it and didn't have any problems holding all night long. I would refer anyone to Heather for services. Thank you again Heather for the wonderful work you did for my wedding.
Are you interested?
Send a message