61 Reviews
Recommended by 99% of couples
Quality of service

4.9 out of 5 rating

Average response time

5 out of 5 rating

Professionalism

5 out of 5 rating

Value

4.9 out of 5 rating

Flexibility

4.9 out of 5 rating
23 User photos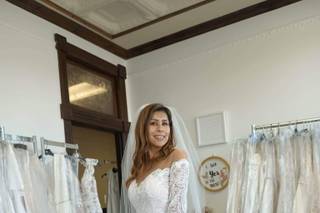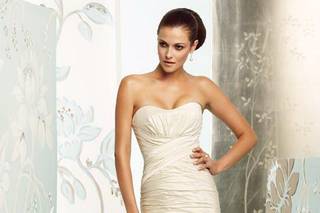 + 19

photos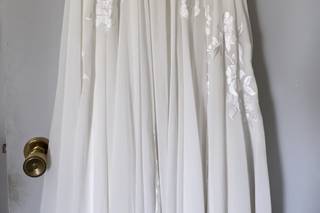 Antonette H.

Getting married on 08/26/2023

Best Bridal experience!

I could not ask for a better bridal experience! Adina is professional, kind, helpful and very good at responding to all of your questions. Here shop is very charming . The light comes in just perfectly when you are trying on dresses. She is very good at what she does . I happy to have found my dress at Adinas!

Megan A.

Married on 06/06/2023

Extremely helpful and responsive

Adina was great to work with! I live across the country and had A LOT of questions during the online dress shopping process. She was extremely helpful throughout the entire experience. Not to mention her inventory is stellar!

Rachel K.

Married on 03/24/2023

Best Experience for my beautiful dress

Adina was so helpful and patient when I came in for my appointment. She had such beautiful dresses for me to try on at prices I didn't feel were breaking the bank like other dress shops. I can't recommend Adina's Bridal enough!!

Are you interested?

Send a message

Nadia I.

Married on 10/21/2022

Find a Beautiful Dress here

With my wedding 3 weeks away, I was in dire need of a dress. I am SO glad I found Adina's Bridal!

She has a beautiful selection of dresses for the modern bride, not to mention very reasonable prices!

Her studio was in a beautiful historic Victorian building which was very easy to find. Parking was pretty easy as well, there was off-street parking within walking distance. There was nothing complicated about the experience.

You can view the dresses she has on her website in person by appointment only.

Prior to your appointment, you will select 5 dresses you would like to try on and then you will try them on at your appointment. Very straightforward process. There was even time to try on other dress that I didn't preselect.

Adina's Bridal was my very first attempt at trying dresses on. I had a lovely experience. She was very helpful and had a selection of accessories to try on with the dress such as belts, headpieces, and veils.

I would absolutely recommend this place to any bride I know. You will not be disappointed.

Jayne W.

Married on 10/09/2022

Amazing experience at Adina's Bridal!

I had an amazing experience at Adina's Bridal.
Adina was super helpful in my search for the perfect dress for my special day.
Her studio is in a beautiful Victorian building, which was very easy to find.
Adina helped me find the dress of my dreams!
She has a wonderful selection and all at very reasonable prices.

Thank you again Adina!

Camila M.

Married on 09/26/2022

She answered alll my questions that Ii have very friendly and professional good price.

Good service, and price.The selection was great and I never felt pressured.

Suzanne

Married on 09/24/2022

Designer Gowns at Amazing Prices

I can not begin to express how happy I am to have found Adina's! If you are looking for a deal, look no further. Adina was wonderful to work with, responded quickly to my inquiries, and made the process a breeze. As a bride with champagne taste on a canned soda budget, searching through Adina's website made me feel like my dream dress was actually attainable. Luckily, I live local to her cute salon and was able to try on the styles I liked. Everything was as described on the website; she discloses any wear to sample dresses. I will recommend Adina's to any and every person!

Alexandria G.

Married on 07/14/2022

Beautiful Dress! Great Experience!

I originally fell in love with a Bronx and Banco white lace dress on Instagram. To my dismay, the dress was completely sold out everywhere I looked for it. I instantly tried looking for it via other boutiques online and I fell upon Adina's Bridal via Google Images. From there, I connected with her and she was able to provide me with the dress I always wanted. She had one dress left and it was my size! It was truly my lucky day!

I purchased the dress at such an affordable price and I bought it about two years before my actual engagement party date. Recently, my engagement dinner party was on Saturday, May 14th, 2022 and I bought my dress in September 2020. I knew this dress was MY dress when I saw it on Instagram!

From California (Adina's Bridal) the dress arrived safely to New York (where I'm from). This New York bride-to-be was ecstatic!

Thanks so much again!

Love,
Alexandria Garcia

Helene J.

Married on 05/22/2022

I was referred to Adina's Bridal by a tailor In Stitches

What else can I say, but I found my dress and it's beautiful and at an incredible price. Adina was helpful and patient taking pictures and offering to do a video to send to anyone I needed. She brought over all the dresses I indicated interested me, plus others.
The room was large and bright and no one else was there. The ONLY picky issue is that I wish there was a good mirror hanging on the wall rather than leaning. Adina did hold it upright for me, but if there's one thing I want when buying a wedding dress is an accurate mirror. And a three-way would be the best--the back view is obviously important. But a picture gave me enough assurance that this was the RIGHT dress. I never expected to find my dress the first time out. Thanks Adina!!! (I've included two pictures of the dress from the website--mine still needs alteration).

Alice

Married on 03/12/2022

Perfect condition BHLDN dress with tags!

I visited BHLDN and tried on a dress I fell in love with, only to find out it wouldn't ship for 3 months due to delays and backed up orders. Because I am moving to Australia in the next 3 months, I couldn't risk waiting that long. I was so disappointed but decided to check online for used dresses. I came across Adina's Bridal and gave them a call. I left a voicemail, and the call was returned in a few minutes with Adina answering all my questions and guaranteed it would be shipped to me in the next few days. I asked for photos of the dress and she was so sweet and texted me videos of the front and back, talking me through it.

The dress itself was in perfect condition with tags still on, something I would expect if I had bought it online from BHLDN itself. I believe the dress used to be a floor model or something, but there were no signs of wear at all. When it arrived, it was folded in a plastic dress bag in a box. I would recommend steaming the dress before it wearing it.

Overall, I am so incredibly happy with my purchase and the service! My dress ended up shipping and arriving in literally less than a week from my first call which leaves me with a lot more time for alterations before I move to australia. I also paid about $200 less using Adina's Bridal instead of the full price at BHLDN!

Jennifer C.

Married on 02/22/2022

The perfect dress at am amazing price

Reached out to Adina when I fell in love with a previous season version of a wedding dress, even though she was sold out of my size. Within a few days she had found a sample for me and it made me feel like a snow princess at my wedding.

Veronica C.

Married on 09/25/2021

Great experience

Adina was incredibly helpful! She had two sizes of my dream dress in stock, and was very flexible about allowing me to try both to get the perfect fit. The dress was well packaged and in great condition. Would recommend!

Nina F.

Married on 09/10/2021

Wonderful seller!

I fell in love with a dress via Pinterest that was no longer in production. Couldn't find it anywhere to try on anymore, so when I saw a sample gown on Adina's site, I bought it solely based on the fear it'd be gone by the next morning. I was a bit terrified there would be some kind of run-around or fine-print exception to the 3-day return.
When it arrived, the fit wasn't great so I reached out to Adina--not only was ZERO hassle re. possibly returning it, she gave me extra time to consult with a seamstress, told me not to stress about making a hasty decision, and was so kind & communicative. Found a seamstress who is going to take care of the fit and I have the dress I've been wanting for months--if you're nervous, don't be!

Allison

Married on 08/14/2021

Amazing customer service and great prices!

Adina is so lovely work work with! I purchased a wedding dress from her website and she was incredibly responsive over email. She answered my many questions and offered to give me extra time beyond the listed return deadline to meet with a seamstress about alterations. Although I ended up having to return it because the dress didn't quite fit, the entire process was easy and stress free.

Adina has been the most pleasant person to work with and I cannot recommend her enough!

Lashonda

Married on 07/03/2021

Wedding Dress

Adina is very professional and knowledgeable about her dresses. She was also very quick with responses and quick shipping.

Miette H.

Married on 05/15/2021

Wonderful/ amazing

Adina's Bridal is the most amazing place to get your dress if you are not a huge fan of spending $5,000 on your wedding dress. My dress was less than half the regular retail price and my communication was so much more personal than it would've been with a large brand company!

Linett A.

Married on 05/02/2021

Loved my wedding dress!!

What a beautiful dress it turned out to be! Shopping for a wedding dress right in the middle of the pandemic when things were shut down was scary- but I was so pleasantly surprised and pleased with the quality and the detail on this dress! I was comfortable yet felt beautiful. THANK YOU!!!

Estrella G.

Married on 04/22/2021

Wonderful Experience

Adina met me at her shop last minute and answered all my questions in a timely manner beforehand via email for a particular dress I had my eyes on. Although I went alone, Adina made me feel like I had a friend shopping with me. She was so kind and I fell in love with my dress right away. She has a beautiful selection of gowns from well known brands at a fraction of the price. I'm so happy that I found her, not to mention, got to support a small business owner. The dress fit my spring wedding perfectly and also had POCKETS! I'm so happy with choosing her boutique for my wedding dress.

Barbara M.

Married on 04/10/2021

Thank you Adina!!

Adina made my dream come true! I fell in love with a BHLDN dress that was sold out in my size and after searching various websites I came across Adina's Bridal. I sent her an e-mail asking for additional details about the dress and possibly a couple photos. A couple hours later she sent me multiple photos showing the dress and any imperfections (which were minimal). The dress arrived a few days later and I couldn't be happier! She was a pleasure to talk to on the phone and I explained to her that I'm very petite on the top and heavier on the bottom so I was still a little scared this size wouldn't fit me right. She told me to just keep in touch with her in case I need it to return it which made me feel a very comfortable purchasing the dress. I definitely recommend Adina's Bridal! She has a beautiful selection of dresses and very affordable!

Casi

Married on 01/06/2021

Wedding Dress

I stumbled across Adina's Bridal while trying to find a dress to order on-line during the COVID-19 pandemic. Adina was responsive, kind, and very helpful. I was nervous the dress was going to be too small, so she measured the area I was concerned about and sent me more specifics about the fabric. The dress came quickly and was absolutely perfect! I would highly recommend her!

Sara

Married on 10/10/2020

Great Value

Weddings are not cheap! & neither are wedding dresses! Adina's Bridal offers beautiful, out of season, wedding dresses for literally half the price or even more than what the dress originally priced for. I had the pleasure of visiting Adina's boutique & try on the dresses in person. With the uncertainty of covid, Adina made the process simple & safe. Beforehand I selected dresses I was possibly interested in & she set them aside for my appointment along with other dresses she thought would interest & fit me as well. It was fun trying on the different styles & so hard to choose one dress! I ended choosing a gorgeous, sparkly, beaded dress because originally my wedding venue was very minimal & modern. The dress itself was under $1000! I don't remember the exact price, but omg what a steal. Fortunately, the dress fit like a glove & only had to have the hem altered to suit my height. So beautiful! Fast forward a few months later & planning a wedding during a pandemic was just crazy. Ended up changing venues 2 more times with totally different vibes. Adina was so helpful & mailed some new dress choices I saw online to try on & then I ended up purchasing another beautiful lace wedding dress to fit the vibe of second venue I thought I was going to get married in. Another gorgeous dress, with minimal alterations. But in the end, I wore both dresses when the second venue fell through & ended up at a third venue haha. So happy had the opportunity to wear both dresses, one for the ceremony & the other for the reception. & of course the guests were ooh-ing & aww-ing over it. All in all, the dresses were top notch & omg the PRICE, I basically got 2 dresses for the price of 1 regular priced dress. Thanks Adina!

Lillian B.

Married on 09/19/2020

Great products for the price!

Adina's Bridal provides a great service for the price. I purchased an Amy Kuschel crepe wedding gown from the salon website, after following the links from preownedweddingdresses.com and tradesy.com. I feel so lucky I got a BHLDN gown for the price I did. The service is great - the item arrived well packaged, in great condition (as promised) and arrived by the date promised. The price was really good for me, and I feel like I got something special. I'm not 100% sure if this is THE dress, but I am going to keep it because my mom really likes it as well. All around very pleased with the service, availability and delivery of the product. Adina is very responsive (responds within twenty-four hours). Act fast because these gowns sell really quickly, and they're the last ones of their kind on the internet. Thank you greatly for providing this service to women who are trying to look great at a reasonable price.

Emily P.

Married on 05/30/2020

Adina was a pleasure to work with!

I can't recommend Adina enough! After seeing my dress on her website I was a bit skeptical of the condition since it was a sample. Adina put me at ease by patiently answering all my questions, and taking lots of photos for me to view before my purchase. When I got my dress shipped to Canada I couldn't be more happy. It arrived quickly and in perfect condition! I would 100% recommend Adina to anyone wanting a deal but not willing to compromise quality.

Dawn K.

Married on 07/06/2019

Fantastic experience

I live in Canada and was worried about purchasing my daughter's dress online, and on top of it from the States. After finding out the price we would have to pay for the dress in Canada I decided to check out Adina's Bridal website which I found through a website called Pre-Owned Wedding Dresses. Adina's Bridal had the dress my daughter was going to order and the dress was in her size. She also had a 3 day return policy, which was the deciding factor to order the dress. Adinas' customer service is the best EVER! Adina arranged shipping so the dress arrived on the day I needed it and even followed up with an email advising the dress would arrive on the day I requested. The dress was perfect! For all you Canadian Girls wanting to save some money - Adina's Bridal is the place to purchase your dress! My daughter saved over half of what it was going to cost if we purchased in Canada. Thank you so Adina!

Kavita

Married on 04/04/2019

Ideal dress-shopping experience!

I had a FABULOUS experience here; I highly recommend Adina's shop to every bride!

I still can't believe the speed with which I procured my dream dress. I called for an appointment on Monday (Adina returned my call within about 30 mins), I tried on dresses on Thursday, and I picked up my dress on Friday. Wow!

Adina is incredibly responsive, dependable, patient, pleasant, and kind. She has a great eye for helping you identify and narrow down the most-flattering dresses for you, too. I'm particularly grateful to her because the dress that I ended up loving and buying was one that she pulled thinking I'd like it (based on my preferred dress style and description that I provided via email before my appointment). Thanks a million, Adina!

Adina's shop is one of a kind and I simply can't say enough good things about my experience there.
Are you interested?
Send a message