286 Reviews
Recommended by 99% of couples
Quality of service

5 out of 5 rating

Average response time

5 out of 5 rating

Professionalism

5 out of 5 rating

Value

5 out of 5 rating

Flexibility

5 out of 5 rating
1 User photo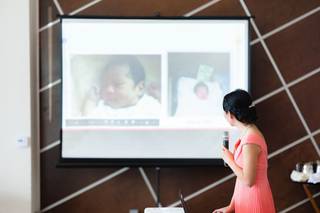 Clara H.

Married on 04/08/2023

Were Awesome!

My new husband and I could not have imagined a better band for our wedding. "The Blue Daddy's" were awesome! Not only did we love the band, but our guests loved them as well and complimented us on our choice of band and were strongly impressed with their talent and how beautiful they sounded. They even complimented us on our choice of wedding song to dance to. Gary and his band were easy to work with and were nice people. I would use them over and over again. We really appreciate how well they did to make our wedding beautiful and sound amazing during our dance and while others danced as well. Thank you!

Ophelia L.

Married on 04/07/2023

Smooth to work with!

We absolutely loved this band for our wedding reception! They got everybody dancing. Gary also provided a soloist for the ceremony and cocktail hour. We had forgotten about dinner music, and they played jazz standards and then Gary played recorded music for us on the band breaks without us even having to ask. Guests of all ages complimented us on the music choice. They were unbelievably classy and smooth to work with. Thank you so much!

Amy R.

Married on 04/02/2023

Their talent shined!

Everyone involved, especially Gary at About Music Pro provided fantastic service and communication that created a smooth process before and after our event. Their talent shined at our event and set the perfect mood.
We had The Blue Daddy's at our wedding reception with over 200 people attending. The comments have been incredible about the band and how wonderful they were. Gary was the person I communicated with and he was SO easy to work with and to assure me that his band would be a hit - he was so right - thank you so much for such an incredible wedding that we will always remember forever!

Are you interested?

Send a message

Daphne T.

Married on 04/01/2023

Very Professional!

We hired About Music Pro for our wedding 4/1/23 and were thrilled with how professional they were!

During the ceremony, Gary played live acoustic guitar and added violin and cello player for a classy sound, going so far as to learn a few special songs ahead of the wedding to make the ceremony exceptionally special.
At cocktail hour, Gary and his trio kept the vibe bright and happy with some great live tunes. The outdoor space we were in was beautiful, and the sounds elevated the moment to peak heights.
During dinner, the background music was classy, and Gary was very attentive at enabling toasts and speeches with mics and sound coordination. Oh yeah - he brought all the AV and sound equipment gear needed to fill a massive outdoor space with the voices during the ceremony.

Did I mention he is awesome!
Now onto the fun part - the dance party! Wow, Gary as DJ/MC was so spot on, and had the good people on the floor from first dance to last call. Feedback from our guests was it was one of the most fun weddings they have ever been to.
I would highly recommend Gary to play - and enable - all the musical needs of your event.

Iris C.

Married on 03/26/2023

Kept the party moving!

Our wedding planner referred us to About Music pro because she said they were the best wedding band / DJ she has worked with (in ten years doing weddings). About Music Pro lived up to recommendation and absolutely crushed the sound and music at our wedding. The sound was crisp and clear during our ceremony and toasts, and Gary band leader/MC and musician kept the party going all night. We received so many compliments on behalf of our music selection. A few people even mentioned they've never seen a dance floor so packed at a wedding. We are so thankful for Gary and About Music pro for contributing the sound and music for the best day and party of our lives! Super professional and all around great people that we can't recommend enough!

Maylen R.

Married on 03/25/2023

Great Wedding DJ

Gary was the DJ and musician for my wedding this past weekend. He was professional, communicative, and he honored all our music requests. He kept the guests dancing until the very end!!! I'm so happy I hired him.

Violet G.

Married on 03/18/2023

Incredibly Talented

Wow! Gary and his fellow musicians were all unbelievably amazing. We hired About Music Pro and The Blue Daddy's 5-piece band and had Gary play acoustic guitar during our wedding ceremony, and he played piano for the cocktail hour, and we also had a live drummer and DJ set during the reception. Live music and the good vibes it brought were very important to us, and the band exceeded expectations for our guests and us.
Gary worked with us extensively prior to the wedding to learn new songs on guitar and offer suggestions for our playlist. He quickly picked up on the style we wanted and brought it to the next level. As a pianist he is absolutely stunning and is incredibly talented. He created the perfect classy ambiance we were seeking. The band was remarkable. And of course, Gary was the backbone of it all. Month's later; we're frequently watching our videos of the wedding. So we can relive the party anytime, anywhere. Truly grateful for finding this level of talent for our special day!

Jen

Married on 03/13/2023

Knocked it out of the park

From the very beginning their professionalism and staff, About Music Pro knocked it out of the park. We had a sting trio for the ceremony, a jazz guitarist for cocktails, and a 5 piece band with a DJ/MC for the reception. Gary and his team worked well with our other vendors, which helped make our wedding very successful. The communication before the wedding was fantastic. We were able to pick any songs that we wanted as well. As I questioned some things of how to keep the wedding guests entertained, Gary knew how to sweep them off their feet! If anyone is searching for a Band-DJ / MC or musicians in the surrounding San Diego area, I would look no further than Gary and his staff. What a blast our guest and we had!

Barbra B.

Married on 11/01/2020

Everyone had a great time!

When we began planning our wedding, one of the key things we wanted to do was make our guests feel hosted and honored. Gary Rich from About Music Pro did exactly that! We had 250 guests from all over the US and the world and Gary carved out a piece of the party for all of them, somehow weaving it all together. Our reception was a non-stop dance party from beginning to end and we actually had to move tables to make the dance floor bigger! Everyone had such a great time! Thank you Gary!!

Alexia C.

Married on 05/01/2020

The best decision we made!

We booked About Music Pro for our wedding and it was one of the best decisions we made! We initially met with Gary to talk about what we had in mind for the music and he went over in detail what we could expect on our big day. Throughout the planning stages, working with him was easy and stress free! We decided on a classical trio for the ceremony, a jazz trio for cocktails, and a 5-piece band with a DJ/MC for the reception. The week before the wedding, we had a call with Gary to discuss final details and to go over different music cues during the ceremony and reception. On the day of our wedding, him and his band more than delivered! The music during the ceremony, cocktail hour, and reception were all exceptional, but once the dance floor opened up, and the band and DJ took over, they had everyone dancing and having a great time! Multiple people came up to us during the wedding to tell us how great the music was and how much fun they were having. People who typically don't dance (including my grand mother!) were out there tearing it up! highly recommend About Music Pro, Gary, and the whole team for your next big event!

Betsy A.

Married on 01/25/2020

So Professional!

About Music Pro was awesome at our wedding! They are so professional and have a real passion for music. We worked with the owner, Gary, throughout the planning process and he made everything so incredibly easy. He was personable, paid attention to every detail, was very responsive, and was one of the most professional vendors we hired for our wedding.
We wanted to ensure that our friends would be saying "your wedding was so much fun" and be a party they would not forget. Gary and The Blue Daddy's absolutely crushed it. We told him what kind of music genres we liked and then gave him the freedom to play whatever he wanted and he did such a great job of creating the perfect mix to get everyone dancing. We had many guests approach us to tell us how incredible our Band /DJ was. If you want to have an amazing dance band at your party that will make your day truly memorable, hire About Music Pro. You will be so glad you did!

Ashley K.

Married on 01/18/2020

Made it the happiest day of our lives!

Gary Rich is an amazing listener and will find the exact right music for you and your guests. My fiance and I love music. We also had a really diverse group of guests, friends from India, Latin America, England and other places around the world. Gary just nailed it. He started with American pop and rock from the 70's and 80's and evolved to currant top 40 hits and rap, that pleased everyone and had them all dancing. Over time, he mixed it up, introducing picks for different subgroups of guests. He even researched India pop hits, salsa and Latin pop for me -- not something that's on his normal list of genres -- and he got it exactly right! He also worked with our parents to add a slideshow of childhood photos for each of our parent-child dances. You can tell Gary takes deep pleasure in pleasing his clients! Thanks, Gary, for holding a perfect and joyful space for us on one of the happiest days of our lives!

Liz C.

Married on 01/02/2020

We had a Blast!

We hired About Music Pro for our February 2020 wedding and it was the best vendor decision we made in terms of professionalism, communication, organization, and results. We loved working with Gary throughout the planning process and he was professional, friendly, down-to-earth and honest. We met with him in person and communicated via email and text. He was always quick to respond and thorough in his responses. We also loved working with Gary and his band on the day of our wedding. We decided to skip our sendoff just so we could keep dancing! I honestly can't say enough good things. Do yourself a favor and book these guys for your event! Gary acted as our emcee and DJ, plus bandleader for the ceremony, cocktail hour, and reception. He was smooth and professional, and the music was so amazingly perfect for us throughout the reception and into the dance party. Our guests of all ages had a blast - people couldn't stop talking about how great the music was! Thank you!! :)

Kayla B.

Married on 12/28/2019

Fantastic!

How can I possibly capture how fantastic About Music Pro's Musicians and DJs are? We hired Gary Rich as the bandleader and DJ/MC for our 250 person wedding during December 2019. The entire booking, planning and even experience were truly top notch and worth every penny and more!

Having good music with everyone on the dance floor was one of our "must haves" and Gary and his band delivered! We spent a ton of time researching different music options for our wedding reception and would pick About Music Pro over and over again. Gary was incredibly easy to work with, professional, and responsive throughout the wedding planning process. He listened to our requests and made sure to fit the music vibe we were hoping to achieve. Our friends and family continually comment on the incredible music selection and Gary's ability to keep everybody dancing the entire night. We highly recommend them!

Jane A.

Married on 12/21/2019

We Highly recommend!

Gary was a fantastic DJ and musician at our wedding in December! He nailed the vibe we were looking for perfectly! He was very easy to work with and truly went the extra mile to make sure our wedding was exactly what we pictured. Everything went exactly as we wanted and Gary was able to fit right in with our venue and wedding planner and everything was seamless. We are so happy to be able to highly recommend Gary. We would love an opportunity to book with him again in the future. We and our guests had a fantastic time! He was incredible!

Mary A.

Married on 12/14/2019

Thank you for being Awesome!!

We were so relieved and grateful to have found Gary and his band for our wedding. Not only was he very accommodating to the limitations of the venue and made everything work perfectly, he was also very perceptive of song suggestions and tailored the music choice to our liking. Our guests were out on the dance floor the whole time and many guests commented on what a great time they had.

Also, he was the MC and DJ for announcements and when the band was on break and made sure the dance floor was packed the whole night, which was important to us. Thank you and your band for being so awesome!

Avery B.

Married on 11/30/2019

Came to our Rescue!

Our previous Band and DJ disappeared right before the wedding, and my husband and I went into panic mode trying to find a last minute replacement. We found Gary from About Music Pro,who came to our rescue! They are a highly rated Band/DJ company with all positive reviews. We had a great experience starting from the first call; Gary was courteous and helpful and guided us through the entire wedding music process. We got to customize our entire wedding music genre, and he organized our music selections for us with specific instructions on exact play times that coordinated with our planners time line. When the wedding date arrived. Gary and his band really proved themselves even further. They played our all our requests better than we could've imagined, and kept the dance floor full at all times. As an added bonus, Gary's DJ skills were on par with his amazing MC skills, Gary hosted our wedding like a true professional host. I would highly recommend Gary and his company About Music Pro for there Band/DJ/MC services. Thank you Gary for an unforgettable experience!

Maria S.

Married on 11/23/2019

Made our dreams come true!

The Blue Daddy's made our dreams come true! From the very beginning, Gary Rich was the band leader/MC and DJ and he was very easy to work with and super accommodating! I had several songs I requested they preformed them flawlessly. Gary also provided AV for a photo-montage and he made it all happen without a hitch. They cultivated the most perfect play-list that kept my wedding guests on the dance floor the entire night. If you're even hesitating for one second about hiring About Music Pro, don't! I promise it will be one of the easiest and best decisions you'll make throughout your entire wedding planning process!

Christy H.

Married on 11/16/2019

Incredible job!

Gary and his band did an INCREDIBLE job at our wedding! My husband and I had planned to get on the dance floor a little bit to get everyone else to come out, and we kept telling ourselves "We'll get a drink after the next song" but couldn't leave the dance floor because they had the best dance music! We didn't want to miss out on any of the songs! Gary was so friendly and easy to approach, he was very responsive to every email and was easy to work with! If you're trying to decide between using About Music Pro and another wedding music company, I recommend going with About Music Pro! They are awesome! Thank you again Gary for making our wedding so incredible!

Kara E.

Married on 11/09/2019

Definitely Recommend!

We met with Gary at the beginning of the planning process for our fall wedding and then again a few weeks before the big day. He listened to all our requests, made some great recommendations, and helped facilitate a perfectly smooth reception and amazing dance party! We got a sense right away at our first meeting that Gary knew his stuff when it comes to music and we were right to trust him. He made the perfect play list and agenda for the entire evening with very little guidance from us. I definitely recommend using Gary from About Music Pro!

Cathy B.

Married on 10/26/2019

We Highly Recommend!

Our caterer referred us to About Music Pro, One of our best wedding planning decisions was to book The Blue Daddy's & DJ Gary Rich! Our philosophy was to hire professionals and let them do what they know best, which is About Music Pro's business philosophy, so it was a perfect match! Band leader and DJ, Gary, was wonderful to work with - he provided great ideas on how to structure the reception toasts, and he quickly figured out our preferred styles of music and worked in our specific song requests throughout the night. Our guests raved about how great Gary was. Gary and his band had the dance floor packed and several guests mentioned that they needed a break but just couldn't leave the floor because the music was so good!! We loved how he kept the energy up throughout the night and made sure that guests enjoyed themselves. He also played guitar during the ceremony and it went flawlessly. We highly recommend Gary Rich &The Blues Daddy's for your wedding or any event!!

Beth H.

Married on 10/20/2019

Amazing Wedding music!

My husband and I used About Music Pro for our wedding and had an amazing time! We worked with Gary Rich who helped us through the entire process and gave us extremely good recommendations when we didn't have specific requests of our own. We had a Jazz trio for the ceremony as well as the cocktail hour and we had a 5-piece band with a DJ for the reception. Our friends and family danced with us for several hours with out stopping and everyone loved it. I would go with About Music Pro again, any time, for any kind of event!

Nora B.

Married on 10/12/2019

Truly the best of the best!

We met with Gary before the wedding. He was so kind and easy-going and knowledgeable! We had read great reviews, so we didn't even hesitate and booked him and his band without meeting with anyone else. On the day of, we realized what a great decision that was! They seamlessly transitioned between jazz and easy listening for the dinner music and then to classic dance and top 40 hits for my friends and family. They even worked in my requested Latin pop song. Everyone tore it up on the dance floor! They played to the crowd, and people danced all night long, We both agreed that Gary and The Blue Daddy's absolutely killed it. Even my friends and family raved about how great their music selections were! And our night truly wouldn't have been what it was without them. Look no further. About Music Pro is truly the best of the best!

Debra W.

Married on 10/05/2019

Truly Incredible!

I can't say enough great things about Gary and the entire band! Gary was extremely accommodating and quick to respond to all my emails. He worked with all my ideas and really seemed excited for us! On the wedding night, he and his band did an amazing job keeping the night moving and making sure the guests were entertained. Along with all of this, the music was phenomenal! We chose to have the string Trio for ceremony, jazz trio for cocktails, and 6-piece Band for dinner and dancing (which came with a DJ). Everything was seamless and wonderful from start to finish. Thanks Gary and your whole crew, for making our wedding truly incredible!

Alex B.

Married on 09/29/2019

We would highly recommend!

Gary and his group were the absolute best! So many of our friends and family have been telling us that our wedding was the best that they've been to! This was not just because of the love in the room from all of the guests, but also the involvement and skill level that Gary and his band brought to the dance floor. The group's genuine excitement and enthusiasm set them way apart. We would highly recommend Gary Rich and About Music Pro to any bride and groom!
Are you interested?
Send a message