166 Reviews
Recommended by 91% of couples
Quality of service

4.7 out of 5 rating

Average response time

4.6 out of 5 rating

Professionalism

4.6 out of 5 rating

Value

4.5 out of 5 rating

Flexibility

4.5 out of 5 rating
66 User photos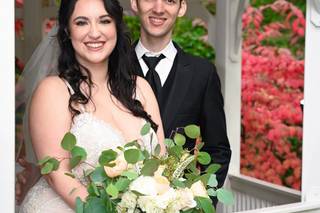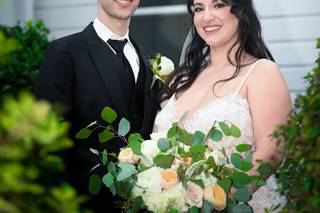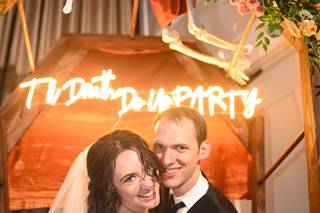 + 62

photos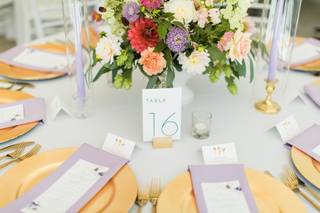 Featured

Megan

Married on 04/29/2022

Beautiful Venue and Amazing Support System

Abernethy was the perfect venue for our wedding! From the very first time we visited to view the venue, they made us feel special. We made an appointment and when we arrived our names were on a sign in the parking lot. Karissa was so nice answering all of our questions, offering advice and sent us home with a bottle of champagne. We couldn't stop thinking about how beautiful Abigail's garden was and ended up booking the venue later that day. It was the best decision we could have made! Karissa became our contact for the rest of our experience and she was fantastic! She helped us navigate our way through a pandemic postponement making it easy and alleviating the stress. Abernethy set up a pandemic friendly to-go tasting which was wonderful! Abernethy provided us with an extremely helpful list of preferred vendors. We ended up picking nearly all of our vendors from this list and they were all excellent! As the time for our long awaited wedding drew closer I was absolutely overwhelmed and had hit a wall in planning. I contacted Karissa and told her I needed help. She put me in touch with Abernethy wedding coordinator Kassandra and after one conversation with her I could feel a weight being lifted from my shoulders! I quickly hired her onto our team and I will forever be glad that I did. She helped me through the process and on the day of was an absolute superstar! We dropped off our decor the day before our wedding and when I arrived the day of everything was set up and was absolutely gorgeous! Kassandra guided me through my wedding day calming my nerves and making things happen so that I could just enjoy me day! I am so thankful I had Karissa and Kassandra throughout this process, they took the burden off of me and made our day perfect! Every other member of Abernethy staff I came into contact with were amazing as well. Communication was phenomenal. Every time I called, if Karissa or Kassandra were not there other staff members did everything they could to answer my questions or see that I got a call back asap. Everyone was kind, positive, professional and patient. Thank you Abernethy! Thank you Karissa, Kassandra, Robin, and Mandy! I wish I knew everyone's names so that I could thank everyone. I felt supported through every step of the process! Everything was magical!

+ 3

photos

Abernethy Center's reply:

Hello Megan!
We are so glad that you enjoyed your experience with Abernethy! It was truly a pleasure getting to serve you and guide you through this process! Congratulations to you both!
- Karissa Kysar

Brittany N.

Married on 10/30/2022

Service so Perfect, it's Spooky!

Abernethy Center provided the perfect backdrop for our festivities, and their team was invaluable at helping our vision come to life!

We wanted Spooky Romance meets Autumn Glamour for our October wedding, and the Chapel + Ballroom were the perfect venues to achieve that. I love that our rental of these venues included access to the Veiled Garden for gorgeous outdoor photos for our First Look and family/bridal party portraits. This also is a great backup plan if you're planning an outdoor ceremony and the weather takes a turn for the worse.

Karissa was an enormous help during the days leading up to the wedding, and Anna NAILED IT as our Day-Of Coordinator. I highly recommend adding a DOC to your wedding package, it is worth every penny. We did not have to worry about any of the details and were free to celebrate with our friends and family.

If you are looking for a venue with natural outdoor beauty, or the aesthetic of a chapel wedding, or a classically elegant ballroom - and the freedom to customize these spaces with the decor that fits your vision - Abernethy Center is all these things and more.

It was a relief that all their catering is in-house, and the food was amazing! We felt very taken care of when our leftovers and a bottle of bubbly was packed away with care for us to bring home.

We had the most amazing day, and Abernethy Center was a huge part of that! We are so grateful.

Abernethy Center's reply:

Brittany,
Thank you for your incredibly kind words! We were so thrilled to get to host your beautiful wedding! The spooky touches were so much fun! I'm glad you had the most amazing day!
- Karissa

Vivian S.

Married on 10/11/2022

My dream wedding venue come true!

Abernethy Center is so professional, caring, and made things a breeze with planning our wedding with them. The food was phenomenal and the atmosphere of Abigail's Garden (our location) is absolutely breath taking.

Abernethy Center's reply:

Vivian,
We are so glad that you enjoyed your day! It means so much to us!
Wishing you all the happiness possible!
- Karissa

Are you interested?

Send a message

Ashley K.

Married on 08/27/2022

Abernethy does weddings RIGHT!

I recently had my wedding at Abernethy Center and cannot rave more about this venue. It is absolutely drop dead gorgeous - the grounds are so well kept and stunning. The Abernethy staff is beyond helpful, organized, and professional. They know weddings like the back of their hand and ensure everything is perfect for your wedding day. The things that stood out to me the most were:
1. The beauty of the venue and how well the decor was setup
2. How present I felt all day knowing that Abernethy had taken care of everything for me so that I didn't need to worry at all
3. How well everything flowed - from the ceremony to cocktail hour to dinner, speeches, dances, etc.
4. The food- people told me numerous times that this was the best food they'd ever had at a wedding, and it was!

I truly cannot thank Kassandra & the Abernethy team enough for making our day so special and carefree.

+ 3

photos

Frechette A.

Married on 07/09/2022

Amazing venue

The staff and the food were amazing I couldn't of been happier with my experience there

+ 2

photos

Abernethy Center's reply:

Congratulations Angela! It was such a pleasure working with you and I wish you the best

Kathlene H.

Married on 05/27/2022

Beautiful venue!!

My husband and I just got married on Friday at Abernethy Center Abigail's Garden and the venue is stunning!

We received so many compliments on how beautiful the venue is, food was delicious and the Abernethy team made it so easy to work with.

Abernethy Center's reply:

Thank you so much Kat!!

It was such a pleasure working with you and helping you plan your wedding! I wish you both the best and can't wait to see where life takes you!

- Kassandra

Valerie T.

Married on 12/15/2021

Beautiful Elopement Space

We had our intimate wedding ceremony on a Wednesday afternoon in December, and we felt very welcomed and supported by all the staff. I have food allergies, and the catering team was able to make me a meal that looked the same as everyone else's, except it was completely safe for me to eat! And it was so delicious. All our attendants were impressed with the cleanliness, organization, and professionalism of this venue.

Rebecca

Married on 08/09/2021

Amazing Beautiful

They were so flexible and understanding with Covid, we had an amazing experience and would recommend this location

Abernethy Center's reply:

Thank you so much for such kind words Rebecca!! It was such a joy working with you and I wish you both the best for your future together

Melissa R.

Married on 04/22/2021

Such a great experience!!!

I cannot say enough how great it was to have my wedding here! The staff and event coordinators were amazing and made my special day beautiful. Thank you all for taking care of me and my husband!!

Abernethy Center's reply:

Congratulations Melissa! It was such a pleasure working with you and I wish you the absolute best for your marriage! Thank you so much!!! - Kassandra

Sarah H.

Married on 04/10/2021

Amazing Venue and Experience

I cannot recommend Abernethy Center enough. The team was absolutely incredible to work with. My husband and I got married during the pandemic and were really nervous about everything. They bent over backwards to make our day perfect. If you are looking for a beautiful place to get married and want to work with a great staff this is the place to go!

Abernethy Center's reply:

Hello Sarah!

Thank you so much for your kind words! We absolutely LOVED getting to be a part of your day!

- Karissa

Rachele C.

Married on 10/09/2020

Went on a tour and had a consultation

My fiancé and I flew in from out of town and Kassandra was always super fast to respond and was very flexible with us. We got to do a tour with her and just my fiancé and I which was awesome. She took the time to answer all of our questions and I never felt rushed.

Bailey W.

Married on 09/10/2020

Abigail's Garden Wedding

My husband and I had a change of venue just months before our wedding date, due to COVID-19. We decided we wanted to be outdoors for obvious reasons and so we toured and decided to go with Abigail's Garden at Abernethy Center. Kassandra helped us along the way and was so wonderful. She was incredibly responsive and fun to work with. Both my husband and I agree that our wedding day went better than we ever could've imagined and this was in large part due to Kassandra, the GORGEOUS venue and the support team on site that day. Jenny helped on the day of and we only have the most amazing things to say about her! Our family members and guests still rave about her as well. She made sure everyone was happy from the moment we arrived on site. I highly recommend Abernethy. They ensured COVID-19 precautions were taken every step of the way which was greatly appreciated by us and our guests and made for a wonderful, safe event.

Kylie P.

Married on 08/13/2020

Completely satisfied and so incredibly blessed!

My hubby and I got married on August 13th, 2020. Originally, we were supposed to get married on June 18th, 2020. COVID changed things but this venue was incredibly supportive, flexible, and organized. Our wedding was a perfect and magical day. The people who work here sincerely want you to have a wonderful experience. Kassandra was an amazing on-the-day coordinator. I literally didn't need to worry about a thing the day of. It is a beautiful venue with talented staff. This was the first and only venue I looked at because I was impressed from the beginning. I truly felt like a princess on my big day and all our guests were impressed with the venue and staff. They said it was one of the best weddings they have been do despite COVID. You cannot go wrong with choosing this venue. We highly recommend it. We only wish that the day lasted longer. It happens so fast so bask at the moment!

Abernethy Center's reply:

Thank you so much for such sweet and kind words! I truly had a wonderful time working with you and I wish you both the best for all of your future adventures! CONGRATULATIONS

Amanda S.

Married on 06/07/2020

Genuine caring staff and owners

Thank you so much for working with us and being so understanding. It has been heartwarming to work with people who genuinely care for the people they work with. This has been a rough experience but we have made it through because of people like you 😊

Abernethy Center's reply:

I had such a pleasure working with you and Chad! Thank you for such sweet words and I can't wait to see what your future holds

Heidi O.

Married on 01/25/2020

Great Venue

We had an excellent experience with our wedding at Abernethy. The staff was very helpful and it was such a beautiful venue, with little need for decorating in the chapel and ballroom.

Emerald F.

Married on 10/19/2019

Perfect day

Abernethy center was so wonderful to work with and they made sure everything turned out perfect! Kassandra was awesome! She was so helpful during the planning process to answer all of our questions. Robin was great as our ceremony specialist and helped things run smoothly on our big day. It was our dream come true getting married at Abigail's Garden. Thank you!

Abernethy Center's reply:

I am so insanely happy you had such an amazing wedding and experience with Abernethy Center! I truly enjoyed working with you and can't wait to see where life takes you!

Colin K.

Married on 09/07/2019

Absolute professionals who care

Finally getting around to writing a review 3 months later, but we honestly could not recommend Abernethy Center more highly. From every aspect of the planning, consultation, contract proposals, vendor recommendations, and everything imaginable, the Abernethy Center staff made sure our entire wedding planning and day went so incredibly smoothly and without a hitch. Big shoutout to Kassandra, Sara and Ruth who helped answer a million questions and created the best service experience possible, making our day incredibly special. We even had to shift our ceremony from the garden to the chapel with about 20 minutes notice due to rain and unexpected outdoor karaoke at the bar next door. I wouldn't recommend that last-minute of a switch, but they rushed to make sure everything was set up and our ceremony went off without a single hitch. They really did take care of us and our guests the entire time. They're absolute professionals and it shows. Thank you all again sooooo much for making this crazy wedding planning and event hosting so effortless and easy for us. We appreciate all you did to make our special day perfect for us and our guests!

Laura&Ian P.

Married on 08/17/2019

Perfect Day

When we saw pictures of this venue, it was our dream and we had to go with them. They were professional and made everything easy. Even when our florist didn't show up they took care of the situation and made our day beautiful! Highly recommend this place and the great people there.

Abernethy Center's reply:

Ian & Laura!
Thank you so much for your lovely words! I really enjoyed working with you to plan your beautiful wedding and getting to know you! We were so happy to have you here!
I wish you both all the best with your future together!
Karissa

Hayley

Married on 08/10/2019

Helpful and lovely

Kassandra and the team were very helpful, responsive, and made our wedding day special. You would never know that the venue churns our so many weddings, they treat each couple as if their wedding were the most important. It was wonderful!
We got so many compliments on the food, and on how beautiful the venue was.

Abernethy Center's reply:

Thank you so much for such kind words - I had such an amazing time getting to know you and Jackson and help you plan your dream wedding! You two were so cute and sweet and I can't wait to see what your future brings

Chris M.

Married on 08/03/2019

Amazing venue with great staff

My wife and I got married at Abernethy Center as a "destination" wedding (we live in Arizona). The whole process, from the initial site visit, planning, and the actual wedding day was great. Kassandra was our primary contact, and was great to work with, never giving any sense that my constant stream of emails were too much, and always answered my questions in a friendly and professional manner (even in the cases where I was sure I had already asked, and just couldn't find the answer).

The actual wedding day was more than I could have hoped for. Everything went off perfectly (or if things didn't, I had no idea because they are that good). Our day of contact kept everything moving on track, was flexible with timeline when our ceremony was slightly shorter than anticipated, and was super helpful in making sure that we got some mac and cheese bites to our seat when the late night snacks were out.

110% would recommend this venue!

Abernethy Center's reply:

Thank you for such sweet words Chris and Katrina! I had a wonderful time working with you two and getting to know you over the few months of planning! I wish you both the best

Sarah R.

Married on 07/28/2019

The perfect venue!

I went to a wedding here when I was 8 years old and thought it was the most stunning place I had ever been. When I got engaged, I thought that I wouldn't be able to afford to get married at such a beautiful venue but I looked into it, just in case. From the moment we spoke with someone on the phone through following up after our wedding, they were absolutely wonderful! We took advantage of a special they were running on brunch weddings, so between that and the payment plans, we were able to afford our dream wedding. We live in Nevada and they were so helpful coordinating with us out of state. Through countless emails and phone conversations, they were able to help us make our wedding day perfect. On our wedding day, Jenny was so helpful and kind through chaos and snafus and we can't rave about her enough! The food was unbelievable and the mimosa bar went perfectly with our brunch wedding. I can't think of a more beautiful locale, helpful staff or perfect venue to have your wedding at!

Abernethy Center's reply:

Sarah!
Thank you so much for your incredibly sweet words! We are so happy we got to be a part of your dream wedding!
Congrats to you both!
- Karissa

Delaney D.

Married on 06/27/2019

Rainy Outdoor Wedding in June

Gorgeous garden and helpful staff! Karissa was very responsive to all our emails leading up to the event, and Bobbi was sweet and sure to check in on us throughout the wedding -- as well as the other staff on scene. We especially appreciated their accomadation for the rain that came to make our June wedding all that more unique. And for their patience regarding our wedding party shenanigans. ;)

The venue is well kept and we felt welcome there. We like that there's a room for the groom and groomsmen to get ready too, not just one for the bride. Great experience over all!

Ae Walnofer

Married on 06/27/2019

So Glad We Chose Abigail's Garden

During my daughter's wedding, every single Abernethy staff member was friendly, diligent and extremely helpful. The food was great and the grounds are gorgeous, even in the rain. I couldn't have been more pleased with how the wedding turned out at Abigail's Garden.

Lexi P.

Married on 06/02/2019

I highly recommend choosing Abernethy Center as your venue!

We are so glad we chose Abernethy Center as our wedding venue. The staff was friendly and accommodating and the food was delicious! I definitely recommend Abernethy for your wedding venue.

Abernethy Center's reply:

Thank you so much for such a sweet review. I had a wonderful time working with you and getting to know you! - Kassandra

Brook

Married on 05/04/2019

Wedding was a Dream Come True

The entire Abernethy staff was amazing to work with. Always kind, responsive, and willing to answer any and all questions we had. Our wedding day was beautiful, we couldn't be happier with our venue choice!
Are you interested?
Send a message