Reviews
5.0 out of 5 rating
Quality of service

5 out of 5 rating

Average response time

5 out of 5 rating

Professionalism

5 out of 5 rating

Value

5 out of 5 rating

Flexibility

5 out of 5 rating
100%
Recommended by couples
129 User photos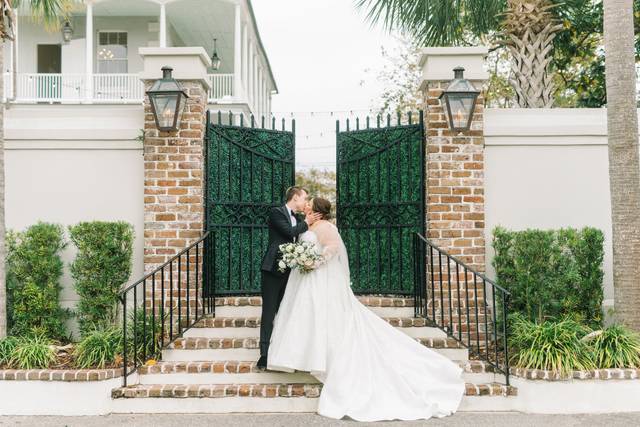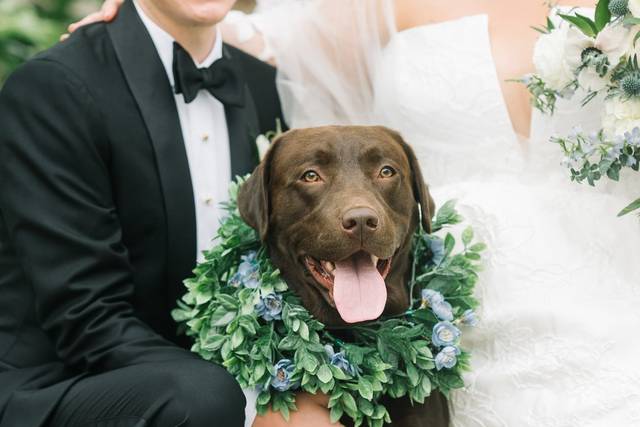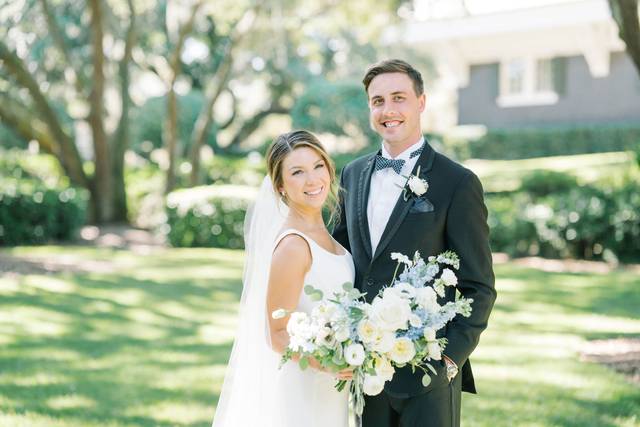 + 125

photos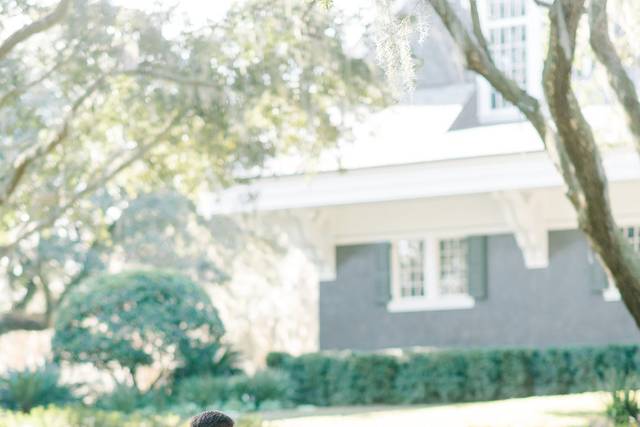 Marygrayson S.

Married on 10/28/2022

We LOVE them!

From the moment we met Aaron and Jillian, we just knew they were meant to be our wedding photographers. Every single step of the way they were incredibly personable, responsive, and professional! On our wedding day, they made us feel comfortable and blended in seamlessly. I sometimes forgot that they were there while they were capturing each moment because they were so agile and respectful of our wedding. When we received our album, everything was absolutely beautiful! Our wedding day was incredibly special and every time we look at our pictures, we feel like we are reliving those moments. They truly captured every emotion and as we look back on them we can feel that same joy as if we were in the moment again. After the wedding, they promptly sent us sneak peeks, and before we knew it our full album was delivered to us! As a gift from my parents, we designed a 12x12 album with them. 20 beautifully laid our spreads, covered in midnight blue leather. Jillian spent so much time getting the album perfect in design and was so thoughtful in what images went together. Arriving a few short months later, our jaws dropped as we looked through our album together. It is something we will have forever and cannot wait to show our children. We will cherish our wedding photos forever and will also remember how amazing it was to work with Aaron and Jillian. We are so thankful that they were a part of our day and cannot imagine it without them! They are such amazing people to not only work with but to also know!!

Addison F.

Married on 03/06/2022

Absolutely Amazing Experience

Aaron and Jillian are simply AMAZING! They were so sweet to listen to all of my photo ideas and wardrobe questions (as this was for our Engagement photo session) and were very prompt both through email communication and the day of our session. They made my fiancé and I feel so relaxed and comfortable in front of the camera and it really shows in all of our photos! We are so thrilled with how our photos turned out and cannot wait to work with them again on our wedding day!

Emily T.

Married on 10/23/2021

Simply the BEST!

We fell in love with Aaron and Jillian from our first conversation and literally can not say enough good things about this dynamic duo photography team! Not only are they incredibly talented - seriously every single photo they took was magazine worthy - and professional - very reliable and easy to communicate with - but they are extremely personable and the type of people you just want to be around. They are both such bright lights that made us feel SO comfortable throughout our engagement shoot/wedding day and captured SO many gems with a quick turnaround. Our bridal party and guests were obsessed with them as well. They clearly love what they do and their passion and energy is contagious. Plus they have such amazing chemistry working together as a married couple team. Hands down one of the best decisions we could have made around the wedding! We could not recommend them enough and are so thankful for the hard work they put in to make sure the magic of our wedding was captured on film.

Are you interested?

Send a message

George

Married on 06/04/2021

Best in Class

Aaron and Jill are without question best in class and masters of their craft! The duo complement one another perfectly. It could not have been more ideal to be able to have Aaron spend time with the groom and Jill spend time with the bride, before coming together to showcase the perfect poses for us so they could capture the best shots. Their professionalism and passion was evident throughout the entire process of working with them. Both Aaron and Jill are very personable and fun to be around - having made photos and the day of thoroughly enjoyable with them. Their communication and follow up was timely and left us with no concerns, having even sent us a sampling a couple days after our wedding! The final product was jaw dropping with the most beautiful style, and the format was extremely organized. Aaron and Jill are without a doubt the photographers you would be fortunate to work with for your wedding to capture moment and memories that will last a lifetime. We cannot express our gratitude enough - We love you both!

Lauren S.

Married on 05/08/2021

Best photographers ever!

Aaron and Jillian are amazing photographers and even better people! I would recommend them to anyone. 10/10. The whole process with them was so organized and thoughtful. They are communicative, reliable, and have warm, outgoing personalities. They excel with both portraits and candids (very rare!) and are such a joy to be around. They captured our wedding day beautifully!! They genuinely care about each photo. It was so hard to pick our favorite photos from our wedding - Literally every photo is flattering, memorable, and captured the wedding even better than we remembered! Call and book them now - they are the best Charleston (and beyond) wedding photographers. Thank you Aaron and Jillian again!!!

Kait M.

Married on 05/04/2021

Aaron and Jillian were the ABSOLUTE best all around.

They were so fun, positive and upbeat- they literally light up a room... The bridesmaids and groomsman couldn't stop talking about how great they were and we received SO many compliments from the guests on their behalf. I'm not one who typically loves having her photo taken but they made me feel so comfortable and photos turned out AMAZING!! They didn't miss a detail and every moment was photographed!!

Kathryn S.

Married on 04/24/2021

Incredible duo!!

Recently had our engagement session with Aaron and Jill and we are so incredibly happy with how our pictures turned out! They worked together so seamlessly and made us feel comfortable and excited for this period in our lives. Throughout the session they asked us questions about ourselves and were genuinely interested in our story. Bonus is that they are incredibly organized, efficient, and informative. We can't wait to work with them again on our wedding day!

Update after wedding!
It has taken me way too long to write this review because I knew I wouldn't be able to do them justice, but I will try! Aaron and Jillian were one of the first and best decisions we made for our wedding! From my first phone call with Jillian, it immediately felt like we had somehow been friends forever. Both Aaron and Jillian have an incredible way of making everyone so comfortable in front of the camera, which translates to beautiful and natural pictures. When we go through our pictures from our wedding day, it is almost like we are reliving all the moments, which is so important when the day itself goes by way too fast! It rained almost the entire day and my biggest concern was not getting the pictures I wanted, but Aaron and Jillian quickly shifted gears and utilized areas inside of our venue to still give us all the pictures we could ever want. And in case you need an up-do in the middle of your reception because you are sweating with your hair down, look no further because Jillian is your girl!! She pulled me away off the dance floor for a couple minutes and I came back with a whole new look! Lastly, as the rain derailed our boat exit, Jillian and Aaron offered to drive us to our hotel in their brand new beautiful white SUV. They are wonderful photographers and humans. Thank you for everything!

Stephanie A.

Married on 03/04/2021

Absolutely amazing!

Aaron and Jillian photographed our wedding at Middleton Place and they were both wonderful! We cannot imagine our wedding day without them!

A huge benefit of working with Aaron and Jillian is that you have the pleasure of working with two amazing photographers who are both true pros. They were able to tag-team our getting ready shots with Jillian photographing the bride and bridesmaids, and Aaron photographing the groom and groomsmen.

Throughout our wedding day, they made sure that we were comfortable and having fun in front of the camera, which resulted in so many beautiful and stunning photographs.

Middleton Place is a sprawling venue, and thankfully, we had Aaron and Jillian's help to guide us to the best places to take photos during our first look and to keep us on schedule for getting all our special moments captured during the day.

Aaron and Jillian seem to have a sixth sense that puts them in the perfect position to take a great photo. Every time anything happened and I thought, I hope someone gets a picture of this, Aaron and Jillian were already there cameras at the ready.

We loved working with Aaron and Jillian and cannot praise, thank, and recommend them highly enough; they are true professionals and wonderful people to have around capturing memories on your wedding day.

Jeffrey K.

Married on 11/29/2020

Exceptional Photographers and People

Aaron and Jillian shot our November wedding at Lowndes Grove in Charleston. It was truly a blessing to have found them – A&J are professional, extremely fun, and a dynamic duo and it's amazing how seamlessly they work together. They seem to be able to read each other's minds when shooting and both have a strong knack for anticipating and capturing special moments. You really are hiring two "lead" photographers with A&J, so every image is exceptional. The fact that they're a husband and wife team really works to their (and your) advantage and results in a fun, laid-back environment where they're bouncing ideas off each other, demonstrating poses when necessary, and making subtle adjustments to make sure they don't miss a thing. They had to deal with several challenging circumstances during our wedding, including rain, a wedding dress zipper malfunction during our first look, and a few unique subjects (namely our dog and our two year old nephew) and regardless managed to adapt flawlessly and capture exceptional shots. I'd imagine they have worked at nearly every venue in Charleston and know how to get all the right shots to make the venue / setting shine regardless of the conditions – that was certainly true at Lowndes Grove!

Beyond their skill as photographers, Aaron and Jillian are really great, down to earth people. Because of COVID, we never actually had a chance to meet in person before the wedding, but as soon as they arrived on wedding day it was like we'd been friends with them for years. They're extremely easy to work with and make you feel very comfortable while being photographed. Given their great personalities, they blended right into our wedding and got every shot we could have asked for, from formal portraits to candid reception photos. We got compliments from almost every guest we talked to afterwards about how fun and professional our photographers were, which speaks volumes about them. A&J are very passionate about what they do and that clearly came through in their interactions with everybody at the wedding and in the photos they created. They also showed up extremely prepared, having worked with us to put together shot lists well before wedding day so that we didn't need to think about anything on the day of – A&J managed it all and didn't miss a thing.

Aaron and Jillian are kind and caring people that the Charleston wedding community is very lucky to have and we can't recommend them more highly.

Hannah M.

Married on 09/16/2020

One Million Stars

I don't even know where to begin with this review. PLEASE do yourself a favor and hire this insanely sweet, talented, and fun duo to photograph your day! It was the best decision we made for our wedding day! From the moment we booked with them, Jill was so amazing throughout all communication leading up to our day. I was so excited to meet her just because she had been so sweet. The day of went off without a hitch. She and Aaron are the perfect team to get literally every shot you want. You'll just want to hang out with them by the time your day is over. We got our pictures back in ONE week, and there was not one I was not obsessing over. I can't believe I have the most beautiful, timeless wedding photos to look at forever. Thank you so much Aaron and Jill for giving them to us! They will be treasured forever!

Sara

Married on 09/12/2020

More than amazing photographers!

Just like many other brides who have reviewed Aaron and Jill before me, it's impossibly hard to express how thankful I was that A+J were our wedding photographers and how amazing they are. Obviously their pictures are stunning, but more importantly, they are great people who make you feel comfortable, fun and so beautifully like yourself on your wedding day.
Jill was with my girls and I most of the wedding day and all my bridesmaids were legit trying to get her number by the end of the night - everyone loves Jill and wants to be her best friend. She blends in beautifully with any girl gang. Fun fact: Jill also doubles as a hair stylist. No joke ladies, multiple times in the night I found find Jill behind me with bobby pins fixing my up-do when I had danced it down. Hero.
Aaron is amazing too. He was great at giving us direction and Collin said his groomsmen photos didn't feel forced or uncomfortable - an apparent fear for grooms.
We absolutely loved them both, are so thankful we now know them and could not recommend them higher. THANK YOU A+J.

Brooke R.

Married on 08/29/2020

Best decision we've ever made!

Words cannot explain how much we loved working with Aaron & Jillian for our wedding! From the moment they showed up for the wedding weekend, they put everyone at ease with their fun loving and kind personalities. It was an absolute joy to work with them both! The pictures came back to us so quickly and I could not have asked for better photos! We even had a little ring mishap during our ceremony and somehow Aaron & Jillian came to the rescue and saved the day. I could not recommend them more and wish we could do our day over and over again just so we could get the chance to work with them!!! If you are looking for amazing photographers but also people who genuinely care about your wants/needs, then look no further!



Nicole J.

Married on 07/11/2020

The best photographers we ever could have hoped for

Aaron and Jillian are truly the BEST at their craft. It's truly difficult to put into words how much we recommend them. From even before the wedding, they were so organized in reaching out to us to make sure we were all on the same page (making sure there weren't any specific requests, confirming the sunset time, making a timeline for the order of pictures following the ceremony since we did not have much time until sundown, etc). On the day of the event, they made the pre-ceremony pictures so fun but not overwhelming. Being able to have Jillian take pictures of the bridal party and Aaron take pictures of the groomsmen getting ready was such a bonus! Everyone in our wedding party said they were the most professional, yet easy going photographers they had ever worked with. And all our guests said the same! The capture everything you'd hope they would capture, but you really don't even notice they're there during the events. And the quality of the pictures!! The moments they were able to capture and the way they captured them are over the top. They are artists. We ordered a leather-bound album from them with the wedding pictures and we really cannot recommend this enough. It is the most beautiful way to remember our incredible day. They are truly special people who are incredible at their work, so you cannot go wrong!!!

Erica B.

Married on 06/29/2020

The best of the best!

After we got engaged and chose our wedding venue, I spent a great deal of time saving wedding inspiration photos on Pinterest and Instagram to share with my wedding planner. When I noticed that most of the photos I LOVED were taken by Aaron and Jillian, I knew I HAD to have them as our wedding photographers! I was absolutely overjoyed when they were available for our wedding and we immediately booked them. Since they weren't available for our engagement photos the weekend we would be in Charleston (from Orlando), I was a little nervous that we would be meeting them for the first time on our wedding day. However, my planner (Samantha Anderson) assured me that it wouldn't be an issue and she was right! Jillian kept in touch with me via email and social media in the months and weeks leading up to our wedding, to the point where I felt like I had already met them when our wedding day arrived. When we did finally meet in person, I knew instantly that if we lived in Charleston, we would be friends. Aaron and Jillian not only took amazing photos, but they fit in so well with our family and Guests and everyone loved them! They made taking our photos comfortable and easy and gave us plenty of direction to make us look our best! When we received our wedding album from them, I honestly couldn't believe it was us in the photos. Aaron and Jillian are hands down the best wedding photographers, but most importantly they are two of the best people you'll definitely want to have with you on your wedding day!

Carly Y.

Married on 06/12/2020

The Best Photography Duo Around!

Aaron and Jill are absolutely amazing! They are so easy to work with and make you feel so comfortable. So professional and so fun. They did such an amazing job capturing all of the special little moments on our wedding day. We just got our photos back and absolutely love them. All of guests kept saying over and over again how impressed they were with Aaron and Jill. We cannot thank them enough for being a part of our special day. Thank you for capturing all the beautiful moments on June 1, 2020 for us! You guys are the best!

Blair P.

Married on 05/09/2020

Everything you want in photographers and much more!

Aaron and Jill are the most personable, outgoing, and talented photographers in Charleston. I can't imagine not having both of them there to capture all of our special moments. If you are not comfortable in front of the camera, don't worry, they will guide you as a couple so you look your absolute best! Finding a photographer(s) is such an important part of the wedding and I am SO happy I decided to go with this amazing duo.

Elizabeth C.

Married on 02/29/2020

Best Decision You Can Make!

I can't rave about Aaron and Jillian enough! We loved them so much during our engagement shoot that we did another! They are amazing photographers and so much fun to be around! The entire wedding day we were so at ease with them and so many people came up to us at the wedding to tell us how much they loved our photographers! Hiring Aaron and Jillian to document such special moments in our lives was hands down one of the best decisions we made. Trust me, you need them!!

Laura-Brooke P.

Married on 02/01/2020

Wedding photographers

I can't even hardly begin to put into words how much everyone NEEDS Aaron and Jillian in their lives when going through the photography portion of the wedding process. I was so nervous about the photography aspect and so was my husband. I can tell you, we never once felt uncomfortable or awkward like we thought we would because of these two. From the start they are so welcoming and caring about what they are there to do! Our wedding day would not have been as perfect as it was without these two. Not to mention how ABSOLUTELY breath taking there photographs are! If you are looking for imagines that look like they came straight out of a magazine, this is your duo. Don't even second guess, just book them now !!!



Bayleigh S.

Married on 01/18/2020

Where Do I Even Begin!!

I don't know if there are words to explain how incredibly talented and wonderful Aaron and Jillian are. They are not only the kindest, most amazing people, but they take the most incredible photos of any weddings I've ever seen. My husband and I received our album today and were BLOWN AWAY by how outstanding each and every image was. I was brought to tears looking through them all, because they captured each and every moment so incredibly perfectly, that it truly felt like I was reliving our wedding day again. I truly treasure these photos and I feel so lucky that we were able to book them for our special day. It absolutely would not have been the same without them. Had they not been available - I probably would've changed my wedding date to a day when they were. That's how good they are. Totally speechless

+ 4

photos

Marytyler S.

Married on 09/21/2019

Beyond amazing!

Aaron and Jillian were one of my favorite parts about my wedding. My husband and I found them early on in our planning process, and not only were we so impressed with their photographs, they are the warmest people. From the first conversation, they immediately made us feel comfortable and that we were 150% sure we had to have them photograph our wedding. Beyond being extremely thorough with the planning of the photography throughout the day, Jill referred me to most of my other vendors, and gave me her honest opinion on who she thought I'd like best. On our wedding day, we finally got to meet Aaron and Jillian, and we were blown away. They guided us through the day seamlessly, and made every request we had about our photos work so well. We've gotten so many compliments from our families and guests about how incredible our photographers were, and this was before we even got our photos back! The photos came back right when we got back from our honeymoon and they are so stunning. If you are able to book Aaron and Jillian for your wedding, do not hesitate. They are the absolute best!

+ 3

photos

Chanel G.

Married on 09/14/2019

Perfection!

Aaron and Jillian are the best possible people you want following you around on your special day! We were lucky enough to meet Aaron and Jillian when they photographed my sister's wedding and we just wish we had more siblings so that we could keep working with them! My whole wedding adored them! They are the epitome of a "power couple" that you also want to be best friends with! They are a dream to work with and helped make us, as well as our friends feel comfortable in front of the camera! They are so loving and made us feel so special and beautiful before, day of, and after. We even noticed some of their tricks and tips really stuck as they snuck into some photos we took on our honeymoon! They are perfection!

Emily

Married on 07/20/2019

Hire these two! 11/10!

Aaron and Jill are absolutely fabulous. We first met this duo when we came down to Charleston to do our tasting and design meetings. Being the sweet southern couple that they are, they invited us for drinks at their lovely home. We chatted with them for hours and knew then that we made the right choice in hiring them for our wedding day! We knew that we liked them, but we realized that we LOVED them after our wedding day experience with them. First of all, they are pros. They are absolute professionals and are super detail-oriented. Secondly, they are lovely to be around and bring an upbeat, positive, can-do attitude to your wedding day. My recommendation to any couple would be to consider your photographers' personalities when hiring them, in addition to their work. Your photographers will be with you, your spouse and your closest family and friends all day - so you want to make sure that you get along with them! I can't imagine anyone not getting along with these two. My bridesmaids wanted to be Jill's best friend immediately. Lastly, their pictures are amazing! I am a very tough photo critic and I loved every shot they sent us. They take beautiful portraits, lovely decor shots and plenty of candid photos for a perfect gallery blend. We'll be looking at these special images and sharing them with our family for years to come. Hire Aaron and Jill - you will be so happy you did! Plus, you get two amazing photographers bundled into one - it's a sweet, sweet deal!

Heather R.

Married on 07/17/2019

The best photographers ever

Words cannot describe the incredible experience we had working with Aaron and Jillian. My S.O. and I are not good in front of the camera but they take ALL of that stress away because they are SOOO good at what they do. They are insanely fast with communication, FUN, patient, understanding, and create the MOST BEAUTIFUL IMAGES YOU WILL EVER SEE! They had never photographed on Seabrook Island where we wanted our engagement photos but they were totally down for it and killed the photos!! They were so patient with all of our animals which really was the cherry on top of it all. My house is going to be full of photos because I have SO MANY FAVORITES NOW!! I could go on and on about the amazing people they are both professional and personally, but BOOK THEM WHILE YOU STILL CAN, YOU WILL NOT RERET IT!!!

+ 7

photos

Taylor H.

Married on 07/12/2019

The BEST people + photos!!!!

I truly cannot say enough good things about Aaron and Jill. We flew them to NYC for our wedding and I am SO GLAD we did. Not only are they a pleasure to work with professionally, it felt like we were hanging out with friends the whole day. They scouted the absolute PERFECT locations for our photos (different from our own initial thoughts, which was great) and we were truly blown away by every single one - it is going to be tough to decide what to frame! They captured the essence of our day (and the holiday spirit we were hoping for!) perfectly. I'm sad that the wedding is over and we don't get to hang out with them anymore! I wish they could photograph all of our special moments! If you are at all torn between photographers, don't be. They are amazing.

Judy D.

Married on 07/05/2019

Most amazing photographers ever!

It took me a little bit of time after my daughters wedding to finally do this review for Aaron & Jillian because I want to be able to get all my feelings about them in without leaving anything out. I will start out by saying we were so blessed to have met such a wonderful, warm couple, who we got to spend the most special day of our lives with, and have them capture my daughters wedding with the most awesome pictures I have ever seen!! And to be honest, I NEVER like pics of myself....but with their talent, ALL THE PICS WERE JUST AMAZING!! The only drawback & its a good one is to have to pick out the ones you want!! On that note, Jillian helped me design my album where it made us feel like we got to relive the day!! She made the process seamless & I am not good at making decisions but with all the pics being so amazing, I basically let her take over and what a STUNNING album it turned out to be!! Aaron & Jillian are so gifted with talent & we are so grateful we were able to have them as our photographers & just wish we lived closer to have as our friends!! ❤️ We truly love them!!
Are you interested?
Send a message