12 Reviews
Recommended by 93% of couples
Quality of service

4.6 out of 5 rating

Average response time

4.6 out of 5 rating

Professionalism

4.6 out of 5 rating

Value

4.6 out of 5 rating

Flexibility

4.8 out of 5 rating
2 User photos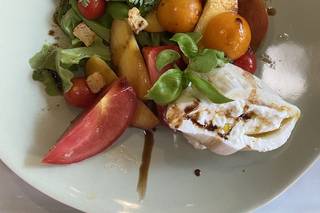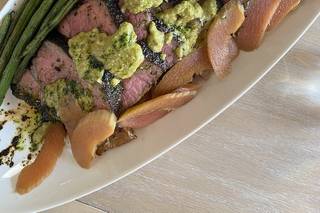 Emily H.

Married on 07/25/2020

Custom Food and Amazing Service

I can not say enough wonderful things about Gay, Robert, and the rest of the team at A Pimento! They created a custom, locally-sourced, menu that had our guests amazed throughout the evening! From the very beginning, they were so responsive and helpful, and worked tirelessly to make our small wedding special, and most importantly, safe within the current COVID-19 guidelines. Working with A Pimento was truly a pleasure and they made the day completely stress-free and perfect!

Jessica P.

Married on 11/17/2019

Custom Menu and Absolutely Amazing Food!!

A Pimento is not only insanely delicious but they are completely custom!!! This is so major because so many caterers try to just pawn off their "standard recipes" for your wedding and that's not what we wanted on our special day! We had gumbo and a raw bar, steak and trout and everything was executed perfectly! Their service on the day was also impeccable and all of my guests were extremely well taken care of. Not only did they execute my wedding day perfectly but they were so so fun to work with during the entire engagement period. Thank you A Pimento!!

Virginia

Married on 11/11/2017

Stunning food and such a delightful team!

We hired A Pimento for our wedding last year and from start to finish the experience could not have been easier or more enjoyable. Gay first had my partner and I for a seated tasting, crafted from our wish list of food. I can't imagine there is anything she and her team can't do! We wanted a New Orleans King Cake for our wedding cake, and she made one big enough for our 175 guests - which was STILL delicious out of the freezer on our first anniversary. We had bratwurst on pretzel bites, Oysters Rockefeller, pierogies, and crabcakes that rival my mother-in-law's (shhhh). And everyone is still talking about our custom pickle bar! The food was so important to us, and everyone was so attuned to our preferences and needs. I wish we could get married every year, just for the excuse to try more of their amazing creations!

Are you interested?

Send a message

Arielle

Married on 07/08/2017

I don't even know where to begin. This place is AMAZING. I can't even describe how caring and accommodating A Pimento was. They saw our vision and made everything that we ever wanted come to life. They went with us to the venue for every planning appointment and they went with us to pick out all of our decor at the rental place. They were there every step of the way, so much so that we didn't even need a wedding planner! A Pimento is well worth the money, I promise!

Penny

Married on 10/03/2015

A million tweaks to service were needed as Joaquin bore down on my daughter's (planned outdoor, but now tented) wedding. Gay and her staff handled everything with aplomb and provided the an elegantly presented, tasty feast. Kitchens had to be moved, crowds had to be negotiated, food needed to be kept warm and dry despite the bluster. But the food was perfect. Thank you all -- it couldn't have been better, and our guests agree!

A Pimento Catering's reply:

Thank you, Penny. We so enjoyed you all, and the fearless, happy energy you brought! It was a pleasure - even a wet one - to work with you to create the perfect celebration for Cassandra and David, family and fans. Cheers to you!

Lucy

Married on 06/13/2015

My family and I are so grateful to A Pimento for their fantastic work at our June wedding at Meriwether Springs Vineyard! We enjoyed meeting with Gay Beery for our initial consultation, and it was a pleasure working with her and her team throughout our wedding-planning process. The fresh, flavorful and BEAUTIFUL fare served at our reception far exceeded our (high) expectations. David and Todd, who led the team, offered gracious, warm and professional service, making everyone feel cared for and at ease. The artfully-presented food delighted our senses and nurtured conviviality among all of our guests as we partook in the exquisite meal A Pimento offered. We could not have asked for a better experience - we will cherish this culinary memory as part of a unique moment in our lives!

A Pimento Catering's reply:

Thank you! We so enjoyed meeting Lucy and her family. It was such a pleasure to to work with them throughout the planning, and to see their vision come to life! Cheers to you!

Adrienne

Married on 12/31/2014

Six months after our wedding and we still hear from our friends and family about how much they loved the food! A Pimento was 100% professional and 100% delicious. We really wanted to do stations (with seated tables) and A Pimento made it work brilliantly, with a plated salad and then 3 stations with a different protein, vegetable and side at each station. Our guests had flexibility to enjoy whatever they wanted. All dishes were still warm and the presentation was flawless. Not to mention the meet and cheese table during the cocktail hour and the amazing passed hor dourves (think French onion soup dumplings). The whole A Pimento team is delightful and the tasting was so fun!

Jennifer

Event on: 04/26/2014

Delicious food, beautiful presentation, wonderful service; that is A Pimento. Gay is amazing at what she does- not only does she give her clients what they want, she gives them better than what they thought they wanted. I've worked with Gay on five events different-sized over the last couple of years, and I can't say enough good things about her and her team. If you are looking for a caterer who can put your absolute trust in, A Pimento is that caterer.

A Pimento Catering's reply:

Thank you, Jennifer! Your kind words are a delight this rainy day. We love to hear that we hit our mark - the goal is to always exceed our clients' expectations. I hope we can work together again soon!


Jasmine

Married on 07/28/2012

We're still getting comments about how good our food was three months after our wedding. Gay was such a pleasure to work with. My husband and I are both big foodies and wanted the wedding to also express our backgrounds, travels, and adventures. The food was so important to us that we actually started talking to caterers before we even looked at wedding venues. Gay put together the most interesting menu from all the other caterers we talked to in the Charlottesville area. Putting together a cohesive South American and Southern themed buffet is no easy feat. Gay certainly did her research. My husband commented that he even liked the Brazilian mocqueca that she made better than the one he had with me in Brazil. I'm pretty picky about how I wanted the South American food prepared and Gay did an awesome job. Shrimp stew, Brazilian chocolate brigadeiros, feijoada (bean stew) is no easy feat to make authentic and still appealing to a wide range of guests. We had guests from all over the world from Buenos Aires to Zurich and most of our guests were from foodie centric NYC. Combine that with my husband's mother who only eats steak and my family from Pennsylvania that thinks putting chocolate chips in pancakes is weird and radical. Guess what? Everyone seemed to enjoy their food. Even some of our pickiest friends loved the Steak Chimichurri. And I can't tell you how many people raved about the pan fried trout. And the okra? Oh my, this got eaten up right away so that people were trying to go for thirds. The drinks were also excellent. It's a sign of a good party when guests like the bourbon concotion so much that A Pimento had to run out for more. Robert, the captain, was also lovely and made my parents feel calm and welcome during the reception. What's more? Gay and her team put together this beautiful Brooklyn Bridge to connect our food stations. Seriously? A Pimento is worth every dime.

Jenny

Married on 05/05/2012

Gay and the rest of the staff at A Pimento was AMAZING!!!! The food was so fabulous and gorgeous!!! It was so fun to meet with Gay and plan the menu. Terrance and I both had ideas of what we wanted and wanted to bring some of our favorite foods we grew up with to our wedding. We had part Mexican food and part Southern. The food was just as delicious at the wedding as it was on the day we tasted at A Pimento. We are still (3 months after our wedding) being told how much people LOVED the food. Also, we asked Gay to use Terrance's mom's collard green recipe to honor his mom... Gay was happy to use the recipe and it was delicious and so wonderful for our families to have on our wedding day. The staff was so wonderful --- making sure that we and our families were well taken care of and enjoying everything. This review does not come close to expressing how much we really appreciated A Pimento - their creativity, flexibility (it rained and the schedule was out the window), fabulous attitude, and just outstanding cooking just exceeded all our expectations. I highly recommend A Pimento! I promise, you will not regret your choice!

Ashleigh

Married on 08/29/2009

Gay at A Pimento was an absolute pleasure to work with. We came down to Charlottesville for lunch with her 5 months before our wedding, and the food she prepared was outstanding! We served a "locavore" meal to our wedding guests - local trout, Polyface Farms chicken (as fatured in Michael Pollan's "The Omnivore's Dilemma"), local beef, farmer's market veggies and a grand berry shortcake in place of a traditional wedding cake. We served everything family style. Gay is organized and extremely responsive. The food quality was utterly outstanding and the staff working at our wedding were gracious and very professional. I had no idea that food for 100 could taste so good! Our guests were from NYC, LA, San Francisco, London - and they really appreciated the quality of the food. Gay even packed us a full picnic basket of everything we'd served and put it in our getaway car so we'd be able to eat when we got to our hotel - very much appreciated, and absolutely delicious! I cannot recommend A Pimento highly enough.

Crystal

Married on 06/03/2017

My advice to you - Do NOT use A Pimento. They came on strong with a face to face meeting and a complimentary tasting. They promised all the things caterers usually promise. They said they'd send me a proposal in a week or so. Stupid me - I signed the dotted line and gave them a down-payment. 3 weeks passed, going on 4, before I received the proposal. It was way over the initial budget I gave them. We met a 2nd time, and they were kind enough to work with me to find ways to reduce the price. Two weeks after the 2nd meeting and, except for one email that partially answered some questions, I haven't heard from them. I thought they'd be more communicative since the wedding is closer. I get it .... they have other jobs and it's wedding season. But 6 weeks out from my wedding.... I have no set menu, no idea what the rentals will look like, and no emails or phone calls back. Plus, I only get *partial* reimbursement on my deposit if I decide to try to find someone else (that's a couple thousand dollars burned). Doesn't matter how good the food tastes if they don't do their job.