18 Reviews
Recommended by 100% of couples
Quality of service

5 out of 5 rating

Average response time

5 out of 5 rating

Professionalism

5 out of 5 rating

Value

4.9 out of 5 rating

Flexibility

5 out of 5 rating
Awards
1 User photo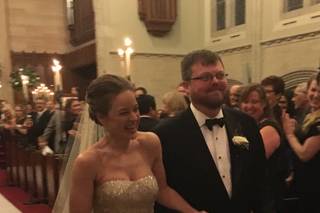 Meghan M.

Married on 10/09/2022

Truly the best!

There are not enough words to describe how much we appreciated having A Perfect Pair help us with our wedding. Malia and Emilee truly went above and beyond to make our day run smoothly. They were very detail oriented and left no questions unanswered as it pertained to how we wanted our wedding day to look and run. It is hard to plan a wedding and there are a lot of moving parts, but knowing APP was working behind the scenes to coordinate our vendors, make an amazing detailed timeline, ensure that nothing was missed, and make sure that we (as the bride and groom) were not bothered, was absolutely priceless. A special shoutout goes to Malia for being on top of her game! From running our rehearsal to running a half mile at the end of our wedding to make sure the police officers let Ubers through the closed road to pick up our guests, she was a true rock star and really went the extra mile (no pun intended)! Thank you again, APP - we loved working with you!

Daniel C.

Married on 06/28/2019

Made the day so much easier

Andrea really helped make our day perfect in so many ways. Everything would have been vastly more stressful without her and her staff. Instead, my wife and I enjoyed our day and had a wonderful time. Strongly recommended.

Matt D.

Married on 12/23/2018

Worth Every Penny!

Emilee, from A Perfect Pair, was an essential part of our wedding. We couldn't have done it without her! Throughout the entire process, we really felt that Emilee care about us and was invested in our happiness.

After the wedding, my father (who's a pretty frugal guy) commented on how he doesn't know how people get married without someone like Emilee. She is worth every penny and then some!

Are you interested?

Send a message

Christine

Married on 09/15/2018

100% would recommend to anyone!

Nicole

Married on 09/08/2018

Emilee is the perfect day of planner! She's extremely organized, reliable, thoughtful and was very helpful in any question I had. The one thing I really loved was how responsive she was! I never felt lost throughout the whole process because she was by my side helping me make decisions and guiding me to keep moving forward which eliminated my stress.

On the day of the wedding, Emilee and her crew managed everyone with a calm demeanor and excellent attitude!
They knew how to manage all different types of personalities without getting frustrated and kept everyone on time. If there were any hiccups, I didn't know about any of them!

I can truly say that my wedding day was exactly the way I wanted it thanks to her and her incredible team.

Kate

Married on 04/21/2018

Absolutely flawless execution and we could not have gotten married without Emilee and A Perfect Pair! From planning to the day of our ceremony, Emilee and her team were by our side ensuring our day went perfectly. They were thoughtful and caring and we are so happy they were part of our special day.

Emily

Married on 01/20/2018

Andrea and her team from A Perfect Pair were the linchpin of a wedding day that was impossibly perfect. I'm the bride, and I got to enjoy the moments leading up to the day, and every part of the day itself, because Andrea was handling every last detail. Thanks to Andrea, I experienced my wedding weekend as a bride, not an organizer. I adore her, and can't recommend her highly enough.

I want to describe a few examples of moments I enjoyed because Andrea was in charge of the logistics. I remember sitting in the makeup chair, with my eyes closed, hearing the laughter of all the women I love most in the world and relaxing into the moment. When I was done, Andrea gently told me it was time, and I put my dress on with my mom and sisters in a way that she invisibly orchestrated so that it felt unfussy, organic and powerful. She also coordinated with my photographer to execute an ideal first look - private, intimate, beautiful. My groom and I were whisked away for pictures, and one of her team members stayed with us and literally wiped down my dress when I walked anywhere near dirt. She asked me every time I got back on the bus whether I wanted water, a snack or lipstick. At the ceremony, I had a few minutes to collect my thoughts and think about the monumental feeling of walking down the aisle to my groom, instead of worrying about whether the procession participants were lined up properly. Same thing for the reception - Andrea kept everything running on time, gently, graciously and firmly (especially when she needed to encourage me to stop talking so the toasts could start, or eat some of our food so I wouldn't pass out). This is to say nothing of the incredible amount of work she did in advance, building a timeline that was so reassuring in the weeks and days leading up to the wedding.

Patrick

Married on 08/18/2017

As a former groom recently married, I thought it was important to put a review on here because when I browse through wedding wire I can't help but assume that 98% of the reviews are written by Brides and it kind of becomes a "bride echo chamber" with no groom input. But with that said, and as the groom in my wedding, I highly recommend every engaged couple to hire A Perfect Pair. I cannnot emphasize it enough. I was a little hesitant to jump on board hiring a "planner" to help with the wedding, but much to my surprise by the end of the process I was by far the most apppreciative and impressed with their services. Lauren Jackson and Emilee literally go above and beyond in their effort and detail to coordinate, plan, support and facilitate the wedding planning process. If you're looking for suggestions on how to logistically execute the big day, they're absolutely vital. In addition to their logistical expertise, their suggestions and ideas created a much more exciting and fruitful wedding for my bride and I. Keep in mind too, if you're a groom and you don't hire a Perfect Pair, you only have yourself to rely on when your bride is pulling her hair out trying to coordinate with the caterer, wedding party, parents, transportation, church, DJ, and every other person in universe. Lauren and Emilee provided answers when I didnt know how to proceed, solutions when we we're stumped on logistics, ideas to enhance the day, coordination for all vendors on the actual big day, a minute-by-minute agenda for all involved (key for the wedding party) and most of all, peace of mind for the bride to help her enjoy the day and forget about the challenges it could've presented. They're exceptionally pleasant and attentive and even my friends and family after the wedding were buzzing about how detail oriented and friendly Lauren and Emilee's services were for our wedding. Help yourself. Hire them. Actuallly enjoy your wedding.

Signed,

A Groom Who Saw The Light

Rachel

Married on 04/29/2017

I couldn't imagine getting married without Lauren and her team. She helped me organize my vision into the most perfect day, while keeping an eye out for anything I may have missed. Who knew so much goes into planning a wedding? :) The day felt perfect from beginning to end, and I felt so calm knowing Lauren had everything covered. I was able to be fully present and just enjoy our wedding day.

Emma

Married on 10/01/2016

All we could think to say about Lauren and A Perfect Pair is that they know their stuff. I am an above average organized bride and thought I had thought and planned for everything. After just one or two meetings with Lauren, there were items on her list that made me realize how grateful I was to have them planning and organizing along-side me. She and her super friendly day-of team prevented last minute freak-outs and solved problems before they existed.

Jenn

Married on 06/11/2016

Of the hundreds of choices I made through our year of wedding planning, working with Lauren at A Perfect Pair was easily the best decision I made. She is experienced, assertive, detail oriented, and (most importantly for me) has a calming presence. I can't recommend Lauren enough! LOVE HER!

Lyndsey

Married on 09/26/2015

I cannot say enough great things about A Perfect Pair, specifically, one of the owners, Lauren! She is super organized and helped us stay on top of everything with helpful monthly "to-do" lists. She has great vendor recommendations and relationships that saved us a lot of money, time, and energy. She is also full of good ideas and advice and thought of things I would have never thought of. Thanks to Lauren, our wedding vision was perfectly executed and ran perfectly smoothly! Not only is she beyond awesome at what she does, she is an absolute pleasure to be around - our parents and our bridal party all commented on how wonderful she is. Her rates are very reasonable and definitely worth every single penny! Hiring Lauren was by far the best money we spent!

Andrea

Married on 04/11/2015

I could go on and on about A Perfect Pair. Lauren served as day-of coordinator for our wedding on April 11, 2015, and everything was perfect. Truly perfect. Lauren did an amazing job working with us prior to our big day -- she spent extensive time learning about our vision for the wedding and gathering every last detail. The timeline she put together for our wedding weekend was so thorough and really helped me to relax. I knew that Lauren understood every detail of our day as well as me, and so I was able to let go for the weekend and really enjoy the party my husband and I had planned. And did we ever!

Day-of, Lauren and her teamed shined. They worked seamlessly with all of our vendors -- everything went off without a hitch and exactly how I had imagined. Everywhere I looked, there was Lauren or a member of her team, making sure that things were running smoothly and efficiently, and always checking in to be sure we were enjoying ourselves. I could not have asked for a better coordinator and am so glad that we invested in her services. Our day would not have been the same without her and her team and I will be forever grateful.

A Perfect Pair Event Boutique was the epitome of the perfect wedding coordinator! Lauren and Emilee did an outstanding job meeting our needs. Lauren maintained clear communication throughout the process and contacted each of our vendors the week of the wedding to coordinate timing/deliveries. Trust me, brides, these are details that you can't put a price on! Emilee was with us every step of the way and provided so much valuable input about vendors/pricing/general advice which was so helpful. The day of they were timely, charming, and attentive! There was no way we could have enjoyed ourselves as much as we did (before the wedding and the day of) had it not been for the amazing women from A Perfect Pair!

Jessica

Married on 10/25/2014

It was really important to me that I would be able to enjoy my wedding day without having to think about any of the organizational pieces, so I knew from the beginning that I would want a day-of coordinator. I am so glad that I found Emilee! She met with us throughout the planning process to make sure that we were on track and on schedule with booking everything, and that we weren't forgetting any small details (ie. ordering archival quality pens for signing our guest book/poster, no way would I have thought of that on my own).

A few weeks prior to the wedding date she took over communication with the vendors and scheduled a walk through at the site with the vendors to make sure everyone knew what to do, when and where. By the time the wedding date rolled around I was fully confident that she had everything under control. I was correct, she and her team were amazing and somehow everywhere at once! They ensured that everyone was ready and on time to the wedding, and that the venue was simultaneously being set up exactly the way I had wanted it for the reception. Once we arrived, everything during the reception went very smoothly and I was relieved to know that someone else was worrying about all the activity behind the scenes. Working with Emilee was a great experience and I would definitely highly recommend her and APP!

I would not hesitate a minute in recommending A Perfect Pair Event Boutique. From the minute the contract was signed to the last minute of the wedding reception this group of women took care of everything. Emilee Lales met with the bride and groom to discuss all aspects of the wedding and as the date drew closer kept in close contact with them as well as both sets of parents. She developed a very detailed time line of all events from the rehearsal dinner to the end of the reception night, kept as calm and organized all the way through.

As the parents of the bride we wanted to be sure that the wedding day was all the our daughter could ask for. We wanted to see a smile on her face all day. We wanted to take in every moment, visit with family and friends and enjoy our party. With this team all of that happened. They are a well oiled machine, took charge, and allowed all of us to have the day of our lives.

A wedding event planner is a definite need for a wedding. There are so many pieces to the wedding puzzle and you want them to fit together perfectly. This team put it together. This team comes highly recommended by me.

Susan C.

Married on 06/22/2019

Incredible hands-on planner that will make your life WAY easier

We couldn't say enough good things about our experience with A Perfect Pair! Emilee Lales was our wedding planner and she truly made our experience as STRESS-FREE as we could have ever imagined. Emilee is INCREDIBLY thoughtful, organized, detail-oriented, and timely in all of her interactions, which was reflected from our first phone conversation to the last meeting. Emilee was willing to go above and beyond to make sure our vision for our special day was articulately communicated with each of our vendors to help us make our dream into a reality. Aside from her professionalism and excellence in what she does, her bright, energetic and bubbly personality also made her incredibly fun to work with. She really made us feel at ease even during the last several weeks leading up to the wedding, as she was so adept at helping us to prioritize and streamline our final to-do list, it made things feel less overwhelming and daunting. We couldn't be happier with our experience with A Perfect Pair, and HIGHLY recommend Emilee Lales to any couple who is truly looking for a hands-on planner who will alleviate a lot of the typical "pain" of the wedding planning process!!!

Mackay

Married on 10/02/2016

Our wedding day wouldn't have been as special without the help of Emilee and A Perfect Pair! I am a professional event planner and wanted to make sure that I felt comfortable with all the small details of our day! Emilee understood my, sometimes absurd, need to know that every little thing was taken care of. The 15 page weekend event schedule put me at ease and I was able to enjoy every moment to the fullest! Not only was Emilee unbelievably accommodating (we met late into one night at my mom's office) as well as responsive, she wanted to become a part of the "family," to understand all the different personalities at play, to ensure a special day for all! She was concerned with all the logistics as well as all the emotions and knew the vital role that each of those things play in a wedding! I wouldn't hesitate to recommend Emilee and A Perfect Pair over and over again!
Are you interested?
Send a message