Reviews
2.0 out of 5 rating
Quality of service

2.1 out of 5 rating

Average response time

2.1 out of 5 rating

Professionalism

2 out of 5 rating

Value

2 out of 5 rating

Flexibility

1.9 out of 5 rating
40%
Recommended by couples
1 User photo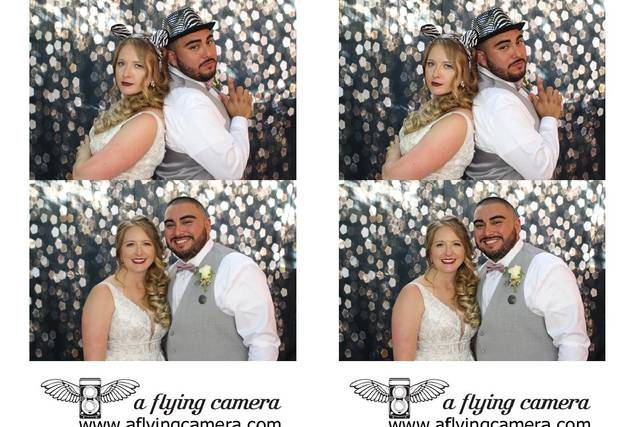 Lilly C.

Married on 04/30/2022

Great Photo Booth

We had a great experience with their service! The photo booth provided us and everyone a fun take-home gift and the operator was great about adding photos into our guest book.so we can see everyone's photos. They had a great prop selection which could be mixed and matched for fun photos.

Erin

Married on 09/10/2011

We used A Flying Camera for my wedding and the photobooth was a hit. Definitely recommend them.

Genesis

Married on 12/29/2015

It was a good service. Given the circumstances, we understand why our attendant was not set up on time. The photo booth was a big hit nonetheless! We (the bride and groom and immediate family) had to leave earlier so the attendant just left the photo album on the table (disappointing). Luckily our last guest saw it and gave it to us. It's been a year since the wedding and I realized I still haven't received the disk of images. I see a lot of potential growth in this company. Give them a try at your discretion.

Are you interested?

Send a message

Winnie

Married on 02/24/2017

The initial contact was great, and we were so excited for this to happen. Such a fun idea and from the looks of some of the flipbooks I did receive, seemed like decent products. Day of event, the attendants were "new" and the printer broke early on. I had no idea until my guest told me and that they hope I can mail them their flipbook after the wedding. Zero follow up after event, I had to hunt them down with emails and phone calls. Got some response, but they were not professional about it. I ended up having to chase after them thru my credit card. It was just a terrible experience for 4 months having to deal with the back and forth. I should have read more reviews.

Naomi

Married on 04/22/2016

1. The Flipbook & photobooth was suppose to in Location #1 & then MOVED to Location #2 PER MY CONTRACT. On the day of our wedding the Flipbook was ONLY set up in Location #2 which was NOT available to our guests for the 1st hour. I lost 1 hour of Flipbook use. Operations Manager, Mike Bauman, said his team was directed by my venue to set up only in Location #2. However, my venue clarified that A Flying Camera said they could not set up the Flipbook in 2 locations as it was too time-consuming.

2. None of the Flipbook attendants told my guests they could print multiple flipbooks so when large groups used the Flipbook station only 1 or 2 copies were printed. Also, the photobooth attendant only allowed my guests TWO copies per photo strip but it should have been UNLIMITED. After the wedding I spoke Mike who said that "unlimited prints" meant UNLIMITED PHOTO TAKES. I was sure I signed up for a photobooth that provided unlimited prints, but Mike confirmed AGAIN that it was unlimited PHOTO TAKES. While on the phone with Mike I kindly asked if I misunderstood when their website stated "We buy our supplies in bulk and get an incredible rate on our photo paper. It's all because we want you to have as many copies as you and your guests are willing to take home." All under the section UNLIMITED PRINTS. After hearing this Mike said, "It does say that but it depends on what's in your contract." Why would a photobooth company advertise unlimited prints but state otherwise in a customers contract? He then said, "I understand the confusion. I can have my manager, Eric, give you a call." 2 weeks later & still no call from Eric.

3. The Flipbook cutter BROKE during the reception. Many of my guests did NOT receive their Flipbook that night. Instead, they had to leave their mailing address so that A Flying Camera could mail the Flipbook out. However, 2 weeks later some of my guests have NOT received their flipbooks. Another disappointment.

Ivana

Married on 08/06/2016

My sister in law hired A Flying Camera for her wedding at Casa Real on 2/24 because she thought having flip books for her guests would be a unique idea as party favors. Although the flip book station was a hit among the guests, the printer stopped working halfway through the wedding, and the attendant had no remedy for the problem, other than disappear. Aside from all the guests being disappointed, it ruined the mood for myself, as I was part of the bridal party and had no idea what was going on with the flip books/printer situation. You would think the attendant would have the common courtesy to tell the bride, or someone in the bridal party so we would've been aware of the situation, but this was not the case. We had to find out about the hiccups through several guests asking about the flip books. At first, we were confused and told the guests to be patient with the attendant binding the books. We just assumed that the attendant would be taking care of matters themselves. As the questions piled on, we were just embarrassed to find out that the printer was broken and there was nothing A Flying Camera could do. I can't imagine being bothered by incompetent vendors on my special night so I feel for my sister in law. Since a flip book is unique and special for such moments, shouldn't the company also guarantee delivery of flip books to excited guests? And if this is the case, shouldn't there be a backup printer for emergencies??

Not sure how A Flying Camera has high ratings on any of the wedding websites. We should've done more research when looking for vendors. It's no wonder they weren't on the "preferred vendors" list at Casa Real. The lack of professionalism and communication is what sets this company apart from other vendors in the wedding industry.

Tasha

Married on 05/26/2017

Buyer be ware. They have not refunded my deposit; which was half of the cost we agreed to for the services to be provided. I have already filed a complaint with the BBB. After my multiple attempt to reach out for clarification on contract terms since December 19, 2017, John Prosper said on January 31, 2017 that they would refund my deposit with out any explanation as to why. Since I have not had a response from them that clarifies their action or any follow through on my refund, I'm nervous about their ability to provide timely service on the date promised. There is no accountability. I have spoken to 3 other individuals to no avail. By the end of the week, I will post the e-mail string that sums up the events that brought me to write this negative review. Buyer be ware!

Please, please, please, before you hire this company: DON'T!!!! They are completely unprofessional and YOU WILL regret hiring them, period!!! Complete fail on every level possible and cost us money and time we will likely never see. Please, do not waste your time and ruin your event!!!

Nahil

Married on 08/05/2017

BE WARNED---Easily the most embarrassing and awful experience. They completely dropped the ball for our wedding and it's still unresolved. 0 STARS, but I feel all need to be aware of this experience.
Hired them for my WEDDING and they not only gave us the worst picture quality and the session with the camera timer-- THEY COMPLETELY RUINED THE WEDDING BANNER THAT WAS SUPPOSED TO SAY OUR NAME. They used a 2007 high school graduation banner for every single picture that was emailed and publicized to every single guest. I spent time designing and paying for the banner prior to sending it to the Flying Camera Designer....thinking...it was set to go since it was taken care of early enough prior to the wedding. THEN...my coordinator who was on top of it contacted them and tried to get the ball rolling with getting just IN CONTACT with someone about this mortifying situation along with a refund...nothing. Horrible service. Took me, contacting them while international on my HONEYMOON to get them to respond. They said they were waiting on their boss to get back after being out of town for x days. According to that email that was early August. We're now ending August...still haven't heard anything, no refund, no follow up...NOT even our paid for album of guests picture. I'm shocked and beyond upset. I highly discourage any and all couples from believing these 'guarantees' of professionalism and 'great service.' I went with Flying Camera bc of their stellar reviews.....man, oh man was I disappointed.