94 Reviews
Recommended by 98% of couples
Quality of service

4.9 out of 5 rating

Average response time

4.9 out of 5 rating

Professionalism

4.9 out of 5 rating

Value

4.9 out of 5 rating

Flexibility

4.9 out of 5 rating
23 User photos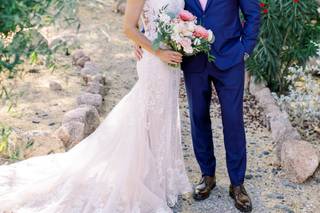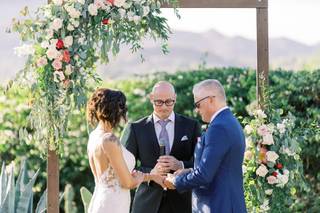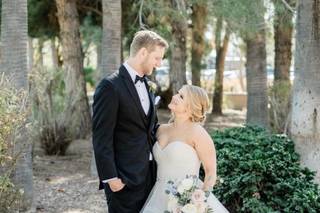 + 19

photos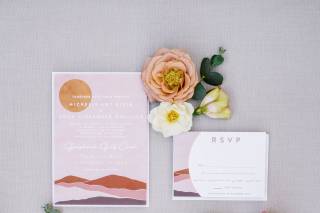 Mary C.

Married on 10/08/2022

Stephanie Poure as wedding planner

Stephanie did so much more than help plan a wedding. She had creative suggestions based on experience, she took complete control the day of the wedding, she develops close relationships with vendors both old and new and she calmly gets everything done. She was always quick to respond for an entire year. I would recommend her highly.

Jami H.

Married on 05/06/2022

Above and Beyond

I was told something comes goes awry during every wedding. That wasn't true for me at all. My husband and I were relaxed, present and loved every moment our wedding day…I attribute so much of that to Cara!

As a detail-oriented, thorough person, and being small business owner, I am responsible for a ton of things in my life. It's hard for me to step back from doing all the things and to believe others will get things done and do them well. That said, I did a ton of research on wedding planners, especially because this was a destination wedding for us, and I assumed planning long distance would be hard. While it should have been, it never felt challenging because of Cara.

Cara put me at ease and made it possible to let go from the beginning stages to the end of my wedding day. I fully trusted she could help me create what I envisioned because she truly listened, incorporated what I asked for plus things I didn't even know I needed or should consider.

Cara was prompt to respond to every email and proactively included herself on emails with all of the vendors I worked with in the preparation phases. Not only did this make the process smooth, but she took charge when the company who did my printed materials was making mistakes, had poor follow through and was difficult to work with. Side note…this experience was not a result of a bad recommendation on Cara's part. She suggested additional vendors for printed materials too, but I chose this company to save money, and she had good experiences with them before. She took care of it and fixed it all.

When choosing musicians, florists, and vendors (all of whom exceeded my expectations), she tailored her suggestions to exactly what I wanted. ALL of them were so happy to work with me and some even provided perks and discounted rates because they have had such positive experience with Cara, working with them multiple times, and, as they also said, she is so enjoyable to work with.

On the day of my wedding, Cara seamlessly directed and oversaw every detail behind the scenes which allowed me to relax and enjoy the whole day because I trusted I was in the best hands with her. She only involved in things any bride would be part of like timeline, hair/makeup, and pictures. My husband was not knowledgable about what happens for weddings, so I was worried he wouldn't know what to do or when, plus he doesn't like being on and specific schedules with specific instructions to follow. Lol. That said, because Cara had prepared him for what he needed to know ahead of time and on the wedding day, he said made things easy for him too.

Cara genuinely cared about and was invested in me and my husband.

Choosing Cara was the best decision I made for our wedding!

We're so grateful for you Cara! Thank you so much.

Aii V.

Married on 02/26/2022

Best wedding planner!

Stephanie exceeded my expectations in every way. As a physician, I have a very busy schedule and it seemed impossible to plan a 200 person wedding. Stephanie made planning easy and honestly fun! She was calm, cool and collected the entire time. AND she put up with me! She responded to every text, call and email so quickly and I never felt anxiety (which is a miracle). Along with being exceptional in the planning process, she made my actual wedding perfect. Nobody was asking me questions and I could truly enjoy my day. Everything ran smoothly and it was the best day of my life.

Are you interested?

Send a message

Michelle K.

Married on 02/12/2022

Professional and quick to respond

Stephanie was a phenomenal planner and I would recommend her to any of my close friends! The planning was organized and we were able to plan stress-free from out of state!

+ 3

photos

Courtney D.

Married on 11/07/2021

A Day To Cherish Is Awesome!

I would highly recommend hiring A Day To Cherish for your wedding planning needs. My wedding planner was Stephanie Poure and she was amazing to work with. She was incredibly helpful, kind and patient throughout the entire planning process from beginning to end. She was very organized, professional, and thought of all the small details that I would have never of thought of. She had awesome suggestions and she made the entire wedding day go so smoothly. We are so thankful for Stephanie, and we thoroughly enjoyed working with her!

Alex

Married on 10/02/2021

Loved Stephanie - everything went perfectly

Stephanie was amazing. We were married at El Chorro and with her help the whole was exactly how we wanted and no snags at all. She's also just so nice and easy to work with.

Lauren K.

Married on 09/11/2021

Simply put, she makes magic.

We truly cannot say enough about Cara and her team. They supported us every step of the way, even though a venue and date change due to COVID with such grace, positivity, and good spirits. She planned and coordinated a seamless day where we and our families did not have to worry about a thing! She made the decisions at every turn easy and stress-free. I would recommend her to ANYONE!

Alexandra D.

Married on 04/03/2021

The Perfect Day and More!

Is it possible to be completely present and in the moment enjoying your Wedding Day? YES! ADC provided that and so much more! Cara is one of the most organized and professional people I've ever met. She brings a sense of peace to any conversation or situation, including navigating COVID-19. We had complete confidence and trust in Cara from start to finish. She's also fun to work with and shows passion in what she does. Unlike most brides and grooms, the details and décor were left 100% up to Cara to create based on Pinterest concepts we provided. She created the perfect magical and romantic setting we were looking for! It was truly a perfect day for us to remember thanks to Cara at A Day to Cherish! Thank you so much!

Ashley B.

Married on 11/01/2020

Angels on Earth

Cara and her team are angels! My husband and I are both from Los Angeles but we always knew we wanted to get married in Scottsdale in November. We got engaged in January 2020 and I immediately began reaching out to coordinators from my venues preferred list. After 4 calls to other companies, I still wasn't sold on anyone...that is, until I spoke with Cara. I instantly vibed with her! I knew early on that we would make a great team and I wasn't wrong. A few weeks after I booked Cara, COVID hit and I was thrown into such uncertainty. I must have called/text/emailed Cara over 100 times just asking for her opinion and MANY times I left the conversation feeling better and hopeful. In the end, we were one of the few lucky ones who didn't have to postpone. Cara helped me endlessly with trying to figure out ways to make my guests feel comfortable during this time. We got married in November 2020 on a gorgeous afternoon/evening in Arizona. Everything was amazing and family and friends still comment on how beautiful it was. Cara and her team were there for me the whole way, doing more than what was even expected of them. My husband felt ill on our wedding day and they did everything they could (giving him Pepto, ginger ale, cuing the DJ, spacing out our original timeline) and none of our guests had a clue. I truly feel blessed to have had the opportunity to work with Cara and A Day to Cherish. Planning a wedding from another is hard, planning a wedding during a pandemic seems impossible but Cara is the partner/therapist/friend you need in your corner because she makes everything seem right. Its also worth noting, every vendor and
company I spoke to RAVED about Cara and her team and its easy to see why.

A Day to Cherish Weddings & Celebrations's reply:

Thank you so much for your kind review, we LOVED working with you and it was OUR pleasure to be there for such a wonderful day! This made my Monday!

Jordan R.

Married on 03/25/2020

Perfect, professional, detail oriented and a pleasure to work with

This post is way overdue. My husband and I had our wedding 3.14.2020 the day before the entire world shut down due to Covid. Stephanie Poure our coordinator was BEYOND INCREDIBLE during the whole situation. The entire week she was staying in contact with all our vendors to make sure no one was canceling without my knowledge (mainly communicating with my husband) so I could be as relaxed as possible, I am so thankful for her. For the day before and day of, Stephanie had a detailed timeline to make sure everything ran properly. Her and her assistant also were so helpful behind the scenes (steaming dresses, placing extra flowers around, all setup process). I could not recommend anyone better, she was extremely knowledgeable which was so helpful for someone like myself who is not good with event planning. If you want your day to run perfectly with little to no stress on you even with a full blown pandemic happen, hire A Day to Cherish. Stephanie was obviously fabulous but I don't doubt the rest of their team is just as great. Forever a grateful bride.

Carson K.

Married on 03/21/2020

the best wedding planner in Arizona

I do not have enough good things to say about working with Cara from A Day to Cherish. After interviewing several other planners, I could tell form the beginning Cara was going to fit best for our big day. She was so easy to work with, very professional, incredibly flexible and there to answer any question I had big or small. On the day of our wedding, I did not have to worry about a single thing. She took care of it all and helped our day run so smoothly. Again, I cannot speak more highly of A Day to Cherish.

Anne

Married on 11/16/2019

Personable, Organized, Wedding Planning Pro

Honestly I don't know what I would've done without my planner, Cara! Originally had no interest in a planner. Started out with my parents touring reception venues, and we quickly realized just how many additional details that we would have to organize ourselves and became overwhelmed. The day I told my parents "I think we need a planner", my mom breathed a huge sigh of relief! I'd been dreaming about my big day for a while and I was overwhelmed with all of the ideas I had in my head, how to organize, and put them to action. Out of 3 planners I had interviewed, Cara was the the most down-to- earth, non-pushy, and calm while also being respectful and supportive of my vision and the ever so important budget. My now-husband and I both have long, irregular and unpredictable work schedules and Cara was a total champ with being understanding, helpful and accommodating with scheduling, and then sometimes rescheduling the vendor and planning meetings. I can't thank her enough for helping me find some amazingly talented vendors, keeping track of every detail big and small, being available to contact so easily, going to bat for me when needed, and making family and wedding party feel comfortable and organized all throughout the big day. Best wedding decision, other than marrying my husband, that we made :) Highly recommend.

A Day to Cherish Weddings & Celebrations's reply:

Thank you SO Much Anne! You were just an absolute pleasure to work with and it was such a blessing to be a part of your wedding!!

Emily M.

Married on 11/08/2019

Amazing wedding planner!

Cara and A Day to Cherish made our day incredible.

Stephanie S.

Married on 10/12/2019

Stephanie Spahr

We had Stephanie Poure as our coordinator and she was AMAZING. I couldn't imagine how our wedding would have gone without her! She assured that everything went smoothly and it was so perfect. We are so grateful for her making it the best day ever!

Mishay T.

Married on 04/12/2019

Thankful for A Day to Cherish

I got married less than two weeks ago and worked with Cara for over a year planning my wedding at El Chorro. Cara is truly everything you could want in a wedding planner - considerate, friendly, attentive, professional, genuine, prompt, organized, helpful - the list goes on. She is EXTREMELY detail-oriented and efficient. From the beginning, Cara really took the time to get to know me. She listened attentively and genuinely sought to understand my vision so that she could bring it to life. Moreover, she helped guide our family through the entire process, including keeping on track with our budget, vendor recommendations, and all sorts of insider tips that you simply would not know unless you are an industry veteran.

Cara keeps things as stress free as possible leading up to the wedding. The confidence that I had developed in her abilities in the months prior to my wedding day provided a much-needed sense of relief. I knew that she would be on top of everything – down to the very last detail.

The week of my wedding, I panicked because it looked like it was going to rain and we were having an outdoor ceremony and cocktail hour. I texted Cara and she responded within minutes, calming me down and telling me that she already had backup plans in the works that we could discuss in the event of poor weather. She was calm, collected, and prepared, and I simply can't emphasize how much this meant to me during such a busy week.

Not only did Cara develop a relationship with my husband and I, but she also developed a relationship with my family. My situation was a bit unique, in that I live in South Carolina but had an Arizona wedding. On one particular weekend, I flew into Phoenix to pick linens with my family. Cara arranged our meeting with the vendor and even had beautiful tables set up. In the end, I changed my mind on the linens a few months later but couldn't come in town due to the distance. When I reached out to Cara, I was so impressed to hear that she had promptly addressed my concerns. She immediately met with my Mom a second time to help switch the linens. This is the level of professionalism that you can expect to receive from A Day To Cherish.

My parents, who live nearby, continued to work regularly with Cara when I was out of town. They absolutely loved her and were able to relax and enjoy themselves throughout our wedding day. She made sure we took photos at the right time, that the speeches occurred at the right times, and even gathered up our gifts and loaded my parent's car!

Your wedding day is a life-changing event, a day that you will remember as one of the most impactful of your entire life. Choosing a wedding planner is therefore one of the most, if not the most important decision that you will make. Many wedding planners will tout their attention to detail and sense of style, and they may impress in these areas. However, Cara unquestionably stands out amongst the rest due to her years of experience, preparations for the unexpected, and relationship-centered approach. What started out as a professional relationship in the beginning had become personal by my wedding day. Trust me on this -- if you are thinking about hiring a wedding planner, look no further than A Day to Cherish. Cara will absolutely make your wedding dreams come true.

Dina L.

Married on 04/12/2019

A Day to Cherish-Cara Morrison

We worked with Cara Morrison from A Day to Cherish for the past year in preparation for our daughters wedding April 12, 2019. I am beyond thankful to Cara and her staff that assisted the day of. Cara is the ultimate professional, responsive, flexible and patient. The planning of a wedding has an immense amount of moving parts and pieces that we could not possibly have handled on our own. She was understanding and accomodating as we made numerous changes. Cara and her team far surpassed any expectation I could have imagined. The ceremony was absolutely lovely, and the ballroom was pure perfection. The team made sure the tables were perfect and the bridal party had everything they needed. We are still receiving texts and emails every day from our guests, thanking us for a wonderful night and all have commented that our daughters wedding was one of the most beautiful weddings they had ever attended. Cara's execution is impeccable and it is without hesitation that I recommend A Day to Cherish!

Elizabeth D.

Married on 02/23/2019

Wonderful!

We worked with Stephanie throughout the planning process and she was an absolute gem! We planned our wedding from out of state so Stephanie was a huge help with everything from coordinating vendor payments to creating a cohesive design for our wedding. It seemed like every vendor we chose to work with already had a close working relationship with A Day to Cherish, so it was extremely easy to work with all of them - from our florist to our DJ. I know Stephanie was a big reason why everything went so smoothly! As far as our actual wedding, it was everything I had hoped it would be and more! Every design element came together beautifully and Stephanie made sure everyone knew there place and role that day!

Sarah

Married on 02/16/2019

Must DO!!! A Dream to work with!

MUST DO! We hired a DOC and worked with Stephanie. She was much more than that. She was there to answer any questions I had during the planning process, she created a timeline for us and the Vendors. A few weeks before I went just through her and she took over communication with all vendors, that itself was worth the money. Our planning process was never stressful but having someone else create the timeline, work with vendors, she set up all areas with the decorations and created a dream space for us. We had to do nothing except enjoy the week and day, I repeat we were not stressed and had the best few days leading up to the wedding and our wedding day was enjoyable. I could relax and just focus on our guests and our day! Living far away from Sedona, having someone you trust take over your day and make your dreams a reality is a feeling I can't describe. Well worth the money, would recommend to any bride. it is a must do!!!

Melanie

Married on 11/02/2018

Incredible Experience

I don't even know where to begin! A Day to Cherish is very lucky to have Stephanie Poure on their team. Stephanie went above and beyond to make our wedding special, even though it was a small wedding she seemed to treat it just like any other wedding. She was always available for a call, text or email and always responded within minutes.

The day went smooth and I even received compliments from guests on how well Stephanie and her coordinator did. They even packed everything up at the end of the night and put it in our hotel room.

Stephanie handled every aspect of the wedding, from helping me find shoes, picking out my jewelry, helping me figure out colors, scheduling all my calls with vendors, scheduling all my appointments for finding my dress, working out the budget, creating a seamless day of timeline, and so much more!

I can not find the right words to explain how grateful we were to work with Stephanie and how impressed we were with everything she handled. She made me feel like I was the only wedding she was planning.

I would hire Stephanie 100 times over if I could!

Alexander N.

Married on 10/20/2018

October 20th, 2018

Stephanie at A Day to Cherish was a tremendous help in planning and executing our wedding. We started planning for our wedding only 6 months before the big day, so there was a definite time crunch. Stephanie guided us, kept us on track and made excellent vendor recommendations. She was quick to respond to any questions we had. There are a lot of moving parts to any wedding and everything seemed to come together harmoniously on our wedding day. We were able to actually enjoy our wedding and not have to worry about the tedious details. The night was amazing and surreal, everyone enjoyed themselves. As the dancing concluded, Stephanie and her crew had everything packed up and loaded for us in our car. We were able to enjoy the party until the last minute. The level of service and attention to detail is what made it such an incredible night that we will never forget. A Day to Cherish truly made our wedding A Day to Cherish.

Amanda

Married on 05/12/2018

Stephanie was amazing! She truly went above and beyond to make our wedding day the best! She was responsive, flexible, and offered great advice, everything from small questions to recommending great vendors. Every interaction was easy and comfortable and she brought a great team of people the day of. I had nothing to worry about because I knew she would execute my vision and take care of anything that came up. She has a such a wonderful, light, happy personality, which added something special to our day. I would highly recommend Stephanie and A Day to Cherish!

Lisa

Married on 04/14/2018

I can not say enough wonderful things about Stephanie. She well exceeded any expectations we had for a wedding planner. She was easy going, well organized, prompt, and truly spectacular at her job. Our wedding day was stress free and perfect. We are so thankful for Stephanie and A Day to Cherish.

Karleigh

Married on 11/11/2017

Stephanie made my day happy just as I imagined it!! She is so easy to work with, organized, and has such great ideas! She knew what my vision was and made it happen. Every vendor I worked with told me she was the best wedding planner they had ever worked with!

Kate

Married on 06/17/2017

Incredible Experience with ADC

I don't even know where to start. Stephanie was our coordinator. We postponed our 3.28 wedding on 3.15. It was a Sunday night (very late!) and Stephanie stayed on the phone texting with me until we found a date that worked for ALL of our vendors. She worked frantically texting them all on my behalf. We landed on 11.15.2020 thinking the world would be normal by then (lol). We stayed in communication over the next 8 months and replanned several things several times. About a month out we decided to cut to just family (30 people) and Stephanie helped me work with our vendors to still make it a beautiful and really special day. It was a PERFECT day. Stephanie and her assistant Caleigh steamed all our dresses, worked with our vendors all day to keep us on timeline, setup all the details, I could go on forever. They both were incredibly kind, calm, and organized. I can't say enough good things about ADC, Stephanie and her wonderful assistant Caleigh. Do not look anywhere else, book them!

Ruth

Married on 04/15/2017

Stephanie was amazing! She was incredibly helpful, responsive and organized. She paid attention to a lot of details and made sure everything ran smoothly. A lot of preparation went in prior to the day of. She was always above and beyond from day one. It's worth every penny and I would recommend it to anyone! Actually, I don't think any wedding would survive without a planner. A lot of my girlfriends who didn't like their own wedding planners before, loved Stephanie. She's got to be one of the best around.
Are you interested?
Send a message