Reviews
5.0 out of 5 rating
Quality of service

5 out of 5 rating

Average response time

4.9 out of 5 rating

Professionalism

5 out of 5 rating

Value

5 out of 5 rating

Flexibility

5 out of 5 rating
100%
Recommended by couples
8 User photos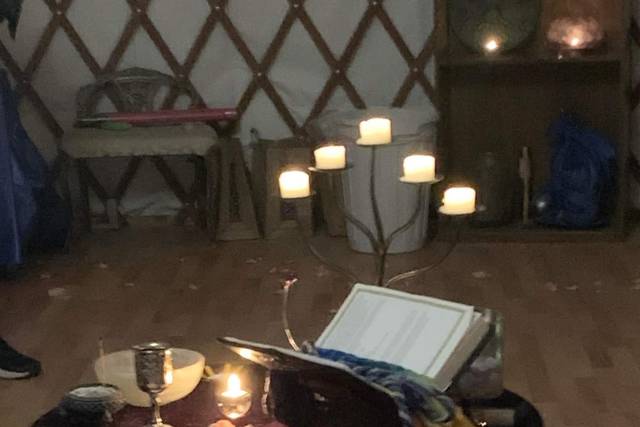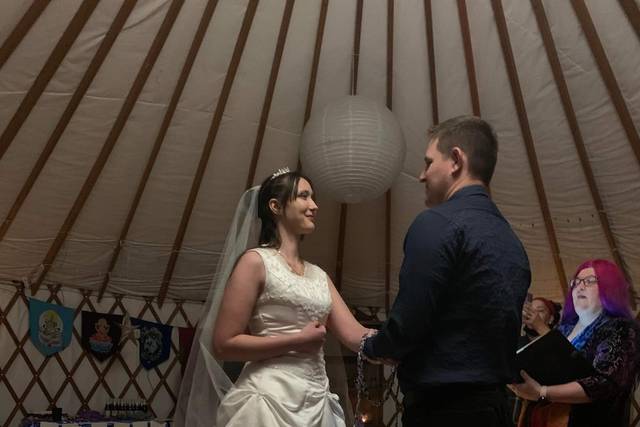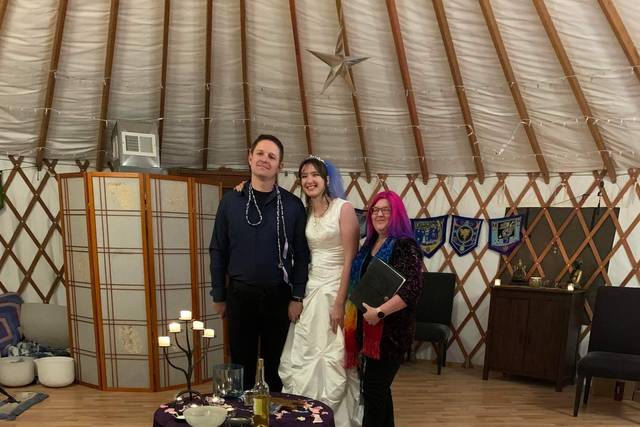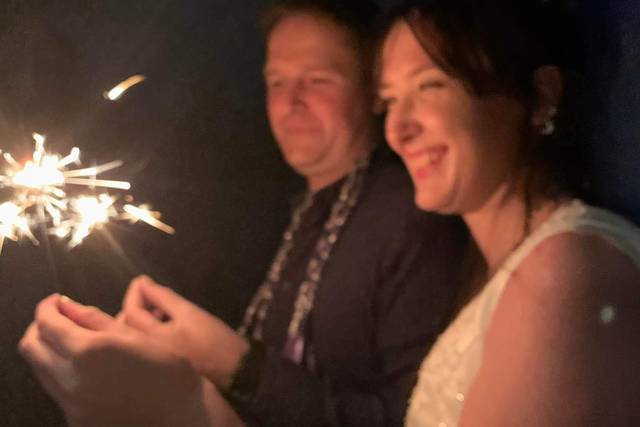 + 4

photos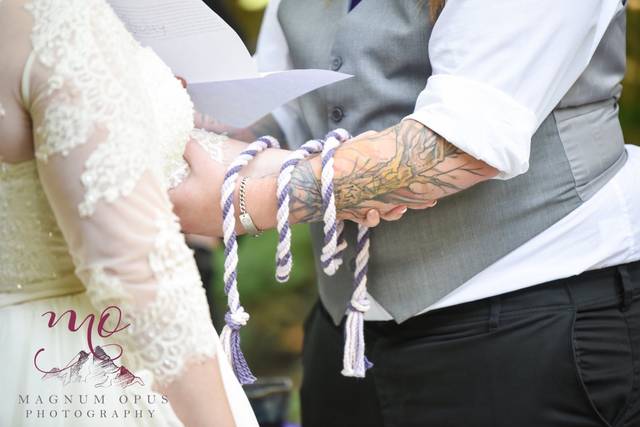 Mallory B.

Married on 06/17/2023

Incredible experience

Reverend Heron was very flexible with the schedule as we had been wedding planning for 2 years due to unforseen circumstances. The Reverend was amazing with our values and the ceremony we wanted. would recommend to anyone!

Elizabeth B.

Married on 06/25/2022

Awesome Officiant

Rev. Heron was fantastic. She took the time to meet with us (virtually) multiple times to explain the history and symbolism behind the hand fasting ceremony and talked us through making our cord before our wedding day. We loved our ceremony, which was unique and fit our relationship perfectly. We had a great experience and highly recommend Rev. Heron!

Eve

Married on 11/19/2021

⭐⭐⭐⭐⭐⭐⭐⭐⭐⭐

I asked Rev Heron at 10pm the night before, if she could do a handfasting for our wedding.  And she was able to put together an absolutely beautiful ceremony and at 1:30am on Nov, 19th we were married under the lunar eclipse.  We could not have asked for more, it was above and beyond anything we expected! 

I hightly recommend Rev Heron, I would give her a 10 star review if that was possible, my fiancé, excuse me husband, now, and I eloped.  We are going to have a bigger ceremony next year for all our friends and family to attend and we will have Rev Heron there again.

Thank you, Rev Heron, I wish you and everyone that hires you a lifetime of happiness.

Blessed be!

Are you interested?

Send a message

Kelly B.

Married on 10/23/2021

Handfasting goddess

Heron was professional and a delight to have officiate our ceremony. Would highly recommend her!

Ashlee

Married on 01/31/2021

Celtic Magic

Reverend Heron is an absolute gem. This was such a wonderful experience, I wouldn't have changed a thing about it. So beautiful - so different and the perfect person to join us together ❤

She made sure everything was easy and with COVID-19, that can be difficult. She is easy to talk with, work with and very kind. She makes sure to make a personal connection with you. I'm just over the moon with our experience.



Moonjin C.

Married on 12/01/2020

Great experience!

Really made the marriage experience something special. Thank you!

Aime M.

Married on 11/28/2020

Nothing short of extraordinary.

Rev Heron was absolutely amazing! I cannot say enough wonderful things about her. She is gracious, kind, patient, extremely helpful and made our handfasting an amazing and moving experience for all present. Do yourself a favor and give her a shot, you will not regret it!

Tabitha Z.

Married on 10/03/2020

Our ceremony and vows were beautiful!

Reverend Heron was very professional and organized. She helped us make our handfasting rope and included us every step of the way to customize our ceremony. We got so many compliments from friends and family on how beautiful and unique the wedding was. =)

Nick D.

Married on 07/18/2020

Amazing simple but very special and no stress!

Rev Heron is such an amazing and wonderful person and it was a pleasure to have her as our officiant! She was very informative and helpful with any and every question we had and she was very patient with us and very understanding with any issue we had! If you're looking for someone to really cater to whatever your beliefs are talk to Rev Heron!

Stepfan V.

Married on 06/27/2020

A Beautiful Ceremony from a Fantastic Reverend

Reverend Heron was an understanding and compassionate person to contact, she immediately proposed multiple ceremony ideas and helped us select the ceremony that really fit us. She helped us pick a venue as well, that was gorgeous by the way, as well as giving advice on how to write vows.

She made our special day truly special and I will always be appreciative of her for that. She's also incredibly LGBT+ friendly which was very important to us.

Cam

Married on 10/26/2019

Absolutely recommend!

Rev Heron was fantastic! She helped us completely personalize our ceremony and made it such a sacred and beautiful event. She is professional and so respectful, we recommend her highly!

Monica

Married on 06/22/2019

Highlight of the Wedding

Working with Rev Heron was wonderful. We live out of state and she was very flexible with helping us get ready for our wedding; including meeting over Skype. The ceremony itself fits us as a couple perfectly. It was my favorite part of the wedding.

Katerina R.

Married on 03/25/2019

Unforgettable Experience!

The ceremony was well thought out and planned, so we had an easy time customizing to our preferences. Both families were blown away, because it was everything they could have wanted and more. We chose a small ceremony, but it felt monumental.

Rebecca

Married on 10/27/2018

The perfect wedding

Rev. Heron was awesome, she is a great person she helped us so much. Rev. Heron was very patient with us making our hand fasting cord. We would recommend her to anyone and everyone, both me and my husband just loved her. She helped make our wedding magical and that's all we could ask for.

Sissy

Married on 05/12/2018

Rev Heron is amazing

We were recommended to Rev Heron thru an attorney for marriage. I did not know what to expect for our consultation but she immediately put me at ease. She was so sweet and explained everything thoroughly. She made you feel so comfortable that you felt like you were talking with your friend. She officiated our wedding and we just loved every minute of it. My in laws were witnesses from India and Rev Heron even showed the respect to them with her greetings. It touched me that she would be so caring about all the people and not just the bride and groom. We have recommended her to a friend that is thinking of getting married. She is a sweet lady and the ceremony is beautiful.

Leanna

Married on 06/22/2012

WOW!!! Can I just say we LOVED working with Heron!!!
Our ceremony was amazing. She worked closely with us and made certain it had every aspect you could want.
and let me let you in on how difficult that was...
I am Pagan, my groom is agnostic. My family is Southern Babtist and Protestant and his is Mormon. Now you don't get much more of an odd coupling than that.
It was important to us that we carry some "christian" traditions in our ceremony and important to me that we carried some "pagan" traditions and important to my groom that it not be overly religious...
Heron pulled it all off beautifully. Even when we came to her and asked her to include not only a unity candle and "loving cup" with the traditional rings and vows, but a few other things as well. She made what I was afraid was going to become chaos, into a touching ceremony that everyone was comfortable with. And we absolutely treasure our handfasting cord!
If you are searching for someone to give you a "non-traditional" ceremony. She is your gal. Even if you are looking for a traditional ceremony, she is your gal. Either way it will be worth it to have Heron officiate your day.
Thank you Heron... Thank you!!!!
:)

Christina

Married on 01/02/2011

I was very pleased with our Celtic Handfasting Ceremony. The rev. was flexible with the day and time of our ceremony. She provided a small romantic ceremony for us which worked out perfect. It was everything we wanted. This was a wonderful memory that both my husband and I will treasure for the rest of our lives.

Jessica

Married on 10/10/2010

Rev. Heron officiated our wedding on 10/10/10. From the very beginning of contacting her to the actual wedding she made us feel very special and honored our wishes and created the perfect ceremony! Our guest commented that it was the most beautiful and memorable ceremony ever. Most loved was the included family vowes that brought together our two families and made one truely blended family unit. The handfasting ceremony was special to us and Rev. Heron taught us how to make the cords and then during the ceremony how to officially "tie the knot". We would give her and her services 10 stars if we could- great value for the most wonderful ceremony! Thank you Rev. Heron for your special ceremony!

Rev. Heron did an excellent job making the ceremony meaningful and special for us and our guests. I had so many people approach me afterwards with tears of joy over how deeply our ceremony effected them and spoke to a universal meaning of marriage.

She went above and beyond preparing us for the big day and was very flexible with our needs and requests.

Great Job! Highly recommended!!!

Robyn

Married on 04/28/2007

She has a lot of experience with different types of ceremonies and helped us decide what fit us best. She also had many examples of vows that helped us as we wrote our own. She was happy to come to our location for our service, even though it was three hours away!

Dena

Married on 04/09/2007

Heron was amazing. We felt comfortable with her right from the very first meeting. She incorporated all of our ideas into our ceremony and it turned out beautiful. Everyone commented on the ceremony being one of the most beautiful things they'd ever been witness to.

Amber

Married on 07/04/2006

Rev. Heron was very passionate and helpful with both of the Wedding events that she presided over. We had a Handfasting ceremony in May 2006 and then a 4th of July 2006 officiated wedding. She was very aware of my needs as a bride and was very intuitive of the needs at both events , it was the best weddings I have ever had !!!

Elizabeth

Married on 05/28/2006

Rev. Heron was awesome! She totally worked with us and what we wanted to make sure we had our dream wedding. She is very professional and has such a kind spirit! We highly recommend her!

Janne K.

Married on 10/11/1990

5/5 Recommend!

Reverend Heron was really flexible and helpfull, the ceremony was awesome. Since our timezones were so far apart, i really appreciated Heron coming forth for us and came to perspective of our timezones. She gave us really good basis for ceremony and worked with us to make it look like us. I even recommended her to my friend, because the service was so excellent.

Secret H.

Married on 06/05/2021

Wonderful, easy, quick responses, patient

Our handfasting was chaotic, but reverend Heron wasn't!
Are you interested?
Send a message