54 Reviews
Recommended by 100% of couples
Quality of service

5 out of 5 rating

Average response time

5 out of 5 rating

Professionalism

5 out of 5 rating

Value

5 out of 5 rating

Flexibility

5 out of 5 rating
12 User photos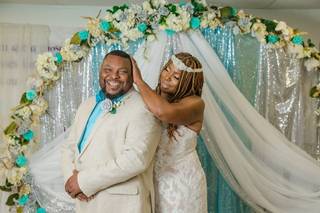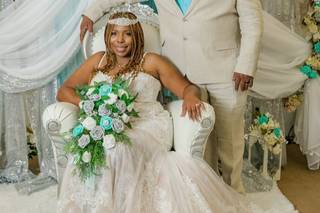 + 8

photos
Lalita R.

Married on 02/12/2022

Acquaintances

I met Daniel at a photo session he'd done for my niece. He was so professional and patient. I could tell he had a deep passion for his work. I told myself I have to get this guy to capture my 25th Silver Anniversary vow renewal ceremony. He was available and willing! He captured every beautiful moment and now my husband and I and our children and our grandchildren have these precious moments we can look at for the rest of our lives! He went above and beyond what we expected! It was a small package but the pictures spoke volume! We are still in aww... I would highly recommend Daniel T. Davis to anyone whom I encounter. Forever grateful!

+ 9

photos

Tabitha

Married on 09/22/2018

Excellent Experience

Loved the final pictures. Daniel listened to my vision and met my expectations plus more. I would definitely recommend Daniel for your photography needs!!! Thanks so much for making my maternity pics so wonderful!!!

Kendrese

Married on 01/14/2017

I am soooooo impressed with his work. Our engagement pictures just came in and I'm totally in love with them. His energy was amazing and his passion for his work is superb. He captured so much emotion and love in our pictures. His angles on each of our pictures were insane. I cannot wait until the wedding. He is the best. The was a well worth is investment. He is super professional and he work is bomb!!!!!

Are you interested?

Send a message

Tiffany

Married on 11/13/2016

We used Daniel for our engagement pictures and we were beyond satisfied. It was an amazing experience from start to finish. Be made us feel so comfortable which was awesome because we both were super nervous in front of a camera. Daniel was so down to earth and easy going that my husband and I were completely at ease by the end of the session. We wished we hadn't already paid the deposit for another photographer for the wedding before we met Daniel. Otherwise he definitely would have been our first choice for our wedding! I will pick Daniel first in the future

Whitney

Married on 10/08/2016

Daniel is awesome! He did our engagement photos and our wedding! Our photos are beautiful! He did an awesome job capturing the love shared between my husband and I.

Erica

Married on 09/04/2016

Daniel was so easy to work with and actually got my husband to smile..which never happens! Our wedding gallery was fantastic! We will definitely make sure he's there to document all of our family moments.

Aleyse

Married on 07/30/2016

Used him for engagement, Bridal and wedding pictures. I absolutely love his work. He pays attention to details and makes sure to capture the vision that the bride and groom have. A very good investment.

Lanecia

Married on 06/11/2016

Daniel was phenomenal! He was easy going and made us feel really comfortable. He captured exactly what we wanted and made it look easy! Our photos turned out great and we received plenty of compliments. Book him today, you won't regret it!!

Bee

Married on 05/28/2016

One of the best decision we made for our wedding was hiring Mr Daniel, he is so professional, courteous and on time. From our engagement photos to our wedding pictures...OMG. . everyone loved our photos. Thanks for giving us wonderful memories through your lenses.

Lakeesha

Married on 11/06/2015

Me and my husband are so blessed by Daniel's work. He captured EVERY MOMENT from our special day. His eye is so unique and different from all of the other photographers we researched. He will surely be shooting our future baby showers, anniversaries and other special events for years to come! Try him out, you won't be disappointed!!!!!

Alycia

Married on 09/21/2015

Daniel is a wonderful photographer, and my husband and I are SO glad we chose him to capture our wedding celebrations!
We originally hired Daniel for our engagement photo session, which was very affordable. He was so kind, it was easy to feel right at home and have fun while shooting. He is also very creative-he's not afraid to do something different to get a unique shot that looks made for magazines. Our engagement photos were so stunning there was no doubt we wanted him to photograph our wedding reception as well, and he did not disappoint! It's so important to find a good photographer because after the fun of the wedding is over, all we are left with is pictures to treasure those moments-Daniel definitely captured our special moments in such beautiful photos that will keep the memories alive for years to come.
He is a pleasure to work with, and truly great at what he does.
I would definitely recommend him!

Favorite

Married on 07/17/2015

I have to say Daniel T Davis is Heaven Sent. His work is amazing I have worked with him in two different occasions (engagement & wedding) and the feedback I received on the photos were just Amazing. His creativity and ability to capture love through film Is just unbelievable. .I'm at the point where there is NO OTHER photographer I want to work with point blank! He's tried true and TRUSTED! He's 100 on a scale of 1 to 10

Frances

Married on 06/26/2015

What can we say....Daniel T. Davis is the TRUTH!! He did an ABSOLUTE AMAZING JOB on capturing our wedding day (6.26.15) at The Gardens Houston. The images literally brought me to tears when I saw them. Daniel is TRULY talented behind the camera as he was able to capture shots that you would not believe. Our family and friends raved about how BEAUTIFUL are wedding pictures came out. If you don't book him for your engagement/wedding photos, I feel sorry for you because you are missing out. He is AMAZING!! We can't say it enough...Thank you, Thank you, Thank you, Daniel T. Davis for doing such a FABULOUS JOB on our wedding day!!! MUAH #TheThompsons

Quenshelle

Married on 06/06/2015

I just had to come and speak on my experience with Daniel, I just can't keep this to myself. I hired Daniel to shoot my fiance' and I engagement pictures and to say they were breathtaking is an understatement. He made my vision and theme come alive just as I wanted. He told us to trust him as he found a perfect venue for our shoot and he nailed it! He is so professional, so laid back, so informative and so passionate about his craft, it really was an incredible experience. We would have used him for our wedding pics but we had a destination wedding. If any of my family or friends ask me do I know any photographers I scream his name from the mountain tops! LOL We are still getting compliments on our pictures months later!!!! I still stare at them all the time and can't believe it's me & my husband! Daniel made us look like movie stars! Props to Daniel Davis Photography!

Valencia

Married on 05/15/2015

My wife and I had a wonderful experience shooting with Daniel T. Photography. Daniel made us feel super comfortable as this was our very first professional photoshoot ever. He really captured great moments between us. Definitely book him for your photography needs! Very talented guy!

I was familiar with Daniel's work from my sister in laws wedding a couple of years ago. I saw many of her wedding photos and thought they were great!! When my wife and I began looking for a photographer it was literally over when I viewed his website and saw his collection of work. Daniels photos are works of art. The first proof that Daniel provided made me well up inside with emotion. Our wedding was very visual and detailed. Daniel was able capture its essence in its purest form. The moments he captured were amazing!!!!!!!!!!!!! He worked with us on what we wanted. Daniel produces works of art; and you, your friends and family, and your venue are the subjects. If I can offer couples one piece of advice it would be to not short change your budget on photography. Moments not captured in the right way or by the right photographer are fleeting, and will be gone forever. A second piece of advice, take a look at Daniel's work, it will speak to you, it spoke to us. - Q&R

Manikka

Married on 04/19/2015

I've used him for my sister's maternity & my bridal shower & he is absolutely amazing. First off he's a very genuine guy & easy to talk to which makes the session so much more comfortable & he knows all kinds of ways to show every little detail you what without you telling him. My sister's pictures were beyond amazing & I love the way my pictures looked when I saw them I cried because he captured the most amazing moment at my bridal shower to where every time I look at the picture I cry because I remember the beautiful moment. I gave him a huge hug for coming through such short notice & making my moments incredible. Everyone loved all my pictures as well. You will be beyond pleased. I repost my pics all the time too lol. Thanks again Daniel you are superb.

Valencia

Married on 04/02/2015

Daniel is the best. I'm so grateful I found him. He did our engagement/maternity, my bridal photos, and the wedding photos. He exceeded our expectations. I would recommend him to anyone. He was the best priced out of the photographers I searched in the Houston area and his quality of work is the best in my opinion. On our wedding, he was able to capture things that I didn't get to see that night. Even now as I look back on the photos, I'm noticing images I didn't see before. If someone is reading this and trying to decide to book Daniel I would tell them to go ahead and book with him, they won't regret it.

Amaka

Married on 03/14/2015

I'm not one to throw away 5 star ratings for service just because but I can say one thing about Daniel...................HE IS AWESOOOOOOOOME!!!

Not only was he flexible with his time and correspondence with us but we never felt the need to put up a wall during our sessions as it always felt so natural.

Daniel T Davis will definitely go places with his caliber of professionalism and has our vote for fantastic work any day.

Deidra

Married on 02/14/2015

The Bible shows us how that, in the beginning God created the heavens and earth. And it says that on the 6th day of creation, He looked over all his work and it was very good. And as His image-bearers, we too have in our hearts a longing to create - to work at making things that are very good and doing excellent work. That's one part of what it means to be made in God's image.

Daniel, my husband and I are truly grateful for the passion you have for doing 'very good' work! You have captured for us, one of the most important chapters in our lives, that of our engagement and marriage ceremony. By God's grace, we will never share another chapter like this, we will never be married again, we believe that the marriage covenant is for life - so having images that chronicle such a special time in our lives is priceless. Priceless!!

Thank you for not settling for being good at what you do, but striving to do more excellent work with every photo session and at every event. I believe I understand now why God allowed us to cross paths 25 years ago. I believe it's because he had a story to tell about His sovereignty, His power, His restoration, and His great love. So we just want to thank you for being a good steward of the gift that He has given to you, because in that, we were able to share our story - which is really God's story! - with people we will never know. We want encourage you to continue doing good work, remembering that you are working unto the Lord (Colossians 3:23). We hope that God will continue to bless your work and that you are so encouraged by His faithfulness!

Thanks Bro!

Tiffany

Married on 12/13/2014

I felt like a princess.....Daniel makes you feel like a part of the experience......I could not have picked a better photographer her captured shots that I still treasure for the rest of my life.......I should recommend him to any bride

Mark

Married on 10/18/2014

Daniel does the best wedding photos I've ever seen and at a great price. We worked with him for both the engagement session and the wedding and everything came out perfect. His portfolio really speaks for itself.

Katrina

Married on 10/12/2014

Where do I even begin?? Daniel is heaven sent in regards to photography! He did such an amazing job, it is hard to come up with words to even say to describe the experience that my husband and I experienced! From the first meeting I had with him, he was professional, courteous and reasonable . He asked me what I wanted and not what he thought I should have. He delivered exactly what he said he would with every picture with detail, thought and precision. My wedding book.....OMG! I am so in love with it (almost more than my husband ?)! I would just like to say many Thanks to Daniel for capturing my wedding day and as I look at the pictures, I feel as if it is happening! You truly have a gift for capturing the most priceless photos! Keep doing what you are doing and never let anyone tell you any different!!!!!
---The Johnsons 10/12/15

Trakena

Married on 08/30/2014

Daniel was one of the best finds I had for my wedding day and experience!

He did a fantastic job on our engagement photos, and made sure that we received them in a timely manner so that our save the dates could go out in time. For the wedding, I gave Daniel and list of shots I knew I wanted the week before, but also wanted to let him do his thing during the day. Not only did he make sure to get all of my shots, but he also did such a great job of capturing so many wonderful and special moments during our big day. Daniel is such a professional and always made sure to take into account our needs for the day. You can tell that he loves what he does in the quality and beauty of his photos.

The shots of the wedding truly did a great job of capturing the day. My only regret is that some of our family didn't show up in the "formal" photos because they refused to stand up front...which isn't something Daniel could help. All in all, my experiences with Daniel were wonderful!

Carrington

Married on 08/23/2014

Best photographer ever! He captured my wedding beautifully! I'm using him for my maternity pictures soon, and I will use him for all my photography needs from now on. Daniel is very professional and creative. He's very comfortable to work with! He made everything so easy and fun!
Are you interested?
Send a message