Cook Islands Honeymoons
Get away from it all by taking a Cook Islands honeymoon, where turquoise lagoons meet white sand beaches and swaying palm trees; a castaway's dream.
After all the excitement of your wedding, you'll be happy to get on "island time" with your Cook Islands honeymoon. Perhaps you'll start with a sumptuous, private, candlelit dinner on a white sand beach or by snorkeling the crystal clear waters of one of the warm, azure lagoons fringed by curving palm trees. Shoppers will love the diversity of pupu necklaces, hand-painted pareus, bikini bras, carved wooden bowls and the precious black pearls that the Cook Islands are famous for. Take a trip out to the local villages and learn about the Polynesian ways at one of the dinner and dance shows. Or for cultural experience you'll never forget, take an island walk with Pa, the amazing medicine man, as he shows you the secrets of the islands. If you're looking for some action, try quad-biking or deep sea fishing or head to one of Ayarua's open air bars and nightclubs. Rarotonga in the south is green and volcanic, with plenty of shops and opportunities to go hiking whilst Aitutaki in the north is a coral atoll with a stunning blue lagoon, the perfect backdrop to a honeymoon in paradise. A ferry between the two takes 18 hours and is infrequent whilst a flight takes just an hour but can be expensive if not booked far in advance so make sure you put together a plan.
Get started planning your Cook Islands honeymoon!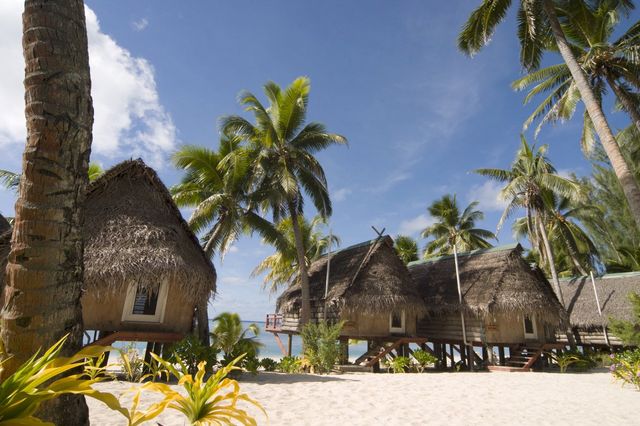 When to Go
There is never a bad time to enjoy a Cook Islands honeymoon. It's sunny all year round and even in rainy season (December to April) most of the rain comes in short, heavy bursts followed by sunshine. It does lie in the Pacific Hurricane Alley though so just be aware that for the lower prices and less people, there is a risk. Late June to August is the busiest time but you'll still never feel crowded. April to May and September to October are usually the best combination of sunshine and lower prices.
Top Sights and Activities
Visit Tapuaetai (One Foot Island): The most visited of Aitutaki's motu is the picture-perfect island of your dreams and you can even get your passport stamped at the tiny post-office
Relax in paradise at Titikaveka Beach: The crystal clear waters on the southwest coast of Rarotonga mean you won't even have to get wet to spot the colorful fish. It's one of the best beaches on the island and great for kayaking
In the small settlement nearby, sightseers can visit the coral stone
Cook Islands Christian Church dating from 1841.
Hike the Cross Island Walk (The Needle): During your Cook Islands honeymoon, hike to the top through dense forest and admire the spectacular views
Visit Avarua: This is the capital of the Cook Islands with a relaxed and friendly feel. Visit the church made of coral on Sunday mornings for the chance to hear Maori hymns
Visit the Cook Islands Cultural Village: Learn about Polynesian traditions such as carving, weaving, bush medicine, fishing and coconut husking
Snorkel at Aroa Marine Reserve: This lagoon is off-limits to motorized boats making it perfect for snorkeling in peace and spotting angelfish and parrotfish
Hike Muangapu: This is the highest point on Aitutaki at 124m and in just 30 minutes, you'll be at the top admiring the breath-taking views over the lagoon.
Try Umukai: Eat your food the traditional way in an 'umu'-a shallow fire pit with volcanic rock and your food wrapped in banana leaves and buried
Take a Nature Walk with Pa: Truly not to be missed! Enjoy the views and learn the traditions from medicine man, Pa
Kayak & find your own private paradise: Spend the day on the water exploring Aitutaki's 22 islands and stop for snorkeling or relaxing at the perfectly named sand bar, Honeymoon Island
Go shopping for Black Pearls: No Cook Islands honeymoon would be complete without buying a souvenir of these beautiful pearls unique to this part of the world
Try Banana Wine: If you can't get out to Koteka Winery on Muri, visit their stall at the weekly market at Avarua for the chance to sample some tropical fruit wines
Take a Lagoon Cruise: These cruises will give you the chance to explore other islands and often include cultural commentary, snorkeling equipment and a traditional buffet
Flight 3
- Remove Flight
+ Add Flight
Flight 4
- Remove Flight
+ Add Flight
Get access to travel deals when you book your honeymoon through WeddingWire