Honeymooners searching for a classic European getaway will love making Nice their getaway destination. Nice is very flexible in terms of the honeymoon you want. It can be a relaxing vacation at the beach, a city escape, or an exploration of the French countryside. If you're not sure which is most appealing, you can see what takes your fancy that day! Best of all, the diversity of options means that Nice can accommodate most budgets, though naturally low season will be more budget friendly for those watching.
Nice's range of activities is enormous. The beaches are great for swimming and sunbathing, while the harbor has options for boat charters, if you want to explore a bit of the Mediterranean. The city has shopping, the Promenade des Anglais, historic sites, and fascinating architecture, in addition to a vibrant arts and culture scene. As you'd expect, the restaurants and food scene means that your inner gourmand will be delighted with the options. The countryside offers charming villages and beautiful rural scenery. Oenophiles will be delighted to tour local vineyards and sample their wines.
No matter what your interests, you will love your Nice honeymoon.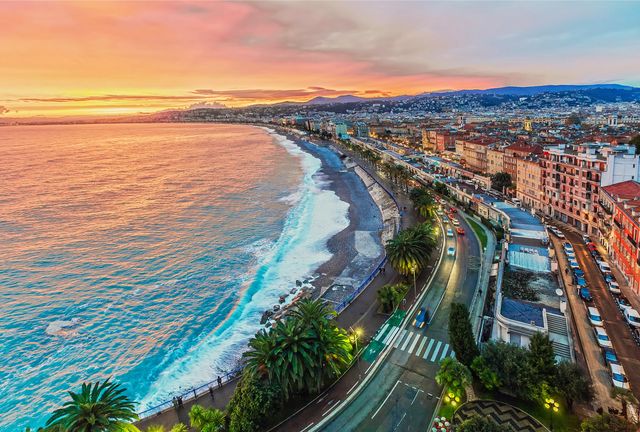 When to Go
Like the rest of the French Riviera, Nice's high season is summer, particularly July and August. The crowding can be extreme in the more popular locations, such as Nice. Certain events such as the will also draw crowds and marked up prices. Weather reflects and drives the area's seasonality, with cool but relatively mild winters in the off-season.
Top Sights and Activities
Beaches: The beaches here are mostly pebbles, but private beaches often add a layer of sand. If you don't mind this, you are rewarded by a swim in the calm blue Mediterranean.
Colline du Chateau: 'Castle Hill' in Nice doesn't feature much more than the crumbling outer walls, but the hill commands the best views over Nice.
Promenade des Anglais: Possibly the most famous attraction in Nice, this walkway along the shore provides great views, beach access, shopping, and dining options.
Old Town: The old town is a labyrinth of alleys and small streets with charming houses and old shops.
Cliff Walk: There's a walk along the shore from the port that heads east in the direction of Monaco.
Food Tours: You can go on a guided food tour featuring the best local cuisine.
Wine Tours: As you might expect for France, you can also go on a wine tour to sample the local vintages.
Parc Phoenix: For a low key honeymoon activity, consider a visit to the botanical gardens.
Musee Matisse: This museum includes a collection of art houses in a unique 17th century Genoese villa.
Villa & Jardins Ephrussi de Rothschild: This Rothschild mansion and garden are an amazing example of a palatial Gilded Age residence – it's located just outside of Nice.
Place Massena: This picturesque square in Nice's historic core is home to a variety of sculpture and is the gateway to the old city.
Cathedrale Sainte-Reparate: The Cathedral is the oldest and most ornate church in Nice, and it's a go-to historic building.
Yacht Charters: Unsurprisingly, the harbor city of Nice is an excellent place to charter a yacht to explore the Mediterranean at your own pace.