Netherlands Honeymoons
From amazing food to exciting adventures, there's no shortage of fun things to do on a honeymoon in the Netherlands.
If you've already trekked to Southern and Eastern Europe—you and your spouse-to-be might consider heading north for your honeymoon. As one of the most diverse landscapes, full of interesting history and a rich variety of food, Netherlands honeymoons are becoming even more popular. When you imagine this region of the world, you probably picture winding canals, fields full of a variety of flowers, ample cycling paths and lots of kind-hearted, calm-natured folks. Believe it or not, that's an accurate snapshot of what you can expect from this northwestern European nation.
From the country's capital of Amsterdam to small villages and beachside towns along the way, here is how to plan a picture-perfect Netherlands honeymoon.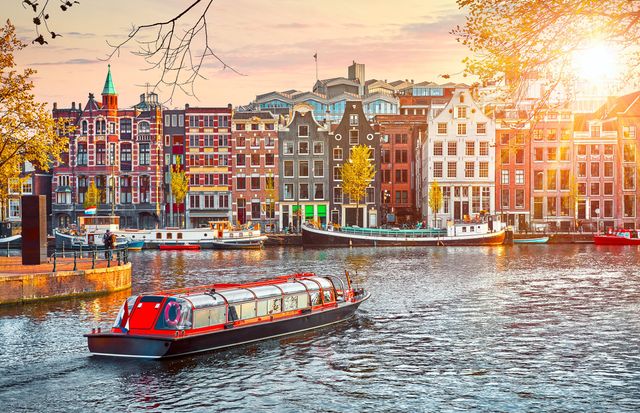 When to Visit
This region of the planet enjoys a temperate climate that offers mild summer and only moderately cold winters. This means most of the year is a positive time to visit, dependent on what you'd like to see while you're in town. If seeing the infamous tulips in full bloom, plan your honeymoon from mid-March to mid-May, and keep in mind the further south you go, the hotter the temps will become. If you end up by the North Sea, you can bet your bottom dollar it'll be warmer during the winter and cooler in the summer than most other regions, so plan accordingly.
Where to Go
This diverse country offers a little bit of every adventure for every type of couple enjoying a Netherlands honeymoon. Here, a few destinations to consider, based on your interests:
Amsterdam
Even if you ventured to this well-known city during college for a taste of legal drugs and a foray through the Red Light District, now that you're older… and hopefully, wiser… there is plenty to explore in this capital. With endless, beautiful canals, scenic bike paths throughout the cobblestoned-city and coffee shops, you can waste away time getting lost in a city that's overflowing with history. Make sure to make reservations at some of the top-tier restaurants and book your tickets for Anne Frank's House far in advance.
Kinderdijk
To experience the Netherlands countryside in an Instagram-friendly way, no trip to this country is complete without a stop in the village of Kinderdijk. Here, you'll stand in awe of the 19 monumental mills that entice travelers from all over the world to visit. Because they were built in the early days of the 18th century in an effort to keep soil protected and dry, and minimize flooding, they were named a UNESCO World Heritage site in 1997.
The Hague
As another city that is nearly as beautiful as Amsterdam, consider stopping by Hauge, a robust town right on the short, during your Netherlands honeymoon. Especially if you and your number one are history buffs, it is said this spot in the Netherlands is home to the country's best museums. These include a slew of options, with the most famous being The Mauritshuis—home to 'Girl With the Pearl Earring.'
Texel Island
Want a bit of beach on your Netherlands honeymoon? Head to this area during the warmest months of the year, since it is the largest and most populated of the West Frisian Islands. Here, you'll be mesmerized by incredible sand dunes, salt matches covered with lavender and plenty of beach-side resorts with honeymoon-friendly bungalows. Dreamy? For sure.
Article by Lindsay Tigar
Flight 3
- Remove Flight
+ Add Flight
Flight 4
- Remove Flight
+ Add Flight
Get access to travel deals when you book your honeymoon through WeddingWire