Do not forget to pack your designer brands if you choose a Monaco honeymoon. You will share the beaches with the famous elite and high-rollers. Famous for Formula One racing and as a tax haven for the very rich, Monaco attracts the most affluent and indulgent of people. It is far from being the most beautiful town in the French Riviera. But, if you want to immerse yourself in luxury and glamor and rub shoulders with the rich and famous, Monaco is the perfect place to plan your honeymoon. Sit back on the beach and enjoy the extravagant private yachts cruising in and out of port. The Monte-Carlo casino is famous world-wide and while you can not be promised to win, you will not be disappointed by the glitz, glamor and prestige that you will find in Monaco.
A Monaco honeymoon will surely be a luxurious start to your married life.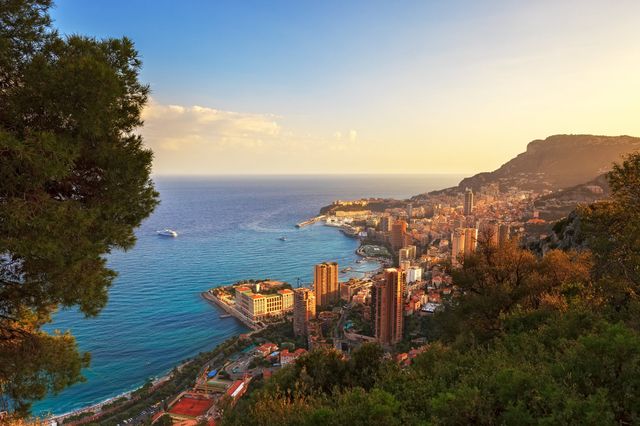 When to Go
The ideal time for a Monaco honeymoon is in the spring or fall when the weather is nice and room rates are reduced. However if you want to see Monaco at its liveliest, come in the summer; But expect packed beaches, hot weather and long waits at restaurants and attractions.
Top Sights and Activities
Monte Carlo Casino

A famous entertainment complex with casino gambling, a theater and ballet—definitely worth a visit during your Monaco honeymoon.

Prince's Palace

A 12th century Genoese fortress and the official residence of the Prince of Monaco.

Le Rocher

Monaco's old town, at 62-meter tall rock on the Mediterranean coast overlooking the Mediterranean Sea and port.

Oceanographic Museum

A marine science museum and home to the Mediterranean Science Commission.

Formula 1 Grand Prix

Prestigious automobile race held in Monaco each year.

Monte-Carlo Opera House

19th century opera house and part of the Monte-Carlo casino complex.

Exotic Garden of Monaco

A cliffside botanical garden.

Unique in that it features the first succulents.

Larvotto Beach

A pebbly beach, crowded during summer.

Near the most expensive street to live on in the world.

Grimaldi Forum

Seaside conference and congress center.

Regularly hosts performances and exhibits.

Luxury Yacht Cruise

Several companies offer luxury yacht cruises originating in Monaco.

Hotel de Paris

Famous for not only it's plush rooms, but also fantastic fine dining and a luxury spa.

The Private Collection of Antique Cars of HSH Prince Rainier III

Small but interesting car museum featuring the antique cars which belong to the Prince of Monaco.

Naval Museum

Museum of more than 250 marine objects and many model ships.