Iceland Honeymoons
Iceland is a honeymoon destination that's totally trending. Start planning yours with this handy guide.
In recent years, Iceland has been having a moment. Thanks to its convenient location smack-dab in the middle of the Atlantic Ocean between the East Coast and Europe, it makes for an easy-peasy flight for half of the country. And with plenty of airlines taking advantage of it as an ideal stopover for a long layover, flights are generally inexpensive. For the couple who craves majestic beauty, jaw-dropping sights, and wants to snuggle up underneath the stars—or the Northern Lights—this Nordic island nation might be just about perfect. From volcanoes and hot springs to geysers and lava fields, you'll not only be in awe of your newlywed status, but of your surroundings.
Here's what you need to know about an ultra-romantic and unique Iceland honeymoon with your number one.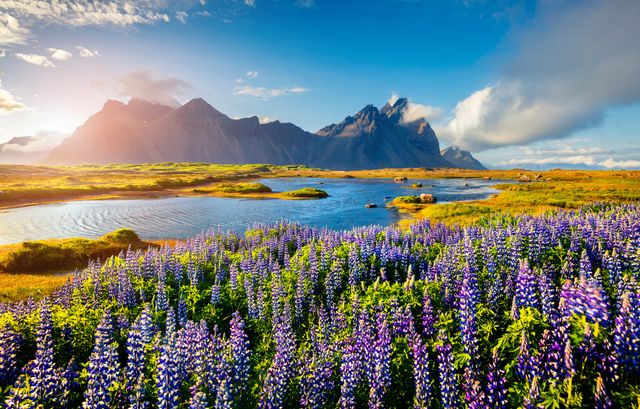 When to Go
Consider yourself warned: it is chilly no matter what time of year you visit Iceland. That being said, the cooler temperatures are part of what sets this destination apart from others. Pack your warm clothes and decide what you'd like to see the most when you're exploring this one-of-a-kind country. For those in the hiking crowd, the 'warmest' months tend to be July and August. But if you have your heart set on staring up at the infamous Northern Lights, set your travel dates for February, March, September or October. It is also important to remember the hours of sunlight in Iceland vary greatly compared to lands you're used to. During mid-May to mid-August, there is nearly 24-hours of sunshine, with the sun only setting for around three hours. But when you're in the peak of winter in December, you can estimate only around five hours of sunlight per day.
Where to Go
From the famous Blue Lagoon to some of the most stunning national parks and glaciers on the planet, here's where to tour when you touchdown as a married duo:
Reykjavik
This coastal capital is Iceland's largest—and most popular—city. When you fly in, this is where you'll likely land, giving you the opportunity to tour around. While in the city, make sure to explore the National and Saga museums to learn about their viking past, and stop by the Hallgrimskirkja church for a glimpse at impressive architecture. It is worth the experience to see the rotating Perlan glass dome that offers views of both the sea and the hills. No trip to the capital is complete without making your way to the Blue Lagoon spa, less than an hour away in the village of Grindavik. Here, you can cover yourself in volcanic mud, float around in the thermal waters—and preserve your eternal and youthful love for one another, if you're into warm-fuzzies, that is.
Jökulsárlón
You want epic selfie with your new husband or wife? Here's where you'll hit the jackpot. A 12-hour drive from Reykjavik is this captivating glacial lagoon on the border of Vatnajökull National Park. You might have to blink a few times to believe your eyes when you see icebergs spread about clear blue waters and an up-close-and-personal view of the large Breiðamerkurjökull Glacier. If you happen to visit during summer, you'll see thousands of seals in this area as you walk through the black sandy beaches.
Vík í Mýrdal
While some honeymooners prefer the hustle and the chaos of a large city, others want to retreat to a remote place with quaint company and plenty of privacy. After enjoying the many sightseeing spots of the capital, make your way to the seafront village in the southern part of the country. Here, you can witness the Mýrdalsjökull glacier in person, walk along the black-pebbled beaches, snap selfies in front of the rock formations, and explore the cliffs of Reynisfjall mountain where you might see some puffins!
Mývatn
Though you might not want to swim through a volcano, you can experience a volcanic lake in this northern destination. Mývatn features man-made nature baths and a lagoon that features healing minerals and properties, making for a prime spot to cleanse your mind and body from the stress of wedding planning. When you're not busy floating around and enjoying the comfort of this peaceful place, consider a day hike to Námafjall Mountain and spend the night at Hverir—where you can also dip yourselves into mud pods and fumaroles.
Article by Lindsay Tigar
Flight 3
- Remove Flight
+ Add Flight
Flight 4
- Remove Flight
+ Add Flight
Get access to travel deals when you book your honeymoon through WeddingWire