Finland Honeymoons
Finland is the ultimate cold-weather destination for honeymooners. Start planning your great adventure here!
Bordering three countries—Sweden, Norway and Russia—you may know next-to-nothing about this northern European country. While smaller in size, its many cities and mountains offer a bit of adventure and romance for any traveling twosome. If you're considering Finland for your honeymoon, you can sled your way through a Christmas-themed village, stroll through historical streets and if you're lucky, even catch a glimpse of the infamous Northern Lights. A chillier nation, for sure, you'll be amazed by the kindness of the locals, who are often excited to share their country with visitors—especially newlyweds with stars in their eyes.
Here's what to consider while planning a Finland honeymoon.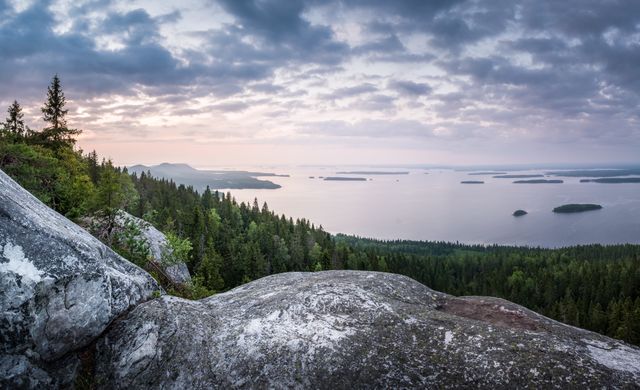 When to Go
Unlike most honeymooners who seek sun and sunshine, if you're thinking about Finland, it is better to go when it is cold. How come? This destination is renowned for its winter activities—from touring Santa Claus's hometown to skiing and more—so set your dates for December to March for the most opportunity to melt in the snow fall. If you are after a bit of spring-like weather, you can visit during April or May. And if you could care less about winter? Cross the Atlantic in June, July or August.
Where to Go
Are you and your honey snowbunnies? Check. Want to go ice fishing? Or hiking? Check, check. Apart from its incomparable natural beauty, Finland's diverse options make it a country you'll want to return to for many seasons. Here, a few spots to check out when you're freshly hitched:
Helsinki
The Southern capital of this country offers a city-like experience for those flying in from the states. Since you'll probably land here first, spend a few days strolling through the central avenue of Mannerheimintie, where you can breeze by the National Museum, the Parliament House and the contemporary art museum of Kiasma. For a fun day activity, take a ferry to the world heritage site of Suomenlinna where you can explore cannons, tunnels, docks and museums, all before stopping by their brewery to rest from the day.
Rovaniemi
For those who adore all-things winter and claims Christmas as their favorite holiday of 'em all—you have to take a tour through Rovaniemi. Considered the offical home of the jolly man himself, you can take a tour of Santa Claus village, take a whirl on the underground theme park and if you like, purchase some stamps to write letters to the North Pole. Unlike other parts of Finland that survived World War II, you'll notice much of the architecture here is of the brutalist or mid-century design, for couples who take note of infrastructures. Make sure to stop by the Pilke Science Center and the Korundi House of Culture, and stand in awe of the famous—and quite remarkable—Jätkänkynttilä bridge.
Kemi
While once best known for pulp mills—a factory that converts wood chips into fiber boards—you'll recognize this Finland destination because of its Instagram reputation. Here is where the Snow Castle is created each year, attracting countless travelers from every corner of the globe to catch a glimpse. At three stories high, you can host a wedding here, a birthday get together, stay overnight or just tour through. Ideal for couples who might want a little interaction with locals or tourists, you'll also appreciate the plethora of bars and restaurants, where you can mingle. For adventure-seekers, consider the arctic tour that takes you through the waters to see icebergs and one-of-a-kind landscapes. Don't forget to bundle up since, hey, it'll definitely be cold.
Levi
If the only reason you decided to get hitched in the winter is for a skiing honeymoon—here is where to spend your vacation money. Here you can find an endless supply of slopes for snowboarding, skiing and tubing, making for picture-perfect days of idyllic mounds. And when you'd like a break from the workout, consider booking an ice fishing tour, a reindeer safari, or spending time healing your tired muscles in many of their outdoor saunas. The best part about this spec of Finland is the diversity: if you want to hole away together in a luxury resort suite, you got it. But if you want to dance until dawn, plenty of clubs offer you the option.
Flight 3
- Remove Flight
+ Add Flight
Flight 4
- Remove Flight
+ Add Flight
Get access to travel deals when you book your honeymoon through WeddingWire