While some couples seeking adventure from their honeymoon, others opt for a cultural immersion. Plenty decide to go the all-inclusive route, while beach-hopping is another popular choice. But for traveling twosomes who want the ultimate experience of pampering, wine and nightly sunset views that take their breath away, there is no better trip than a Cinque Terre honeymoon in Italy. Composed of five towns that are centuries-old, dotted along the Italian Riviera coastline, you can spend your days getting lost in the colorful homes and hotels, vineyards and harbors. Depending on your energy level and what you want out of your first trip as a married couple, you can go hiking at nearby trails, or merely wake up late each day from your private cliffside suite, soaking up the charm of Italy… and of course, one another.
Here's what to know before you book your Cinque Terre honeymoon.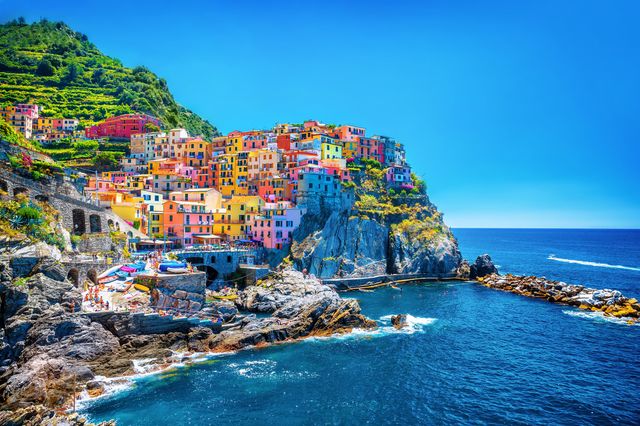 When to Go
With warm, balmy, comfortable weather nearly year-round, there isn't a bad time to enjoy a Cinque Terre honeymoon. There is, however, a busy time. Starting from right after Easter until October, you'll find plenty of crowds and competition to book the best-of-the-best resorts. If possible, try to avoid May through August, sticking to April and September instead. No matter when you go, booking in advance is recommended.
Top Sights and Activities
Footpath Monterosso: Ready to hike your way to beauty? Strap on your boots because this trail is breathtakingly… difficult. It's worth it though, since it connects Monterosso to Vernazza, via a slew of countless steps, eventually offering panoramas you'll want to take a selfie in front of.
Parco Nazionale Cinque Terre: It might be one of the smallest national parks in Italy at around 15,000 square miles, but it's worth the experience. How come? It's vast population of 4,000 makes it unique and winding, giving you pretty views and a look into their culture.
Sentiero Vernazza a Corniglia: For a trail that isn't as challenging, featuring olive groves, vineyards and meadows, consider this journey. As you travel by foot, you'll see the quaint villages of San Bernardino and Prevo, and if you'd like, you can stop by Guvano, a clothing-optional beach.
The Church of San Francisco: Also known as Convento dei Cappuccini e Chiesa di San Francesco, here you can 'pause' from wine sipping to explore legendary pieces of art. Don't forget to make a pit stop at the Capuchin Friars Monastery, too.
Rent a boat or go on a boat tour: For a fun way to island-hop your way through this area, consider renting a boat or going on a boat tour, which often includes snacks and drinks. For an additional cost, you can even have a multi-course gourmet Italian meal!
Corniglia: Right next to the sea, built on a cliff, you'll find this to be a smaller spot than other villages. Wind your way through narrow streets, sample 'seafood in a cone' and relax.
Manarola: When you think of a Cinque Terre honeymoon, this is what you envision: pastel-colored homes, crystal-blue waters and lots of wine to go 'round. Remember, with only 450 inhabitants, it's smaller and thus, you need to book your hotel or home in advance.
Doria Castle: Since you already felt like royalty on your big day, keep the castle vibes going with a visit to this two-euro experience on your Cinque Terre honeymoon. Dating back to the 11th century and offering sweeping views of the sea, take your time to wander through.
Paragliding in Monterosso: Marriage is definitely not for the faint of heart—and neither is the rush of paragliding off the top of a hill! Only available from October to April, if you're in town, take another leap of faith.
Levanto: If you want to hide away from the crowds, find your way to this remote area, where you can enjoy some one-on-one time under the sun. Might we suggest gelato?
Porto Venere: As a UNESCO World Heritage site, this harbor is romantic and rustic, offering a glimpse into the port life of many fishermen. After you arrive via boat, explore the medieval streets, full of history.
Article by Lindsay Tigar