Iris City Cleaners and Laundering Company
Mount Pleasant, Iowa
View map
Visit website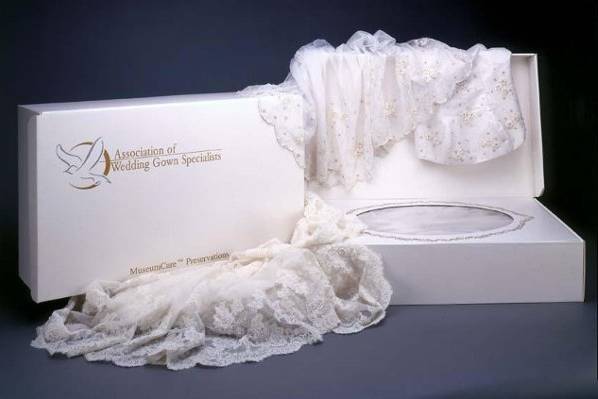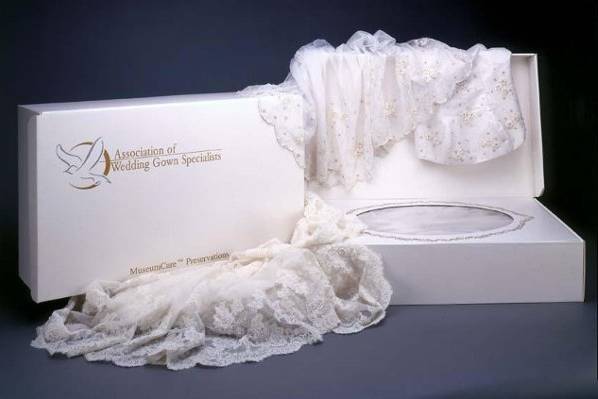 About
Iris City Cleaners and Laundering Company is a unique cleaning service located in Mount Pleasant, Iowa. When it comes to incomparable dry cleaning or quailty custom cleaning, Iris City Cleaners and Laundering Company takes the cake. Servicing the area since 1947, Iris City Cleaners can make your wedding gown picture perfect for your big day. After you say your "I dos," this special service can preserve your gown with its trademarked MuseumCare Bridal Gown Preservation — cleaning by hand and anti-sugar stain treatment included. The gown restoration can give any yellowed or stained vintage gown its original color. It's a one-of-a-kind service that will leave your wedding dress spotless for years.
Services Offered
Iris City Cleaners and Laundering Company provides superb cleaning, restoration, and conservation for any wedding dress or keepsake. Other services include repairs, alterations, disaster recovery, tuxedo services, and assistance with proper storage.
Recommended by 100% of couples
Quality of service

Rating 5 out of 5

Average response time

Rating 5 out of 5

Professionalism

Rating 5 out of 5

Value

Rating 5 out of 5

Flexibility

Rating 5 out of 5
Tamsyn

Married on 10/29/2011

I'm so happy to be writing a review about Iris City Cleaners ... My husband and I just had a vintage-themed wedding two weeks ago, and I can say truthfully, Iris City Cleaners, in southeastern IA, really came through for us.

Not only are they among a quite limited number of clothes cleaners that specialize in antique garment cleaning and restoration (and one of the the ONLY ones in Iowa!) -- they were SO accommodating, friendly, willing to go out of their way to help us (from the owner himself, Ed, staying a couple extra hours past closing time to wait for us to drive there from where we lived ~ 2 hours away), and committed to giving my vintage dress a true personal attention and care. They truly went out of their way to help us. Even though I gave them just under a month to clean my dress (typically, for this kind of cleaning, it's good to give the cleaner a lot more time), Iris City Cleaners didn't complain or chide me, but instead embraced the task and the owner himself took it upon himself to personally handle the analysis and cleaning of my dress.

For those of you ladies or gents now in the same position I was in ... with a vintage garment but not sure where to confidently turn in the Upper Midwest for expert vintage cleaning ... I'll elaborate my story a little more. It's a little long, but hopefully it will let you know there's a fantastic resource out there in Iris City Cleaners where you'll get treated with genuine kindness and personal attention. It's nice to know there really are some businesses out there that still really care about the individual customer....

I had purchased a true antique dress -- a lovely 19-teens-era late Edwardian style raw silk dress -- on eBay way back in July. This dress was truly one-of-a-kind: a beige raw silk dress with an apron-style front-piece covered in elaborate wildflower and wild grass hand embroidery that wrapped around in faux straps around in V-shape on the back; antique tatted lace bands around the elbows, and full sleeves adorned at the wrists with a cuff of the same delicately detailed embroidery.. The eBay seller I worked with was great, and felt fairly sure the dress was in solid shape ... but you sometimes just can't tell with those old dresses.

So needless to say, I was more than a little anxious about the thought of subjecting my dress to even a professional antique garment cleaning (let alone a conventional dry cleaning!). While the dress was in excellent overall condition, it definitely had some deep-set wrinkles and creases, some set-in dirt along the bottom hem, a single somewhat noticeable spot right in the chest area -- along with some other wee spots and "foxing" spots -- and probably plenty of storage dust. While the dress fit and I could have worn as-is for my wedding, I really preferred to clean her and feel she was refreshed and perked up for her next public appearance at my special day.

I kind of waited to the last minute, however, in part because there are just so *few* cleaners out there who really know how to handle antique and vintage garments -- which often require special care and special treatments -- and in part because my mother (who lives in western PA) had wanted to try to be involved. I lost a LOT of time looking around for vintage cleaners ... and believe me, I looked and *looked* I was despairing, actually, of even being able to find an antique garment cleaning expert anywhere remotely close. There are some around the coasts, and in places like California .... but I live in central Iowa, and it's a veritable desert as far as antique cleaning experts. I had found a couple in the Twin Cities area, but that was at least 3 hours' drive (which I was willing to drive -- but with all the driving we were already doing between IA and mid-MO to plan our wedding, I really didn't want to have to drive in the opposite direction with everything else on our plates) ... Then I found a place in western PA and decided to try there first, so my mother could be involved.

Sadly, though the place in PA claimed on its website to have experience working with antique garments, it definitely didn't. Don't be fooled when a cleaning site says it is a "Couture Cleaner" ... just marketing hype if it can't live up to what it claims. The lady I spoke to on the phone had assured me my dress would get hand-washed ... when I got there in person, I learned they were going to put it through some standard mass-cleaning process. They seemed terrified to even touch a dress as old as mine.... like they were more worried about the liability of damaging my dress than really trying to help us as individuals, or look at the unique circumstances of my dress.

Needless to say, I did NOT entrust my dress to them. After I came back to Iowa, I almost gave up on the idea of getting my dress cleaned, since we were so behind on other wedding planning stuff and didn't have time to go to Minneapolis. But ... perfectionist that I am ... decided to try a little more Web research, and trying yet more different search terms. Somehow, I stumbled onto Iris City Cleaners -- I think I found the website of the Association of Wedding Gown Specialists and did a state search. Iris City Cleaners was closest to us ... and then when I visited their website and learned they have expertise in antique garment cleaning, I called immediately.

My wedding date was Oct. 29, 2011 ... and I probably called at the end of September ... I explained my situation, and how I'd had such difficulty finding a specialized cleaner for my nearly 100-year-old dress. They were so warm and friendly right from the get-go. We scheduled a time to come down on a Friday after work, while my husband and I were en route to Missouri (where we got married) for wedding related business -- and Iris City Cleaners was right on the way. We had hoped to get out of work earlier than we did, so we could get to Iris City Cleaners before closing time ... but we got held up.

We were worried they might have closed and we might have missed them .... When I called to let them know we were running late, they didn't seem to mind at all. Becky, one of the employees, said she'd be sure she or someone else was there -- even though it would mean they'd be heading home later on a Friday night. Ed himself greeted us, and spent at least 20 minutes doing a preliminary examination of the dress right there with us .... talking to us about some of the concerns with old dresses, about the history of my dress and where I'd gotten it, about the process.

He was warm and personable, and inspired confidence from the get-go. Not only that, he was the most genuinely friendly, customer-focused business person I've encountered in a long, long time .... He told me he'd do a test of my dress fabric's strength before anything else -- taking a very small sample from an inside piece of extra fabric -- and would use it to decide how to proceed. He also worked with an expert colleague in Boston after testing the fabric to decide on the best treatment for my dress .... He was timely and responsive in his email communications after the fact, and made a point of emailing me just to give me updates how the dress was progressing. This really put my mind at ease that the dress was going to be okay, and that I'd have it in time for my wedding. In addition, Ed had a knowledgeable seamstress he works with look at the dress and make some additional repairs to strengthen some of the seams.

When the dress was finally completed and we went down to pick her up, Ed personally escorted us about 10 miles down the road that Saturday to the seamstress' home just to make sure that after the cleaning, there was nothing else that should be adjusted -- and if so, to get it done. If all his hard work and attentiveness to date hadn't already proved his personal dedication and customer focused-attitude, the fact that he took this time because he personally wanted to ensure everything was perfect with the dress he'd had in his care certainly demonstrated that.

And let me just add that on top of Ed's thorough and scientific process in evaluating my dress, hand-washing it himself, consulting other experts to make sure he was using the best methods -- he even did some touch-up work on my dress himself, re-threading some loose threads in the embroidery back in place, and giving me a special little gift of an English sixpence, as the tradition goes, for luck during my wedding and after.

I can't say enough how grateful we are to Ed and Iris City Cleaners for everything they did for us and for my dress... The cleaning made the embroidery on my dress shine; the spot on the front was successfully removed; and all the hard-set wrinkles were expertly and completely smoothed out. My dress was lovely, and I felt even more special wearing her -- and I can now feel confident that my special dress has been given a new lease on life and will last for many more years.
Map
211 West Washington Mount Pleasant, Iowa, 52641