36 Reviews
Recommended by 99% of couples
Quality of service

5 out of 5 rating

Average response time

4.9 out of 5 rating

Professionalism

5 out of 5 rating

Value

4.9 out of 5 rating

Flexibility

4.9 out of 5 rating
Awards
8 User photos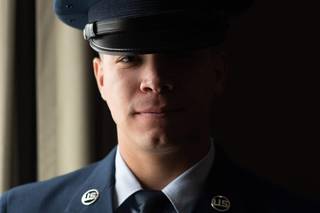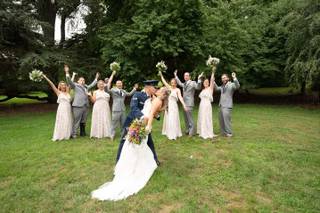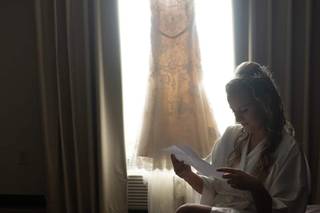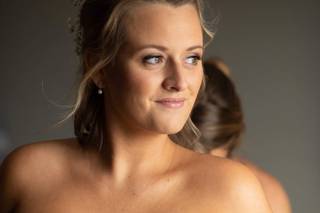 + 4

photos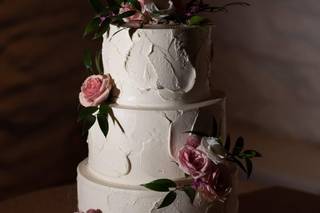 Sarah M.

Married on 05/15/2022

Storytellers was awesome!

Having a videographer was something we went back and forth about, and we are SO happy to have gone with Andre for our day! He was very flexible with our budget and was great to work with throughout the planning process. He was very organized with meetings and what he needed from us to make sure he had everything covered. He was even flexible with timing to make sure that he was able to capture our cake cutting with our video package. He made sure we had mics for our vows during our ceremony, and was extremely active in capturing every moment of our reception. We highly recommend Storytellers!


Tara

Married on 09/21/2018

John was the perfect videographer for our rustic wedding!

I hired John for my wedding in September of 2018 and we are so happy we did. Me and my husband wanted a wedding video along with photos and John was amazing. He was so natural and helped us take beautiful photos and a video that we will continue to look at for decades. Such beautiful work! Me and my husband were afraid the video would look awkward because we're not very charismatic in front of a camera, but that was not the case. He captured us being very natural and happy and edited it all together to perfection. He very flexible with times and very good at taking the lead. Extremely professional. Highly recommended!

+ 5

photos

StoryTellers's reply:

Thank you so much!!! We had a blast coving your event :) Morris Arboretum is a very pretty location. Also the band you chose was amazing! I really loved using their music for the video!
Congrats again!

Patricia

Married on 04/28/2018

Amazing work!!

We were so lucky to have John create our wedding video for us. I was a bit nervous at the thought of a videographer being around on the day of the wedding, but it was unwarranted because John was AMAZING! He made us feel so comfortable, was never intrusive, and created a beautiful memory that we will be able to look back on for the rest of our lives.
He really captured the emotions and energy of the day, and it all felt very personal to who we are as a couple.

Thank you for everything

StoryTellers's reply:

You are so welcome! I had so much fun with you guys! That venue was really cool right on the river. Congrats!

Are you interested?

Send a message

Nicolette

Married on 10/21/2017

When we first started wedding planning, I really wanted a videographer but my husband was a little hesitant and we weren't sure if we could fit it in the budget... fast forward to today and we are both SO happy we made the decision to book Zimm Productions. John was so awesome and so easy to work with and he did such an amazing job on our video -- I can't even count how many times we've watched it already. They captured all of the best moments of our wedding day -- from getting ready, the ceremony, and all of our guests best dance moves at the reception. The day goes by SO FAST, so it is really nice to have something to look back on and experience all of the little things that you may have missed. WELL WORTH IT and we'd book Zimm Productions again in a heartbeat if given the chance to do it all over again.

StoryTellers's reply:

Thank you so much Nicolette. We had a blast! Thanks for involving us in your big day!

Tyson

Married on 10/07/2017

My wife and I couldn't be happier with our wedding video. Not only is John an incredible videographer, he's genuinely one of the nicest people we had the pleasure of meeting during our planning.

We had a few specific requests, and John was very knowledgable, flexible, and professional. He offered a lot of suggestions to help us create a timeless memory that we'll enjoy forever.

Don't regret not hiring a videographer! Look no further than Zimm Productions, and let John and his team work their magic.

Janice

Married on 01/14/2017

Since the beginning of the wedding day, Zimm productions has been a very effective and beautiful way of capturing our special event. His level of production is a step above typical videography. Loved his work, I highly recommend it!

Janice

Married on 12/06/2016

Great quality work- outstanding production!

StoryTellers's reply:

Thanks so much Janice! We really appreciate your review.

Stephanie

Married on 10/07/2016

We weren't sure about having a videographer at our wedding, but we're so glad we did!! Watching the video literally brought tears to my eyes, and we were so happy that John was there to record everything! One of the best parts about it was that aside from the one on ones, John wasn't intrusive or demanding, and he just did his thing...

Not only was John great to work with, but the way he edited the footage was great and well done... from the music, to the commentary with us and from family/friends, John captured every moment and presented it beautifully.

John, we both thank you from the bottom of our heart and appreciate everything you did for us!!

StoryTellers's reply:

wow! Thanks so much. We had a blast covering your wedding. :)

Brittany

Married on 09/03/2016

Book it! Professional, easy to work with, and fabulous finished product!

Levi

Married on 08/28/2016

John was amazing to work with on the wedding day, and so easy to schedule/plan with. We had debated throughout the planning process if we really wanted a videographer... "how much will we really watch our wedding video?" "is it really worth the cost?" YES. 1,000 times YES. My wife and I are both SO HAPPY we have the best day of our lives on film. Even if we only watch it once a year, or watch it with our kids someday.... we are so glad we have this film, and we are so glad we used John Zimmerman to do it.

Lauren

Married on 08/27/2016

Professional, creative, skilled, patient and thorough! :) Ben from ZIMM covered my Jewish wedding this past August, in Villanova, PA. The moment he arrived, I felt comforted on a otherwise stressful day. He was attentive, yet not in the way; naturally in the right place at the right time, and it showed when I got the footage back. The edited material was brilliant, John took the time to add in stills from the proposal, & actual footage of the proposal location, just to sync up with what my bridesmaids were describing. The thoughtful, personal interviews were such an unexpected treat. As the bride- the day flew by in a blur- so I am so grateful to have this footage of these memories. John was also open minded to edits that I either wanted changed or taken out, which made me feel like part of the team. I was able to share my 15 minute Highlights link with all of my friends and family. Truly incredible process, and I am delighted with the results. I highly recommend them!

Robert

Married on 06/18/2016

John was very attentive to everything we wanted and was very easy to work with. The final project turned out great and I would definitely recommend him to anyone looking for quality videographer services.

Paul

Married on 04/30/2016

We signed Zimm productions rather late in our wedding planning and we're super impressed with the production. Jon sycronized well with our photographers and set up shots that worked for both vendors. We received the short video very quickly, before we returned from our honeymoon We are going to watch our twelve minute video every anniversary! Thank you!

StoryTellers's reply:

Thanks Paul! It was a blast at your event. I had a lot of fun making your videos!

Jan

Married on 09/26/2015

book him now-----he is extremely talented and extremely creative with his videos

Toni

Married on 09/20/2015

book him !! he is personable, creative and talented

Daniel

Married on 09/13/2015

Jon was amazing!!!!!! Where do we even begin, we had high aspirations, based on other couples that had chosen VERY expensive vendors, but did not have the money to splurge on a ridiculously high production value. With that being said, we received an incredible production, I mean, unbelievable product from Jon Zimmerman! He was absolutely wonderful to work with, very easy going and translated our thoughts and wishes into the most perfect video we could ever imagine. After seeing his work, we completely love the fact that his work paints a beautiful picture (video) of what our day truly was and we find it unfathomable that Jon did this all by himself!!! He is absolutely dedicated, non-intrusive, and very strategic in his method of capturing the day! We could not be more impressed by his work and subjects ;). The highlight video alone is an unbelievable accomplishment and Jon managed to give the same quality/effort for our full length feature film of our day. If you have any hesitation in selecting a videographer, rest easy, because Jon will take care of you and interpret your ideas into something truly beautiful, special, and magnificent. If we had to go through this process again, we would without hesitation choose Jon for the task. We received so much more than we even asked for and truly appreciate Zimm Productions work.

Dan

Married on 08/22/2015

Great service, great production, great guy. John captured the soul of our wedding day with his uniquely innovative production style. He was flexible and worked well in coordination with our photographers and indoor/outdoor venue. Thank you!!!

John was extremely friendly, creative, and fun to work with. He captured the emotion and feel of the event and even helped us bring out the story of the whole event. We cannot thank him for putting in the time to get things perfect and for working with our busy schedules to make things easy.

Carolyn

Married on 05/02/2015

I am extremely pleased with this videographer! John took the time beforehand to find out what style of video I was interested in, and what I wanted to include in it. He shared links of other videos he had done to find out what appealed to me from those. He was very professional yet engaging. On the day of the wedding, he was prompt and courteous. He captured everything that I wanted and more without being intrusive. He made my guest feel comfortable, and therefore was able to get some great comments and awesome behind the scenes moments. Most importantly, he produced a BEAUTIFUL video that my husband and I both love. I could not be happier and highly recommend if you are looking for top notch service and gorgeous, quality results.

Steve

Married on 04/11/2015

John was great to work with. We were blown away with the quality and service they provided. When we watch our video its like reliving the day again. I cant say enough about our video. It is everything and more of what we could have wanted.
John thank you so much, it was a pleasure working with you.

Sara

Married on 07/03/2014

John Zimmerman and Zimm Productions did a fantastic job with the videography for our wedding - we could not be happier with the final product! When my husband and I were doing research on videographers, my husband "interviewed" a number of VG's in the Philadelphia area but the price tag was just absolutely crazy. We knew we wanted a quality video that would capture the special moments of the day and that's when we came across John's website.

We scoured websites to find the style that we liked and after speaking with John and viewing the videos on his website, we knew that his style worked best for what we wanted. John was wonderful to work with!

The week before our wedding, we sent him a hard drive from Amazon so that he could put all of the raw footage on it - amazing idea!! In addition, we went through every single detail of what we wanted captured on the video. The day of the wedding, John was on-time and did a phenomenal job capturing all of the best moments of the day!! Our video shows all of the ceremony, the dancing, the speeches and had a lot of family and bridal party interviews, which is exactly what we wanted to add that personal touch! John was calm and funny and the way he tied everything together in the final product was extremely impressive! The final product was put on DVD with an interactive menu. It also included a highlight of the days events, which was super fun to share with our friends and family afterwards.

John was very communicative and really did a great job understanding our family dynamics and what was most important to us so that when we watched the video each time, it would feel like we were reliving our wedding day over and over.

We definitely rate John a 10/10 and would recommend him to anyone we know looking for a videographer at a very reasonable price, without foregoing quality. Thank you for an amazing job, John!!

Katherine

Married on 03/04/2014

Zimmerman aims to please and gets the job done!
His courteous nature and professionalism mix together perfectly! His forte is making sure that his client is comfortable with his creative process from the get-go. His warm and friendly demeanor reflect itself in the product he creates. Go with Zimm!



User1550201

Event on: 03/01/2014

Zimm production was the perfect fit for my son's bar mitzvah.

Our wedding video couldn't have come out any better. Zimm productions was so very helpful in making our special day a time to always remember.

Mr. Zimmerman and his crew captured our wedding flawlessly. Every moment we wished to remember is at our fingertips at anytime, and done with a style that presents the excitement and joy that we and our loved ones experienced that day. We weren't sure about having video taken, but after hearing our vows again, while we stood in front of our friends and family, we knew we made a GREAT decision. I can't thank these guys enough for doing such a wonderful job!!!
Are you interested?
Send a message