59 Reviews
Recommended by 100% of couples
Quality of service

5 out of 5 rating

Average response time

5 out of 5 rating

Professionalism

5 out of 5 rating

Value

5 out of 5 rating

Flexibility

5 out of 5 rating
11 User photos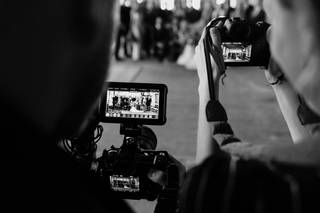 + 7

photos
Julie A.

Married on 11/19/2022

Zela films is awesome

Zak and the team at Zela Films created a masterpiece film of our wedding day. Family and friends all commented on how they thought they were watching a movie. The team was outstanding to work with leading up to the wedding, the day of the wedding, and after our wedding day. I was very pleased at how quickly Zak provides email responses to any questions we had. Our Instagram teaser film, highlight reel, and extended cut film footage all arrived in the timeframes he committed to in our contract. The film and shots captured by Zela Films were incredibly artistic and unique. Thank you Zela for providing us with a forever keepsake of our wedding day!

Logan C.

Married on 10/08/2022

Zela is it!

it's hard to find the words to describe the appreciation that I have for Zak and the Zela team. Not only are they unbelievably talented, but they're such joys to work with. I get chills each time I watch our sizzler. They were able to capture the love, feeling, and immense happiness of our day through an authentic lens. I couldn't recommend Zela more. Thank you for the beautiful memories that I will cherish for a lifetime.

Jenna D.

Married on 09/17/2022

Hire Zela films to capture all of your beautiful moments forever!

Hiring a videographer, was one cost that my Husband and I were leaning towards not having. However, after seeing Zak's beautiful work, I convinced my Husband that hiring Zela Films was a must!

Zak not only has incredible talent, creativity (that is not like other videographers), and attention to all of the little details, but he also took so much time to cater every video to us as a couple, our wedding mood and what was important to us on our special day.

We will never regret hiring Zela Films for our special day because now we have beautiful films that we will cherish always.

If you are still debating on hiring a videographer or are torn for who to hire—1000% hire Zak with Zela films!!


+ 3

photos

Are you interested?

Send a message

Joanna S.

Married on 09/03/2022

10/10!!! Amazing

Wow wow wow!!! 10/10 would recommend. Zak was so accommodating, professional, attentive, creative, understanding and amazing. He was so nice from beginning to end and I really appreciated how flexible and easy going he was throughout the entire process which made me feel secure and at ease — it was super refreshing to have one less thing to worry about. His work and vision resonated with my aesthetic, quality and vibe and felt like it was such an easy and natural fit. I also appreciated that Zela films offers a range of packages to help fit what you're looking for — Thank you so much for making our special day a memory to last forever. I'll cherish our videos for life. Thanks again so much

Allison Z.

Married on 08/06/2022

Zela Films is the best

We hired Zela films to be our videographer based on a recommendation from our planner and instantly fell in love with them. As soon as we started scrolling through their work we knew they were the team we wanted to hire. Come wedding day, we could not have been more pleased. They were friendly, enthusiastic, and brought a certain element that made it easy to see that they genuinely cared about us and our day. On top of all of this, the film from our wedding is spectacular, it could not have come out any better. It is exactly what we wanted and dreamed of and we can not thank Zela Films enough.

Cecilia W.

Married on 08/05/2022

Beautiful Wedding Video

Zela Films was extremely easy to work with -- from beginning to end. I was very particular about picking our videographer, because we will relive our wedding day forever through pictures and videos. I picked Zela because they're really good at capturing authentic moments. I did not want any moments staged, but I also wanted a story told. They did a great job combining both, using our officiant as the narrator to our special day. We've already gotten so many positive feedbacks from friends and family!

Christelle

Married on 07/02/2022

Amazing!

Zak was absolutely AMAZING to work with! He was so understanding, working closely with us through the good times and the frustrations of planning a wedding! Don't even get us started on the video… BREATHTAKING is an understatement! Words cannot describe our appreciation for his art and personality! We are forever grateful that we were able to have him at our wedding to capture all of the love that day! If Zak isn't a part of your wedding yet, you better make sure he is!

Gabriella P.

Married on 05/29/2022

Perfect Wedding Filmmaker

As a bride, I cannot recommend Zela Films and Zak enough! Zak was the filmmaker for my wedding and he was absolutely incredible to work with. From start to finish, Zak was kind, professional, and attentive to our vision for our wedding film.

Zak had a clear and creative vision for our film and he executed it flawlessly. He captured every moment beautifully and created a film that truly reflects the love and joy we felt on our special day. It's been almost a year since our wedding, and my husband and I have watched our film countless times. Each time, we are transported back to that magical day and reminded of the love and commitment we share.

In addition to being a talented filmmaker, Zak is an all-around great person. He was easy to communicate with, prompt with responses, and always had a positive attitude. He made us feel comfortable and confident in front of the camera.

If you're looking for a wedding filmmaker who is talented, professional, and easy to work with, look no further than Zela Films and Zak. I am so grateful that we chose him to capture our special day, and I know that you will be too!

Lindsey B.

Married on 09/18/2021

Incredible!

I couldn't recommend Zak and his team more! Just the way that he perfectly captures not only every detail of the day (including moments you don't even realize are happening), but every detail of love and happiness is incredible. The quality and professionalism is next level. I wouldn't change a single thing about having them there to create the most memorable and beautiful video of our wedding!

Elisa Q.

Married on 09/05/2021

Felt like a movie star

I'm obsessed over our highlight film and our full length video! Zak was beyond so sweet and accommodating from start till finish. Planning a wedding during a pandemic was hard enough but when you find kind souls who want to make you feel special and treat you like a friend it makes the experience a whole lot more enjoyable. If you want your wedding video to feel more like a cinematic montage of your beautiful day you should go with Zela Films. I'm so glad my husband convinced me to do a wedding video since beforehand a lot of the videos I've seen in the early 2000s were very simple and music tacky as if someone from college put it together.

I would recommend his talents to anyone who wants to enjoy watching their video a million times and wants a piece of art as their keepsake to remember one of their most special days.

Thank you so much Zak for making us smile 🙂

Linden

Married on 08/20/2021

Truly the best in the industry

I cannot recommend Zak (Zela Films) enough! If you are looking to relive your wedding through art, not just a standard wedding film - choose Zak. He he responsive, thoughtful, and extremely talented. I spent months trying to find the perfect documentary style Videographer - and I am glad I did. Zela Films is the real deal.

Brielle

Married on 07/31/2021

So Happy With Our Choice!!

We are so happy with our decision to go with ZelaFilms as our wedding videographer! We knew our search for a videographer was over when we came across ZelaFilms and saw how they were able to tell stories through their work! Zak was absolutely amazing to work with! When we had to change our original date and venue due to Covid, Zak was so nice and accommodating! The films came out so beautifully and we are so happy that we will be able to watch the memories again and again as the years go by. Thanks for everything Zak!

Dakota

Married on 05/22/2021

Best. Videographer. EVER!

Zela Films was recommended by a family friend whose son used them for his own wedding, saying nothing but positive things about their experience. From the moment we reached out, Zak made the process so straightforward and easy. My husband Lucas and I knew as we started planning our day that videography was important to us. The day goes by so fast and its nice to know that those moments are captured and are there for you to look back on for years to come. Unfortunately, like many others, we found ourselves making the tough decision to postpone our big wedding until 2022 due to COVID. But after being together for almost 10 years, we decided we still wanted to get married and celebrate with immediate family and close friends on our original date. Zak pivoted with us and was there to capture our minimony. Months later, as we sat and watched our wedding video and ceremony, we were in awe of Zak's artistic process and found ourselves watching the style of video we had always wanted. We were constantly pausing the videos to say to each other how happy we were to have Zak around and that we had picked Zela Films. We are so excited to have Zak as part of our vendor team for our I Do Part 2 next year! He takes the time to get to know you as a couple and walks you through his ideas for your big day from start to finish. Zela Films did an outstanding job capturing our minimony and we can't wait to see what next year's big day brings!

Randi Y.

Married on 05/15/2021

Amazing Experience and Final Product!

My husband and I are so grateful for our beautiful wedding film that we will have forever! We initially weren't sure if we wanted to hire a videographer for our wedding, but after seeing Zela Films' work, we knew immediately that our day would be captured perfectly.
From start to finish, Zak was great to work with. Leading up the our wedding, he was organized and made sure all of our questions were answered. On our wedding day, he coordinated with our photographer, venue, and other vendors to help the day run smoothly, which took a ton of stress off our shoulders! Most importantly, the final product of our wedding film was beautiful, and it captured all of the special moments that we believe made our wedding day so memorable. We are super grateful to have our film to watch for years to come!
Thank you Zela Films!

Isabella B.

Married on 03/06/2021

The best videographer around

the best videographer there is!!! from my initial planning, I was obsessed with Zela Films and knew I needed to book them for my wedding day. From start to finish, Zak and his team was truly incredible to work with, so beyond talented and extremely kind and professional. Zela truly helped make our wedding day so spectacular. Our films were incredible and we couldn't have asked for a better experience and a better vendor honestly. Book Zela Films!!!!!

Jennifer

Married on 12/12/2020

Wedding Cinematography at its finest

Words cannot describe how pleased we are with our wedding films and our experience with Zela.

From the start, Zak and Lydia were wonderful to work with. Like so many couples, we experienced several reschedules due to COVID. When state restrictions canceled our micro wedding two days before our date, we quickly shifted our plans with our amazing team of vendors. Zela was understanding and seamlessly adjusted to fit our last-minute plans.

After viewing our final film, it is clear that Zela's attention to detail, talent for storytelling, and cinematic vision is of the highest quality. They are a team that you want a part of your story.

Alyssa R.

Married on 10/03/2020

love Zela!

Planning a wedding during Covid was stressful, but Zack and Lydia were dependable, professional, & captured our wedding just as we expected they would! We received our sneak peek video in such a timely manner, which held us over while we waited for the final product. Can't recommend Zela enough!

Lauren F.

Married on 10/03/2020

Want to relive your wedding day anytime you'd like? Choose Zela Films.

I stumbled upon Zela Films and their brilliant work on IG shortly after securing our wedding date and fell in love with their videos, their brand and their style almost immediately. We actually hadn't really budgeted for a wedding video to be honest (which became even more unlikely when COVID hit and our entire wedding remained up-in-the-air for several months) but when I found myself legitimately looking forward to the new wedding videos (of other couples) that Zela would post, I knew we needed to work with them. My now husband and I eventually made the decision to move forward with our modified wedding plans and booked our last vendor: Zela Films. Zack and his team were so awesome leading up to the wedding, and even more so on the day. They blended right in with the flow of the day and evening so seamlessly (everything was shot so naturally, during and in between takes with our photographer) and even though much of the 'filming' took place really almost unbeknownst to us, Zack and his team managed to capture the most incredible moments, angles and overall feeling of our wedding day, which we can now relive whenever we'd like. To all the new brides and grooms out there who may not know for sure if you want a videographer/cinematographer, I'm telling you now: you do, and you DEFINITELY want it to be Zela Films. We cannot say THANK YOU enough to Zack and his brilliant team. Your work is so incredible... an art really... and something we will forever cherish. 

Whitney M.

Married on 09/26/2020

Zela Films were nothing short of amazing! So glad we found them!

Our initial videographer backed out, last minute. I found Zela Films on theknot.com and fell in love with their content! To our surprise, they were also available! Everything definitely happens for a reason and I am SO glad they were able to capture our wedding. From the very beginning you guys were so personable and were absolutely great to work with. Thanks again for capturing the most important day of our lives and doing a fantastic job!!

Tiffany S.

Married on 08/23/2020

Beautiful storytelling aesthetic!

We were a pandemic wedding and hired Zela Films in 2019 to capture our wedding. We changed our wedding date 3 times and Zak was very flexible, understanding, and communicative during the whole process. We finally had our wedding celebration in September 2022 and we are so glad we decided to invest in videography. Zak's aesthetic and storytelling is what drew us to Zela Films. We hired our photographers separately (and they never worked together before) but Zak and our photographers were able to seamlessly work together and their work complements each other. Zak was great throughout the day, super chill, and we love our videos!

Marissa R.

Married on 07/25/2020

Can I give 1000000 stars for flexibility?

I can't say enough about the Zela Films team. My partner and I got engaged 01/2019, hired Zela ~03/2019, and got married 07/2020. As you can tell, 4 months prior to the wedding is when COVID/lockdowns hit. If Zack and Lydia are half as sweet, accommodating, and understanding as they are in the midst of a pandemic you are in amazing hands. They are just genuinely good people. I initially reached out to them because of the quality and uniqueness of their videos (the proof is in the pudding, check out their Instagram and website). Without harping too much on COVID, they pivoted along with us a total of 4 times ending up with a dreamy elopement in the mountains. I should add they had never done a wedding like this before. The venue, Promise Ridge, I wouldn't have even known about if it weren't for Zack and Lydia. Needless to say, these are people that actually care about you, your day, and your vision. This is who you want on your team.

Kristina

Married on 05/29/2020

Videography

Zela Films did an incredible job with our videos! My husband and I are blown away! The beautiful edits, the special moments captured, it was everything we were looking for and so much more! Wonderful, and down to earth people to work with! We will continue to recommend them for years to come :)

Beth M.

Married on 04/25/2020

Amazing from start to finish!!

Zela films was such a pleasure to work with from start to finish! As most wedding mornings go, our day started out chaotic and full of nerves - Zack and his team helped bring the calm, cool and collected to day! After the wedding, we were nervous about coming off awkward on camera but Zela's approach to filming and documenting the best day of our lives was thoughtful, natural and so much fun! They did the most amazing job capturing our personalities, our multicultural families and just the sheer amount of love that filled that day! We are beyond grateful to have had Zela as part of our team!

Jasmine K.

Married on 04/24/2020

SO happy we went with Zela Films!

It was great working with Zak and Lydia! I wasn't sure about the logistics of videography during a wedding at first (how do they get all the shots and film we would want, how do they know what to capture and when). I am happy to say that they captured everything we could have wanted and more! Our films are such a beautiful representation of our wedding day and are something we will cherish forever. We couldn't even tell we were being recorded throughout the day, Zak blended in so naturally with everyone and everything that was going on that day. He also worked very well with our photographer to ensure nothing was missed. I cannot say how happy and blessed we feel to have made the decision to go with Zela Films! Definitely one of the best decisions we could have made.

Lauren

Married on 11/16/2019

Incredible

My husband is a big film guy! He put this at the top of his list for important things to have at our wedding!! He looked long and hard at videographers and when he saw what Zela films could do he was sold!!! We absolutely love every video that they have produced of us in our special day!!!! Zack and Lydia are absolutely spectacular and are so incredibly nice!!!! I would suggest them to anyone and everyone to capture the most important day of your life!
Are you interested?
Send a message