29 Reviews
Recommended by 100% of couples
Quality of service

5 out of 5 rating

Average response time

5 out of 5 rating

Professionalism

5 out of 5 rating

Value

5 out of 5 rating

Flexibility

5 out of 5 rating
Awards
7 User photos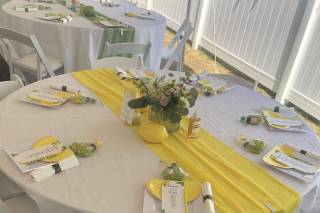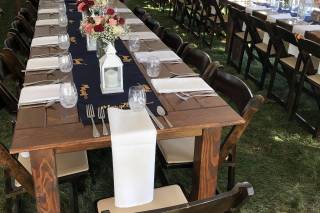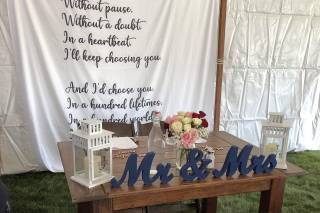 + 3

photos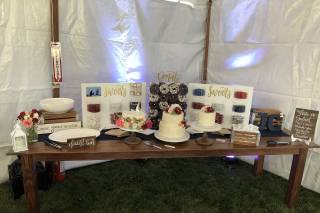 Jan

Married on 10/09/2021

Great rental company

Great rental company. Very flexible and patient with continual modifications in the order. Showed up on time and very communicative to ensure room set up as we wanted. Cleaned up on time and cleaned up thoroughly including sweeping the floor!

Stacy T.

Married on 09/07/2021

Exceeded Expectations!

I recently hosted a backyard wedding and WT Rental and Services did an amazing job! Taylor was extremely professional and was able to provide everything I needed. Great selection, beautiful furniture! He was very responsive and coordinated with other vendors to make sure my every need was met. The WT crew worked diligently to make sure I was satisfied with absolutely everything. Can't say enough to express how much I appreciate all they did! They truly were key partners in creating a magical wedding.

Michelle

Married on 09/05/2021

Made my wedding dreams come true

Taylor recommended the most BEAUTIFUL sailcloth tent with bistro lights!! It looked amazing with the rustic theme I was planning. Along with the farm tables, benches, and sweetheart table (Which I later found out was all custom made by Taylor himself!!) made my wedding dreams come true! Truly goes above and beyond for his clients, I will definitely be using his services again.


Are you interested?

Send a message

Sara E.

Married on 08/14/2021

Married 8/14/2021

Taylor at WT Rental and Services was amazing to work with. He was very attentive to all of the details and made sure my day went as smoothly as possible. All of my emails were answered in a timely manner, all of the guys helping set up were very kind and professional. I highly recommend Taylor and his company if you are planning a backyard wedding.

Rose K.

Married on 07/24/2021

Best of the best!

We do not have enough to good things say about WT and their team of professionals. We were referred by a friend and WOW. The owner, Taylor, was exceedingly helpful in wedding planning this past summer. I was shocked at how much interest he took in every detail, making sure the big day was perfect and stress-free.. what more could a couple ask for? He and his staff were overly accommodating and friendly every step of the way, providing an extensive array of products, all of which were in mint condition upon arrival. He was able to provide some extra items we needed last second, and created the EXACT atmosphere we were looking for. Truly listened to our personalized ideas, took them and made our unique dream come to life. I have worked with bigger rental companies in the past and will never go back, WT will be my go-to from now on. Could not recommend them more, if you've been searching for a rental company to use, this is it!!!

Meagan H.

Married on 07/11/2021

Perfection

WT rental and services was the BEST decision me and my husband ever made!! Our wedding was beautiful and everything we had imagined!! I truly would recommended their services to anyone. Thank you to the workers and especially the owner for being so open to catering to all of our needs.

Daniel C.

Married on 05/08/2021

Trustworthy, dependable, flexible, and extremely knowledgeable

WT Rentals and Taylor could not have been better. Flexible, professional and the most knowledgeable person we have worked with. It was like having another wedding planner. My daughter's wedding was at the Branford House and fairly complicated from a rental standpoint. Taylor knows Branford House better than the Branford House staff. He knows dimensions inside and out and what will fit best and how to set everything up. His recommendations were key to a very successful event. Also, with Covid, we had to make an incredible amount of changes and he was extremely flexible even with last minute requests. The weather also did not fully cooperate and Taylor was able to supply some additional heaters when I asked the day before the event. You can trust any important event to WT Rentals but if you happen to be having your event at Branford House, Taylor is the ONLY person I would trust it to. Highly, highly recommend.

Jen

Married on 08/22/2020

AMAZING. I wouldn't go anywhere else!

Taylor is nothing short of amazing! I had planned a Jack and Jill for my brother and at the last minute my brother told us he was getting married that morning instead of in December. My brother only gave us 4 days notice that the Jack and Jill would become a wedding reception. I called Taylor in a panic and he was SO accommodating. He calmed me down and assured me everything would be okay. He was able to add a few additional items we needed at the last minute. A review and a thank you don't seem to be enough but it is the least I can do! The work he does is so great! He and his crew are so personable, friendly, and super accommodating! I wouldn't go anywhere else! He did the rentals for my wedding back in November and people still talk about how amazing everything looked, especially the wooden tables that he and his crew handmade. If you are looking for a company to help you make your vision become a reality, look no further! Taylor is so professional and is genuinely invested in making sure you are happy and won't stop until you have everything you need to make your event perfect! I really just can't say enough good things about Taylor and his company! Simply amazing!! (Photos are from both events)

+ 4

photos

Ashley T.

Married on 09/07/2019

100% recommend!

Taylor was extremely helpful during the planning process, the whole week leading up to my event. His crew was also amazing!! 100% recommend!

Kathy M.

Married on 06/01/2019

Professional

WT Rental is my new "go to" for any and all my rental needs! Very professional and very competitive pricing. They have many options to choose from and Taylor has wonderful ideas to help with party planning. I cannot recommend them enough!

Michelle

Married on 08/11/2018

I can not say enough good things about my experience with WT Rentals. I rented chairs and tables for my beach wedding through them and they were extremely thoughtful and thorough from beginning to end. The wedding ended up being indoors at the last minute due to rain and they did everything possible to make it the wedding we wanted. They had half the chairs set up outdoors as requested and did not hesitate to change plans for us on the last minute. When I think a rental company, I don't think customer service but the team at WT ended up being the best vendor we had! If you need rentals in the East Hampton area, do not think twice go with these guys. Thanks WT!!

Kristen

Married on 07/29/2018

We decided we wanted an arch as a finishing touch for our ceremony, and as soon as we reached out to WT Rentals, we knew we had found the perfect vendor.

They were very responsive, helpful, and had great customer service. After we finalized the order, they handled everything else! They made sure the arch was at our venue and set up perfectly for our ceremony.

Highly recommend!

Abby

Married on 06/30/2018

I am so happy we went with WT rentals for our wedding at Lighthouse Point Park. Taylor had lots of experience at this venue and his pricing was VERY affordable compared to other quotes I received, still with a high level of professionalism and service quality. We ended up renting chairs for the ceremony and bistro tables to set up outside for cocktail hour, and Taylor understood exactly how we wanted everything set up. I actually did not see him the day of, however did not have to worry about anything, and was immediately relieved when I saw everything was set up perfectly; he even accommodated clean up the same night (per venue requirements), which a lot of companies were going to charge us much extra for. He was attentive to our needs and quick to respond. I would definitely recommend WT Rental to anyone getting married or having an event in the area looking for affordable pricing, great service, and reliability.

Taylor was nothing short of amazing. My husband and I picked a venue that comes with very little and we needed to rent almost everything for our wedding day. Taylor is by far the most professional vendor we worked with who was willing to do ANYTHING to help make our day the way we envisioned it. He responded to phone calls and emails promptly and made himself available at least a few times to meet us personally at the venue and make sure everything was organized the way we wanted it to be. He thought of things throughout the planning process that we wouldn't have even thought of and was receptive and patient to all the changes we needed to make at different points in the planning. His prices beat any price around but so does his work ethic, character and professionalism. Words can't truly describe how unbelievable he was in making our day perfect. It ended up raining the day of our wedding with strong winds--he went to the venue early in the morning and worked for hours to make sure our tent looked beautiful and coming from a bride who always thought she would get married outside--I walked into that tent and was so impressed with how beautiful it turned it that it didn't even feel like a "rain plan". His work didn't end there--he spent hours after our wedding reception not only taking down his own equipment but also helping us load our truck with all of our personal decorations we brought etc. We couldn't have picked a better person to get our rental equipment from. We recommend Taylor to anyone and everyone!

Helen

Married on 10/07/2017

Taylor and I met at a wedding fair, I was not enjoying the crowds (possibly due to a night out before attending) and at that time I was not sure how I wanted to day to be. When I got more serious about the day. I found an email from him, the rest is history... but not before I mention how responsive and accommodating Taylor is. We did a wedding in a private venue and Taylor organized all the elements required, from a tented venue, lighting, dance floor, tables, chairs, bar, cocktail tables, heating, bathrooms, etc... he managed all of it seamlessly and on one of the busiest weekends of the year.
Taylor may not be one of the huge companies out there but..... he has all the same equipment and arguably better, he has a personal touch that the big giant venue guys cannot touch, he creates items (like his beautiful bar) that become centerpieces of a wedding and on top of all of that, he a good guy! Cannot recommend WT Rental enough.

Ryan

Married on 07/29/2017

My husband and I found Taylor Rand through our DJ John Rzasa and it was an excellent recommendation. He provided a beautiful tent for our wedding day, and also our wedding shower. We would recommend him (and have been recommending him) to all of our friends and family who have been looking for a tent and dance floor services. He was very professional and efficient and is proactive with all the "what ifs" and has a plan on standby and made sure our day went off without a hiccup. He even provided us with a video of the tent from a drone above the Branford House which was an amazing treat!

Ryan and Thommy
07-29-2017

Mr. M.

Married on 10/08/2016

Mr. Rand made my wedding day incredible! After my fiancé proposed, Mr. Rand met with us right away to determine our needs. He was prepared, professional, and gave us many different options that were all in our price range. We quickly decided on white garden chairs, a trellis, a pole tent, wooden tables, and a dance floor for our outside wedding and ceremony. He was very familiar with local vendors and provided recommendations for cost-effective alcohol, catering, and DJ services. He even sent me an email that same night with a design scheme for the reception area and a detailed budget plan. In the months that led up to the wedding, he was easily reachable and very flexible when changes came up. He offered us discounts and he never tried to talk us into anything expensive. In fact, he pointed out cost-saving alternatives to some of our ideas. He went above and beyond in facilitating our wedding planning. He even came to our rehearsal to give tips on the entrance and exit of the wedding party as well as the best spots for pictures. He arrived promptly a few days before the wedding and spent hours setting up the tent with his team. My husband called me and said Mr. Rand was a "machine" and a "perfectionist" and that I would absolutely love the care he put into everything. The morning of my wedding he again arrived promptly to assist my husband and the bridal party in setting up the chairs, tables, bar, dance floor, and DJ booth. He thought of everything, including outdoor heaters in case it the temperature dropped and fancy outdoor bathroom so as not to overwork the indoor plumbing. I spent my wedding morning relaxing and free of worry because I knew Mr. Rand would be diligent, responsible, and detail-oriented. Everything looked absolutely incredible, and he didn't leave the wedding until the bride gave her stamp of approval. If you book him for your event, you will be delighted with his services. I offer him my highest recommendation. Hire this man!

Felicia

Married on 09/24/2016

We used WT Rental and Services LLC for our 100 person beach wedding ceremony. We were so pleased with the quality of service. Taylor was great in communicating with us. He answered all of our questions quickly and efficiently. Also, the prices of the rentals was very reasonable.

The location of our wedding ceremony was difficult and WT Rental and Services LLC loaded all the chairs on and off the beach without a problem. They also set them up in the perfect design so everyone could hear the ceremony without microphones or speakers.

I would highly reccomend them to anyone. We will be using their services in the future. Thank you WT Rental and Services LLC for providing us with the perfect service!

Corrine

Married on 08/13/2016

My experience with WT Rental was nothing short of exceptional. I recently threw a bridal shower for my best friend. I rented the tables, chairs, linens and various other party supplies such as drink dispensers and an inflatable cooler. Everything arrived in pristine condition and was set up for me, which was a huge help! A few days before the event, the weather did not look like it was going to be favorable for an outdoor event. Taylor made a special trip just days before the event to come set up 3 separate tents. His flexibility and willingness to help was outstanding. Overall, my experience was hands down 5 out of 5 stars. Taylor made it possible for me to give my best friend the perfect bridal shower, and I am truly grateful for that! I most definitely will be recommending this service to friends and family and will use them again in the future!

Jamie

Married on 06/18/2016

Awesome experience using WT rental. Very helpful and accommodating, I highly recommend their services.

Joe A.

Married on 06/11/2016

We were married in Hartford, CT at City Hall in June, 2016 with a little over 100 people. We couldn't have been happier with Taylor's services! We met him at a bridal expo in Hartford. He is a man of few words, but most often those are, "Yeah, sure, I can do that." Anyone planning a wedding knows the myriad details to attend. Taylor was quick to respond to our requests, and absolutely came through as promised in getting things set up. He contacted the City Hall people (no small feat getting them on the phone, mind you) and made sure he was set with what he needed to get into a govt. building on a weekend as well as park his truck (NOT details about which we wanted to worry) and was there on time, with all the promised items (All clean and looking great) as well as a cheery disposition. Right after the ceremony, he and his crew were there to break it all down quickly and on time. It wasn't terribly expensive, but we were treated like we'd spent a great deal. If you're within his areas of service, we highly recommend Taylor and WT Rental and Services.

Mia

Married on 10/16/2015

Taylor and his team were incredibly helpful in helping us have the perfect event! All items arrived at the appointed time, were clean and in mint condition. We would highly recommend him to others!

Jennifer

Married on 10/16/2015

There service was excellent! Our tent was beautiful and the heaters were great for the cold night! I would definitely use WT again!! I highly recommend this fabulous rental service!

Juanita

Event on: 09/27/2015

The event was my husband's 50th birthday. WT Rental and Services LLC did an amazing job with all aspects of the event. Everything we rented was delivered promptly and set up professionally. The tent, tables and chairs were all clean and comfortable. I had nothing to worry about, which was my primary goal. They took care of it all at an affordable price. Excellent Service!!!

Jennifer

Married on 06/28/2015

WT Rental and Services, LLC exceeded my expectations with the excellent, professional service provided, accuracy with the color choices, value and product quality. The next time I need rental items for a party, I won't hesitate to use them again. Thanks Taylor!
Are you interested?
Send a message