38 Reviews
Recommended by 97% of couples
Quality of service

4.9 out of 5 rating

Average response time

4.8 out of 5 rating

Professionalism

4.9 out of 5 rating

Value

4.9 out of 5 rating

Flexibility

4.8 out of 5 rating
14 User photos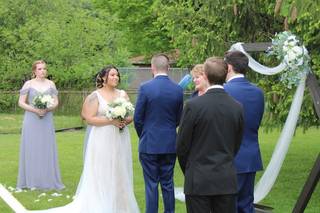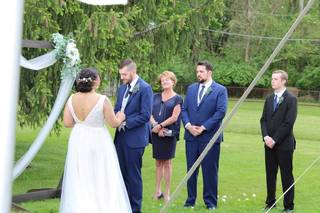 + 10

photos
Reine K.

Married on 05/14/2022

A very charming and sweet ceremony

Meb was very professional and did a great job with our ceremony. I'm very type A and she handled me graciously and was always quick to reply. The ceremony was beautiful and charming and everyone loved it.

Alan W.

Married on 10/16/2021

Perfect Ceremony

Nancy Goulet officiated our ceremony and it was a truly magical experience. She met with us over coffee in advance to hammer down the details and even managed to wrangle all 14 members of the wedding party to run the ceremony rehearsal (despite their best efforts to let chaos reign)! She nailed the "us" feel we wanted from our ceremony and our guests cold not stop raving about how wonderful it was, including, "literally my favorite of all time," "it made me cry and laugh—and I'm a pretty stoic guy," "it was perfect," and "the comedic timing was just *chef's kiss*". Thank you, Nancy, for kicking off our wedding with a bang! We only regret we weren't able to share dinner and drinks with you.

Marissa W.

Married on 06/27/2021

Perfect wedding officiant!

Mebane did an excellent job officiating our wedding ceremony-we highly recommend Wows and Vows.

Are you interested?

Send a message

Jennifer M.

Married on 06/19/2021

AMAZING experience!!!!

Meb is Amazing!! Our ceremony was so beautiful, Choosing Wows and Vows was the best decision we made. From the very first meeting with Meb we walked away know she understood exactly what we were looking for them went steps above that. A wedding can be hard work and Wows and Vows made it so simple, I don't think we will ever run out of amazing things to say about Meb and her team! Thank You Wows and Vows!!

Tessa J.

Married on 05/22/2021

Meb truly cares about you and your ceremony

I can't say enough good things about Meb. From the very beginning we knew she was the one and was going to make our ceremony personalized and special. We started premarital counseling with Meb before our original wedding date in 2020 and she was delved into our family histories, personalities, love languages, and more. She was so easy to open up to. I laughed, cried, and learned so much during those sessions. She was so helpful in building our ceremony to fit us. Meb is the lead pastor at a Methodist church and she was willing to include any level of religion and spirituality that we wanted. She said a special prayer for us during our ceremony but that was optional if you want something more secular instead. She sent us a questionnaire about our life together and how we met and she told our love story during the ceremony. I have gotten so many compliments on how interesting and touching the ceremony was. But the one thing that really tells you just how good Meb is...my Catholic grandma wants to attend one of Meb's church services she was so smitten with her! Now that's a compliment!
She also worked in a prayer for my grandmother who was in an accident the day of the wedding which really touched my heart. Meb truly cares.

Sarah G.

Married on 04/09/2021

Meb From Wows & Vows Created Our Perfect Ceremony

Meb from Wows & Vows personalized our ceremony to us and our story as a couple. She's easy to talk to and we enjoyed the pre-marital counseling sessions we booked with her. She did need to reschedule a few of our sessions, but she was always quick to find a different time that worked for us. The ceremony she put together was truly one of a kind. She had us fill out a questionnaire that she then used as material in the ceremony. She's truly a professional at what she does and we're so happy she was a part of our day!

Maggie A.

Married on 10/10/2020

passionate about her job

We had Nancy Goulet as our officiant. We had a hard time finding one, but came across her and we are so happy we did! We met with her before the wedding to get almost everything figured out. She had us fill our multiple questionnaires, about what kind of ceremony we wanted, questions about each other that we didn't know the others answers that she integrated into the ceremony on wedding day, etc. She gave us many examples of different options for readings, blessing of the hands, rituals, etc. So many of our guests loved her! You can tell in almost every picture and in our wedding video that she truly loved her job of marrying people and being there to experience the love! 5/5 would recommend! She was very flexible with times and dates to meet, and very responsive with emails, texts, and phone calls.

Courtney P.

Married on 07/11/2020

Absolutely wonderful

We chose Meb to be the officiant for our wedding that was originally scheduled for July of 2020, unfortunately Covid caused us to have to push back our plans to 2021. Meb was extremely gracious and agreed to officiate our rescheduled wedding despite already having another wedding scheduled the same day.
She pulled double duty with both the rehearsal and ceremony, but you would never have known by the finely detailed touches.

She made our day so special by crafting the story of our love into our ceremony. We had so many friends and family members comment how wonderful the ceremony was and what an amazing job Meb did.

I would also highly recommend the pre-marital counseling she offers for couples. The sessions with with her taught us new things about each other and ways to communicate and show appreciation towards one another. It has absolutely strengthened our relationship in ways I never could have imagined.

Ashley M.

Married on 05/30/2020

Perfect wedding day

My husband and I were married by Meb 5/30/2020 and every part of our ceremony was perfect! We only had a short time to plan our wedding but were able to meet virtually with Meb and she put together a personalized ceremony that we will always remember. We are so lucky that she was willing to be part of our day.

Evelyn

Married on 05/16/2020

Meb was amazing!

Meb is not only an amazing person, she is an fantastic officiant! We both knew after first meeting with her that she was the person we wanted to officiate our wedding. She made the process so smooth, and was extremely flexible. All of our guests kept telling us how much they enjoyed the ceremony and how lucky we were to find such a great officiant!

Stephanie C.

Married on 05/02/2020

Lots of experience, makes ceremony planning easy

Meb officiated our 'socially distanced' Wedding on 5/2/2020. Before, we had different plans for a bigger wedding. Meb was so flexible to change plans one week before. She met with us several times and gave us lots of ideas to make sure our ceremony was everything we wanted. We wanted 1 prayer but we wanted the rest of the ceremony to be lighthearted, simple, and short. Meb did just that! She is very entertaining and experienced. The whole thing has beer very fun.

Erin H.

Married on 10/26/2019

Could not have had a better officiant!

Meb is incredible!! My husband and I immediately wanted to book her just after a few minutes of our initial phone call with her. She made our ceremony so fun, so personal, and it was just what she wanted! She made sure to take the time to get to know us and exactly what we wanted from our ceremony down to every detail. She makes sure the ceremony reflects you as a couple and we could not have been happier. Everyone really enjoyed the ceremony and truly it's thanks to Meb! She has such a warm personality and is so friendly and sincere- just can't say enough good things!

Kimmy

Married on 09/21/2019

Great ceremony experience

Grace was awesome to work with! She was very responsive and listened to how you want your ceremony to flow! I would recommend her over and over again!

Catie

Married on 09/14/2019

Perfect Ceremony!

We could not be happier that we booked Meb for our ceremony. After thinking we could "use a family member" and realizing it was just added stress/anxiety, we decided to find an officiant about a month before our wedding. As luck would have it, somehow Meb was available - and we're so glad she was! We met with Meb a few times before the wedding, as we decided to do premarital classes with her as well. From the second we met her, our stress and worries about the ceremony were lifted. Meb took everything into her hands and helped us create a personal ceremony that fit both of our needs. She incorporated pieces of our story into the ceremony and helped us with the process of finding/writing vows that worked for us. I will forever remember our ceremony as being personal, warm, fun, and meaningful- yet lighthearted. We both were smiling, sometimes giggling, yet crying throughout the whole thing. It was absolutely perfect. We received so many comments about our ceremony and how fitting it was for us. Thank you, Meb!!

Krystal

Married on 08/24/2019

Would book 1000x over again!

I was the most nervous of all of my "vendors" I booked for our wedding about our officiant. To me, when I thought about what really mattered about my wedding, it was believe it or not, the actually getting married part. I didn't want my ceremony to be overlooked with a stranger who we hired to marry us, with an impersonal ceremony, with phony nuptials that didn't mean anything to us. Meb was such a pleasure to work with and blew us away with her ability to listen to our wants and officiate our wedding in such a personal, intimate ceremony. It was important to my husband and I to have some sort of premarital counseling, as well. We did this with Meb and I can't encourage you more to consider the same. The sessions are fun, yet eye opening. I learned things about my husband (who at the time I had know for 6 years) that he had never expressed to me and it made us so much closer and stronger as a couple. Meb really got to know us which showed on the day. I can't tell you how many wedding guests we had that have even sent us letters after our wedding about how beautiful our ceremony was and how they felt like they knew us as a couple better because of Meb. If you are really looking for an officiant who is fun, kind, and so pleasant to work with while being really, really good at her job-Just meet Meb. I bet you, like Brad and I, will decide to cancel any other meetings with anyone else. Look no further for your ceremony officiant.

Lauren W.

Married on 08/17/2019

Incredible!

Meb was an incredible officiant for our wedding! She was very nice and personable, taking the time to get to know us and then developing a personalized plan for our wedding ceremony. We appreciate the amazing job she did, and we highly recommend her to be the officiant for other people's weddings!


Alyssa

Married on 08/10/2019

Wows and Vows was a perfect pick!

We were lucky enough to work with both Mebane and Grace throughout our wedding planning process and love them both! Mebane did our marriage counseling sessions and completely changed my outlook on them. I was very reluctant to participate in these simply because I wasn't sure we needed them. She made the meetings fun and if nothing else it validated our compatibility and confidence in our relationship. Grace officiated our wedding and customized our ceremony perfectly. She was so calming and well spoken the day of our wedding. We got so many compliments on the ceremony and our families loved meeting her at our rehearsal dinner. I would definitely recommend either of them for your big day!

Danny

Married on 07/06/2019

Perfect Officiant

Meb was the best! She was very easy and flexible to work with. She was easy to get to know and was quickly able to learn about my wife and I in order to incorporate our story into the ceremony. I would highly highly recommend Meb!

Emily

Married on 05/18/2019

Perfect in Every Way

Meb was the best officiant anyone could ask for! I would highly recommend her to everyone I know. We knew we wanted to work with Meb from the very first meeting, she is so personable, it felt like we had known her forever.

We met with Meb several times for pre-marital counseling, which I highly recommend. She helped us to understand each other better, and made us look at things from the others point of view.

She tailored the ceremony to fit our personalities perfectly. We are not very religious, and she was very respectful of that while planning our ceremony. Everyone loved our ceremony and thought that we had known Meb for years given how personal she made it. She made our guests laugh and cry, it was perfect!

Meb was very easy to work with, and was always available to answer any questions in a timely manner. I'm so glad we chose Meb to officiate our ceremony, we were so lucky to find her!

Wows and Vows's reply:

Your review humbles me. So glad you asked me to officiate. It was my pleasure to get to know you and be a part of your special day!


Stacy

Married on 05/17/2019

Amazing officiant

Grace Gerber from Wows and Vows was our wedding officiant, and she did a wonderful job tailoring the ceremony to meet our needs. She was also very professional. She took off a lot of stress from me by handling the rehearsal fully and coaching us through the entire process. I received so many compliments from guests, saying it was the most meaningful ceremony they have ever seen.

Gabrielle

Married on 02/15/2019

Unforgettable Ceremony!

Look no further for an officiant, you have come to the right company! We were married by Meb in February 2019 and all I can say is WOW, our guests are still talking about how perfect our ceremony was. From the moment we met Meb we knew we couldn't possibly find a better officiant. She went above and beyond to get to know us and made our ceremony personable, loving and made all guests feel included.

Rebecca

Married on 09/23/2018

When our daughter was looking for an officiant, our only request was to find someone who would spend time getting to know the couple and design a more personalized service, not just do a "cookie cutter" ceremony. Meb did just that! We could not have hoped for a more beautiful, personal, touching ceremony. Sadly, her mother was ill and she had to leave immediately after the ceremony, because there were so many guests who wanted to tell her how much they enjoyed it (several did catch her before she left). She spent time with the couple, had them complete questionnaires and she designed the service around their requests. She gave great suggestions on where everyone should stand, helped design a "tree-planting" ceremony that the couple wanted and help resolve a couple of delicate family situations. She added humor where appropriate. She did not rush through the ceremony, but rather took her time. The rehearsal was so thorough, the ceremony was flawless. We cannot thank her enough for her kindness and willingness to do all in her power to accommodate the wishes of the couple and the families.

Wows and Vows's reply:

Rebecca, I cannot tell you how much I enjoyed getting to know Sarah and Kory. I appreciated their intention to make the ceremony uniquely theirs. Your words are so kind. Let me say. They fully cooperated in the process, trusting my professionalism as well as being willing to collaborate on the ceremony design. I talked with both of them today. They are very special to me. I hope to check in from time to time with them. I am not just invested in their ceremony; I am invested in them.

Michelle

Married on 08/31/2018

Rev. McMahon was fantastic to work with. Religion is part of our lives, but not a large part of our lives, and Meb was able to perfectly balance this without judgment. We appreciated her taking the time to get to know us over dinner and personalize our ceremony with our story. Multiple guests commented on how good she was after the ceremony. She knows exactly what to do and does it well. She has plenty of ideas and options for those of us who don't know what we are doing ;-)

Emily

Married on 06/30/2018

Mebane was more than we could have asked for in an officiant. She was awesome at answering questions and really took the time to get to know us ahead of the wedding. It really came through in the perfectly personal ceremony she crafted for us. We had many family and friends comment on how it was one of the best ceremonies they had ever seen. Grace was amazing to have in helping coordinate day-of and make sure things flowed well for the ceremony. I can't say enough how great Mebane is and how beautifully personal the ceremony will be that she creates for you!

Alyssa

Married on 06/29/2018

My husband and I were over the moon when we found Mebane to be our wedding officiant. From the first time we met her, she made us feel completely at ease and assured us that she would be there for us throughout the entire wedding planning process. She is easy to talk to, and was genuinely interested in our story as a couple and our wedding vision. We both loved her sense of humor and immediately felt so comfortable with her. She truly gave us the ceremony of our dreams! She incorporated prayer, faith, humor, and was able to weave our love story into the ceremony which was so special to us and our guests. She made the ceremony very personal, making for some truly unforgettable moments. We received so many compliments from our wedding guests about Meb and the ceremony, and many said they had never seen a ceremony that was so personal. She is truly the best! Any couple would be lucky to have her as their officiant.
Are you interested?
Send a message