18 Reviews
Recommended by 93% of couples
Quality of service

4.6 out of 5 rating

Average response time

4.5 out of 5 rating

Professionalism

4.6 out of 5 rating

Value

4.6 out of 5 rating

Flexibility

4.8 out of 5 rating
11 User photos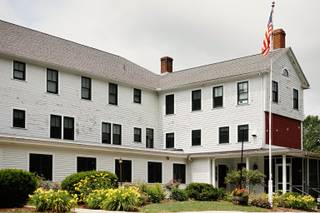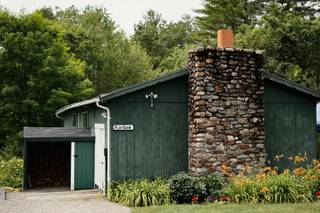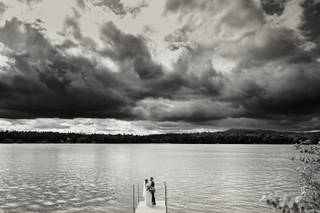 + 7

photos
Leda T.

Married on 08/20/2021

The perfect spot for a wedding!

We had our wedding at the Woodbound Inn and we had an amazing experience working with Max. Like many other couples, we had to postpone our wedding due to the pandemic, and Max was understanding and flexible with us as we picked a new date. We also had our rehearsal at the Woodbound Inn, and Max worked with us and our officiant to make sure we had everything we needed for the wedding. Our ceremony was supposed to be on the beach and we thought it was going to rain, but Max helped us plan and visualize exactly how the wedding could go inside. The rehearsal went longer than expected, but he timed it to ensure dinner was hot and ready for us afterwards. On the wedding day, Max communicated with me throughout the day to see that we had everything we needed from him and to make sure everything was ready, and because of this everything proceeded as planned. He checked in with us regularly during the wedding and worked to accomplish everything we asked. Max worked seamlessly with the photographers and DJ to make sure everything went smoothly. Our wedding went perfectly because of Max and his team at the Woodbound Inn. We stayed at the Woodbound Inn for four nights around our wedding, and Max ensured that our entire stay was wonderful. On our last night, we had a party of 20 people that wanted to eat at the restaurant and he went above and beyond to accommodate us. Thanks to Max, our whole wedding weekend was perfect!

Betty A.

Married on 08/01/2020

Amazing!!!!

With everything that has been going on in the last few months and having to push our wedding from May to August, Max and the Woodbound Inn were simply amazing to work wth and made my day more than what I could even imagine. I cannot thank them enough for everything.

Ali

Married on 07/21/2018

Wow! What a perfect day. Thanks to Andrea and her staff for everything they did to make this day so wonderful. From the first meeting with Andrea we felt confident that this was the place for our daughter's wedding. The setting was gorgeous, the staff was attentive and the food was delicious and plentiful. Having cabins and inn rooms on the premises worked out great. Most guests stayed and were pleased with the accommodations. The brunch the next day was delicious. An all around wonderful experience.

Are you interested?

Send a message

Maggie

Married on 05/26/2018

The Woodbound Inn was a wonderful place to have our wedding. They have everything that we were looking for: great outdoor woodsy space, cabins for more rustic accommodations and the inn for those interested in a typical hotel accommodation. We were happy to have the rehearsal dinner, ceremony, reception and accommodations all on site. We were able to see our guests throughout the weekend which was important to us. The staff was very helpful and accommodating of our large group. The food was excellent. It is such a special and unique place. We could not have been happier.

Cheri

Married on 10/29/2016

Two words-- Epic Weekend. The Woodbound Inn set the stage for this awesome milestone in our lives, and we are so grateful to have discovered this jewel in the woods! We got married with Mount Monadnock in the background, under the Arbor. It poured rain in the morning but it stopped right before the ceremony. They dried off the seats and the rest is history! All of our guests commented on how awesome and friendly the staff is and how DELICIOUS the food is there!! (we already knew, we frequent their brunches and highly recommend dinner & the pub!) We continued the party down at the cabins with a bonfire and s'mores and the picture perfect sky in the morning was breath-taking. Andrea, the event planner, is the calmest, most organized, and wonderful person to work with!! The whole weekend from arrival before the rehearsal dinner in the Brummer Room to checking out after breakfast on Sunday morning was perfect (and I don't use that term lightly) The whole weekend at the Woodbound surpassed any expectations we could have had! And the love and joy at our wedding was overwhelming and beautiful! Thank you Andrea! Thank you Woodbound Inn!! We will be back!! XOXO Cheri & Mike

Meghan

Married on 06/25/2016

We had our rehearsal dinner, wedding, and reception at the Woodbound Inn. The grounds are well taken care of and there are beautiful views and scenery. The rooms are well maintained and there was an experiences for everyone (ex: nice inn rooms, hotel like rooms, and rustic cabins). We had our rehearsal in the play barn and the reception in the ballroom. We liked that the facility offered multiple options for our events and was still small and cozy.
Prior to the wedding, Andrea the event coordinator was very response and knowledgeable. The whole team at the Inn was flexible to our dietary needs (allergies, vegans) and wishes we had for the events. The chef did a great job preparing multiple meals at each event to ensure all guests were happy. Staff was friendly and attentive.
We cannot say enough about how positive our experience has been with working with the Woodbound Inn and having our wedding there.

Sybil

Married on 06/13/2015

We had the most beautiful lake side wedding. Everything was perfect from the view to the food. All our guests loved the variety of rooms that were available to them. Rudy the chef catered to our special menu request with ease and it turned out magnificent! Our day was spectacular.

Rachel

Married on 01/03/2015

We enjoyed every minute of our time at the Woodbound and look forward to returning in the future.

Chris A.

Married on 09/27/2014

My wife and I would like to personally thank everyone at the woodbound inn for such a wonderful, picturesque location for our wedding. The staff was super friendly, even with last minute changes and scattered emails and calls from myself and family. They remained steady and ready. When we arrived for our ceremony that morning, the chairs, the arch, everything was set up and perfect. Our families were very happy and impressed with the attention to detail and service. We had our reception off site, but had a "planning" lunch there a couple weeks prior, and I have to say, it was very good, as well. Thank you to all for being part of our special day!

Kerry

Married on 12/28/2013

I don't even know where to start. The inn is a mixture of old New England charm with modern amenities. First of all, our room was perfect. The king bed was wonderfully comfy. The sitting room was lovely and the bathroom was amazing. There was a jetted tub with a HUGE walk-in shower. We could not have asked for more.

Rudy is an amazing chef. For dinner, I had seared scallops over a lemon thyme risotto that was amazing. Everyone in our wedding party felt the same way about their food.

And speaking of a wedding party, what a perfect place to get married. Our party was small--there were just the 8 of us. We had the ceremony in our suite, and it could not have been better. After dinner, we all went back up to our suite, to find that Rudy and Laura had sent a bottle of champagne and chocolate covered strawberries up to our room. That's just a small sample of the hospitality that we experienced over the 5 days that we were there. Everyone on staff was so helpful and accommodating.

If you are considering a wedding near Rindge/Keene, I could not recommend the Woodbound Inn highly enough. I promise that you will not be disappointed.

Amanda

Married on 07/20/2013

The Woodbound was an AMAZING place to get married! The wedding coordinator I worked with (who is now the GM of the INN) was there for me every step of the way. She held my hand during our rehearsal dinner, and during our ceremony. Whatever I requested, she made sure it was done, and she even put up with a few bridezilla moments with grace and aplomb! I am SO happy I was able to work with such an easygoing coordinator.

The FOOD was amazing as well! We got a number of compliments on how delicious it was, and NO complaints (which is surprising, as we had a lot of guests who are difficult to please!) The waitstaff/barstaff was great, and we got a number of compliments about them as well - and they put up with a number of people who may have overimbibed just a bit! ;-)

We had a lakeside ceremony that we feared would be rained out, but it ended up being a beautiful day. If you are looking for a gorgeous lakeside ceremony site, the Woodbound's private beach on Lake Contoocok is just lovely. Likewise with our reception space in the ballroom (they had just refinished the floors and it looked wonderful for our wedding) which is a simple and elegant space, and they are more than willing to work with you on what kind of decorations you want to put up. The ONLY issue I had was that the ballroom was quite hot due to a heatwave we were having that week, and I would urge the owners of the Woodbound to install some sort of central AC system, rather than having window AC's. However, if it had not been so hot, it would have been MUCH more bearable. But that's the chance you take with a summer wedding!

I cannot stress enough how wonderful a venue this was, and what a fabulous time everyone had (especially myself and my husband!) We have had many, many people come up to us to tell us that it was one of the best weddings they had ever been to.

I would absolutely recommend this venue to anyone who is looking to have a beautiful and fantastic wedding!

Elizabeth L.

Married on 07/04/2021

Perfect Small Barn Wedding

The Woodbound is an amazing, one stop shop for an all inclusive wedding venue.  The only vendors I had to book outside were the JP, music, florist, photography and hair/makeup- but the Woodbound supplied a list of recommended vendors that are familiar with the property. The wedding coordinator, Max, was very professional, attentive and has done everything in events from the bottom to the top in the past so he really understands all the ins and outs of an event. It was so nice and stress free to have him help us choose food, our linens, table settings, chairs and other rentals which he handled after we picked what we wanted. The price was reasonable and there was so much included in the wedding package, I felt like most of the planning was done for me! Max worked with us through the challenges that COVID presented including last minute planning (about 4 months out from when we booked). It was great to have something local for most of our friends and families and on site accommodations for our out of town guests. Not having to worry about transportation from hotel to ceremony to reception was so nice. The food was great, venue was beautiful, accommodations were amazing and all the staff was wonderful. Our day was perfect for us and all our guests raved about the wedding!

(Photo credits: Alex Gordias Photography)

+ 5

photos

Brenda

Married on 10/13/2012

We had our wedding reception held in the ballroom of the Woodbound Inn and it was just perfect! It's the perfect setting if you're looking for a country-style wedding. It's surrounded by trees and Mt. Monadnock in the background and is off a quiet, dirt road. It's very serene. If you're an outdoors-lover, this is the place for you. The ballroom has a wrap-around porch and since we got married last Autumn, I decorated it with mum plants around the porch. The catering coordinator I worked with was very accommodating and made the whole process as easy for me as possible. The only down-side to it, was that I felt the pricing for overnight guest rooms was still quite high, even with the wedding group discount. My guests chose to stay elsewhere because of this. Since our guests couldn't afford it, we ended up cancelling our wedding suite room as well. Other than that, it was a great experience and I would highly recommend it!

Lindsey

Married on 04/29/2017

We loved the Woodbound and had our rehearsal dinner, ceremony, and reception there. We were attracted by the gorgeous views of the mountains, the rustic cabins by the lake, and we even had a fire on the beach after the reception! The pricing is extremely reasonable and the staff is very accommodating. It was great to have everything, including lodging, all in one location.

Cocktail hour on the beautiful, large deck was perfect! We had a custom BBQ/comfort food menu complete with a macaroni and cheese bar with all sorts of toppings and two chefs making dishes to order -- our guests loved it.

The only thing to note is that the inn rooms do not have fridges or microwaves. It also would have been nice to have fresh flowers in the bridal suite for our arrival.

Andrea, the event coordinator, was very knowledgeable and answered all my questions along the way. She did a great job the day of, including setting us up with appetizers from cocktail hour while the bridal party and family were getting pictures done. We plan on coming back to the Woodbound for a vacation and to take advantage of the great food and summer activities at the lake.


Caroline

Married on 07/28/2018

The Woodbound Inn was the perfect venue for our wedding. We had an outdoor ceremony down by the water and it was gorgeous. The event coordinator checked in with us frequently and was very responsive via phone and email. The food was delicious! My father in law is vegan and they were very accommodating of his dietary needs. All of my guests had a fantastic time and enjoyed themselves during our wedding weekend.

Celsea C.

Married on 10/14/2022

Overall beautiful venue but communication could use improvement but still got everything done that needed to be

Great for rustic barn venue with delicious food.

While the property was absolutely amazing and our wedding was beautiful I had a few concerns with the service of the Woodbound Inn. Some of the staff was absolutely amazing and were very accommodating on the other hand, some of the staff was downright rude to myself, my wife to be, and our guests.

Rehearsal dinner - While I enjoyed my meal thoroughly, some of the guests were not so pleased with how the meal was cooked. While we were choosing our meals a gentleman came into the room (we had a private room) to ask if he could take some of our menus because the restaurant had run out. How do you operate a restaurant and not have enough menus to accommodate a full house? I found that a little irritating.

When we got to the venue the day before the wedding we discovered a huge mistake. They didn't order the chairs we wanted for the reception (which were the same ones we were using for the ceremony). They had very ugly maroon and gold chairs set up in the reception hall. My wife got a hold of someone right away to try and rectify this. Rather than admitting to the mistake made and say they would take care of it they gave my wife attitude and stressed her out way more than she already was. Not a good thing to do the night before her wedding! Then they said that they would take care of it, after the aggravation. They said they could either bring the ones from the ceremony and set them up in the reception while everyone had cocktail hour or they would get the company to deliver some. Fantastic! Except for the fact that after we had paid our bill in full, upon checkout I got a bill for $500 for the chairs they had to order. I run a business and if i make a mistake of that magnitude I eat the cost. I would NEVER in a million years expect a customer to pay for that. Since my wife and I had already paid them almost $10,000 and we racked up our credit card bills we were frantically opening up cards trying to come up wit the money.

I could go on and on..



Alicia

Married on 09/08/2018

Nice event on day of but difficult planning process

I want to start with saying my wedding ended up being beautiful and everyone raved about our incredible food and laid back atmosphere! At the same time, I want to be completely honest about my experience with The Woodbound Inn so other future brides are not blindsided the way I felt I was. I booked the Woodbound Inn for my wedding close to 2 years out because I fell in love with the venue's wooded atmosphere, the amount of guests it could accommodate overnight, the reasonable price, and the DELICIOUS food. I booked under the impression that all my guests would be able to book rooms onsite and that the estimated prices I was given would stay around the same. I also loved that I could have my rehearsal dinner and wedding reception all on one property. After that first visit, I felt really comfortable and thought I would be in good hands, seeing as how I had never planned a wedding and didn't know much about the process. I felt I would be able to rely on the onsite coordinator after our first meeting, as she was really helpful during our initial visit. Unfortunately, that just wasn't the case. The venue was not upfront in their communications with me especially about my guests being able to book at the venue. I was told all of my guests could be accommodated onsite which ended up not being the case. I had to scramble within months of my wedding to find a place for them to stay and a way to transport them to the venue. There were significant changes to the rental policies which were applied to my wedding even though I booked the venue almost 2 years prior. With all of the miscommunications and changes I had to make, I ended up needing to spend well over the amount that was estimated to me when I originally booked the venue. I had many venue related questions the year leading up to my wedding which were nearly impossible to get answered. I had to call and email multiple times to get in touch with the wedding coordinator, Andrea. The venue did not offer support with running the rehearsal the day before my wedding. There was also no support around decor for the wedding ceremony or reception. This wouldn't have been a problem for me except I wasn't even allowed to start decor until 10am the morning of my wedding with my ceremony being at 4pm. I had to hire a day of coordinator to make sure that I didn't feel totally overwhelmed the day of my wedding. It could be just me but I imagined that working with my wedding venue would be an experience where I felt special and supported since I have never been a bride/planned a wedding before. My experience working with the Woodbound Inn left me feeling overwhelmed, unsupported, and definitely not special. I felt like just another person having another wedding at The Woodbound Inn. I know this was not intentional and I think that this venue just simply had too much on their plate with the amount of weddings/events they were hosting in comparison the the amount of staff they had. For me, this would have been totally understandable if they had been upfront and honest about it instead of leaving me floundering on my own wondering if this is just what it is like to plan a wedding with a venue. Again, my wedding was a great event and I loved it. However, if knew just how much stress it would have been to plan my wedding at the Woodbound Inn, I would have made many different choices that would have reduced a lot of stress, cost, and negative emotions in the year leading up to my wedding.
Are you interested?
Send a message