140 Reviews
Recommended by 98% of couples
Quality of service

4.9 out of 5 rating

Average response time

4.9 out of 5 rating

Professionalism

4.9 out of 5 rating

Value

4.9 out of 5 rating

Flexibility

4.9 out of 5 rating
57 User photos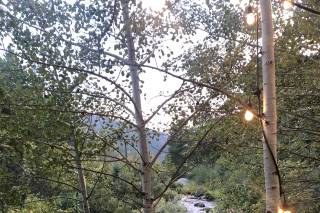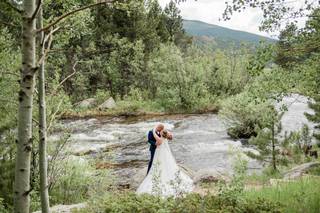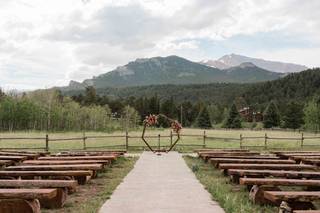 + 53

photos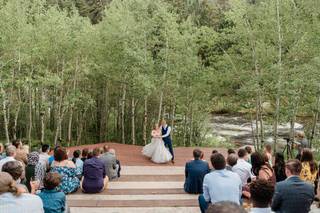 Taylor G.

Married on 09/01/2022

An authentic romantic location

I'm so unbelievably glad we had our wedding here. From the very beginning, we felt supported by the staff and knew they genuinely wanted us to have exactly the experience we wanted. Makenna always asked for our opinions and always gave her expert advice and bent over backwards to ensure we had the best experience working with their whole team. My whole family adored the location and staff, you can't go wrong by booking your wedding here.

Zoe S.

Married on 07/09/2022

Perfect venue for a perfect day

This venue is so stunning and the staff are professional, enthusiastic, and help make planning so easy. We had an incredible time there and can't thank them enough for helping to customize our wedding to be exactly what we wanted. Thank you for helping us start our marriage in such a perfect way!!

Karen F.

Married on 06/18/2022

WBL was the most amazing venue!

We had our wedding at Wild Basin Lodge on 6/18/22. It was the most perfect day we could have ever asked for. Our guests said that it was the best wedding that they have ever been to and that it was the most beautiful venue. We did the Elevated Package (All-Inclusive), and we're so glad we did. Having Hawley as our wedding coordinator helped me through the entire process - she answered my questions and kept me on track throughout, and she ensured the entire day went smoothly. The food, drinks, and staff were all incredible as well. They worked with us to accommodate all of my dietary restrictions and make us the most fun signature cocktails! The vendors on their list for us to choose from were all so great that we had a hard time deciding who to hire! But we ended up with a rockstar team, and I would do it all again exactly as it was. We had our ceremony in the meadow with the mountains behind us and our first dance by the river, and it was incredible being able to use both locations for the wedding and for pictures. It was a truly unforgettable day.

Are you interested?

Send a message

Katherine R.

Married on 06/13/2022

Dream wedding!

We loved working with Wild Basin. Makenna is so sweet and understanding, and we are so happy with how our wedding went. Everything went smoothly, and our guests had a great time. The food and drink were great, and Makenna spent a lot of time with us getting down the details. It's also an absolutely gorgeous property. I would highly recommend this venue if you're looking for Rocky Mountain wedding.

Alanna B.

Married on 05/14/2022

Wonderful experience

Wild Basin Lodge was the perfect venue for our wedding. Makenna went above and beyond in making sure we had everything figured out leading up to the big day, and I swear she was an actual mind reader day of, often solving problems before we even knew something might have gone wrong. The food was also truly spectacular, and my only regret is that I too busy having fun to eat more of it!

Stephanie H.

Married on 01/08/2022

A venue not to pass on

Wild Basin Lodge and its team made our wedding day incredible! From coordinating our first tour with them to the wedding day, they were fantastic. Hawley informed us of fire conditions when we were supposed to take a tour of the venue and was super helpful in rescheduling with us as an out of town couple. Because we are from out of town, we were able to schedule a private tasting and work closely with the team on site while we were in town. Makenna was a wonderful coordinator, very responsive and offering ideas whenever needed. Her energetic personality matched with our group so well and it was so fun to work with her. Todd crafted delicious signature cocktails that our guests throughly enjoyed. The chef was fantastic to work with! He made an amazing custom German menu based on family recipes I provided (and translated) and guests still rave about the food! The venue itself is breathtaking and the perfect spot for our winter wedding. We got married down in the Meadow Peak location that was the perfect backdrop in our photos. We all loved warming up in front of the beautiful stone fireplace inside afterwards. Overall, our experience working with the team here was fantastic and we highly recommend them! We could not have asked for a better wedding day or experience.

Jacqueline P.

Married on 12/19/2021

A Colorado Dream Wedding

It has been one week since our wedding and I just to express to you how much we appreciate everything that everyone at Wild Basin Lodge did to make our wedding day so special. We had so many guests comment that it was the most beautiful wedding they had ever been to. Many commented that it was "The Perfect Day" - which we absolutely agree with. The weather, the ceremony, the food, and the overall experience was all phenomenal. The all-inclusive package of the venue was very convenient for us since we live out of state. I cannot express how thankful I am for you both taking over all the decorating. You took my vision and made it a reality! Thank you so much for making our Dream Wedding come true! We cannot wait to make another trip out to Estes Park again.

Jamie L.

Married on 07/16/2021

Magical Wedding

The first word that comes to mind when I think about my wedding at Wild Basin Lodge is magical. We could not have asked for a better setting for our big day with mountain peak backdrops, a sprawling field of wildflowers (summer), and a beautiful rushing river. The lodge itself is beautiful, tucked back in the trees, with its separate dining area from the reception area which is so nice because your guests will have plenty of space to roam around without worrying about getting in the way of staff taking down or setting up different spaces. Speaking of the staff, I cannot say enough about how wonderful the staff is. This was a destination wedding for us, and we were primarily communicating virtually since all of our planning time was during the height of Covid. The staff could not be more helpful, knowledgeable, and accommodating to our every need. Dawn, the event/venue coordinator, talked through every step with us along the way, and on the day of, she and her assistant made sure each step went without a hitch. Todd, front of house manager, is also a mixologist and created the most perfect signature cocktails for our guests and made sure the food came out promptly during dinner. Hats off to the chef because the food was amazing, and it was all prepared right there at the lodge without having to order through a separate caterer. There were tons of options to choose from for the food too if you are looking for something beyond your standard steak and chicken. They serve the food family style too, so your guests can sample a little bit of everything and don't have to commit to one meal option. The best part of it all, you get access to the whole property for you and your guests for the whole day. Staff are working for just you all day to make sure you have everything you need, and you can really enjoy this beautiful slice of nature in peace and quiet. If you are looking for the all inclusive experience with a stunning backdrop, look no further than Wild Basin Lodge.

+ 2

photos

Kate S.

Married on 06/07/2021

Great for Intimate Weddings

Wild Basin was the perfect venue for our intimate ceremony and dinner. The space is great for both intimate and larger parties, as it has the space but doesn't feel empty without all the people. We had 13 people, including myself and the groom, and both the ceremony site and dinner by the river felt intimate and close to nature (which we love!). The WBL team is also amazing to work with, very accommodating and have lots of ideas to make your day just how you imagine...and are totally up for trying things they haven't done before! Also - the food is sooo good!

+ 6

photos

Wild Basin Lodge and Event Center's reply:

Kate, we were IN LOVE with your river deck dinner!!! The photos of the elopement are just stunning! Thank you so much for sharing! I hope your life as a married couple is full of joy.

Mustafa Q.

Married on 06/06/2021

If we could, we would get remarried here every year!

I don't know where to begin, Wild Basin Lodge is the perfect venue and made our wedding day magical. They went above and beyond to make every last detail of our wedding a priority and make our day as stress free and as us as possible. The staff and team feel like family and treated us like their own. When we came for a tour we joked about having lamas at the wedding and without hesitation they welcomed the idea and put us in contact with people to make it happen. All of our ideas, big or small they were willing to accommodate and made them a reality. I cannot say enough about Denice, Olivia, and the team. They are wonderful and are the gold standard for hospitality. As someone who grew up in culture of hospitality and service, I felt right at home, at ease, and taken care of with the Wild Basin team.

We highly recommend Wild Basin to anyone and everyone. The venue is breathtakingly magnificent, the people are even better. We could talk endlessly about Wild Basin, the team, and how they made our day unforgettable. Thank you from the bottom of our hearts! You all are the best!

Wild Basin Lodge and Event Center's reply:

Mustafa, you and Jamie had the most beautiful and creative brunch wedding! We are so happy you picked us to begin your life with as a married couple together

Ashley B.

Married on 06/14/2020

20Billion+ Star Review From Mr. & Mrs. Lee

There are not enough stars in the sky to let us give the full star rating that we want to provide WBL with. Their team took the scary and unknown territory of our wedding day in the middle of a pandemic and turned it into the most amazing, memorable day of our lives.
I cannot express how grateful I am that Olivia seamlessly became an unexpected, wonderful bridesmaid, how the chef greeted us at the table, and how our beer glass never appeared empty. The team's attention to detail and authenticity radiated in every move. And, it never went unnoticed by us.
Thank you, WBL team for being the team that you are and for helping to make this one of our favorite days to look back on. We look forward to being with you all again at the larger reception in June 2021.

Jenn L.

Married on 08/29/2019

So grateful!!!

My husband and I are both so grateful to Wild Basin for their care and support before, during and after our wedding. It was everything and more that I dreamed it would be! The planning was easy. Olivia and staff were so skilled in helping us make important decisions. I would highly recommend Wild Basin for your wedding! The personal touch and impeccable service are simply priceless!!! Thank you for the beautiful memories!

+ 16

photos

Wild Basin Lodge and Event Center's reply:

Jenn! Thank you for these amazing photos! You and Wes are an awesome couple! We cant wait to have you back here

Sally M.

Married on 08/13/2019

Best in the Business

Wild Basin holds such a special place in my heart. My husband and I agree that our wedding was our best day ever and we credit that to the amazing staff and scenery at Wild Basin. I can't speak more highly of the people who work at the venue. They care deeply about making people happy and work hard to honor the unique wishes of each couple. They are very experienced and professional and most of all, kind - they truly are the best in the business. It's a big deal to pick a wedding venue, and picking Wild Basin was our best decision

Wild Basin Lodge and Event Center's reply:

Sally, your words mean so much to us here! You and Jon were such a dream to work with. The love you have for one another is so precious, and the reason we love what we do here

Jaelyn M.

Married on 08/04/2019

We love them!

So far we have had a great planning process with them! We can't wait for our big day there!

Wild Basin Lodge and Event Center's reply:

That's so kind of you to say, everybody is loving our new bridal coordinator Olivia, you will be in great hands. We can't wait to celebrate you and Morgan in August!

Amanda

Married on 07/18/2019

Absolutely Fantastic!!

My husband and I got married at Wild Basin on 07.18.19. To say that they made the entire wedding process easy is an understatement. We booked a year out in July 2018 as an out of state couple. The communication and ease of the planning was phenomenal. I received an e-mail back (for my multitude of questions) promptly, usually within a day. We loved the transparency of the inclusive billing with the upgrades clearly labeled and no pressure regarding the upgrades. If we wanted to include anything, they had a can do attitude to making our wedding extremely special. I cannot rave enough about how seamless our wedding day went with the help from Olivia, Denice, and Lisa. They truly care and go above and beyond to make your day go smoothly and perfect. The food was absolutely amazing (we got MANY compliments) as was the venue itself. They also let you utilize any decorations that they have, which definitely helped with us coming from out of state (IL). We ended up using the Meadow for our ceremony site which was absolutely breathtaking. If you are hesitating, I would assure you that Wild Basin is wonderful and well worth the money to have a beautiful mountain wedding. Thank you again Wild Basin & Staff!!!

Cat A.

Married on 05/25/2019

5++++++ stars!!

This was literally the best day of my life. It would not have been possible without the support, kindness, patience, and persistance EVERYONE at wild basin had. Oliva was AMAZING! Even through some staffing changes prior to the wedding everything came together perfectly. They even made us a specialty cocktail without us even asking! I don't even have the words to describe how great our experience was before, during, and even now after the wedding!

Wild Basin Lodge and Event Center's reply:

Cat, it was an absolute pleasure to have your wedding here! Your Wild Basin family wishes you and Derek a happy forever after

Jeanine

Married on 02/03/2019

Amazing Winter Wedding

My husband and I got married at Wild Basin in March of 2019 and we had the most amazing white winter wedding! It decided to start snowing the night before the wedding, and with over a foot and a half of snow, we made the decision that we were still getting married outside! Denise and all of her staff were amazing and took such good care of us. The bridal suite downstairs was perfect and more than enough space for all the ladies in my wedding party. The bar and open space on the main level were perfect for guests to hang out before the wedding started and was wonderful for dancing and cake eating after dinner. This was the wedding of our dreams and we cannot say thank you enough to everyone at Wild Basin for taking such good care of us to make sure our day was perfect. The only negative I can say is that I wasn't hungry enough to really do justice to the amazing dinner that we were served. The food was so good and I wish I could have come back the next day to eat more! We were not able to come ahead of time to do the food tasting as we live in Texas, and Denise was right when she told us we could trust her that everything would taste fantastic. If you don't have the time, you don't need to taste it ahead of time...unless you just want to eat more amazing food!

Tiara

Married on 09/08/2018

This team is phenomenal. You made planning our wedding SO easy, SO fun, and SO memorable. Tom and I cannot thank you enough for being such a joy to work with. This venue is one of the most gorgeous places in Colorado and I have to pinch myself to really believe I was blessed enough to be here. I had the most special day of my life, surrounded by all the people I love, at Wild Basin. THANK YOU FOR EVERYTHING!!!!!

Taylor

Married on 09/05/2018

Thank you so much for helping to make our wedding such a special day. It really was the perfect day! You all worked so hard to pay attention to every little need and detail. The food was delicious and every staff member was so helpful. We feel blessed to be a part of the Wild Basin family. We are looking forward to visiting you all very soon. Thank you again for everything!

Bianca

Married on 08/27/2018

We had our wedding ceremony and reception at Wild Basin Lodge on August 27, 2018. It was absolutely gorgeous day! The meadow ceremony site has a really gorgeous view of the mountains. We had a hard time choosing between the meadow ceremony site and the river ceremony site…so we just used both. Both sites are easily located within each other, so it was very easy for our guests (especially for my uncle who was in a wheelchair) to get from place to place. I was extremely happy to work with Christina and Denice throughout the entire year. Christina was so wonderful to work with. She made me feel comfortable and taken care of, and she always answered all of my questions with the utmost patience. The staff and bartenders were also very accommodating throughout the entire event and we never had to ask for anything, because they were already there with a drink in hand for us. The venue is beautiful, the food is good, and the staff was extra helpful! All of my guests are still talking about this place. It is the perfect place. We were trying to find a place where I could have a ceremony and reception in the same place, have a mountain backdrop, and one that included as many services as possible. I looked at 9 different venues during my search, and for everything that was provided, I really felt that Wild Basin gave me the very best package and services for what I paid. I am so thrilled that I had my wedding at Wild Basin! It was the best choice I made for my wedding, next to my wedding cake. YUM! It was the perfect wedding, perfect venue, and the best staff I could have had on my special day! If I could get married all over again, I would definitely pick Wild Basin again! I would recommend this venue to anyone.

Katie

Married on 08/18/2018

The Wild Basin Lodge helped give us the wedding of our DREAMS! The location is absolutely stunning, and so private. It will only be you and your guests on the day of your wedding. Christina and Denice were so helpful and communicative and it really helped us with our planning. They were also so flexible and understanding when we were all over the place getting closer to day of. They made our wedding day run so smoothly and everything was so beautiful and the food was great and filling! The bar was awesome as well, we got to have a signature drink created by one of the bridesmaids, and we were able to stock the bar with special requests. It was just a pleasure working with everyone there, and our wedding was perfect and we could not be more grateful!

+ 3

photos

Kelsey

Married on 06/08/2018

We held our reception here on June 8, 2018. It was more than perfect. Denise and Christina made the day so easy and effortless. They even had decorations for us to use. They are incredibly organized and I am so grateful that they took the time to put together a very detailed schedule of the day and communicate with the DJ and florist. It has a rustic, Colorado feel and the property is gorgeous. We couldn't have asked for a better venue. It was a dream come true!

Alyssa

Married on 05/27/2018

Where do I even begin.

My husband and I reserved the Wild Basin Lodge for our wedding and literally everything about it was PERFECT. We began by taking a tour of the property (the meadow wasn't accessible since it was January) and they answered every question we had and then some. They clearly laid out what services they offer, the cost details, and gave us a lot of helpful resources for nearby vendors who they've successfully worked with in the past.

From that point, they answered every single email I sent, even the ones that were full of 30 questions. They recommended a nearby vendor who absolutely nailed the dinner reception. They consistently checked in to make sure the questions they had were answered and that they had all of the details they needed to make our day successful.

The day before the wedding, we met up to do our rehearsal - this was the first wedding for a lot of my friends, so we were all pretty clueless about what needed to happen. The staff walked us through every single step of the ceremony and eased any and all concerns that we had. We knew exactly what to do and when to do it.

On the actual wedding day, the staff was happy and helpful and really stepped in when anything needed to get done. I'm sure that I don't even know the half of what they were doing in the background. They asked for my input if a decision needed to be made, but otherwise left me free to get ready and enjoy my day while they helped get everything set up and ready to go.

I really can't say enough how amazing and wonderful the staff is and how perfect my wedding day was. I am forever thankful and grateful for having picked this venue for my wedding.

Sarah

Married on 04/20/2018

From the first time my fiancé and I walked into to Wild Basin lodge we knew it was the place for us! After talking with the owners and management for ten minutes it felt like we were talking about our dream wedding with a family friend. The owners/ management love where they work and you can tell from the gorgeous views the property offers, many ceremony sites for all styles and wedding sizes to the quaint feeling the rustic lodge offers without sacrificing space we were so excited we found our wedding venue! Moving to booking and planning was a breeze when we made the decision to book Wild Basin! I'm sure other brides can agree you love it but the groom more price focused than wedding visionary Wild Basin broke all the prices down and made sure we both knew what exactly we were paying for and if something didn't quite fit into our vision it was reworked with a smile and "how about this" from the best owner/management team we had encountered. All in all it has been a great experience and we can't wait for our dream day at Wild Basin Lodge! You must check them out and can book a venue tour any day of the week!

Manasvinee

Married on 09/23/2017

Wild Basin Lodge is truly a magical place! We couldnt have picked a better venue to celebrate our marriage. It is a gorgeous setting, incredibly affordable but none of this makes the top of my list. The people make WB the best place to pick for your special day. Denice and Christina and all the other WB staff are absolutely amazing. We felt like we were part of the WB family. They dealt with all of our questions and concerns through the 18 month planning process AND then made everything move so very smoothly the day of. The weather gods decided it wanted to rain on our day and they made everything work. We have only heard great things about the food, and as the bride and groom we made sure we were going to eat our own food! And it was WORTH it. Do not think twice about signing their contract. They will make your dreams come true!
Are you interested?
Send a message