34 Reviews
Recommended by 99% of couples
Quality of service

4.9 out of 5 rating

Average response time

5 out of 5 rating

Professionalism

5 out of 5 rating

Value

4.9 out of 5 rating

Flexibility

5 out of 5 rating
44 User photos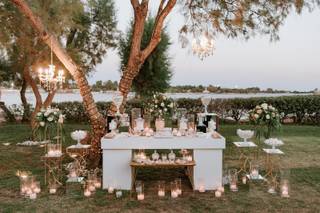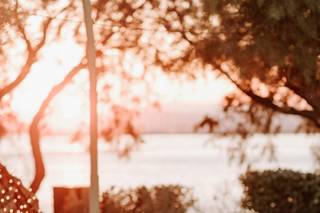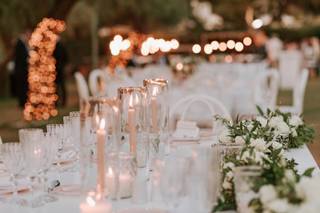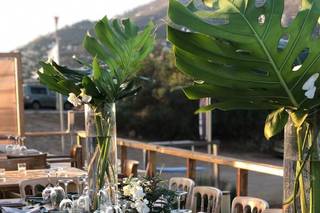 + 40

photos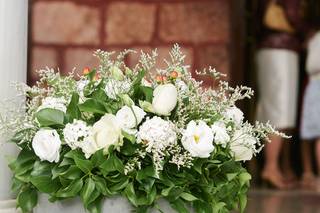 Julia T.

Married on 07/02/2022

Remarkable team

Your dream wedding will become a reality with White Stories Events. The incredibly talented and professional team goes above and beyond to make your wedding – both the planning and the day itself – a fun, beautiful, and magical experience.

Katerina is not your average wedding planner – her ability to take the client's vision and make it come to life is unmatched. She loves her work, and that passion shines through in the care and consideration that goes into every single detail. In addition to her unparalleled wedding design and coordination skills, Katerina is also a genuinely kind, patient, understanding, honest, and dependable person. It cannot be overstated how much my husband and I valued these qualities, especially since we were planning an overseas wedding.

From the bottom of our hearts we thank Katerina and Dimitris for making our wedding day the absolute best day of our lives – everything was stunning and having them there to coordinate everything allowed us to rest easy and simply enjoy ourselves. We thank them for this partnership and their friendship. Best choice we ever made!

Love,
Julia & Evan

E V

Married on 10/06/2020

A very detailed professional

Katerina and her team are excellent professionals. We had hired them for our son's baptism and our idea materialized very well. Katerina was very responsive and all her planning included even the smallest details. She went out of her way to contact our not-so-responsive venue. She was very flexible with some last minute changes and we much appreciated that. I also liked how budget-conscious she was, as all her suggestions took into account the number of guests and our budget. All our guests were very impressed with the decor and organization. Definitely recommend her services to anyone looking to organize a baptism (and from the looks of her work a wedding as well!) in the Athens area.

Sergei

Married on 09/07/2019

We could not have asked for a more beautiful wedding or a better experience with a planner. Do not hesitate to go with White Stories.

Katerina and Dimitris were incredible from day 1. We interviewed several different wedding planners before making the decision. It was clear from our very first Skype call that White Stories was the one. If you're still looking and trying to decide on a planner for your wedding, you can stop here, you've found the right team.

Katerina was incredibly patient and thorough when we were first trying to find a venue. We had a ton of options to choose from and everything was made very clear. The venue was the most beautiful place we could've imagined. Our guests told us they felt like they were in a movie because the venue and the view were so incredible. Katerina and Dimitris went above and beyond in the set up and decorations for our wedding, it was an absolute dream come true.

We also had a specific request to have the ceremony in a Greek church. What we didn't anticipate was that because we were coming from Canada, the process to have a real ceremony in a Greek church is not so simple. We read countless posts online from other couples in similar situations that simply gave up on the idea of a church wedding in Greece and had a symbolic ceremony instead. If you're not Greek, the paperwork and bureaucracy to get into a Greek church for a wedding is overwhelming. Katerina and her team patiently led us through the entire process and we were able to have our dream wedding. We can't thank them enough for all the information they gathered for us, for all the coordination and patience in getting us to the alter.

We could not have asked for a more beautiful wedding or a better experience with a planner. Do not hesitate to go with White Stories, they are the real deal.

Are you interested?

Send a message

Marie

Married on 07/28/2019

Absolutely amazing

Katerina and the team at white stories were absolutely phenomenal!! They went above and beyond anything we could've ever expected in every way possible. We had such a pleasurable experience with them, always responsive, went to great lengths to make sure everything we needed was met and their organisation of the entire day was impeccable. Honestly, we've never experienced such an efficient yet caring team to take care of us and our special day. We are forever thankful for all their incredible efforts. WE LOVE YOU ALL XX

Mathioudaki P.

Married on 07/12/2019

Highly recommended!

Very professional and at the same time very personal interaction throughout our wedding preparations! Can definitely help you create and enjoy an amazing experience on your special day!

Chrysa B.

Married on 07/06/2019

Our best day planned by the best people!

Katerina and Dimitris spent a whole year liaising with us and guided us all the way through our (what turned out to be) magical wedding night - we will always be grateful. Amazing professionals with great attention to detail and very responsive to our requests. Everything went according to plan and all the professionals, which WhiteStories put us in touch with, went above and beyond to make our day special. We will miss the regular calls/emails with these wonderful people but we will keep in touch and hope to create more amazing memories with them as friends! Thanks so much guys - keep up the good work!!

Alan

Married on 06/30/2019

Amazing experience!

The whole team was both professional and friendly from the moment we first made contact. They made us feel super relaxed about everything and we were very rarely stressed throughout our one year of wedding planning. The wedding itself was amazing and we have White Stories to thank. We couldn't recommend them enough!

Aimilia P.

Married on 01/12/2019

Part of our romantic wedding

Our experience was magnificent with these wonderful people! Since day 1 their kindness and familiarity overwhelmed us and along the way they contributed to every aspect giving valuable advices and participated in our wedding day as part of our own guests. We were happy to share these moments with them!

Stephan T.

Married on 11/22/2018

Party for Two

Without hesitation I recommend White Stories Events for any of party planning needs. I found Katerina and her wonderful team on line in the US and reached out. Immediately White Stories Events responded. I had several specific and complicated requests for a small outing for two with short notice. The end result was breathtaking, whimsical, perfection and absolutely and event that the Love of my life could NEVER forget. I could not thank Katerina and gracious team enough. I implore anyone who reads this review to expect that White Stories Wvents will ensure that all your needs are met and so much more. I must add, in my conclusion, that by the end of my experience with White Stories Events my sweetheart and I felt that we had gained a family in Greece.

Mina Y.

Married on 11/19/2018

Our Perfect Wedding

If someone asks me what my favorite part of my whole wedding process was, it was without a doubt meeting Katerina and her husband, Dimitris.

We had a very good feeling after our first video chat with Katerina. We had no idea how to navigate the world of Greek wedding planning without know the culture or the language. However, from the get go I could tell she was going to go out of her way to empathize with my worries because she would call or email me back if she felt I wasn't completely relieved after chatting.

Katerina made recommendations on vendors not because they were the flashiest, or fanciest, or most affordable, but because Katerina knew that the people doing the work were honest, hard working, and passionate about their respective crafts. (We saved some of the intricately designed cookies from the wedding because we dare not eat them!)

When we visited Athens a few months prior to the wedding, Katerina and Dimitris not only made sure we covered every single detail to our satisfaction, but went out of their way to really get to know us and make us feel treasured and taken care of. They have a sixth sense of what makes you comfortable and we have never felt more welcome anywhere else in the world than sitting down with them.

On THE day, to say that Katerina and the White Stories team gave me the wedding of my DREAMS would be an understatement. The decorations, the flowers, the food, the setup, the bar, the lighting, the dessert table, the favors, the most miniscule detail was absolutely perfect.
Katerina took what everything that we had worried about, all of our stress and uncertainty, and combined it with what I had envisioned and turned it into an absolute masterpiece. Our guests will not stop talking about our wedding. Our friends that were unable to attend message us to this day, lamenting at missing the picture-perfect, Pinterest-esque event.

Katerina, thank you so much for making my wedding so beautiful, so easy, and so wonderful. Thank you for being so awesome and being the absolutely perfect person to work with!

P.S. Please hurry and make a trip to the U.S. because Paul misses raki with you and Dimitris very much!


G Rados

Married on 08/25/2018

Dreamy event execution

The couple is service & customer oriented to the highest levels.
They can be consultants and servants at the same time.
Your dream event can become reality if you trust them.

Popz

Married on 07/21/2018

Amazing service & amazing people to work with

Words cannot express enough the great job Whitestories has done for us! I couldn't have better things to say about Katerina and her amazing and very professional team. Our wedding looked as it came out of a magazine. Katerina is a top-notch planner and we couldn't be more lucky to have her as our planner. It's like she had a sixth sense and she was reading my mind all times. We received so many compliments from our families and friends, i wouldn't even believe all these nice things they told us. Katerina is super friendly and easy to work with. She knows what she is doing and she can get your the best quality for the price you want. If you ever feel stressed out about anything, Katerina can make anything disappear. The day of the wedding, I didn't even call her to check things out and trust me this tells a lot about the level of professionalism you will receive from Whitestories. I was so calm the day of the wedding because I knew she would have taken care of everything even things you didn't realize you needed something.
Katerina and her team were super organized and pleasant to work with. Make yourselves a favor and hire Whitestories to help with your wedding planning!! You won't regret it! I really miss working with them.

Stella F.

Married on 07/21/2018

I totally recommend the company

Εξαιρετικά επαγγελματίες! Έμεινα σούπερ ευχαριστημένη! Αντιλαμβάνονται τις ανάγκες του πελάτη, προτείνουν λύσεις, προσαρμόζονται στα δεδομένα και φέρνουν εις πέρας άριστα τα συμφωνηθέντα. Επίσης, έχουν εξαιρετικούς συνεργάτες. Μπράβο!

Tracy S.

Married on 06/16/2018

Professionally personalized experience!!!

Working with Whitestories event felt like not "working" at all! Everything was so efficiently and proactively organized that all you had to do is sit tight and enjoy the ride... Whitestories' team is undoubtedly a very professional group of individuals; always trying their hardest to make your wishes come true and succeeding in it!!! At the same time, though, they are very pleasant to hand out with making planning our sons' baptism an amazing experience from beginning to end! A "story" to remember for life!

Maria

Married on 04/15/2018

Excellent service! Very friendly and reliable, White Stories addressed all our needs with a very friendly and can do approach. Very creative, they organised an amazing event that our friends and family absolutely loved.
I would highly recommend them; you will be in good hands!

Nantia

Married on 09/02/2017

Great people with amazing ideas!!They made our dreams come true!!Best quality and great taste!!They helped us all the way through!!Love you guys!!

Anthi

Married on 07/29/2017

We really appreciated her help as far as the organization of our wedding/christening was consider! Would definitely recommend her to any couple that woyld ask as for a professional who truly loves its work!

Anita

Married on 07/23/2017

There are no words to thank you Katerina for what you did for our wedding!Everything was perfect and there was nothing to worry about that night! The decoration was amazing and our wedding was just fantastic because of you!!!Love you!

Dimitra

Married on 07/15/2017

ΤΕΛΕΙΑ ΟΡΓΑΝΩΣΗ !!!!!!!!!! ΟΝΕΙΡΙΚΗ ΒΡΑΔΙΑ!!!!!!!!!ΣΥΣΤΗΝΩ ΑΝΕΠΙΦΥΛΑΚΤΑ

Evangelia R.

Married on 07/08/2017

Amazing unicorn baptism 8-7-2017

Katerina was very professional and she demonstrated high level of commitmnet to the organization of the baptism of my daughter. Always creative and very responsive to all my requests she managed to creative the baptism of my dreams. Thank you so much!!

Souzana

Married on 07/01/2017

The best choice !!! Thanks!!!!

Andriani

Married on 06/23/2017

Katerina was an excellent professional smart and speedy girl!!! She fully understood our needs and exceeded our expectations with her proactiveness and smile.. I trully recommend the assistance offered for these unique moments!!! Congratulations guys, keep on the good work..

Marilena

Married on 05/20/2017

We can't possibly say thanks enough to Katerina and the White Stories team. They made our dream wedding come true, and we left feeling like we had made life-long friends with someone for whom we now generally care about, and who cares about us. The relationship we have with Katerina now is personal, she is like family to us and we feel very fortunate to have met her. Even from that very first conversation, we could tell that there was something different about the way she worked. She had a level of personal involvement and responsibility that was a cut above the other planners. She helped us establish personal connections with every single vendor. We stayed in constant communication. It didn't feel like a chore, for her, nor for us. It felt like we were staying in close touch with a great friend. She was very good at getting our input on the exact issues that mattered to us. She would take care of all the details that didn't need our attention, and make it very easy for us to decide on the things we needed to. She let us be as involved as we wanted. One of the qualities that distinguish her is that she understands exactly what you want without many words. We could not have imagined it would feel so effortless. Looking back, it really feels like we had the easiest time in the world planning our wedding and it's all thanks to Katerina for making it such a low-stress endeavor for us. She is not only exceptional at what she does, she is a wonderful person. Her attention to detail and her remarkable good taste were evident the day of the wedding. She created a wonderland for us, it all looked so much better than we could have ever pictured it to be. Everything was absolutely perfect and all of our guests were very impressed. She really is brilliant at what she does she is really fun to be with. Her kindness and her loving personality really set her apart. Katerina is a very humble person and we owe her a huge thanks for putting together the perfect day for us!

+ 7

photos

Julia L.

Married on 04/23/2017

quality of work,great aesthetics,professionalism,communication and friendly mood

The occasion was the organization of my son's baptism. I saw a high quality of work, a great aesthetics, professionalism, communication and a friendly mood. The final setting was much more beautiful than our expectations!! sincerely congrats on all your works !!

Dora

Married on 02/18/2017

We were very happy to choose White Stories to organize our baby girl's Marissa's christening!! Katerina, Dimitris and the rest of the team made this day very special for our family!! I wouldn't change a thing!!!
Are you interested?
Send a message