Reviews
4.9 out of 5 rating
Quality of service

5 out of 5 rating

Average response time

4.9 out of 5 rating

Professionalism

5 out of 5 rating

Value

4.9 out of 5 rating

Flexibility

4.9 out of 5 rating
99%
Recommended by couples
12 User photos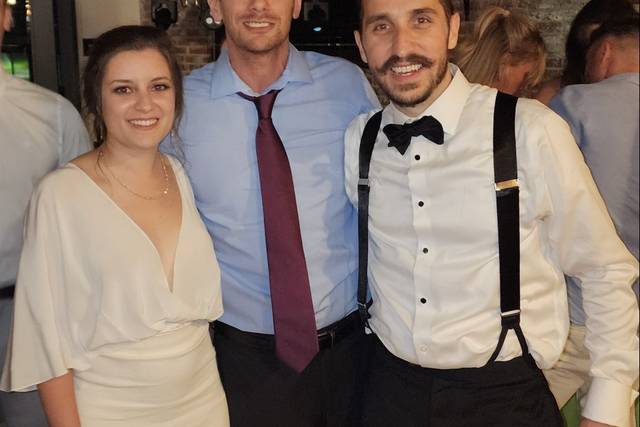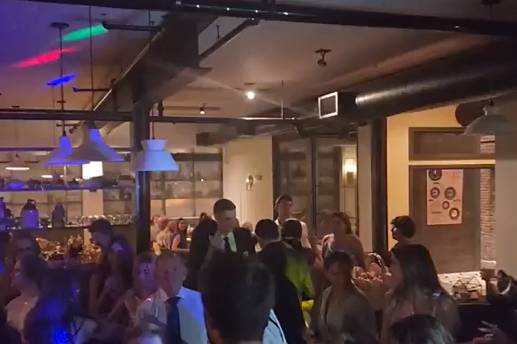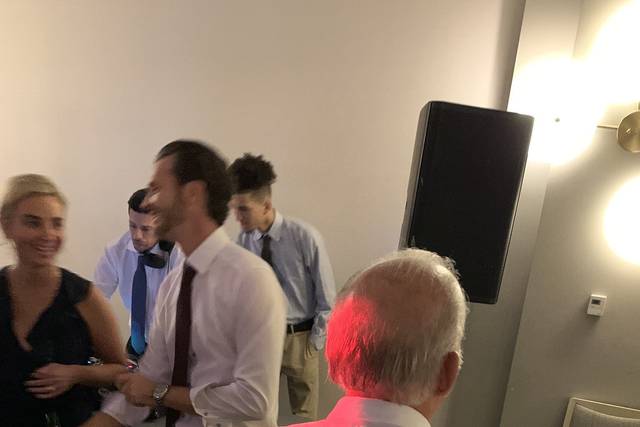 + 8

photos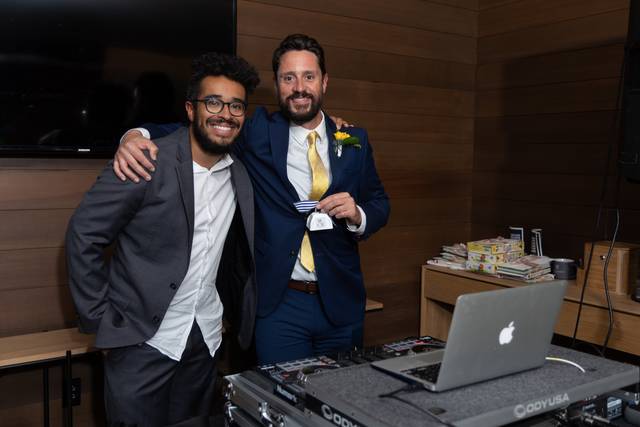 Molly D.

Getting married on 10/01/2024

Evan absolutely crushed it

We had the most amazing experience with Evan at White Label. Evan checked in with us multiple times prior to our wedding. He got to know our music taste, and us as individuals (including spotify deep dives). Evan and White Label were proactive and the best communicators out of all of our vendors. We had a few logistical challenges with weather and Evan went above and beyond to make sure things went smoothly. We waited 2 years with Covid for a party and Evan made sure everyone stayed out on the floor dancing, even our grandparents. Out of all the weddings we've been to Evan is easily our favorite DJ we've experienced and we're glad it was our own wedding. We would highly, highly recommend working with him.

Kelly

Married on 09/29/2023

The best!

We had Evan as our wedding DJ and it was one of the best experiences!! He was so helpful and informative from the very beginning and especially as the wedding got closer. He was available for calls and e-mails and was very responsive. On the day of he was amazing!!! I was nervous about not having a fun dancefloor, and with Evan as our dj I don't think anyone even stopped dancing!! He definitely created such a fun and exciting environment and I don't think our wedding would have been as great without him!! I could not recommend him enough! Weeks after our wedding and guests are still raving about him!!

Nick

Married on 08/20/2023

The Best of DJ (Hevan) Evan

We had DJ Evan for our wedding on August 20, and it was an absolute blast. He was amazing to work with throughout planning and bringing together the whole event throughout our day. Thank you to Evan, it was an unforgettable night!

Are you interested?

Send a message

Chris

Married on 08/12/2023

DJ Evan Crushed It! Highly Recommend!

Wedding planning can be stressful. Finding White Label and DJ Evan was the most seamless part. We had one initial conversation with Evan and were quickly put at ease. He followed up with some video clips from his other events and we knew we were in good hand. We checked in again a few weeks before the wedding and even had some last minute, week-of changes to the song selections which DJ Evan made happen without blinking an eye.

We had a very eclectic group or people ranging from Italian, Turkish, Latino, and Romanian; 90's rockers to 60s/70s classic rockers and DJ Evan kept everyone on the dance floor for hours. To paint a picture, we had a guest split his pants dancing - so you know it was a good time!

At points our schedule had to shift and DJ Evan was flexible and kept us worry free by communicating clearly throughout the whole process and working with the other event staff. At the end of the evening we received so many compliments from our guests regarding the music and dancing.

DJ Evan was also able to provide an additional setup for our ceremony which was outside. He adjusted levels as needed ensuring that everyone could hear clearly. The next day DJ Evan shared a few video clips he had taken from the DJ stand and it was special to relive portions of a whirlwind day.

We highly recommend DJ Evan and the team at White Label!

Olivia A.

Married on 07/30/2023

DJ Carl with White Label Wedding DJ's

DJ Carl was very organized, friendly and professional! My wife and I were confident that our wedding would be a blast ( good wedding music is super important ). We especially loved the music survey Carl sent to us to get an idea of what music we would like to be played at the wedding and during what times. If you are planning a wedding and looking for a DJ look no further !! White Label Wedding DJ's are the best. Thanks so much !!! Olivia & Sara

Katie H.

Married on 06/24/2023

Packed floor the whole night!

If you want a true artist and DJ to keep your dance floor packed for the entire night, hire Craig! We had Craig as our wedding DJ in June 2023 after booking him through White Label DJs. He was incredibly easy to work with and delivered an amazing set. From the moment we walked into the reception to the very end of the night people kept coming up to us and asking the same question: "Where did you find this DJ? He's amazing!" We had a packed dance floor the whole night and the transitions and mixing between songs blew everyone's minds. Craig's creativity became a talking point for many of our guests at the wedding and we are still talking about how good Craig was two months later.

The process with White Label DJs was extremely easy. The initial matchup was great. We filled out a brief questionnaire and we were assigned to Craig. After filling out a more extensive questionnaire about our music taste and how we wanted each section of the wedding (Cocktail Hour, Dinner, Dancing) to sound, we set up a quick meeting with him and he assured us that he understood exactly what we wanted. We left it to him, and the results were amazing.

Lauri K.

Married on 06/24/2023

White Label DJs, Carl Stenzel, A+

I hired Carl Stenzel from White Label DJs to provide sound and music for the full duration of our wedding in Portland, Maine (from the ceremony to the late night dancing ending at midnight). He did a fantastic job with all aspects of event and could not have been more of a pro! People were dancing all night, his mixing was tremendous, and numerous guests commented on how great the music was at our event. We really valued his role in our special day.

Eric A.

Married on 06/17/2023

Awesome Job and Amazing Service

We booked white label DJ from a referral of another friend and are really happy with the decision! Evan (DJ Hevan) was an awesome person to work with and he went above and beyond to make sure the bride was happy with every thing! Leading up to big day, Evan made sure to connect and confirm all the details from beginning to end. He was very experienced with the timing and structure of the entire day and we were able to not worry about a thing! We gave Evan a few recommended songs for some durations and he ran with it and the dance floor was always full. I would recommend this service to anyone!

Ilana C.

Married on 03/15/2023

Fantastic DJ!

We had a wonderful experience with Craig Harriman through White Label! Everyone at the company was communicative and easy to coordinate with from the very start. Craig was simply wonderful to work with from taking our recommendations to setting up the sound system for our ceremony & reception to his DJ'ing with seamless transitions. All of our guests complimented his work and his energy! Thank you Craig & White Label!

Anita S.

Married on 12/30/2022

Wedding dance party of our dreams!

We hired Omari for our wedding and he did a fantastic job! We barely left the dance floor! Our friends and family commented on how great the music selection was. He combined all of the many references and vibes we gave him and turned it into the dance party of our dreams. It was truly a wonderful night and we could not have been happier.

D&E

Married on 11/13/2022

DJ Evan had the place rockin'!

DJ Evan could not have done a better job for me and my wife's wedding. The guy absolutely killed it. The dance floor was rockin' all night long and his music choices made sure to cater to all ages. From scheduling meetings early on, to last minute changes, he was incredibly accommodating and professional. My wife and I had people coming up to us weeks after our wedding telling us that it was the most fun they had had at a wedding in years. We could not have asked for a better experience and were truly happy we went with Evan for our DJ.

Rachel W.

Married on 11/05/2022

Choose White Label for a Wonderful Wedding Day!

Our experience with WhiteLabel and Carl was fantastic from start to finish! The DJ is a critical part of a successful wedding day and finding the right fit is not easy. We chose WhiteLabel because they provide inclusive service with several DJs to choose from to make your ideas for the day reality. Our desired vibe was low-key; we wanted the music to guide the flow of the day from ceremony through food service and into the dance party finish. We knew that Carl was the right choice from the first conversation. He understood what we were looking for and talked us through how he would make our vision for the day happen and was there to answer questions as we had them in the months leading up to the wedding.

The form that WhiteLabel provides in the weeks prior to the ceremony is comprehensive and makes it easy to flesh out the details. Both the company and Carl were responsive right up to the day and our venue staff told he was a pleasure to work with during set-up and breakdown. Carl executed the day beautifully and just as we had planned. Several guests remarked on how much they loved the cocktail and dinner music in particular. We made a few in-the-moment tweaks and he rolled them in seamlessly for us. It was absolute pleasure to have Carl at our wedding and we highly recommend that anyone consider WhiteLabel and him for their event!

Jay F.

Married on 10/15/2022

DJ Evan knocked it out of the park

1000% would recommend DJ Evan and White Label. Not a person was left in there seat when the dance floor opened up and it stayed that way literally the entire night. People looked like they jumped in a swimming pool by the end of the night DJ Evan had them on the dance floor the entire time. Just banger after banger! We left it completely up to him on what to play with only 2 songs we wanted to hear and he absolutely CRUSHED it!

Prior to the wedding, Evan took the time to speak with us numerous times, called & texted, and even met us out for coffee. He put us at ease with one less thing to worry about on a day where you have a million things that could go wrong, going with Evan the music will not be one of them! We had 2 DJ set ups and his transition from cocktail hour to the reception was flawless. 10 outta 10 couldn't be happier with DJ Evan

Tali G.

Married on 10/01/2022

The best wedding DJ!

Working with Craig and White Label DJs was such a seamless experience. We had calls with 2 different DJs to find the best match for our music taste and wedding vision. Craig was incredible! He did the music for our ceremony as well as the cocktail hour and reception. He followed our recommended genres for each event and mixed songs seamlessly. He played off of the vibe of our guests and kept the dance floor full all night! We can't even count how many of our guests came up to us asking where we found Craig and complimenting us on how great of a job he did. Would hire Craig and White Label DJs again in a heartbeat!

Caitlin C.

Married on 09/17/2022

You should absolutely have Craig as your DJ

We were really unsure of how to pick a DJ for our wedding - we were married in a restaurant and the dance floor was a section of the restaurant off to the side from the tables. White Label was a very down-to-earth experience and helped us create the dance floor/DJ experience we wanted without selling us other components that we weren't looking for. Every aspect of working with White Label was easy - they were responsive, sent a survey in advanced to help identify music we like and to make sure the evening went smoothly and according to schedule. They also answered questions very promptly which was important for us because we had never planned a wedding before and were not using a wedding planner.

OH my goodness, now to our DJ, Craig was so much better than anything we expected. He really made the night something we will never forget. He was incredibly easy to work with and interested in our musical tastes, but most importantly the dance floor was packed the entire night until the last song. We heard from our youngest and oldest guests that they loved the music the DJ played and one of our friends who has been to over 40 weddings in the past 5 years went out of his way (and is still talking about) how Craig was the best DJ he has ever heard at a wedding. Craig is masterful at mixing music and changed up the music so there was something for everyone without changing genres every song. We specifically heard from guests that it was the best wedding DJ without playing every overplayed wedding song - people requested his playlist, asked how we found him, and continue to comment on what a memorable DJ was at our wedding. I cannot recommend Craig with any higher praise - thank you White Label and Craig.

Julie S.

Married on 09/10/2022

AMAZING start to finish!

Was so impressed with the communication from White Label DJs; we were able to tell Nate what our vibe was and he connected us to Craig who was instantly connected with. Craig completely saw our vision for our big day and was instrumental in creating the perfect party! Everyone has raved about our dance floor and we have Craig to thank for that! He was THE BEST!

Abigail P.

Married on 08/06/2022

Responsive, friendly, wonderful!

I'm so glad we went with White Label DJs for our wedding! They responded to our request quickly, and everything was so well organized. We absolutely loved DJ Evan! Our wedding was on the smaller side (65 people) and had a wide span of ages, and we were pretty worried that people might not actually dance. Evan was so kind and comforting talking through what we wanted + our concerns, and our dance floor ended up being tons of fun and the dancing portion of the night absolutely flew by. I would recommend them to anyone, and if we ever needed another DJ we'd hire Evan again in a heartbeat.

Minjoo K.

Married on 07/31/2022

Evan was amazing!

It was wonderful working with Evan for our wedding! Leading up to the wedding he had excellent, prompt communication and worked with us to prepare songs for each part of the evening (e.g., ceremony, cocktail hour, intro songs, dancing, etc). He was extremely professional and very pleasant to work with. He even took some videos and shared them with us immediately the next morning after the wedding, which we really appreciated. It was also great working with Nate to coordinate the contract and add in extra time and additional setups. Overall it was a great experience and thank you Evan and WhiteLabel for an excellent experience!

Carolyn W.

Married on 07/30/2022

Amazing Wedding with White Label!

We recently had the pleasure of having Carl DJ for our wedding. It felt like a perfect evening, and Carl had a huge impact in terms of everyone having a tremendous time!

Carl was very amenable during all stages of planning up to the event itself. He curated what felt like a perfect playlist based on questions he provided to us, and had people of all ages dancing for hours. We really appreciated how he spun on a dime in terms of changing a last minute timeline detail, and synced well with our day-of coordinator.

Multiple people came up throughout the evening telling us how good the music was. It was amazing in quality, volume, and choice! We also appreciated the fact that Carl is a DJ that puts the music first and is a true professional. He even traveled out of state to DJ our event!

Our wedding was truly magical and it wouldn't have been the same without Carl.

We would highly recommend White Label DJs, and specifically Carl Stenzel, for your next event!

Rjk

Married on 07/09/2022

Carl nailed it

White Label made it very easy to find and book a DJ who matched our preferences. We hired Carl Stenzel, who met with us and listened carefully to what we did (and did not!) want. We didn't ask for specific songs, and instead just listed a bunch of genres we like. The music he played at our wedding was exactly what we wanted; it's like he read our minds. We would hire him again in a heartbeat.

Jordan

Married on 07/02/2022

Best Dj ever!!!

Eduardo was the best dj ever!! So professional, passionate and organized!! He really made an effort to make sure we were happy. Eduardo went above and beyond for us with many things. I would pick in over and over again.

John F.

Married on 06/11/2022

We highly recommend Carl Stenzel!

Carl Stenzel of White Label Wedding DJs is a stone-cold dance floor professional. If you are planning a wedding and find yourself wondering whether you should just have your cool friends make a playlist, do yourself (and your guests) a favor and hire Carl instead. We found him easygoing, thoughtful, and incredibly easy to work with -- helping steer us towards just the right musical vibe, effortlessly coordinating equipment and set-up with our wedding planner, and making sure to drop our must-plays at just the right moments. You know that perfect dance-party feeling when you're hearing just the thing you wanted to hear without even knowing you wanted to hear it? That's what Carl delivers. Highly recommend!

Michael L.

Married on 06/10/2022

Great DJ! Would definitely recommend!

Evan did a great job. He kept the party going throughout our wedding. The dance floor had high energy the entire time.

Diane C.

Married on 06/05/2022

Five Star Service!

Evan Dahlstedt did an incredible job at my dance party/fundraising event. He was accommodating, professional, responsive, and friendly. He took the time to listen to my requests and expectations, and it was obvious that he cared about doing his best as our DJ.
I wouldn't hesitate to hire him and his company again.
Fantastic job!! 👍

Linda D.

Married on 06/04/2022

Would highly recommend Carl!

Carl was amazing! He was easy going, really worked with our music ideas, and we received great feedback from friends and family throughout the night! Would high recommend Carl!
Are you interested?
Send a message