375 Reviews
Recommended by 98% of couples
Quality of service

4.9 out of 5 rating

Average response time

4.9 out of 5 rating

Professionalism

4.9 out of 5 rating

Value

4.9 out of 5 rating

Flexibility

4.8 out of 5 rating
147 User photos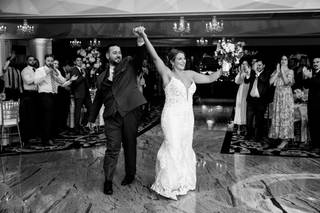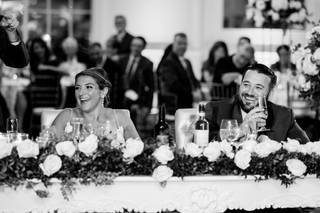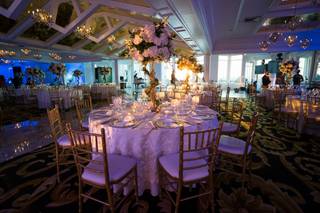 + 143

photos
Jenny M.

Married on 04/29/2023

100% recommend for your big day!

We had an amazing experience with Westmount Country Club! We loved the venue when we first went to see it and they seemed very flexible with certain things that we wanted/needed and the fact that we were having a large number of guests (575), which can seem scary at first. They were helpful during the planning process and Bobby was pretty good with responding throughout the whole process. Unfortunately, the day of our wedding it was raining completely and our plans of taking bridal party pictures at a park got ruined. Because of the weather, we ended up getting to the venue almost 2.5 hours early. Thankfully, Bobby was more than ready to take care of us and let us take pictures in the smaller ballroom/cocktail hour area while we waited as they had another wedding still going on in the main/big ballroom. They not only let us in early for pictures, but provided us with snacks and drinks for the entire bridal party as we waited. We were upset at first, but soon got more excited for pictures due to the beautiful aesthetic of the entire venue (even without access to the outdoors). Overall, we'd recommend Westmount and working with Bobby! Their entire staff was wonderful the day of and leading up to our big day! I already recommended using them to family and friends planning to get married in the next 2 years and are excited to attend 2 weddings there later this year!

Christina F.

Married on 04/01/2023

Best wedding ever!

I recently had my wedding at the Westmount Country club and it was AMAZING! Not only did my husband and I think that but all of our guests had only the best things to say about the Westmount and are calling it the best wedding they've ever been to! The amount and quality of food you get is unmatched! The service is impeccable! They especially treat the bride and groom and their parents like gold! Fred was an absolute pleasure to work without throughout the booking and planning process! He is so knowledgeable in all things Westmount! David was a phenomenal maitre D and made sure my husband and I had everything we needed and more! I'd highly highly recommend the Westmount to any bride and groom who are considering it!

Suzanne P.

Married on 03/31/2023

Amazing venue!

My son had his wedding at Westmount this past Friday. Everything was amazing between the food, drinks, staff and venue itself. Karen had it all organized to ensure my son and his now wife had a special, memorable, and wonderful night. I truly appreciate all they did. Would highly recommend!

Westmount Country Club's reply:

You and your family were a pleasure to be with. We wish you every happiness you are so deserving of. So happy to hear you and your guest had a great evening. Congratulations!!

Are you interested?

Send a message

Cay M.

Married on 02/10/2023

Incredible, professional, amazing!

Bobby, Fred, and the whole entire Westmount country club team treated us like family from the minute we walked in the door. We could not have has a more beautiful and smoothly run day. Everything was set up exactly how we wanted and MORE. We trusted the whole entire team and they delivered the most perfect day we could have ever asked for. I would recommend everyone I know to check out the Westmount.

Afua K.

Married on 02/04/2023

Wedding 2/4

Bobby and the crew were amazing. The day went seamlessly and we felt like family there. Would definitely recommend this as a great place to have your wedding.

Jacqueline W.

Married on 12/31/2022

Absolutely magical

I just had my wedding on New Year's Eve and everyone can't stop talking about it.. the Westmount went above and beyond to make my night magical! They made everything flawless and thought of every little detail to make sure I enjoyed every moment.. my guest can't stop talking about the food, how beautiful the venue was and how amazing the staff was.. I wish I could give more than 5 stars because my night was just so amazing and it's all thanks to them!! Thank you Bobby thank you Karen and everybody else.. SUCH AN AMAZING VENUE

Westmount Country Club's reply:

Hi Jacqueline, Congratulations and thank you so much for your kind words. We certainly enjoyed having you and your family and all of your guests. Everyone had a good time. The wedding and celebrating New Years Eve couldn't have been better. We all wish you happiness always.

Julia A.

Married on 12/28/2022

The one and only Westmount Country Club... AMAZING

The Westmount Country Club made my wedding simply unforgettable. My wedding was absolutely beautiful and I owe it all to those who worked with me at the W.C.C. You are in great hands with Bobby G. Anything you need or want- he will have the answer for you. He has all the recommendations for vendors and will treat you like family. He will take care of you and will lead you the right way if you have any doubts. The food was incredible- my guest wont stop talking about the amazing cocktail hour- and the dinner and desert was insane- SO GOOD. My wedding attendant, Regina, made me feel so comfortable and was there for me even when I didn't even know I needed her. She was so kind and sweet and made me feel so relaxed. The whole staff that worked my wedding were so polite and were happy to help. Not one of them looked like they were miserable or not wanting to be there. The Christmas decorations in the entrance was an added bonus too. My room (continental) was stunning and had amazing views. They just renovated the cocktail hour room too- STUNNING. Thank you so much Bobby, my wedding was everything I ever dreamed of. I am forever grateful for you and your team. If you are questioning whether or not you should have your wedding at The Westmount, DONT THINK TWICE. Book it- you will not regret it. I hope one of my friends gets married there because I cant wait to go back. THANK YOU!!!!!

Diane

Married on 11/25/2022

Diane & Brian W.

Everything about the Westmount was perfect! Bobby and the rest of the team went above and beyond for us on our day. The cocktail hour at Westmount is by far the best cocktail hour I have ever seen at a wedding. Not only are there infinite choices but the cocktail hour room is huge with comfortable seating for everyone! The ballroom was set up exactly how we wanted! The team made sure that we had plenty to eat and drink as well as our families. We had the most amazing day and Bobby and his team were incredible!

Andrea V.

Married on 10/22/2022

Ritz Carlton of wedding Venues

Where do I begin with the one and only Westmount Country Club. They have an extreme asset in their family business by having Mr. Bobby running the show there. It all started after my then fiancé called me and told me Bobby told her he has done a ton of Indian-American weddings and seemed to know his stuff. I was skeptical be honest because everyone says that but when I met with him in person to tour their venue I was VERY impressed he knew everything going on in my culture and was just an overall good person. I have a very keen sense of who is full of it and who is not and this guy did not over promise because they helped throw us a wedding of a lifetime. All of our guests were amazed by the two ceremonies we had and how beautiful their venue was. The food is amazing and our guests still weeks later are raving about how they have never been to a wedding with so much food and high quality food. The bar was flowing, the deserts were endless and we have been told that we had the best wedding our guests have ever attended, their words not mine but I completely agree. Bobby is a very fair guy with pricing and really just wants the bride and groom to be happy which we were with him by our side. This gentleman fielded phone calls from me that were related to the wedding but nothing to do with his venue and still helped me out where he could. My wife and I could not have dreamt of a better day and we are grateful to have had the pleasure to work with him and his staff. We left as clients but feel as if we gained a life long friend. Thank you WC

Westmount Country Club's reply:

Congratulations!! On behalf of Bobby and the whole family here at the One and Only Westmount Country Club we would like to thank you for your kind words.

Thomas A.

Married on 10/21/2022

Best day of our lives!

My wife and I want to personally thank Bobby Golucci and the Westmount. From the moment we stepped in, they treated us like family. We knew this was the place to get married between the great food, atmosphere, beautiful grounds and the willingness to listen to us. We could not have planned a better day. Bobby was truly amazing throughout the process and the staff members were respectful and would always treat us with respect. On the day of our wedding all of these feelings were even more solidified with how much they took care of us. We truly felt like royalty on our day. Thank you Bobby!!

Paul K.

Married on 09/24/2022

Unbelievable Venue

Westmount lived up to all of our expectations and surpassed them!! Fred and his team helped us every step of the way and created the perfect event for us. The venue itself is in pristine condition and looks spectacular. The views from the reception halls are incredible. The food during cocktail blew our guests away and the dinner lived up to all expectations as well. We can not recomend Westmount enough!

J Gallo

Married on 09/02/2022

The best of the best wedding venue!

Westmount Country Club is a stunningly beautiful wedding venue and their food and service is beyond wonderful!
Bobby, David, and the team at WCC took such great care of us, our family and friends; it made us so happy to see our guests enjoying the night!
My husband and I are truly so happy we chose WCC to celebrate our dream wedding and we can't thank them enough!

Helen D.

Married on 08/13/2022

Simply the Best

My husband and I just celebrated our wedding at Westmount Country Club on August 13th. A week later and it still feels like a dream-It was absolutely the perfect venue for our big day.
From our first tour with Bobby Golucci, we knew we were in great hands. Bobby and the entire team at Westmount Country Club made us feel like we were part of their family. They provided a distinctive personalized service every step of the way and on our wedding day, they rolled out the red carpet for us and our guests. Service was top notch with extremely attentive staff catering to our guests every need. Our guests haven't stopped raving about how elegant the venue was, and how the food, drinks and service is the best they've had at any wedding.
Cocktail hour was filled with an array of dining options and our guests were so pleased. The manicured grounds were the perfect backdrop for our special day. Bobby, David, Anna, Kathie-tremendous thankyou and praises to you and your team for delivering on our highest expectations. Westmount Country Club truly blew us away. You made us feel like royalty and we were able to have the wedding of our dreams!

Sabreena

Married on 07/31/2022

Wedding of my dreams

My experience with Bobby was absolutely incredible. I just had my wedding on 7/31/22, it was a all HALAL menu and Bobby truly went above and beyond to make it the wedding of my dreams. His communication, kindness and attentiveness was incredible. My guests have not stopped calling and texting us about how amazing the wedding was, and how much they enjoyed! Everything was so spot on, the service was amazing, the hall looked stunning, the food was phenomenal, and everything was absolutely top notch. Our family could not be happier with the response from our guests. It made it all the hard work we put in so worth it. Especially since majority of my guests were out of state and out of country! Nothing would have been possible without Bobby and the WestMount team!

Lucia Q.

Married on 07/24/2022

Beautiful day at the Westmount County Club

What a beautiful day it was July 24 at Westmount Country Club! From the moment we walked in for our first tour to the moment we left at the end of our wedding, Bobby and the staff at Westmount Country Club toke care of all our needs and made us feel like royals. They are simply amazing! Our guest can't stop raving about about the day!

Brooke M.

Married on 07/15/2022

Best food, amazing wedding

We just had our wedding here on 7/15/22, and it was an absolute fairytale wedding. Bobby and his team took such good care of us throughout the entire process, including 2 date changes due to COVID. The venue was extremely accommodating and helped us navigate any and all obstacles along the way. When the day finally came (after 2+ years of planning), we knew we were in such great hands. You do not need to hire a day of coordinator if you have your wedding here, they take care of every little detail and make sure you enjoy your day to the fullest extent. The food here is outstanding - all of our guests were raving about it and we are still getting messages about it. We had both our ceremony and reception at the venue, and everything was so picturesque. This is truly an amazing venue and we would recommend it to anyone. Thank you Bobby and team - we will remember this perfect day forever!

Michelle G.

Married on 07/09/2022

10/10 - All you could ask for. & MORE

10/10 stars for the One and Only Westmount Country Club. When we first went to Westmount and spoke with Bobby, we knew we would be coming back. After meeting for the second time, we knew this was where we had to have our dream wedding. The venue was stunning. It had everything we wanted. Bobby made us feel so comfortable and we had so much trust in him that this was going to be a one-of-a-kind wedding. From the very beginning to the end of our wedding night, everything was as perfect as it could be. For us and our guests, it was an unforgettable night. The venue, the waiters/waitresses, Anna, Dawid, Karen, Bobby, the cocktail hour, the dessert and of course the food was the best thing we could have ever imagined. Everyone and everything were just simply perfect, and everyone had gone above and beyond to make sure it was the greatest night of our life. We simply can't thank everyone at the Westmount enough, and neither can our guests.

Westmount Country Club's reply:

Hi Michelle, We can't thank you enough for your kind words. We certainly enjoyed having you and your extended family with us. From what you said everyone enjoyed themselves and had a wonderful time. That's what we want to hear. Congratulations once again. We wish you a lifetime of happiness.

Ken

Married on 07/03/2022

Fabulous venue!

We recently celebrated our daughter's wedding at the Westmount Country Club. It was a wonderful experience at a fabulous venue. The ambiance was spectacular, the food was exquisite, the deserts to die for, while the Westmount's highly professional and courteous staff provided impeccable service. In addition, we were blessed with great weather, so our guests were able to fully enjoy the Westmount's beautiful outdoor amenities. We along with all of our guests were highly impressed. We highly recommend the Westmount.

Patti K.

Married on 07/01/2022

It was a great experience and the staff was awesome!

Amazing wedding. Gorgeous place delicious food and the staff was so friendly and helpful.
It was beyond our dreams.



Emily B.

Married on 06/30/2022

Wonderful Westmount Country Club!

10/10! 5 stars! The Westmount Country Club went above and beyond for us at our June 30th wedding. From booking the wedding to preparing for the big day, Bobby was there for us every step of the way. He made sure that our different family traditions would all be included and helped us to iron out all the details (big and small!). All of our extra items (cigars, cocktail napkins, table chart, bar signs, guest book, etc.) were all setup perfectly, I didn't have to lift a finger on our wedding day. David, our maitre de, and his two assistants were also wonderful. They made sure our night ran on schedule and that we enjoyed every minute! The service and food at the Westmount Country Club was impeccable, every guest couldn't stop raving about cocktail hour, dinner service and the dance floor desserts. Golden hour pictures are also unbeatable on the terrace at WCC. Thank you to Bobby, David and the entire Westmount team for giving us the wedding of our dreams!

Robert M.

Married on 04/22/2022

Beyond expectations

Their aren't enough words to begin to describe the experience we had here with everyone. Bobby our director was very hands on from the beginning, even for the first meeting. From that night we knew we wanted to go with the Westmount and they did not disappoint. Between getting everything set up exactly how my wife and I wanted, all the way to the food and service throughout the night. The best part is after 2 days since the wedding this past Friday of the 22nd, all of our friends and family we talked to were amazed at how everything was ran from start to finish. Beyond happy we booked with Bobby and the Westmount. 5 stars isn't enough to describe our experience there.

Heidi F.

Married on 04/08/2022

Beyond amazing!

My daughter and new son inlaw were married on Friday, April 8 at St. Anthony's Church in Hawthorne, NJ and had their incredible reception at the beautiful Westmount CC. I am blown away at the service I received during the past two years of covid. They were supposed to get married in April of 2021, but because of the restrictions that were in place last year, they decided to push their wedding an entire year. Not only did everyone at the Westmount make this process super simple, but they provided compassion and true caring for these poor couples that decided to change their dates. Fast forward to last Friday - there is nothing that The
Westmount could have done to make our celebration any more perfect!! This started with day one when we met with Bobby Gollucci - he took us into his heart as if we were his family and provided us with amazing professionalism and security that our day.... my daughter's and now son inlaw's day, would be nothing less than perfect and perfection is what he delivered!!! Bobby G!!! you will always be considered family to us!!! you made the process of wedding planning so easy and so smooth and I speak for myself that I could never have done it and gone through it without you! Thank you for EVERYTHING that you did for us to make our day perfect!!! I have to also thank Fred who stood by us the night of the reception and catered to our every need!!! I can't forget Anna and Kathy too!!! You ladies are beyond beautiful and loving and so kind!! The Westmount Country Club delivered an incredibly memorable and perfect wedding for our family and you will all remain our hearts forever!!! God Bless You!!!

Westmount Country Club's reply:

Heidi,
Thank you so much for your kind words! Bobby G and his whole team Thank You for entrusting us with your special day!


James A.

Married on 12/18/2021

Extraordinary venue for the most memorable wedding!

If you are looking for the best in quality, best in client service and support, best in attentiveness and the most memorable experience for your special day, we couldn't think of a better venue than the Westmount Country Club.

My fiancé and I first walked into the WCC one week after getting engaged. We were warmly welcomed, even though they were preparing for two weddings that morning and another two that evening, by Bobby Golucci, the Managing Director. Even with everything going on, he calmly welcomed us and gave us a full tour. We looked at other sites after but knew we wanted to work with a gentleman, such as Bobby, for our special day.

Beyond that first visit, Bobby continued to be attentive to every text we sent over the next 4 months. He always assured us with thoughtfulness and timeliness. We never felt pressured or that we were a bother.

On the day of our wedding, EVERYTHING worked out better than we could have imagined. Phil, the executive chef, greeted us the day before and discussed the menu for four of our 150 guests that had strict dietary restrictions. He delivered an amazing menu for them, and of course the rest of our 146 guests. Everyone was impressed with the display and deliciousness of every single dish. We loved Phil's kindness and extreme care with allergies and other restrictions.

David, our maître d', could not have been more precise, warm, and attentive to our every need. He gave us suggestions on how to proceed with our civil ceremony and took our direction on every detail we asked. He even took special care when my brand new shoes made me slip and he ensured that it didn't happen again all night.

We also could not have had a successful event without the superb staff that helped us with our guests, our food, our drinks and everything else that made our wedding the most special day in our lives. I wish we had all their names, but they are all truly friends that made us feel assured and taken care of the whole time.

We have been to countless weddings over the past 20 years. Although, this was our special day, us and EVERYONE at our wedding had the most AMAZING experience, and it was in large part due to the one and only Westmount Country Club and all their supportive staff.

We want to thank them from the bottom of our hearts, and hope you make the best decision of your wedding day by choosing them as your venue. We couldn't have picked a better place and gotten luckier with the amazing people that made our day so spectacular.

Westmount Country Club's reply:

On behalf of Bobby, Dave, Chef, and the entire Westmount Country Club team we thank you for your kind words!

Jennifer S.

Married on 12/10/2021

Top of the line wedding

If you want to have the best wedding to impress everyone (and even yourself) - you have it at The Westmount Country Club. What an incredible wedding we just had this past Friday night. We were absolutely blown away by the food and white glove service. Bobby Golucci is an absolute asset to The Westmount with his countless efforts to make my day so special and everything I ever dreamed of. The word, "no" did not exist in his vocabulary to me - which was the best part! My Maitre d, David, was also unbelievable and so attentive. I have never met a staff like The Westmount offers. I felt like an absolute princess and the day was mine. Guests RAVED about the quality and quantity of food, as well as the exquisite service all weekend long to us. We are so lucky to have had our wedding here.

+ 3

photos

Westmount Country Club's reply:

Congratulations!! On behalf of Bobby , David, and the whole family here at The One and Only Westmount Country Club we would like to thank you for your kind words.



Barbara W.

Married on 12/10/2021

An Amazing and Wonderful Night

Wedding venues are difficult to choose except when you come across one that stands so far above the rest that it makes for an easy decision. Such is the case with Westmount Country Club. As the father and mother of the groom we have rated over a 100 hotels and restaurants. Few have ever gotten 5 stars and for the first time we think we found a venue that deserves 5+ stars.
It is located in a charming area with easy access and the views from the rooms are breathtaking.The staff took care of everything. They paid attention to every detail and missed nothing. All of our guests kept using the word "top shelf" to describe the food and the service and we couldn't agree more. Thankyou for making this day so special.

Are you interested?
Send a message