108 Reviews
Recommended by 94% of couples
Quality of service

4.8 out of 5 rating

Average response time

4.6 out of 5 rating

Professionalism

4.8 out of 5 rating

Value

4.6 out of 5 rating

Flexibility

4.7 out of 5 rating
146 User photos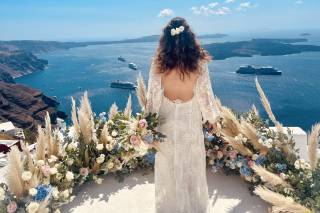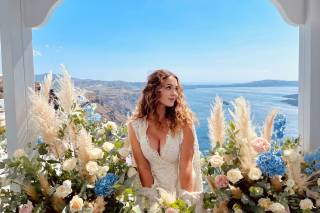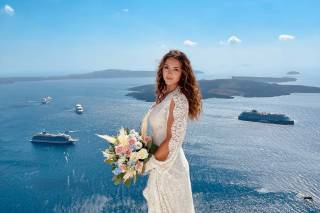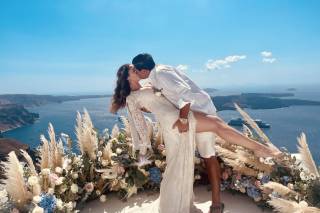 + 142

photos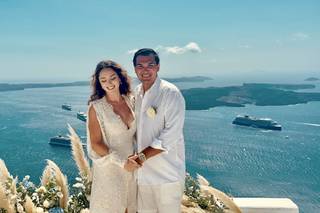 Alexandra L.

Married on 09/09/2022

Best Elopement a couple could ask for!

We had an amazing experience with the Vicky and the Team. We emailed them for our small symbolic ceremony in Santorini at our private villa. We had a budget that we needed to stick to and a dream for what our ceremony would look like. We sent our inspiration photos and they brought it to life! It was more beautiful than we could have asked for they were even able to arrive earlier at our request because it was getting hot and we didn't think our original time would work out. They secured the flowers so the wind didn't take them down the cliffs and it all held up perfectly. The next day they came a picked everything up while we were out on a catamaran. Truly a wonderful experience and everything we could have hoped for! Don't skimp on your flowers for your Santorini elopement because there are literally non growing wild on the island and having the flowers creates dreamy photos against the ocean view and the white cave houses.

+ 2

photos

Annie F.

Married on 10/03/2020

Captured my vision perfectly

Wedding wish have been brilliant throughout my wedding planning and were flexible with the things I wanted or didn't want/wanted to change etc. Every idea or vision I sent them for my big day, they captured perfectly! The colours, the cutlery, the flowers ( I was blown away by how beautiful they were!) the cake, the seating chart etc....I have no bad words to say! Everything was perfect and exactly how I imagined! They clearly listened to what I wanted and how I saw the decor in my mind, it was carried it perfectly! The minute my bouquet turned up to my venue and I saw the quality and colours were exactly as I wanted, I knew the venue would look just as perfect! And it did not disappoint! I would not hesitate to use their services if I was a bride planning a wedding! You will not regret it.

+ 7

photos

Wedding Wish Santorini's reply:

Thank you so much Annie for your review!

It was such a pleasure working with you, designing such a lovely wedding scenery. We simply LOVE your wedding photos everything seems perfect, flowers, signs, rentals..! We couldn't be more happy about the outcome and for knowing and that everything was as beautiful as expected!

Greetings from our team!

Samantha S.

Married on 09/07/2020

Dreamy perfection!

Vicky and the team were an absolute pleasure to work with as they were responsive and extremely detail orientated, which made the planning process so enjoyable. They provided our fresh flower bouquets, buttonholes, and corsages (all orchids) - they were so stunning and of very high quality. They also created our personalised confetti cones (made from the pages of my favourite Harry Potter Books),seat reservation tags and table menus. The quality of their work was exceptional and I would not hesitate to recommend this vendor to future couples!

+ 5

photos

Wedding Wish Santorini's reply:

Thank you so much Samantha for you enthusiastic review!

It's truly motivating knowing that we did it! Details is our passion and we simply loved creating so many of them for your special day! The Harry Potter cones were so unique and it's one of our favorite creations of this past summer!

Greetings from the whole team!



Are you interested?

Send a message

Laura B.

Married on 08/30/2020

Fantastic Stylists

I was recommended wedding wish through our wedding planner. Our original wedding was due to take place in the UK in June but due to Covid it got cancelled, we didn't want to postpone to the following year due do my step dad being terminally ill, so we saw an opportunity to get married in santorini, it was all very last minute and planned within 5 weeks. Wedding wish were absolutely fantastic, their products are stunning and their flowers are beautiful. I knew kind of what I wanted due to my original wedding plans and wedding wish managed to bring this to life for me all within such short notice, nothing was too much trouble. They even managed to source my favours the week before because mine didn't turn up. I honestly could not fault anything they did for us and their styling and professionalism made our day perfect and exactly how I'd imagined it, I can not thank them enough.

+ 8

photos

Wedding Wish Santorini's reply:

Thank you so much Laura for your wonderful review!

This summer has been pretty special and we had to arrange most of our events in a rather short notice. Knowing that we made it, couldn't make us more happy. Bringing your dream wedding into life even under these circumstances really means a lot us!

We simply loved all the styling details of your day!

P.S. Your photos are FANTASTIC!!

Greetings from our team!


Kostandina A.

Married on 08/09/2020

Great experience

I loved the service from Wedding Wish, very professional and flexible! I would not thank them enough.

Wedding Wish Santorini's reply:

Thank you so much Kostandina for your great review! It was a great pleasure designing your wedding decor!

Greetings from the whole team!

Megan D.

Married on 08/03/2020

August 2020 Wedding

During this unprecedented time we were unsure of if our day would go ahead, but from the very start Vicky and her Team at WeddingWish were wonderful. They have been very responsive, attentive and cooperative during the whole process. They fulfilled our vision, of which was beautiful and complimented our day well. The use of flowers and greenery looked amazing and all our guests commented on how beautiful it looked.
Although I didn't get the chance to meet Vicky and her team their communication has been brilliant. We would highly recommend this company!

Wedding Wish Santorini's reply:

Thank you so much Meg for you super kind comment!

There is no better reward for our team than such words of excitement! We are super glad that we met your expectations and that we made your dream wedding scenery a reality even during these unprecedented times. Love is all we need so that we stay strong and positive!

Greetings from the whole team!


Natalie C.

Married on 07/25/2020

The most beautiful flowers

Wedding wish provided the flowers for our wedding in July 2020 at Santorini Gem. They complemented the venue perfectly and we could not have wished for anything better. Our bridal bouquets were absolutely beautiful. Thank you so much 💗

+ 2

photos

Wedding Wish Santorini's reply:

Thank you so much Natalie for you excellent feedback! We are so happy for making such a special day of yours even more beautiful and that you loved your flowers. They were stunning indeed!

Greetings from the whole team!



Tiana

Married on 05/01/2020

Beautiful wedding decoration

While planning our wedding in santorini, we booked wedding wish for our flowers and decoration. And we must say, it was the best choice we could have made. They were very kind and professional from the beginning and the results were just amazing. We would recommend wedding wish to every couple who want's to have beautiful wedding decoration. At this point a big "Thank you" again to the whole wedding wish team, you did a fantastic job! :-)

Wedding Wish Santorini's reply:

Thank you for the excellent review our lovely Tiana!

We simply loved designing your wedding décor and your vibrant styling vision has been such an inspo for us all.

Thank you for the wonderful collaboration!
Greetings from our team!


Kristina

Married on 10/06/2019

Perfect service

everything was done perfectly! We were happy to cooperate with you. quickly gave detailed answers and responded to Letters. did everything according to my wishes

+ 7

photos

Wan H.

Married on 10/02/2019

Good communication with customer

Thanks wedding wish for listening our requirements and helping to realize what we want.

Nitasha

Married on 09/14/2019

Exceptional!!!

Wedding wish is truly a dream come true!
They studied my vision and they made my dream reception come to life.

They took the time to really understand what I wanted and exceed my expectations. I am extremely picky and my center pieces were just mind blowing. They didn't cut corners anywhere. The flowers they provided were absolutely amazing! The arrangements were so lush and so full my guests couldn't stop talking about them.

I have helped plan weddings in the past. Wedding wish's prices are extremely reasonable. I felt as if I got much more than what I paid for. I am so grateful to them for providing such excellent service. Everything was set up and ready to go. I didn't have to worry about a thing.

Hire them for your wedding you will not be disappointed!


Aggeliki K.

Married on 08/31/2019

beautiful decoration

the decoration of our wedding with flowers was as we dreamed ... thank you guys ⭐️👌

Wedding Wish Santorini's reply:

Thank you Aggeliki!

Such a lovely setup for such a lovely couple! The outcome was so dreamy!

Greetings from our team!

Corinne N.

Married on 08/10/2019

Like a dream!

Wedding Wish did the flowers and decor for my wedding at Rocabella, Santorini on the 10th August 2019 and they were amazing. All our correspondence was quick and very helpful. They were brilliant at accommodating our budget and coming up with ideas to create my vision. On the day, the flowers were stunning and smelled wonderful, I had lots of compliments on them! The set up and take down were seamless - I never even knew they were there, it was just like magic! They really did work hard to contribute to my perfect day! Thank you Wedding Wish!

Lin

Married on 07/10/2019

Thank you Weddingwish!

Weddingwish did an excellent job from beginning to the end! They totally understood my idea on the flower arrangments that I wanted for my wedding and everything was communicated smoothly via email. On the actual day, the flowers were setup exactly as planned. Thank you again, for making my wedding so beautiful!

Brittany

Married on 06/23/2019

Accommodating and willing to go above and beyond!

Wedding Wish went above and beyond to help bring our vision to life for our wedding in Santorini. They dealt with challenges like wind, heat and additional decor requests the week of our wedding and were able to seamlessly conquer all. We were so appreciative of all their hard work and couldn't have been happier!

Amy W.

Married on 06/22/2019

First class wedding designers

Stewart and I decided we wanted a very small intimate wedding with only 14 guests. We fell in love with Santorini and knew that's where we would tie the knot. The initial thought of planning a wedding in a different country, at a place you've only been to once, and trusting someone to put all your ideas together can be scary, but from my initial communication with Wedding Wish, I had no worries about the process. They were communicative and thorough, and simply made the planning so seamless. Wedding Wish were able to create the perfect wedding decoration for my husband and I and our guests. The wedding itself was beyond words and more beautiful than I can even begin to describe. Our guests are still talking about the wedding and how fantastic it was! Everything was well planned and executed. My hand tied bouquet was exactly what I had visioned made of vendela roses, white peonies, quicksand roses and light pink David Austin roses, white Phalaenopsis orchids and pampas grass. I highly recommend Wedding Wish to anyone considering them as their designer.

A heartfelt thank you to Wedding Wish for everything.

+ 7

photos

Wedding Wish Santorini's reply:

Thank you Amy for your lovely comment!!

It was such a pleasure working with you, designing such a special setup for your intimate wedding! Micro weddings are always great occasions to be that creative and it's so nice knowing that your guests were that impressed! So flattering!

We totally loved your bouquet as well!

Greetings from our team!


Zoe

Married on 06/20/2019

Professional, Prompt and Beautiful Execution!

Wedding Wish did all my decorations and floral needs for my wedding. They were amazing to work with from the first time of contact to the wedding day. They executed my vision perfectly, even though I was planning my wedding with them from the other side of the world! Vicky and her team were always flexible with me when I wanted to remove or add different items throughout the planning process. They were patient and provided many options when I couldn't decide on something. I would highly recommend to anyone!

Khadija T.

Married on 06/13/2019

A dream come true!

Wedding Wish Santorini was such a pleasure to work with. As we were planning our big day from London they made the process so easy and simple. Everything on the day was just like we asked for. The flowers and decorations were so beautiful, more than I even imagined! It was just a dream come true.

Wedding Wish Santorini's reply:

Thank you so much Khadija for your review!

We are so glad that you loved the scenery we designed for your wedding!

Greetings from our team!


Ronalyn A.

Married on 05/28/2019

From The Legayadas

Wedding Wish did absolutely beautiful work for my wedding. They were very professional and prompt when communicating. Their work is exactly like their pictures which i love so much. I like how they taylor it to each couple's vision and they have everything you could absolutely think of for wedding decor! Whatever you envision, they can make it happen! Thanks again so much wedding wish.

Julie P.

Married on 05/24/2019

Santorini Wedding

Wedding Wish was the best company to work with while planning a wedding from an entirely different country! The ladies there were amazing and helped ensure my special day was perfect!! Beyond blessed to have this team in my corner!!

Wedding Wish Santorini's reply:

Thank you SO MUCH for your excellent review Julie!

It was such a pleasure designing such a unique set up for such a special day of yours!

Wishing you all the best!
Greetings from the whole team!


Tarini T.

Married on 05/19/2019

A Dreamy Design Affair

Wedding Wish Santorini was one of our top choices for our wedding in Santorini. I'd been following them on social media way before actually booking them as I'd loved their pictures from the various events that they had designed.
Our wedding planner too recommended them and it seemed like a perfect match ! On the first meeting itself, they tried to understand my likes and dislikes, worked with me through the months leading upto the wedding via email making the whole process so seamless and efficient! Upon visiting their studio , I found a lot more elements I was inspired to use at my wedding.
Katerina and her wonderful team made sure our wedding looked stunning throughout. Even looking back at it through our photos just makes us swoon over the decor for all the events; every damn time!
Honestly wish we could get married again in the same place with Wedding Wish as our event designers. Words can never describe how beautiful they made our wedding events (we had 4 events) plus even helped my husband set up a beautiful room for after our wedding !
I hope everyone reading this review chooses to have a seamless and enjoyable wedding planning affair; and therefore Wedding Wish because they're honestly the warmest, timely, flexible, kind, understanding, skilled, creative and aesthete dream team required for having a beautiful wedding! (and they also definitely kept me from turning into bridezilla ;'D )

+ 17

photos

Wedding Wish Santorini's reply:

Thank you SO MUCH for your wonderful review Tarini!

Up until this moment your wedding has been one of our favorite creations! We love it when our brides are getting passionately involved with the styling of their own wedding, sharing their excitement and creative spirit with us and you have been such an inspo during the whole time!

We were honored to actually design all 4 of your events, creating such a memorable and beautiful feeling for each one of them and going through your beautiful photos it's like living all this festive period again!

Thank you for all your trust and we truly hope that you visit our beautiful island again in order to create many more memories!

Greetings to your lovely family from our whole team!

Mohamad A.

Married on 09/28/2018

Perfect and Amazing

Everything was as we have imagined it to be.

Wedding Wish Santorini's reply:

Such a beautiful day, such a beautiful decor! Thank you for your trust Mohamad and for your wonderful review!

Greetings from our team!


Diana

Married on 09/10/2018

I was SO NERVOUS to pick my decorator and florist. I had never met the team, and I went in totally blind just going off of their instagram photos. I could NOT HAVE MADE A BETTER CHOICE than the team at Wedding Wish. They NAILED every aspect of my wedding from my welcome bags, the goodies inside with personalized labels, the flowers were PERFECTION (super healthy and fresh-which was a MAIN CONCERN), their professionalism was top notch, and their willingness to work together to ensure your happiness was the best part about them. I added A LOT to their list once I met with them just DAYS prior to my big day---from flower petals being thrown after the ceremony, to TWENTY bouquets for my rehearsal dinner, on top of many more. Their response was always "okay, we will make it happen", even if I was so last minute and they probably had their own doubts for my insane requests. They MADE it happen. Honestly, trying not to be biased, but my wedding bouquet was the BEST I have ever seen in my entire life~after I googled photos for the past YEAR. I have seen their reviews, and YES, they DO get busy...but the demand for their services told me that they were the right choice. Everything they said they would deliver, they delivered top notch. I LOVED working with Metaxia. She was the absolute best. Wedding Wish helped make my vision of my dream wedding come to life. I love their entire team and their passion for their business. I am SO HAPPY that I decided to go with Wedding Wish. I give them a 10 out of 5 stars.

+ 2

photos

Nikki R.

Married on 08/25/2018

Super finishing touches to the day

Perfect style and care given to our decor, it was exactly what we wanted for the most special day

Konstance K.

Married on 08/20/2018

Thank you wedding wish!

We got married at Rocabella Santorini in August 2018. It was an unbelievable experience! Wedding Wish did all of our flowers/decor and everything was outstanding!!! They were wonderful to work with and they even surprised us by gifting us a chandelier to use for our ceremony decor. We could not have asked for anything more!

+ 4

photos

Wedding Wish Santorini's reply:

Thank you so much Konstance for your review!

Such a lovely throwback on your special day. Bringing your dream wedding to life made us so happy and proud! Elegance and beauty all around!

Happy New Year and greetings from our team!
Are you interested?
Send a message