20 Reviews
Recommended by 100% of couples
Quality of service

5 out of 5 rating

Average response time

5 out of 5 rating

Professionalism

5 out of 5 rating

Value

5 out of 5 rating

Flexibility

5 out of 5 rating
Awards
8 User photos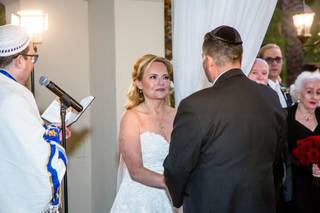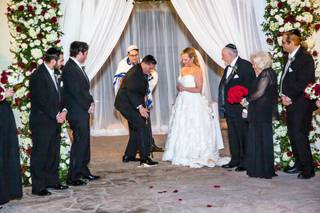 + 4

photos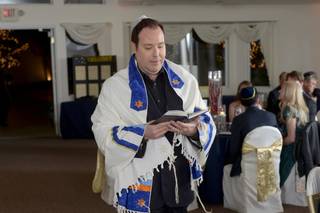 Heylee B.

Married on 11/05/2022

Fantastic Experience with Rabbi Shai

Our wedding planner introduced us to Rabbi Shai. We knew we wanted to be married by a rabbi, and be married on a Saturday before sundown, and Rabbi Shai fit both of those requests.
Rabbi Shai is warm, knowledgeable, friendly, and flexible. We met Rabbi Shai for one get-to-know you session before we hired him, and then for two marriage counseling sessions, and one meeting to discuss final logistics for our wedding. Rabbi Shai is always warm and welcoming and wanted to get to know my husband and I in order to make our ceremony more meaningful.
My husband and I were clear with what we wanted from our ceremony, and Rabbi Shai delivered. He chanted beautifully and the whole ceremony ran smoothly and efficiently, which was very important to my husband and I. He followed up promptly with our completed marriage license. The entire process start to finish was very easy with Rabbi Shai.

Karen M.

Married on 10/01/2022

Beautiful Jewish ceremony in Las Vegas

Our ceremony with Rabbi Shai was everything we could have wanted. So many of our guests, many of them who had never been to a Jewish wedding before, told us they were amazed by how beautiful and heartfelt it was. Rabbi Shai did a fantastic job of making it meaningful, personal, and integrating traditional touches, all brought together by his beautiful singing voice. Our ketubah signing was also meaningful and very beautiful. We highly recommend him — one of the best decisions we made for our wedding.

Rachel G.

Married on 09/03/2022

Our new Rabbi for life!

Rabbi Shai was more than just our wedding officient. He is orthodox trained yet practices with a progressive modern, liberal, and spiritual vibe. I was raised conservative but my husband was raised without religion but was interested in having a Jewish home and family with me. We had great premarital counseling zooms with Rabbi Shai and he recommended ways to bring Judaism into our marriage and family in ways we love and will continue.

He was super responsive and communicative and reliable. He also brought a beautiful Ketubah for us. On the day of our wedding, our favorite part was the ceremony. Rabbi Shai gave us the most beautiful ceremony with a special touch where he had us send reasons why we wanted to marry each other ahead of time and then read them, instead of making our own vows. It really personalized the ceremony is a beautiful way that was stress free for us. He modernized Jewish customs but still kept it light yet traditional and easy to understand.

We couldn't have found a better Rabbi, not just for our wedding, but for our lives! We look forward to tuning into his zooms for holiday services since we live far away.

Are you interested?

Send a message

Jeremy M.

Married on 08/27/2022

Amazing Expierence

Rabbi Shai was everything we wanted for an officiant for our wedding. He met with us several times before the event and we had a great relationship with him prior to the ceremony. I would highly recommend for someone looking for an accessible, inter-faith wedding that all can enjoy regardless of their faith.

Richard M.

Married on 08/08/2022

The best rabbi we could have hoped for

Rabbi Shai performed our wedding ceremony a week ago and did an absolutely amazing job. His beautiful voice, his warm personality and his unique flexibility were everything we could have hoped for. Having both been married before we had other rabbis to compare him with. When we made an unusual request for the sake of the wedding video — namely to perform the end of the ceremony twice — he was totally accommodating. I would recommend him without reservations to anyone marrying in Las Vegas who needs a Reform Rabbi.

Elle P.

Married on 12/11/2021

Best Rabbi for Interfaith Ceremony

Rabbi Shai is warm, engaging and just a wonderful officiant especially for an interfaith ceremony. He explains the Jewish ceremonial points without being too wordy and interjects his lovely Cantorial voice throughout - was just beautiful. We were so happy to have chosen him to officiate our wedding and so many of our guests commented on how lovely a ceremony we had, especially those that had never seen a Jewish wedding before.

Jessica I.

Married on 10/02/2021

Rabbi Shai is the best!

Best experience ever! Rabbi Shai made our wedding unforgettable!

Nick

Married on 09/01/2021

Great experience and very accomodating

Rabbi Shai was wonderful. He frequently spoke with us before the wedding. He was very attentive and thoughtful regarding both of our cultures throughout the experience.

Ariel

Married on 05/19/2018

I can't say enough good things about Rabbi Shai. He officiated an interfaith wedding ceremony for my husband and I about two weeks ago. He has been easy to work with since my initial contact with him. We met with him multiple times leading up to the wedding so that he could get to know my husband and I and offer some guidance in areas where we may of needed some work. His outlook and unbiased advice were appreciated in life and through the planning process of our wedding. He was very accommodating from start to finish. Our ceremony was beautiful and had just the right balance of our both of our religions. We received tons of compliments from our guests about him. Thank you for making our day special.

Greg

Married on 01/06/2018

We made contact with Rabbi Shai from Australia as we wanted a Rabbi who could preside over a same sex wedding in Las Vegas where my now husband grew up.
We decided Rabbi Shai would be great for our ceremony after an initial Skype session. He is a warm, friendly guy with a great sense of humor and was good at keeping us at ease in the lead up to the Wedding. Rabbi Shai did a great job on the night. He sings some of the Jewish blessings and has an astounding voice! Many of our guests remarked on what a great job he did. Thank you Rabbi Shai.

Jack

Married on 01/02/2018

Rabbi Shai officiated at our wedding on January 2nd. His beautiful service and wonderful cantorial voice will forever live in our hearts. His love of Judaism and our tradition was seen and heard throughout our ceremony. I definitely believe that our marriage will be forever, which in part, is due to the kind words and spirituality of Rabbi Shai. I cannot recommend the Rabbi any more highly.

Stephanie

Married on 10/14/2017

Rabbi Shai did an amazing job for our wedding. We had a non-traditional wedding, and I am so glad a friend recommended Rabbi Shai, because his services are top notch! Highly recommended!

Rabbi Shai Specht-Sandler was absolutely instrumental in making our wedding day so special. We started meeting with him almost 9 months in advance of our wedding for a series of sessions about marriage and Judaism. We truly believe that because of our time with Shai we were as prepared as anyone could be to begin a Jewish life together. He served not only as a Rabbi but a life coach, helping us talk through our future desires and prepare for married life. We grew closer to each other through Rabbi Shai's little assignments that he had us do along the way. Rabbi Shai was also very accommodating to our busy schedule, and we often used of Skype and video conference.

The ceremony itself was spectacular. We wanted to have our ketubah signing ceremony by witnessed by over 50 people and ran almost as a little ceremony which Rabbi Shai prepared and engaged the group perfectly. The wedding ceremony itself was heavenly-- even our non-Jewish guests felt as though the ceremony was extremely meaningful. Rabbi Shai does a great job at catering to guests with varying backgrounds, satisfying the religious and non-religious alike. We are so happy with our decision to have Rabbi Shai marry us and we will be forever grateful for his making one of the most special, sacred times in our life something that we will always remember with the fondest of memories.

Jenson

Married on 02/23/2016

We found Rabbi Shai online looking for a reformed Rabbi who would marry us as my husband is Jewish and I am not. He met with us a couple times before the wedding and we knew that he was a perfect fit. He has a wonderful personality, a beautiful voice, and was a huge hit at our wedding. He worked with us for exactly what we wanted and fit our personalities and relationship the best. All of our guests, and especially those from Israel loved him. He provided us a beautiful ketubah for our wedding as well. We would definitely recommend him to everyone!


Pori

Married on 02/14/2016

My husband and I truly enjoyed the wedding experience with Rabbi Shai. He met with us a few times before the wedding and gave us some helpful insights about married life and our wedding ceremony. Rabbi Shai has a beautiful voice and the ceremony he officiated for us was truly magical! Our family and friends still talk about the ceremony

We are so happy Rabbi Shai was our officiant. He was very attentive to our needs and we really enjoyed the premarital sessions as well! The ceremony was warm and reflected who we are as a couple.
I would highly recommend Rabbi Shai as your wedding officiant!

Nicole

Married on 08/08/2015

Rabbi Shai was our wedding officiant, and I must say he did a great job! My husband and I had a traditional Jewish wedding, and Rabbi Shai was absolutely fantastic. Sweet, caring, and very professional. i would recommend him to anyone!

Jonas

Married on 07/26/2014

Rabbi Shai would speak with us on Skype to discuss our Jewish intentions and our love for each other, along with general spirituality. He asked insightful questions and made sure that the ceremony reflected our values and included all the rituals that were important to us. He gave a lovely speech at our wedding and made sure that not only were we cared for but my mother as well, who had her own vision of the wedding.

Since we will NEVER have a wedding again, we sadly will not be able to hire him again for his wedding services, but we would recommend him to anyone and would love to use him for renewing our vows or any rabbi-necessary events.

Julia

Married on 10/13/2012

Rabbi Shai Specht met with us via Skype several time before the wedding day to get to know us. His words during the ceremony were heartfelt, touching and humorous. All of our guests gave the ceremony a great review and we received very positive comments from our family.
He is also a Cantor and will make your ceremony very special!

Elmer

Married on 10/13/2012

My wife and I had a destination wedding in the Las Vegas area and we wanted to have a Jewish ceremony that was inclusive of our very diverse guests. Rabbi Shai Specht-Sandler officiated a beautiful ceremony. We received a lot of positive feedback from our guests. I specially enjoyed his skills as a Cantor and his eloquent explanation of the Jewish elements of the ceremony. It felt very inclusionary of our guests.
In the previous weeks to the ceremony, he spent time with us to get to know us and engage us in great conversation about marriage and prepare us to embark in this journey together. We really enjoyed our sessions. This allowed him to understand what was important to us, and he integrated elements of our conversations into our ceremony. We would definitely refer and recommend Rabbi Shai Specht-Sandler. Thank you for helping make our day a very special one!
Are you interested?
Send a message