Reviews
5.0 out of 5 rating
Quality of service

5 out of 5 rating

Average response time

5 out of 5 rating

Professionalism

5 out of 5 rating

Value

5 out of 5 rating

Flexibility

5 out of 5 rating
100%
Recommended by couples
2 User photos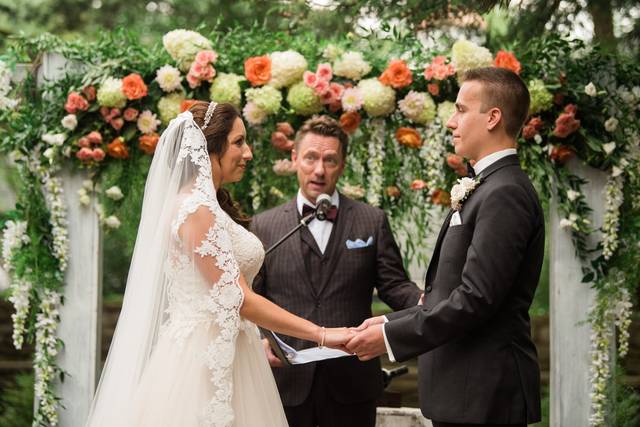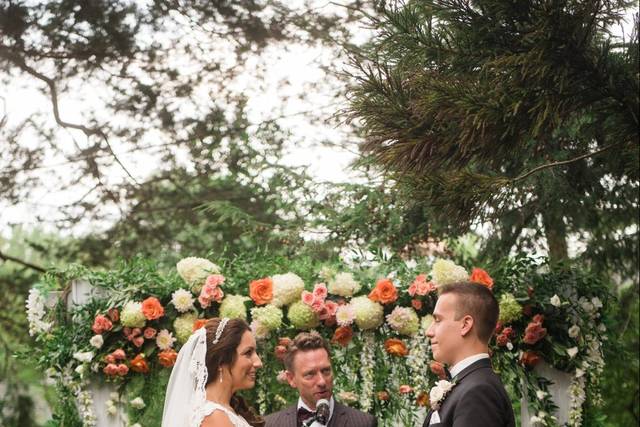 Jenna M.

Married on 08/25/2023

Andy is great!

Andy served as the officiant at our August wedding. Prior to the ceremony, my husband and I had two Zoom calls and exchanged several emails with him. The ceremony Andy crafted was absolutely incredible. It felt incredibly personal and tailored to us, and we were overwhelmed with compliments from our friends and family. Many of them were curious about how long we had known Andy because of the wonderful connection he created. Choosing Andy for our wedding was an excellent decision, and I would absolutely recommend him to future couples.

Suzanne M.

Married on 04/16/2022

Best Wedding Officiant Ever!

Andy is simply the best. He was wonderful to collaborate with throughout the planning process, he's an excellent writer and speaker, and he helped make our ceremony so incredibly personal. We received countless comments about how beautiful our ceremony was. Many guests assumed Andy was a friend or family member by how well he knew us and how genuine his words were about us and our relationship. Working with Andy was the best decision we made for our ceremony.

Timothy H.

Married on 05/10/2020

Andy is awesome!

We loved working with Andy. The process was great and his delivery of the ceremony was more than we hoped for as not only did we enjoy it as a couple but our family and friends could not stop raving about the heartfelt quality of the ceremony. He is an excellent choice to have as your officiant and we highly recommend him.

Are you interested?

Send a message

Emily A.

Married on 11/17/2019

Great wedding pastor!

Andy was our wedding pastor for our 11/17 wedding at Holly Hedge. He was fantastic! We met with Andy early on in our planning and knew fairly quickly we wanted to work with him. He's extremely organized, personable, professional, and very eager to make your ceremony truly unique and special. He worked with us on a few drafts of the ceremony and let us add our own touches. So many guests came up to us after the wedding, asking if we knew Andy prior to wedding planning because the ceremony was so personalized. Thank you, Andy!!

Leandra

Married on 11/09/2018

11/9/18 Wedding

Andy officiated our wedding a few days ago and it was the best moment of our lives! My husband I and I knew within minutes of meeting with him, he was going to be our officiant. Andy is SO personable, an eloquent speaker, and exceeded our expectations. Immediately after our ceremony, multiple guests came up to us to say how wonderful our ceremony was, how great of a job Andy did, and how that was the best ceremony they've seen in a very very long time. Andy is truly a must for your wedding. We are beyond happy with how our ceremony was and will truly miss working with him!

Melissa S.

Married on 07/13/2018

Andy is simply wonderful!

Andy was recommended to us by our venue (Holly Hedge Estate) and after having an initial meeting with him knew that he was the person we wanted to marry us! First of all, he is extremely well-spoken. He's calm (which we would knew would important on the day of) and we immediately felt comfortable with him. We also loved that he creates customized ceremonies. We were able to read through some samples of previous weddings he had done and it was helpful to see what other people did and that we could really make it what we wanted it to be. He had us answer a few questions which he incorporated into the ceremony which made it feel very us and was more than willing to go through multiple drafts until it was just right. The ceremony was short and sweet and meaningful and everything we were hoping for. So many of our friends and family were impressed and said that it was one of the best wedding ceremonies they'd attended.

Shannon

Married on 06/02/2018

We loved Andy

Working with Andy was really nice. He took the time to meet with us initially, then stayed in the background until about a month before the wedding. He then sent each of us a questionnaire to fill out and incorporated our answers into his comments during the ceremony. This was a nice surprise, as neither of us knew what the other had written. We also requested to incorporate an unusual wine ceremony, since we were getting married at a winery. We sent Andy a template and he added it into our ceremony seamlessly. Several of our guests asked us how we had found Andy (he was recommended by our venue coordinator, who had also hired Andy to officiate her recent wedding), so it was clear that his sincerity and humor was widely appreciated. He even handled interruptions with ease - when our three-year-old nephew yelled out, "Are they gonna kiss yet?," Andy leaned over and said "Not yet, buddy, but soon!"

Susanne

Married on 10/21/2017

My now husband and I both knew within minutes of meeting Andy that he was the person who would marry us. It was one of the best decisions we made when planning our wedding. The ceremony that Andy put together was perfect for us. He always responded quickly to any questions we may have had during the planning process. He was so easy to work.

I remember waiting in a back room before the ceremony and Andy came in to see us. We both instantly felt at ease as soon as he walked in. He just had this calming presence about him. The ceremony was beautiful. Everyone laughed. Everyone cried. It was perfect. So many of our guests commented that it was one of the most touching and beautiful ceremonies they had ever been to. We even had a couple people tell us they are going to look into renewing their vows after watching our ceremony!
When my husband and I were on our honeymoon, we were chatting about what we loved and what we could have improved on with regards to our wedding. We both said that Andy was at the top of our list for what we loved!!! We HIGHLY recommend him!

Arielle

Married on 07/22/2017

Andy was recommended to us by our wedding venue, HollyHedge Estate. My husband and I are not religious and were mainly looking for an officiant who would create a unique and personal ceremony for us. Once I saw some of Andy's wedding videos on his website, I was excited because it was evident that he tailors every aspect of the ceremony to each couple. Andy met with us in New Hope to discuss what we were looking for. He was very kind and seemed genuinely interested in learning about us and our relationship. He provided some sample ceremony scripts and allowed us to alter them to meet our needs. He also emailed each of us two questions that we responded to individually about our relationship, and then he discussed our responses during the ceremony, which was the first time we heard what the other had said. This was a truly personal and beautiful experience. Most people say that their wedding day flies by and they hardly remember the ceremony because of excitement. My experience was different. I listened to every word Andy said because I didn't want to miss a moment. It was perfect. I received so many compliments saying that our ceremony was "the best" they had ever been to because it was so personal and I attribute that experience to Andy. We highly recommend him!

Jamie

Married on 07/21/2017

Andy created an absolutely perfect wedding ceremony for us! We could not have asked for a better ceremony or officiant. His professionalism and warmth are apparent as soon as you begin talking to him. He made the process easy for us and included some of our own words in the ceremony, which we loved. We have received so many compliments about him and beautiful words that he said. I would highly recommend Andy Mahaney as a wedding officiant!

Kelsey

Married on 06/03/2017

You don't think that your officiant would be in your top 3 favorite parts about your wedding, but with Andy as our officiant, this was exactly our experience! We were referred to Andy by our awesome wedding planner and were also encouraged by his positive online reviews. We met him once in person and really enjoyed his interest in wanting to learn about us as a couple and the vibe we wanted for our wedding day. After that we didn't really need to communicate much until closer to the wedding, where we answered some of his questions via email to help him build some of his points he made during the ceremony.

Fast forward to wedding day and you would've though Andy was a blood relative! He was incredibly authentic in delivering a beautiful ceremony. He brought to life the readings and prayers we sent him and filled us both with so much happiness in that moment. We had a lot of last minute changes with a rain plan and he rolled with all the punches—including not being able to use a microphone in the rain location. None of this stopped Andy from making people feel like love was quite literally in the air during the ceremony. So much so that despite us being calm and collected with having done first look photos, my husband and I winded up balling our eyes out during our written vows to each other. We felt so vulnerable and indescribably happy. We credit a lot of this to Andy!

What was most special was all of the compliments we received on our ceremony—when nowadays, most people want to just get through the ceremony to get to cocktail hour, we felt the feedback from our guests showed what an impact a personal and genuine ceremony can have on everyone in attendance.

We are so grateful to have been introduced to Andy and have experienced his gift of officiating at our very own wedding!


Rebecca

Married on 09/03/2016

There are really no words to express how wonderful Andy was! My fiance and I weren't really sure how to find an officiant and our venue had recommended him to us so we thought why not meet him. From the moment we met him, we knew he would be perfect! We had a great conversation explaining what we were looking for and how we wanted our ceremony to go. He was extremely accommodating and very genuine in his demeanor. We talked a few times over email throughout the course of planning and he was always quick to respond and very sincere, wanting to help us. He even went out of his way to learn how to pronounce a line we wanted read in Hebrew. And wedding day? He was INCREDIBLE. His delivery of our ceremony was so special, so authentic, so meaningful. We were blown away, it was like he knew us our whole lives. And it wasn't just us - we can't tell you how many people came up to us saying how special our ceremony was. Thank you so much Andy for everything, for making our ceremony so special, and a moment we will never forget! We highly recommend Andy for anyone looking for an officiant!

Michelle

Married on 05/07/2016

Andy is so warm, professional, and wonderful!! When my fiancé and I decided to skip the church wedding, we knew we'd need an officiant. We toyed with the idea of having a friend or family member do the ceremony - how hard could it be?! Wrong! Watching videos of Andy's ceremonies made us realize what a huge, important decision choosing an officiant is. Hiring Andy was the best decision! After the ceremony, gusts kept raving about it and asking if Andy knew us before this. He was so natural and makes the ceremony personal. An engaged couple at our wedding even asked for his name so they can look into hiring him for their wedding! You can't go wrong with Andy - he was a joy to work with!

My husband and I were beyond thrilled on how amazing are wedding ceremony turned out. Andy has such a great calming intimate presence that he brings to the ceremony. All of my guests commented on how much they loved the ceremony.. Our vows were loving and personalized to fit us. It was a wonderful moment and I will be forever grateful on how wonderful it turned out. I highly recommend Andy.

Carlee

Married on 11/07/2014

We are BEYOND THRILLED with how wonderful our wedding ceremony was! From the first meeting to the wedding day, working with Andy was one of the best decisions we made for our wedding. We knew from the beginning that we wanted something more personal, and that is exactly what we got! All of our guests were so impressed with the ceremony and mentioned different things Andy said that they loved. What we loved the most was how Andy was able to make it romantic and touching, yet fun and light-hearted. And I especially loved his delivery - he's an excellent public speaker and it didn't feel like he was reading from a script. He made our guests laugh, he read excerpts from emails that we sent him, and our guests thought he was someone we had known forever. We couldn't have asked for a more special way to start our marriage!

Harold

Married on 05/17/2014

Wow I seriously cannot say enough about how lucky we were to have found Andy. He provided us with an unforgettable memory and was perfect during the most critical part of the wedding. Our guests are still talking about how beautiful the ceremony was and how personable Andy made ours. Thank you Andy a thousand times over.

-Harold & Jackie

Joanne

Married on 10/25/2013

Andy performed my daughter's wedding ceremony on Oct. 25...it was so perfect! Loved his demeanor, his voice, his style. It felt like a member of the family officiated...couldn't have been better! Some of our guests asked if he knew the couple personally...he didn't, but you wouldn't know that! Thanks Andy, you did a great job, we all loved the ceremony!

Erin

Married on 09/20/2013

My husband and I weren't getting married in a church and had no idea how to go about finding an officiant. I searched online and read reviews for a while but I wasn't sure how to choose one. Then I came across Andy's website and watched a video of him performing a ceremony. I knew right then that he was the one! We met with Andy and he went though how the ceremony works and we discussed what we would like to include. He asked us to email what we loved about the other and why we wanted to be married. He sent us an outline of the ceremony not including our emails about the other. The ceremony was amazing!!! His words, the way he delivered them, and including what we wrote about each other all helped to make an incredible ceremony. We had soooo many people tell us how much they loved it! They thought we knew him forever even though we had only met face to face once! Thank you so much Andy!!!!

Casey

Married on 12/15/2012

Andy did a wonderful job officiating our ceremony. It was like he knew us for years and made our ceremony feel so personal and we only met a few times. All of our guests said such wonderful tho gas about him. I would recommend Andy to anyone looking for an officiant.

Caitlin

Married on 10/05/2012

It took my fiance and I until 10 days before the wedding to find an officiant, and we were so worried that our ceremony wouldn't be intimate or uniquely us, but all of our worries subsided once Andy began the ceremony. We had been in contact back and forth for the 10 days leading up to the wedding, we did not actually hear Andy's voice or meet him in person until a half hour before the ceremony. However, he was a true professional and used all of the information we had given him to create a unique and individualized ceremony. Everyone commented on how wonderful it was, and people were astonished to learn that we had only met him that day.

Miranda

Married on 09/14/2012

Andy Mahaney did a wonderful job on our ceremony. He was very easy to work with and our ceremony was perfect, exactly what we wanted. He added his special touch to the ceremony to help us make it personal and special to us. I loved every minute of it and can't wait to see the video. Our guests really loved our ceremony and said that Andy did a great job keeping the ceremony fun and heartfelt. He truly does an exceptional job.

Was the easiest person to work with. Wrote a ceremony that was very personalized to my husband and I. Everyone who attended the wedding said it was the most beautiful ceremony they had been to. I had also been to another wedding that he officiated and I couldn't agree more!

Tricia

Married on 07/07/2012

I can't thank Andy enough for making my wedding ceremony absolutely amazing. From the moment we met Andy, I could feel his passion and his joy in helping people become one. The ceremony Andy wrote for us showed this passion, and yet still felt as if it was something we would have written ourselves, despite the fact that we had only met Andy once. After our ceremony people were raving about how beautiful it was. Everyone asked if he was our pastor from church or if he was a family friend because it seemed like he really knew us.

My favorite part about working with Andy was that he had my fiance (err...husband!) and I each answer two questions that he then incorporated into our ceremony. Hearing my now-husbands answers was such a sweet and wonderful surprise during the ceremony (even though it took him until the day before the wedding to get the answers to Andy!).

Andy made the ceremony feel so special, so intimate, and absolutely perfect. I am so grateful and thankful for his help and support on our special day.

Annemarie

Married on 11/26/2011

Andy is the best of the best. We met with him a few times so he could get to know us and he did just that. Our ceremony was so heartfelt and there was literally not a dry eye in the place. Our family and friends still cannot get over what an amazing job you did. Officiants can say a lot of things but delivery is so important and you know how to deliver every word you say with meaning. We will never forget the beautiful day we had and thank you for being a part of that.

Sincerely,
Annemarie & Jimmy
November 26, 2011

Courtney

Married on 10/30/2010

We would actually like to give Andy a 10 out of 5!! He was absolutely perfect! Our ceremony was beyond what we could have imagined. It was extremely personal and fit our personalities completely. Andy worked with our Priest extremely well. I honestly cannot say enough about how wonderful he made our ceremony!! He came up with ideas that were just so unique and so personal! I would highly recommend him!
Are you interested?
Send a message