41 Reviews
Recommended by 99% of couples
Quality of service

5 out of 5 rating

Average response time

4.9 out of 5 rating

Professionalism

5 out of 5 rating

Value

4.9 out of 5 rating

Flexibility

4.9 out of 5 rating
27 User photos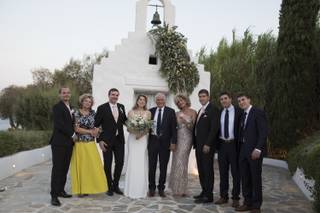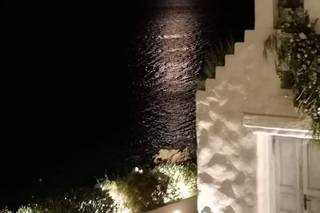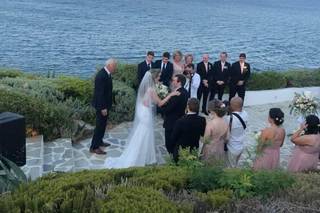 + 23

photos
Zaffie Z.

Married on 08/22/2021

Absolute excellence

Caring, accommodating and very reliable.. John Passaris and his crew really came through for my daughter's wedding with excellence and diligence.. I really can't thank them enough for all their hard work to pull through the most important day in my daughter's life. The overall experience worked flawlessly through the most unpredictable covid period and even though the stress involved, with thorough communication we managed to make the most memorable day happen! I highly recommend the services they provide, especially for us who live abroad. Thank you from the bottom of my heart 👏👌

+ 10

photos

Siba

Married on 12/27/2019

Top of the Top

We highly recommend Wedding in Greece, not only because our wedding was amazing, but also because of the following reasons:
1 - Hassle free: John and his team took care of us since the moment we reached out for them seeking help to organize our wedding in Greece. We are not Greek and don't live in this beautiful country, we visited Athens and met with John in person two times only, and everything was taken care of by his team in less than 5 months.
2 - Very professional and details oriented: He showed us many beautiful venues based on our criteria and followed up with each and every venue we chose to get more details. He suggested many services to us and sometimes insisted we chose few additional options that made a huge difference in our wedding. He even added small but beautiful details that delighted all our guests.
3 - Warm and very friendly team. Sofia and John are very fun and kind; they know what they are doing which made us feel relaxed.

The list can be very long, so we will just stop here and tell you if you are looking to have an amazing and relaxed wedding in Greece, reach out for them you will be in good hands.

Thank you John & Sofia

Elena

Married on 10/07/2019

Highly recommended

"Wedding in Greece" was so quick and offered exactly what I wanted.
Thank you

Are you interested?

Send a message

Nick D.

Married on 09/26/2019

Sikh Wedding in Athens, Greece

We arranged our wedding from London with Wedding in Greece and from day one John Pasaris was responsive and passionate about helping us arrange our wedding. Managing an overseas wedding is incredibly difficult, but John guided us to choose some fabulous places and deal with reliable and professional vendors throughout our 18 month planning stage and was even able to connect us with the local Sikh community in Athens. Our day went absolutely to plan with John's guidance and all our guests had a fabulous time over the three days together. I would absolutely recommend Wedding in Greece's services and cannot thank John enough for his support during the process!

"Wedding In Greece" | Destination Wedding planning experts's reply:

Nick! I cannot thank you enough for those kind words, it means the world to me.
You and Harpreet are such a beautiful couple and it was really a pleasure for me and all our planning team to plan one of the most memorable days of your life.
I absolutely loved working with you and your amazing family.
I wish you and Harpreet many years of joy!

Lara M.

Married on 09/09/2019

They were very professional and very helpful with everything

I have to say Wedding in Greece it's amazing! T
They will do whatever it takes to make your destination wedding in Greece an unforgettable experience!
They were very professional and very helpful with everything. Thank you all

Sharon R.

Married on 06/28/2019

Meticulous Indian wedding planning

The service from John and his team at wedding in Greece was nothing short of exceptional.

We worked with John for around 7 months for our wedding in Santorini and from start to finish John was super responsive to emails and quickly answered all of our questions about the wedding weekend.

We planned 3 days with John, a sangeet, wedding plus catamaran cruise around the island.

The team were quick to get availability dates and tell us the best venues and suppliers for each of our events. He understands the Indian culture well and works well with all suppliers to accommodate the cultural elements required for an Indian wedding.

I would highly recommend John and his team if you're thinking of having a wedding in Greece. He takes away all of the stress so that you can relax and enjoy the big day.

"Wedding In Greece" | Destination Wedding planning experts's reply:

Dear Rowan and Sharon, thank you so much for your kind words. We are glad we had the opportunity to work with you planning your destination wedding in Santorini island, Greece!
Congratulations and thank you again!
We wish you all the best that life has to offer in your wedding.

Bogdan

Married on 09/20/2018

'Wedding in Greece' team help me, in a very professional way, with all my documents needed for the Church ceremony of my wedding, and with their help we managed to have everything ready in time for the priest. Thank you once again for your help!

Elena

Married on 08/30/2018

Our wedding was a dream come true! We cannot thank enough to John and his colleagues for the great work and amazing details they did for us!

Andrew

Married on 08/12/2018

We were traveling from Chicago in the USA to have our wedding in Athens. Its an intimidating process planning a wedding from so far away...but luckily we found 'Weddings In Greece'!

From the very outset John and Anastasia from Weddings In Greece were outstanding. They were always available to to discuss anything, whether by phone, email or Skype. Whilst we didn't consider ourselves to be over the top with details regarding our wedding (hopefully!), it was clear that John and Anastasia were use to catering to clients with the highest of expectations.

The service we received over our wedding weekend surpassed anything we could of imagined. My wife initially met John when she landed in Athens to review what we had asked to be put in place, and was blown away by the professionalism and attention to detail John and his team had provided.

In addition, Weddings In Greece arranged our rehearsal dinner the night before the weeding, which was amazing. But unexpectedly, my mother and father became unwell, and John from Weddings In Greece, without asking, said he would drive my parents back to their hotel and make sure everything was fine. He truly went above and beyond to help us that night.

The wedding day was amazing! John and Anastasia were there all day to make sure anything we needed was available to make sure we had the best day we possibly could.

I can't recommend this company any higher to anyone who is considering getting married in Greece. Not only will they not let you down, they will surpass your expectations to give you the best day of your life!!!!!!

Jennifer

Married on 12/16/2017

Thank you John and your wonderful team for creating the wedding of our dreams! You made every wish come true, through your meticulousness and your wonderful execution of every detail. For an entire year, John corresponded with me via email and Skype. He was extremely responsive, always available to make sure every single detail is taken care of. Because of his excellent organization skills for an entire year, the day of our wedding was seamless. He delivered superb quality and he made our experience so memorable. Everyone spoke very highly of our wedding, and if it weren't for John and his incredible dream, we wouldn't have had such a wonderful experience. Do not hesitate to go with him, you won't regret it!

Elena

Married on 08/16/2017

It was really a great experience working with such an experienced wedding planning team, as "Wedding in Greece"!!
They helped us so much and they was very responsive to our numerous emails and questions, regarding our destination wedding in Santorini island, August 2017.
Highly recommended services to other couples looking for the most reliable wedding planner in Greece!
Thank you again
Elena Sorentos
San Francisco, USA

"Wedding In Greece" | Destination Wedding planning experts's reply:

Thank you Elena & Sahil!
Appreciate your kind words
"Wedding in Greece"
Pasaris John

Aashish

Married on 08/04/2017

John of Wedding in Greece is simply AMAZING! We have been working with him and his company for nearly two years and have received exceptional service.

They helped us plan and deliver a catamaran party, pre-wedding henna party, an Indian wedding AND a civil wedding and reception on the beautiful island of Santorini.

From day one, John was extremely professional, quick to respond to messages and had brilliant recommendations and ideas. We would not have been able to do it without him and his team.

He has excellent contacts and suppliers, all of whom are equally professional and dedicated.

I cannot recommend Wedding in Greece enough! Thank you SOOOO much John, we really, really appreciate everything you did for us and making our dreams a reality. Thank you!

Lots of love,

Aashish and Divya Parmar

"Wedding In Greece" | Destination Wedding planning experts's reply:

Thank you, Aashish for the kind words!!!
Really appreciate and looking forward to meeting you & Divya in Greece again!
Pasaris John
"Wedding in Greece"

John

Married on 07/12/2017

From the beginning of our planning till the end of our wedding celebrations, John Pasaris was very responsive and professional in all aspects of planning our destination wedding at Mykonos. His charges were very reasonable, enabling our event to come in on budget. He personally supervised and implemented each phase of our event. John removed all stress from our preparations, which made our celebrations so much more enjoyable. We have no hesitation in recommending his services. We will be happy to again use his services for any future celebration in Greece.
Margrit & John, Sydney, Australia.


"Wedding In Greece" | Destination Wedding planning experts's reply:

Dear John & Margrit, thank you for the review and for the kind words!!
It was a real pleasure planning your destination wedding in Mykonos!
I am very happy to meet you and I am looking forward to meet you again when you visit Greece!
Thank you again John & Margrit!!


Maya

Married on 07/06/2017

The best and most professional team that will definitely make your wedding dream come true
Highly recommended!!!

"Wedding In Greece" | Destination Wedding planning experts's reply:

Thank you Maya for the kind words!
You know that you & Jad are always in our hearts!
See you soon in Dubai in few months..
Thank you again Maya!! Appreciate!

Georgia

Married on 12/01/2016

Wedding in Greece is a high professional and trusworthy wedding planning company. It is the best choice if you consider planning a wedding in Greece. John and Eleni treat every couple with kindness, respect, loyalty, professionalism. The best team in Greece!

Catherine

Married on 08/30/2016

Amazing team! Thank you so much for making our wedding unforgettable. At the beginning we were worried about having a destination wedding but John helped us from day one. He took care and followed up on all the details, preparations and paper work. He gave us the best deals with the most professional prople in Greece in general and Santorini in specifing. He is very professional, talented and hard worker. Thank you wedding in Greece! You are the best

"Wedding In Greece" | Destination Wedding planning experts's reply:

Thank you so much Catherine for the kind words and your wonderful review!! We are very happy that you enjoyed the wedding planning services from "Wedding in Greece"!
We hope you travel to Greece with Rami again and meet you for one more time soon!!!


Alexandros

Married on 08/21/2016

Yanis and Mina were excellent wedding planners and great people! We had a fantastic time with them and we fully recommend them!

"Wedding In Greece" | Destination Wedding planning experts's reply:

Thank you Alexandros & Maite. We really appreciate your positive feedback about our services for your wedding in Greece!

Jamie

Married on 05/30/2016

Can't thank John Passaris and his wedding team enough for creating our beautiful destination wedding in the Athens Riviera. Very professional service! It is difficult to find someone you trust to plan your wedding in Greece from across the world (I'm located in Texas) but John made it easy from our initial conversation. John always provided quick responses to my endless emails, very organized, and accommodating to all requests. Would highly recommend his services!!

"Wedding In Greece" | Destination Wedding planning experts's reply:

Dear Jamie,
Thank you for your most kind review and particularly for praising efforts of our colleague John, our head wedding planner. Thank you for complementing our overall wedding planning, decoration but most of all our dedicated employees.
Thank you again for choosing us as wedding planners and thank you for sharing your positive experience of "Wedding in Greece"!

Yours sincerely
"Wedding in Greece" team
www.weddingingreece.com

Alexander

Married on 06/09/2014

I want to say thank you to John Pasaris and his team for organizing our wedding on Crete. I surfed through the internet a lot and emailed many agencies before I made my decision to go with "wedding in greece" agency.
It wasn't a tough decision for me because all of my communications with John was nice and smooth. I also liked the fact every time we skyped John asked me many questions, such as how we want things to be. He found me photographer, videographer, catering, DJ, hairdresser and many other services you name it. All of this assured me that I'm working with true professionals.
Everything regarding to the wedding it self was outstanding. He even found me a russian speaking waiter and moreover a russian MC (tamada) that I couldn't believe. My overall evaluation of their services is 5 out of 5, and I would definitely recommend them to anyone who wants to have a great wedding with a hassle.
Thank you guys, you are the best!


Tim

Married on 03/08/2014

Wedding in Greece provide a wide range services on wedding planning. Professionalism services on wedding information and helps a lot for all foreigner!!!!

Natasha

Married on 01/01/2014

John and his team put together the most breathtaking wedding for my husband and I with only 4 days of notice. I had 24 hours when I arrived in Greece until the wedding. He asked me about 3 questions, got me to a dress vendor, and everything else (venue, hair, make-up, music, cake, bouquet, photographer, etc.) was seamlessly taken care of without a glitch! We Cannot express enough gratitude for his professional services and providing us our beautiful memorable wedding in Greece!

John is fantastic! He always has an answer for my never-ending question about my reception!
He and his team, has everything under control.
Everything was as i have dream it!
Thanks Wedding in Greece!!
Love :)
Nikita

Tania

Married on 09/01/2013

Wedding in Greece, is simply the BEST wedding planning team that any bride can ever have for their big day!
Our wedding was in Santorini, September 2013.
They was prompt all the time with their emails.
They was my partner, with giving me all the information I needed.
You won't get better services than with Wedding In Greece as your wedding planner!
We decided early on that we were going to get married in Greece. But being that we live LA we knew that to needed a planner for our wedding.
John from Wedding in Greece and I clicked immediately from our first Email.
If you need an expert, patient and organized planner, them go with them.
I never felt any pressure from them.

Thanks for everything!!! I love you guys!!
Tania

Helen

Married on 08/22/2013

Wedding in Greece = THE BEST.
It was amazing to work with them from start to finish.
We were excited to learn that he had existing relationships with the majority of our vendors. Wedding photographer, videographer, floral decoration, dj music, make up artist, hair stylist, catering, everyone was at their best!!
Highly reccomended!!


Gabriela

Married on 07/21/2013

John and his team were awesome. It was scary placing your trust in someone you have never met, but John was great at providing information and answering questions. Helen, the photographer, also did an amazing job. Not only were her pictures absolutely beautiful; she was there every step of the way. I would highly recommend John and his team.
Are you interested?
Send a message