81 Reviews
Recommended by 99% of couples
Quality of service

5 out of 5 rating

Average response time

4.9 out of 5 rating

Professionalism

5 out of 5 rating

Value

5 out of 5 rating

Flexibility

5 out of 5 rating
69 User photos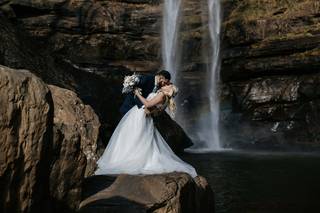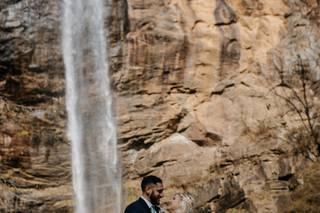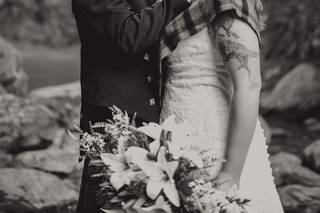 + 65

photos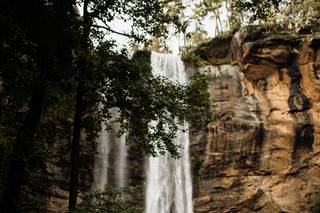 Brittany Z.

Married on 12/04/2021

Perfect isn't the word

Delaney and Rick were amazing they were so quick to respond and Delaney is just amazing from her energy and her personality is just through the roof! Don't even think about it just book her even the guest at my wedding had stopped me just to tell me how great our photographer was!

Cat R.

Married on 09/22/2021

Absolute Dream Wedding

Rick and Delaney went above and beyond to make our dream wedding come true. I could not express just how grateful we are to have found them and to have had the pleasure of meeting them and their helping us create this beautiful experience. We went through over two years of planning and rescheduling and rescheduling again, we had billions of seemingly ridiculous questions and countless set-backs, but despite all that they were incredibly patient, understanding, compassionate and as excited as we were to make our wedding perfect. And despite every twist and turn life threw at us, our wedding before the breath-taking Toccoa Falls was like something out of a fairy-tale or mythic fantasy. Words cannot express our immense gratitude. Thank you from the bottom of our hearts

Waterfall Wedding Experts's reply:

Cat- We live for feedback like yours! Thank you for your kind words and for letting us be part of you wedding day. But it is you who really gets all the credit... your patience and persistence in spite of the pandemic (and all the unknown complications) inspired us! Thanks for being such a great couple to work with!

Kimberly B.

Married on 06/14/2021

Mud creek falls

We had the absolute best experience! The venue was more beautiful than I could have imagined. Questions were always answered promptly! Rick was Super accommodating when we asked to change our time! I could not have dreamt of a more satisfying experience!

Waterfall Wedding Experts's reply:

Kimberly-

We are so glad you had such a great experience! We loved all the little personal touches you added to your ceremony!

Best wishes!

Are you interested?

Send a message

Donald S.

Married on 05/29/2021

Vow renewal

Mr Rick was great and the waterfall was great as well as photos

Elizabeth P.

Married on 05/29/2021

12/10 Would Recommend

My husband and I are so thankful for the Waterfall Wedding Experts team! They minimized our wedding stress and anxiety by planning and taking care of all the details so that we could fully appreciate our day. So blessed to have worked with such an awesome team!

Waterfall Wedding Experts's reply:

Oh, Elizabeth!

Thanks you so much! We truly enjoyed having you guys as one of our couples. You guys are so in love and it definitely showed!

Best wishes you two!

Laruth M.

Married on 05/29/2021

Waterfall Weddings

Waterfall Weddings provided an excellent experience for our Toccoa Falls elopement. We wanted an elegant private ceremony and that is exactly what we received. Rick and Delaney Durham were professional and checked in with us consistently providing updates and reminders making sure we were on track and if we needed anything. It was a seamless process from beginning to end and we are very thankful. We highly recommend their services.

Tina J.

Married on 05/20/2021

Beautiful Elopement

Everything was streamlined, effortless, and the most relaxing day. Our wedding day was perfect! Rick and Delaney were top professionals.

Christie B.

Married on 02/08/2021

Absolutely Perfect!

Delaney and everyone from Waterfall Wedding Experts helped make our day absolutely perfect and I couldn't be more pleased with the entire day!

Leney F.

Married on 02/07/2021

Perfect Special Wedding Day

Thank you to Rev. Rick and Cyndi for making our wedding day perfect. They walked us through every step with ease, and always available for a quick question. From marriage licenses to ceremony builder to wedding venue, the experience was so simple, yet extremely well thought-out. COVID tried to stop us from having a wedding, but we were able to joyfully, successfully have an intimate ceremony with our loved ones at the Waterfalls (with only a few weeks to make it happen), What a wonderful blessing to find Waterfall Wedding Experts.

Leslie H.

Married on 10/07/2020

Perfect Ceremony!

They were very professional! And when a small issue came up due to Covid, they handled it seamlessly! The photos came out beautiful and the pastor was fantastic! The waterfall setting was epic!!

Roberta J.

Married on 09/04/2020

Easter Sunday Wedding

We had excellent communication via numerous emails with Rick at Waterfall Wedding Experts as we were booking out of state. Our first concern was that we chose to get married on our 7th anniversary from our 1st date, which turned out to be Easter Sunday 2019. There was a bit of juggling times due to the holiday but Waterfall Wedding Experts took care of it all for us and kept us informed constantly.

They had a checklist of questions that covered a lot of options to think about and assist in the planning of our wedding. They provide all the traditional wedding ceremony but also were flexible to make the ceremony our own. Rick help us make the decision where to have the ceremony with consideration to the number of guests we would have.

They're website also offered, and Rick confirmed, who to use for vendors in the area regarding the wedding cake, flowers, reception hall, and where family and friends should stay as we all were from out of state.

I really didn't think I would need a wedding planner for a small intimate wedding but I was wrong. His daughter Delaney put me at ease as well with her wedding planing and every detail and concern taken from me. I didn't know how I was going to juggle setting up the reception area and being at the falls all within 30 min. Again we had to wait for the reception area to change from Easter Brunch to wedding venue, and Delaney took care of it all. What a godsend!

The photos were done by Cyndi and what an incredible job she did. I never felt her intruding while the ceremony or reception was going on, but she got the best images. Thank You Cyndi.

Everything went beautifully and I have been told from our guests, on numerous occasions, that our wedding was one of the best and one to remember. The setting was just breathtaking.

Rick was generous to provide the blessing before our meal, and the speech he gave at our reception was genuine and sincere. He recollected how Stan and I made several 10hr trips from So. Fla to Toccoa Falls to see the setting, meet the vendors, cake testing, etc. He notice how much effort we put into making sure this was going to be not just a great day for us but a great day for our guests.

Thank you to Waterfall Wedding Experts for providing my husband and I the best start to being a married couple. We highly recommend Rick and his staff from Waterfall Wedding Experts!!

Kelli R.

Married on 07/06/2020

Felt like a fairytale!

Thank you Waterfall Wedding Experts! This was the wedding day of my dreams...a simple, small intimate ceremony surrounded by beautiful scenery. AND everything ran so smoothly! The day was perfect! Rick, Cyndi, and Delaney took care of everything from day one. They have perfected a checklist of information that equips you with all the details on how to make the day a success. It was so easy! This day was exactly how I wanted it and if I had to do it over again, I wouldn't change a thing.

Janice S.

Married on 06/13/2020

Minnehaha Waterfall

Rick and Cindy done an awesome job getting my wedding together during this pandemic. The Minnehaha Waterfall was a very beautiful place for our wedding. Thanks for everything.
Janice Starnes

Waterfall Wedding Experts's reply:

Janice- You are so welcome! We really enjoyed meeting your family! They obviously love the two of you very, very much. We wish you all the best!

Buttaflybride

Married on 04/24/2020

Above and Beyond!

Words simply cannot express how pleased and grateful we are for our experience with Waterfall Wedding Experts.

Rev Rick and Delaney were such a pleasure to work with. From the beginning, Rev Rick was extremely helpful and informative on the marriage license and wedding process. His words of encouragement during such uncertain times was truly unmatched and will also be remembered. It motivated us to keep pushing forward despite our planned location changed a couple times due to closures. With their knowledge and expertise, we were able to have a Plan A, B, and C. They truly went above and beyond!

Their flexibility, guidance, patience and professionalism was most appreciated. Delaney is so personable and we immediately felt comfortable in front of the camera with her. And we absolutely love, love, love the beautiful photos! She is a true talent.

They were extremely welcoming when we arrived, putting our minds at ease and offered the bridal suite for us to change into our wedding attire after a long drive. Rev even kept our dog company during our photo session and even he fell in love : ) Kind spirits through and through.

Thank you so much again for sharing and making our day special.


Waterfall Wedding Experts's reply:

Porscia- thank you so much for letting us lead you through things prior to and on your wedding day. We like to think that working through adversity is something that we do pretty well. But really you get all the credit for not letting the virus or anything else get in the way of having a special wedding day! Thanks so much! Rev Rick & Delaney

Jami W.

Married on 03/13/2020

Highly recommend

Amazing vendor and photographer as well! Great to work with!

Jackie D.

Married on 02/20/2020

Amazing Dream Wedding 02-20-2020

My dream has always been to get married at a waterfall. My husband and I decided on GA. Our entire wedding was to be a week in the GA mountains and a wedding at the falls. As the day approached we were so worried about the weather.. We are from FL. Rev Rick gave me a call the day before because it was to be cold and rain all day on our date. He offered his property to us. I accepted his offer determined to make the best of it !! We were greated with the happiest of smiles when we. I was not in love with getting married inside. With some last minute moving of tables. They opened up the French doors the the outside which allowed enough covering to stay dry. We were a wedding of only 10 people so it was very intimate. When a girl can't have her waterfall...she got snow. As the ceremony started the rain turned to snow. What could be luckier than snow!!! Rev Rick performed the most beautiful ceremony of vows that included our children and loved ones past. That touched on the people we are and the journey that got us there. Daughter Delany greeted us and got us up to the bridal room to dress. She even found me some much needed coffee. She was full of spirit and made the whole experince that much better. She was also our photographer. Our pictures are amazing. People cant believe the beautifulness of the pitures and the wedding location. Whether you get your waterfall wedding or have to make last minute changes Waterfall Wedding Experts make all your wedding dreams a reality. I am eternally grateful for the memories that I will always have with me about my perfect day.
The Happiest Bride Ever ---Jackie

+ 12

photos

Billie J.

Married on 11/02/2019

Amazing and stress free ! Toccoa Falls was so beautiful and Rick and his family made it happen and worked around the weather!!!

We would highly recommend waterfalls wedding experts to ANYONE getting married! What a wonderful and beautiful experience we had. We just eloped January 29 and the weather was calling for rain and snow ! Rick and his wife Cindi did everything they could to accommodate us to have our magical day outside by Toccoa Falls, which is absolutely beautiful and an amazing place for a ceremony and pictures. Rick's daughter Delaney took our pictures and was a delight to work with. She was very professional and took her time to get the perfect pics of OUR day !! We can not say enough about this venue. These are the sweetest most down to earth people you could ever meet !! They made our wedding so much more special and beautiful and for that we will always be grateful!! You will not regret this venue. It's unique and memorable!! Even in 30 degree weather !!! Thanks Rick , Cindi , and sweet Delaney ♥️

+ 6

photos

Waterfall Wedding Experts's reply:

Billie Jean- Thank you so much for that review!!! We are so glad you guys had such a great experience! We wish you & Chuk many blessings!

With love-
All the Durhams

Sarah D.

Married on 11/02/2019

Simple, affordable, perfect

The waterfall wedding experts were amazing. They basically planned everything for me so I didn't have to! (I was 6 hours away) Everything ended up being perfect, from the venue, to the photographer, I couldn't have asked for a better day!

Andrew S.

Married on 10/06/2019

Our Wonderful Day

Brilliant professional service for an elopement wedding. Coming from the UK to get married in GA we were a bit nervous, but for no reason. RIck and Cindy made our special day run smoothly with lots of good advice, and preparation. On the day they welcomed us like family and really made the day extra special. Setting was breathtakingly beautiful. The ceremony was tailored to our wishes and we were even blessed by rain, sun and a beautiful giant butterfly landing on our path into our new life together. We could not have wished for better, truly unforgettable and perfect day!

Jina W.

Married on 09/21/2019

Breathtaking

I could not imagine a more beautiful or perfect wedding if I tried! Reverend Rick and his daughter Delaney exceeded all expectations! Reverend Rick gave us such a beautiful and perfect ceremony that truly touched my heart and Delaney was so sweet. She took her time to make my dress perfect for all the shots. She really took her time to take great photos. It was pure perfection! Reverend Rick also took his time helping to set up the sand ceremony and he poured the sand in the tubes and truly went out of his way to make it special. Both Rick and Delaney did a phenomenal job making my fiance and I, our children, and guests feel important and special! I can never thank you enough! You are phenomenal!

Waterfall Wedding Experts's reply:

Jina-
We are so glad, you are so happy! With all the craziness with the coronavirus you get all the credit for keeping a positive attitude and allowing us to do, what we do. You have a beautiful family and we wish you all the best! Thank you for the opprotunity to serve!
Rev. Rick
Waterfall Wedding Experts

Lynsey

Married on 09/14/2019

Great Officiant & Photographer

Rick & Cindy are amazing! Super flexible & due to weather, they came to our cabin. Wouldn't have chose anybody else to marry us.

Waterfall Wedding Experts's reply:

Courtney- thanks so much for your review and kind words. Actually, you deserve ALL the credit! Thunderstorms changed both your ceremony AND reception sites. In spite of all the adversity you kept a positive attitude and a smile on your face. And that rubbed of on all your guests. YOU are the one who deserves all the credit! You could be the poster girl for handling adversity on your wedding day! We wish you, Anthony, and your children all the best! Thanks again!

Albright

Married on 06/22/2019

Rick Durham/Delaney Durham

Rick was very prompt, informative, and so helpful. He met with me and my parents, even though it wasn't necessary, but just to ease our worries and concerns of planning a wedding at a venue 3 hours away (Toccoa Falls). Delaney was an amazing photographer and took the best pictures! She got them back to me in a very timely manner and I even got a few sneak peek photos the evening of my wedding only hours after we'd gotten married! How awesome is that?!?! All I had to do was show up and get my dress on. It was stress-free and I'd use them again in a heartbeat!

Waterfall Wedding Experts's reply:

It was a real pleasure assisting you all during the planning process and on your wedding day. Thank you so much for your review and for the opportunity to serve you!

Rachael H.

Married on 06/15/2019

Incredible

They were so accommodating and did everything they could to make our day perfect for us. Rick was wonderful to work with as was Delaney. Delaney went over and beyond to capture our family and she more than succeeded! I would recommend Waterfall Weddings or anything these two do! Thank you guys!

Mason M.

Married on 06/13/2019

Definitely reccomended

Was a wonderful choice for a private wedding! Lots of pics taken!

Lori

Married on 05/25/2019

I would highly recommend this company. Mr. Durham and his wife are very professional, sweet, and do a wonderful job. They were very helpful with the whole process and made it a very memorable event.
Are you interested?
Send a message