13 Reviews
Recommended by 97% of couples
Quality of service

4.9 out of 5 rating

Average response time

4.9 out of 5 rating

Professionalism

4.9 out of 5 rating

Value

4.9 out of 5 rating

Flexibility

4.7 out of 5 rating
3 User photos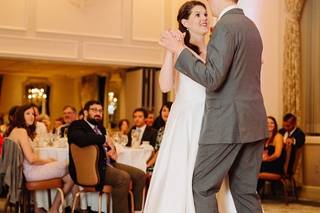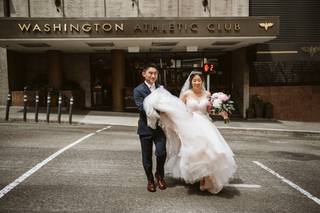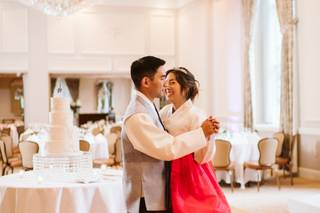 Featured

Sheena

Married on 10/05/2019

Loved the wac!

We LOVED having our ceremony, cocktail hour and reception at the WAC! Katie and her team were amazing to work with and made every moment special and went above and beyond. Katie was very communicative throughout the process and had every detail covered. The ambiance of the WAC added timeless elegance to the whole event. The food are drinks were delicious and impeccably presented. We had 120 guests and they fit very well in the venue with room to spare. We 100% made the right choice regarding our venue choice and would recommend the WAC to any future couple. I'm so glad we did a venue tour and met the wonderful team at the WAC! They were truly a big part of why our wedding day was so magical. Thanks Katie and team!

Kristine

Married on 05/26/2018

Choosing to have our wedding at the Washington Athletic Club was the first big wedding decision we made outside of deciding to get married in the first place, and it ended up setting the tone for the whole event by being the best decision EVER. Katie, Patrick, and the rest of the WAC staff were beyond amazing in the time leading up to and during our wedding. Katie was always quick with answering emails and getting us the information we needed. Everyone was always extremely professional and accommodating, and they worked seamlessly with all our other vendors. We always felt cared for and supported. They were even kind enough to go out of their way to order our favorite root beer so we could serve it during the event, and they custom made espresso ice cream for our sundae bar! We also had complimentary parking for our guests.

In every interaction with the staff, it was clear that those who work at the WAC and on the catering staff love being there—most of the people there have been working there for years, and the care and joy they put into their service is truly admirable. Thanks to the team at the WAC, our day was absolutely stellar.

The team with the Spa at the WAC also ended up doing the make-up and hair for me and my bridesmaids, and they were amazing as well. The whole team is so kind and amazing, and with every interaction, it is clear that they care deeply about the work they do and the people they are working with. We had a group of four bridesmaids and me who did an assortment of hair and make-up, and all of us had so much fun talking with the team while we were getting done up. The end result was absolutely beautiful, and our looks lasted throughout the night, despite our starting the styling at 8:30 that morning! It was wonderful to have such a talented team in-house with our venue. I can't imagine having it any other way.

Nahal

Married on 08/29/2015

I recently had my wedding at the WAC and everything turned out beautifully. Renee took over the catering manager role while I was working with WAC, and I am thankful she did as not only did she smoothly pick up where the former catering manager left off, but she was so responsive and great to work with. She was very accommodating and professional-- I wish all of the vendors were as easy to work with as she was. The venue itself is very beautiful and classy, unlike many of the hotels in Seattle which have a PNW look to them. The guests also loved the venue and the food as well. I would recommend this venue to any bride looking for an elegant venue in downtown Seattle.

Are you interested?

Send a message

Amber

Married on 06/06/2015

I am really happy with the results of my wedding. The first event coordinator was somewhat responsive and had errors consistently in her estimate. After she left I worked with Renee and Katie. They were great. I likely was on them a little more then I needed to because of the service I received originally with the first coordinator. I was also worried that the food would not be good because the tasting was pretty bad but the day of the food was great! For the price, what the WAC provides, 2 nights in the suite, etc etc it is a great price. Everyone from the Bellman, to the waiter to kept my glass full during the reception and made sure I had food was great. Another thing that put me at ease was the ability to drop off décor, and other items the night before. I couldn't be more pleased with the decision to have my wedding at the WAC

Teia

Married on 05/02/2015

Our daughter's wedding was at St James Cathedral and the reception was at the Washington Athletic Club in Seattle. Not only was it beautiful and memorable, it was far more than any of us could have hoped for (it was our own fairy tale wedding). So much of the success was due to the Washington Athletic Club. Renee Brussard (Catering and Events Manager) was not only exceptional at her job but more importantly, it was the CARE with which she worked with us on every detail. Renee and the entire staff at the WAC could not have impressed us more! We would highly recommend the Washington Athletic Club for any type of event, spa treatments or simply lunch or dinner. The key to any wedding is careful planning and of course an outstanding venue that has exceptional professionals who care about your event as much as you do!

The WAC was perfect. EVERYTHING. I would throw another party there in a heartbeat. Amanda Schwanitz was our go-to and she took care of it all...even whipped up a bouquet for me to do the toss because mine wouldn't work for it! All the guests thought the WAC was top-notch, and raved and raved about it. I would throw another party there in a a heartbeat.

This is absolutely the most perfect venue for a wedding in the state. It is right in the heart of downtown Seattle, so a bit daunting for my South Sound guests, but well worth it. We planned our wedding in 11 months, and it went off without a hitch. It was amazing.
The best part about having our wedding and reception here was the convenience. Not only are beautiful ceremony and reception rooms here, but restaurants to hold the rehearsal dinner, hotel rooms for overnight guests, fitness rooms (even yoga!) for working out pre-wedding jitters, and a full service spa, gentleman's barbershop and salon for Hollywood style pampering.
Our awesome venue coordinator worked out all the details to make sure every guest was taken care of so we could enjoy the day. After the ceremony we enjoyed a celebratory champagne cocktails in the beautiful lobby lounge and guests needed only to go to the third floor for the reception dinner. Their wedding packages take care of the beverages, the dinner and the cake, which were all outstanding. Every guest we spoke to loved the food and the beautiful surroundings. Even parking charges for our guests were covered!
Their service staff was amazing, both catering and hotel and bell staff. Our coordinator was totally on it - he ensured our wedding cards and gifts to a secure location so we didn't have to worry about them, and arranged for our overnight items moved to our suite for us! He employed his staff to assist our vendors with setup- he helped our DJ connect to their audio system; provided a refrigeration room for our florist; opened up the ceremony room early on Friday for ceremony awning setup; gave a full tour to our photographer; and provided a room for our vendors to have dinner and take a quiet break. After the wedding was over, they even left a small but beautiful personalized wedding gift in our suite. Trust me, this location will help you throw the wedding of your dreams.

Forest

Married on 08/02/2008

Our Wedding and Reception went off flawlessly with close assistance in this beautiful location. Even with Sea Fair weekend scheduled the same weekend, they went above and beyond our expectations!

Professionals at hosting a wedding. All questions easily answered, and it is a great location for an event. Only wish I didn't have to have a wedding coordinator because between the venue and the DJ I thought we had everything covered. But still highly recommended.

Tracey

Married on 10/11/2014

Renee Brussard was exceptional in managing our daughter's wedding. She picked up where the previous Catering manager left off and exceeded our expectations. She was professional, efficient and helped us pull off a flawless evening. She was there managing details during the evening. From the minute I met her, I felt confident that everything would go off without a hitch.
She managed every detail and made suggestions that were in our budget. I wouldn't hesitate to suggest this venue for a wedding on Renee alone.
The guests all commented on the rooms and service. In fact one of the guests arrived one day early and was going to be charged full price for a room if it weren't for Renee jumping in and getting him "the room block rate". Down to the last detail, this venue provided the ultimate experience for a wedding where more than 50 per cent of the guests were from out of town.

Angela

Married on 09/10/2011

The venue is absolutely beautiful! We had both our ceremony and reception there. The Crystal Ballroom is just amazing with the three huge crystal chandeliers. The catering and banquet departments are on their game and provided help on the little details and gave great ideas. The dinner and cake were very, very good and all of our guests really enjoyed it. The hotel staff also upgraded our room to a suite (due to availability) for no charge, and the room was impressive~! The only downside to having your wedding there is booking a room to get ready in on the day of the wedding because they don't provide you a room. However, their prices are comparable to other hotels in the area.

Washington Athletic Club's reply:

Thank you for your kind words about our venue and service staff. It is your happiness on this special day that is important to us. In response to your comment about a guest room to get ready in.
We do offer a complimentary guest room to every wedding party here at the Washington Athletic Club. The bride and groom are welcome to offer room to the wedding party during the day of the wedding. Most of our couples prefer to use the room for themselves for the wedding night. If we have a suite available we do always offer a suite to the wedding couple.

Ashley A.

Married on 06/30/2012

The Washington Athletic Club in downtown Seattle is Beautiful!!! They also have great pakages for weddings, that you really can't beat.

Our wedding at the WAC was perfect! They worked with us in planning for a year and a half. Everyone we worked with would answer questions and help us find a solution that would work for us and the WAC. These employees are there for you and they really will do anything to help you vision come true! They are so accomodating in every single way. We even dropped off all of our supplies for the wedding 3 days before the event because we didn't have time the day before the wedding. The catering and special event staff are spectacular.

When my husband and I were looking for a venue we walked into the WAC and knew right away this was the place! They allowed us to use several rooms throughout the build for the ceremony, cocktail hour, reception, vendors room and even a room for the wedding party! They took care of all of our needs, even hanging a curtain up in a room as a backdrop to our ceremony to give it a nice touch. I can't even tell you how much they did for us or our guests. I (the bride) have several food allergies that are a bit difficult to work around (gluten and shellfish) but they accomodated everything to fit my needs. Even made a special cake for my husband and I to cut into for the cake cutting portion of the ceremony. I am not the only one of our guests that had allergies, we had so many guests with all sorts of food allergies and needs. The cooks were able to accomodate every single one of our guests needs. The wait staff was amazing and didn't make any of the guests feel akward about allergies or anything. They were warm, welcoming and helpful and really helped our guests enjoy our wedding. Our family and friends still rave about our wedding and their experience at the WAC.

If you decide to go to the WAC, you are in the best hands ever and so is your wedding!

Elaine

Married on 09/04/2011

Beautiful venue, very professional staff. Only annoying thing is parking because the wac parking lot is not connected to the building so it can get confusing for guests.

Washington Athletic Club's reply:

Thank you for your comments. Yes, that is correct our parking garage is located one block North of the club entrance. However, we do offer complimentary parking to all guests attending the wedding after 5:00pm.