36 Reviews
Recommended by 100% of couples
Quality of service

5 out of 5 rating

Average response time

5 out of 5 rating

Professionalism

5 out of 5 rating

Value

5 out of 5 rating

Flexibility

5 out of 5 rating
15 User photos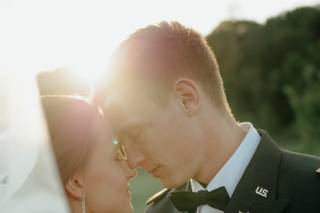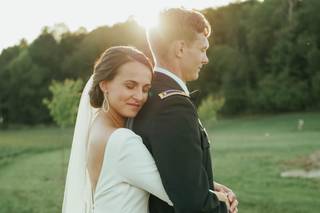 + 11

photos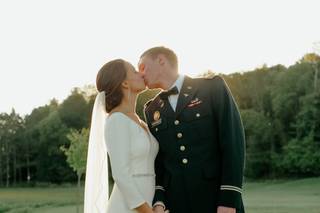 Danielle A.

Married on 01/28/2023

Worth every penny and then some

Shhesh where do we begin? The short of it is... this is the best couple you will ever work with. Dependable, relatable, professional, friendly, easy to share your story with. AND RELIABLE! We filmed a love story for our wedding website and continue to be blown away by the result. My partner still sheds a tear every time he watches it. It was the best decision we made. Then, for a multitude of reasons, we ended up postponing our wedding and moving it to Mexico. We just had such a terrible experience. We felt taken advantage of by everyone EXCEPT FOR KEA. She was the only person that we worked with that made us feel excited! she was so kind and understanding of the stress that we felt and even assured us that moving the wedding was a good idea. When we requested her to edit the video to accommodate the new date, we had it back within a week. I cannot recommend working with her enough. Do it, just do it.

Voyageur Motion Pictures's reply:

Thank you so, so much Danielle! Your thoughtful words mean so much, and it really blesses me to hear you both love your video so much! I'm so glad to hear I was able to make that stressful situation a little easier.. that's so important to me! I wish you two all the best and hope your Mexico wedding is the experience of a lifetime!

Julio V.

Married on 01/10/2022

Amazing experience

The folks at Voyageur Motion Pictures were hands-down the perfect team to pull off our destination wedding elopement! They are incredibly talented individuals who know their craft well and who made the entire process easy and fun (especially for a guy who is uncomfortable in front of the camera).
Seriously, the video we have of our elopement is our most treasured memory and it was so great to be able to share that around! If you need a wedding videographer or elopement videographer, do not hesitate to partner with Voyageur Motion Pictures - your future self will thank you!

Marissa K.

Married on 01/08/2022

Adventure Elopement in Glacier National Park!

I don't often leave reviews, but this is truly a remarkable crew to work with. Booking with Voyageur Motion Pictures should be at the top of your "getting married" priority list.

We eloped in Glacier National Park summer of 2020. The team at Voyageur Motion Pictures were the ONLY ones present for our elopement outside of my spouse and I. Having such a small group, the energy of everyone involved is incredibly important. They were so fun to be around! They made us relax and enjoy the process and we NEEDED that outside energy.

We laughed SO much. We cried. We celebrated. We continue to laugh and cry watching and re-watching our videos with our friends and family. Because of the work of Voyageur Motion Pictures, we had one of the best days of our lives and we get to relive it whenever we watch our videos. After the day has come and passed, having video will mean so much to you. We cherish our videos above any photo taken that day.

If you are looking for a destination wedding videographer, elopement videographer, or someone to capture your wedding celebrations, Kea and her team are exceptional. They are incredibly talented in their craft. They know how to make posing for video a natural part of the day. They are fun, vibrant humans with a gift for making you feel special. They love love.

I will absolutely hire them for my second wedding 😂

Watch our video for here: https://youtu.be/AT18z24vXD0

Are you interested?

Send a message

Lauren M.

Married on 09/04/2021

Outstanding

Kea and Rudy are INCREDIBLE. Not only were they our videographer, they also stepped up and played the roles of photographer, and day of coordinator. They helped our day run flawlessly and were there when we needed anything. They were able to adapt on the spot when our schedule would slightly change and they communicated with us through every step of the planning process and day of. I cannot say enough amazing things about these two. Their services are worth every penny.

+ 2

photos

Voyageur Motion Pictures's reply:

Ahhh Lauren you're the best!! Thank you so much! It's been so much fun getting to know you & getting to be a part of your wedding!!

Jenna B.

Married on 06/11/2021

Best decision we made!

Kea and Rudy are a phenomenal duo of videographers. Their creativity and eye for capturing detail footage is impeccable. Check out their YouTube channel to see it for yourself! On our wedding day, both my husband and I felt so comfortable and relaxed in their presence. We never felt like we were being "filmed". When we received our final product, we were in absolute awe of everything Voyageur was able to capture. Cannot recommend these two talented individuals enough!

Voyageur Motion Pictures's reply:

Thank you so much Jenna!! It was an honor to capture your wedding day. We had a blast with you guys and are thrilled that you love your video! All our love to you two and Bentley!

Kathryn F.

Married on 03/09/2021

Best Videographer Ever

Kea is absolutely amazing at her job. She met with us and worked with us all the way up to the wedding to make sure she captured everything we wanted and that all the details were just right. She puts so much effort into her work and you can really see that through all her videos, especially the amazing highlight reels. Choosing her was a no brainer and I think one of the best choices we made for our wedding. She is professional, fun to work with, and gives you a full days work. We got our videos the week after our wedding, which was even faster than expected! Pricing is higher than other options, but her work and dedication compared to others is worth it. Five stars across the board, 100/10, worth every penny, recommend to everyone!!

Kala

Married on 07/19/2020

Best decision we ever made!

We cannot express enough how happy we were to have Kea and her husband Rudy of Voyageur Motion Pictures as our videographers on our wedding day. Our day 100% would not have been what it was without them and we owe them all of the thank you's in the world for capturing our day so perfectly. They were both so kind to us and respectful and so calming during the stressful parts of the day. Not only did they deliver the product that we hired them for—our wedding video, but they captured photos of the most meaningful touches at our wedding, capturing my mom's presence who passed away that our photographer completely missed. I would have no evidence of these details that were so special to me on my wedding day if it was not for having Kea and Rudy there, going above and beyond what their job was, and capturing those photos for us. Not only that, but because of our poor experience with our photographer on our wedding day, Kea spent extra time taking screenshots of the video to give us more photos from the day that were missed. My husband Randy and I cannot recommend Kea and Rudy enough, they were by far our favorite vendor to ever work with and we are so glad that we made the decision to hire a videographer, the gift they gave us is priceless and we will cherish our wedding video for the rest of our lives.

Voyageur Motion Pictures's reply:

You brought tears to our eyes with your beyond kind words Kala! It was such an honor to be a part of your wedding day and to meet your family. You guys are uniquely wonderful people and we will always remember your kindness. We wish you every happiness in the years to come!

Melissa S.

Married on 07/11/2020

The Best Memories!

We highly recommend Kea and Rudy. They captured beautiful memories of our special day. They were great to work with. Whether it was talking to my daughters or any of our friends Kea went above and beyond to get to know how each person fit into our puzzle and how to photograph the day. We have watched our video a million times. After the wedding it's so nice to have these memories to look back on!

Carrie B.

Married on 01/11/2020

Amazing! We love them!

10 out of 10 would recommend! Kea and Rudy are amazing videographers! The communication and planning before our wedding was timely and organized. They were willing to adjust to our needs and they made sure to personalize the video to how we envisioned. We were able to give them music and video examples of what we liked and they ran with it! On the day of Kea and Rudy were very friendly and fun to work with. They were right there when we needed them but did not feel in the way. They are very flexible and 'go with the flow.' In the end, we LOVE the finished product! It perfectly captures our wedding day and includes all of our favorite moments. Our family and friends agree this is the best wedding video they have seen! We are SO thankful for Kea and Rudy!

Voyageur Motion Pictures's reply:

Thank you so much Carrie! It really warms my heart to hear how much your wedding video means to you. Your wedding day was so much fun for us to be a part of, and we loved watching you and Amith share so much love and joy with your friends and family! It was such an honor to be there and to be able to capture it on video! You guys are the best, thank you so much!! We wish you tons of happiness in your marriage!

Erin

Married on 09/21/2019

A++ Videographer

Kea is THE BEST!!!!

I wasn't sure if I wanted to have a videographer or not until I saw Kea's films. I was immediately drawn to them! She is very responsive, has a great energy, and makes you feel so comfortable all day long.

I would hire her over and over again!!

Erin & Cole

Voyageur Motion Pictures's reply:

Aw Erin!!! You're making me tear up!! Thank you so much for your kind words. Your wedding was a freaking awesome day from start to finish, and I wish I could back and film it all over again. Can't wait to party with you again later this year!

Samantha H.

Married on 08/24/2019

Best decision we made! Well worth the price

Kea went above and beyond in every aspect. From arriving early to staying late, she went out of her way to capture every moment. She even researched and filmed at the location a week prior to the wedding to get extra footage of the property. And on top of everything she's an amazing person. Not only is she extremely talented but she's also fun, patient, flexible, creative and kind. She's a lot of fun to have around on such an important day. HIRE HER! You won't regret it!

Liena H.

Married on 08/03/2019

Outstanding!

Kea was the best decision we made! So happy with all of our videos! She went above and beyond to make sure she got enough information to create our vision. Everyone loved our highlight video and it was so convenient to be able to also get a documentary style video from her. We loved working with her she made everything so simple and I was not stressed or worried at all! She even offered her shoes for me when I was struggling with my heels and that honestly shows how amazing of a human being she is! Absolutely would recommend her! She's got the skills and she's a sweetheart!

Danielle H.

Married on 06/22/2019

So worth it

Where do I even begin?! Booking Kea as our videographer was hands down the BEST decision I ever could have made! She was so easy to communicate with before our wedding when it came to preparation and was so calming during the big day! Our video turned out ABSOLUTELY PERFECT! It was more than I envisioned and is something that I will cherish forever. It captured our day absolutely perfect. There is something so special about getting to see footage of a day that flies by so quickly. We HIGHLY recommend Kea to everybody. Booking her for our wedding was hands down and he of the best decisions we ever could have made.

Kathleen K.

Married on 06/14/2019

Exquisite work, impeccable woman

It is our firm belief that Kea is the best videographer in the business. I cannot express enough how much we admire this woman and her work. Her attention to detail and ability to capture such genuine, candid moments without ever being intrusive in those moments is incredible. I was a bridesmaid in a wedding in Minnesota in October and met Kea there and adored her. When their video came out, I watched it over and over. It was so personal and beautiful. Our wedding was in Kentucky in June, and we tried our best to find a different videographer in the area (Nashville or anywhere in Kentucky) because I wasn't sure about the travel. I looked into at least 15 videographers that were good, but none compared to all the videos I had now watched of Kea's work. I finally contacted her and was delighted to learn that she loves traveling. Not only was she willing to go to Kentucky, her integrity showed as she added hardly anything on to the price for the trip. Kea brought such a joyful and calming presence to our wedding day. It is evident that she loves what she does. Our video went so far above and beyond what I had hoped for. We will cherish it for years to come. Book Voyageur Motion Pictures for your wedding. I assure you, Kea's talent is worth every penny.

Rula

Married on 11/03/2018

Couldn't have been better

Kea was by far the best Videoagropher I had the pleasure of working with for my wedding! I can not recommend her enough. She was essential in capturing our most important day and caught all the special moments beautifully. Her videography skills are unbelievable and our film was way better than we imagined! She went above and beyond to make sure we were happy with our videos and even went out of her way to do extra things for us that we did not request. She is so professional and extremely kind and accommodating. You will not go wrong by choosing Kea to be your Videoagropher for your special occasions! THANK YOU KEA!

Julie

Married on 09/23/2018

So Special

If you want a Hollywood quality video with a videographer who takes the time to get to know you, your style, and listen to your desire for you video of your one and only special day Kea is your lady. She was such a joy to work with. We met up before the wedding to talk about our style and what we wanted the video to look like and she DEFINITELY delivered! She was so much fun to have be with us on our day. She sent us some stills from the video and the video came soon after. I HIGHLY recommend Voyageur Motion Pictures to anyone seeking to capture the beauty of their wedding day.

Kyle P.

Married on 09/08/2018

The best videographer we could have asked for

We simply cannot recommend Kea enough. From our first meeting until our wedding day, she was a joy to work with. But the video she put together absolutely blew us away. She managed to perfectly capture our day. Kea did an amazing job taking our ideas and wishes, while folding in her own expertise to make something that we'll treasure for the rest of our lives. Hire Kea. It's one of the best decisions we made.

Casey

Married on 09/02/2018

Hiring Kea as our videographer was one of the absolute best choices we made for our wedding!! Not only is she incredibly talented and professional, she's unbelievably passionate about what she does. Every step of the way, she was encouraging and flexible. She wanted to hearing our vision, our likes and dislikes, and was adamant about capturing our day in a way that was personal to us. You can tell she gets real joy out of doing this and having her around all day was a pleasure. She delivered our wedding highlight video even faster that we expected and it literally blew us away! It truly embodies the excited anticipation and joy we were feeling that day. We're so grateful to have it as a memento that really takes us back to that feeling. If you're contemplating video for your wedding - DO IT - and definitely choose Kea!

Aisha W.

Married on 07/12/2018

Wedding Week

Kea was absolutely amazing to work with! She is extremely flexible and easy to work with. She thinks outside of the box to get the most perfect shots. I would definitely recommend her to anyone. If I ever want a video made again, I will choose Kea! She won't let you down. She shot clips from 4 of my wedding events and they turned out phenomenal.

Lindsey

Married on 07/07/2018

Working with Kea was a dream. This was by far the best investment we made on our wedding day. Not only is Kea easy to work with and an excellent communicator who delivers a very professional product, she is talented. Raw talent is not something you can easily find! She is skilled in audio technology, drone footage, filming, and editing. Video is something that truly tells a story, and it's an art form. The best memory you can have from an important event like a wedding is this.

Additionally, for the value, she went above and beyond for us, spending additional time before and after being scheduled to do so and delivered a stunning video before we expected it! Worth. Every. Penny.

Thanks, again, Kea!
Lindsey & Dave

Brianna

Married on 06/23/2018

Kea is AMAZING!!! Our video was done so quickly and she killed it. I love the video and have had so many compliments on it from friends and family. (I cry everytime I watch it, in the best way)She went the extra mile for us and was so professional. I would hire her again in a second!! I can't recommend her enough!!

Melissa

Married on 06/09/2018

Amazing experience!

Long overdue! My husband and I usually were a few steps behind in every process of wedding planning imaginable, which included videography. Kea was absolutely amazing and worked through our procrastination :) We really had no idea what style we were looking for in our video or what we would like to see, but after meeting with Kea a few times, she was able to pick up a few key things from both of our personalities and create an amazing video which we will cherish for years to come. Kea and her husband Rudy were beyond professional, but at the same time approachable and you could have a conversation with them like real people. We were not overwhelmed with a bunch of added questions prior to the wedding and the videography portion of the wedding was basically the one area where we had no added stress, Kea kept things simple (which was necessary for us). On the day of the wedding, we had no worries, and the day went perfect. At the end of the experience with Kea, it was basically like you invited another friend to your wedding. We even took whiskey shots together after the ceremony (sorry Kea :) ). I would highly recommend you snag Kea for your wedding videography before she is booked out.

Raghad M.

Married on 12/23/2017

I honestly wish I could give Kea a 10 stars review, because 5 starts just does not give justice to how amazing she is to work with and how phenomenal her work is. There are no words to truly describe the out of this world experience that Kea delivered in every aspect of capturing our wedding day. Not only did Kea exceed our expectations, but her services and genuine enthusiasm set the bar at a whole different level. From sun up to midnight Kea used her creative, professional talents to video numerous memories. She went above and beyond anything that we expected. She is also so willing to work with any special requests you may have and is set on making the videos your vision. She was so easy to work with and delivered a precious keepsake that has made everyone cry that have watched her final creative work of art. Thank you Kea from the bottom of our hearts! My whole family also loved having Kea there on our wedding day.You need Kea to capture your special day; you will be extremely happy that you did! The Wedding day was awesome, but as the bride with so much going on it was a blur - We are all now able to watch precious moments over and over again – Kea's talents bring the video viewer back in time and you feel all of the special emotions of the day as if you are back experiencing it all over again. Now that takes a special talent.



Megan

Married on 11/11/2017

We decided to hire a videographer a little late in the game - just a few short weeks before our wedding. We researched several options and ultimately selected Voyageur Motion Pictures. Somewhat new to the industry, Kea didn't have an extensive catalog, but we liked what we saw on her website and felt at ease after meeting with her. We received our final video yesterday and could not be more pleased. More than a few happy tears were shed while watching. After a whirlwind of activity on wedding day, we got a little fuzzy on the details. We are so thankful to have this video to remind us how perfect our day was. Kea did an amazing job capturing the exact feeling we were hoping for -- warm, sentimental, and fun! Give her a shot -- you won't be disappointed!

Kea was a joy to work with! Not only was she organized, prompt, and kind. Her work is marvelous, we were beyond pleased! Kea is also a stellar person, she was sweet and professional. She asked all the right questions and was flexible in working with us to get exactly what we wanted. Can't say enough good things about this talented lady!
Are you interested?
Send a message