Reviews
5.0 out of 5 rating
Quality of service

5 out of 5 rating

Average response time

5 out of 5 rating

Professionalism

5 out of 5 rating

Value

5 out of 5 rating

Flexibility

5 out of 5 rating
100%
Recommended by couples
3 User photos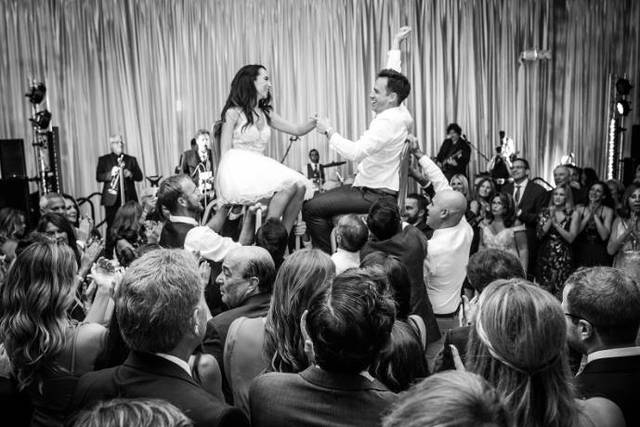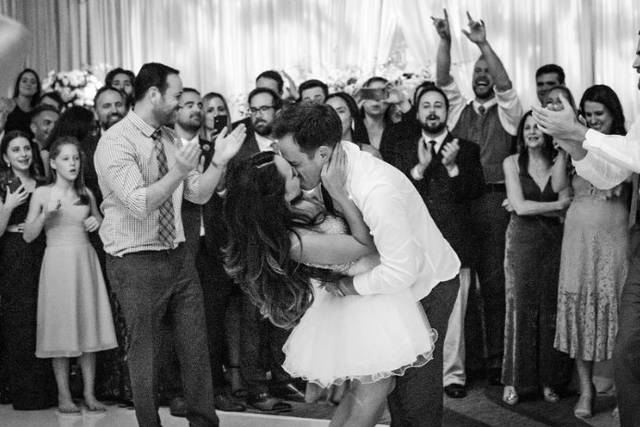 Stacie

Married on 03/09/2019

Fantastic!!

The band leader, Trey, was extremely responsive and helpful! The whole night, the band was able to read the room and get people dancing. Everyone had such a fun time and we really owe it all to them. Every single person came up to me and my husband to say how great the band is! I would 100% recommend them.

Lindar

Married on 03/09/2019

A Fabulous Band

Vox Blue performed at our daughters wedding last weekend. They were great and totally exceeded our already high expectations. Trey was easy to work with, flexible and gave helpful pointers in planning the evenings timeline. All emails and voicemails were returned promptly. In addition, he arranged for string players during the ceremony and cocktail hour.
Our guests were on the dance floor all evening with smiles on their faces. What more can I say, the were FABULOUS!!





Jessica K.

Married on 12/08/2018

Time of Our Lives

The band was excellent, communicative, flexible, and truly brought the house down. Couldn't have asked for more. Thanks for making it a night to remember, Vox Blu!

Are you interested?

Send a message

Arielle

Married on 02/25/2017

ABSOLUTELY book Vox Blu for your wedding. Michelle and her team are so professional and responsive and TALENTED. They made our wedding INCREDIBLY fun- we had out of town guests coming up to us asking for Vox Blu's information so that they could FLY them out to perform at their upcoming events. We had the most amazing night thanks to Vox Blu, I would not have traded our band for anything.

Deanna

Married on 02/19/2017

Where do I even begin? I am beyond thrilled with Voxblu who played at my wedding at the Boca Resort this past weekend 1/15/17. They were AMAZING! We told them we just wanted a fun dance party and they brought it! Everyone was on the dance floor the entire night. This is the best band I have seen and I go to weddings in LA and NYC all the time. People were coming up to me all night raving about how insanely good they sounded. They were simply magical. Michelle was a doll to work with - so Professional and responsive and totally got our vision. Trey was also the best lead singer. I really can't recommend them more. They made my wedding reception. And also played a little longer because everyone was having so much fun. LOVE LOVE LOVE voxblu!!!

Kristin

Married on 11/05/2016

If I could give them 6 stars I would! Vox Blu ROCKED our wedding. Being from Chicago we were nervous about finding an awesome band and Vox Blu delivered in every way. So many guests are saying that it was the best wedding band they have ever heard. Michelle was so great to work with and the entire band was so friendly and fun. My husband and I were on the stage dancing and playing cowbell. They even humored my husband with letting him close out the night singing Fast Car! All around they are incredible. If you are looking, book them asap!

Vox Blu played at our daughter's wedding last weekend at the Flagler Museum and they were AMAZING! Not only was Michelle a dream to work with in the planning phase, the entire band was beyond fantastic during the reception. The music was so great that our guests got up and danced between dinner courses- the energy was awesome! I can't say enough wonderful things about this group. If you can book them, do it now! All of our guests raved about them!

Vox Blu made things easy. My wedding was destination (from NYC, got married in Delray Beach, FL), and Michelle was in constant communication about details, songs, how things worked, contract questions, etc. The band rocked! All of our guests said this was the best wedding band they had ever seen and they felt like they were at a concert. Vox Blu is a no brainer!

Lauren

Married on 04/30/2016

One word. Incredible! We looked at a number of different bands, and right away VoxBlu stood out because of their incredible manager, Michelle. Michelle was so different from all of the other band contacts I had talked to. She was responsive, genuine and personal. She provided me with all the information I needed and did not push for a sale. Once we decided to choose Vox, her service did not change at all. Michelle reached out at all of the right times and even provided suggestions for a timeline for the entire evening. Fast forward to the best night of my life... and VoxBlu played a huge role in that! They were simply amazing! They played the best mix of songs to get our entire crowd moving. All night and since our wedding we have been getting calls asking for their information. Two of my guests even commented that Vox played covers better than the original artists! I really cannot say enough good things about this band. We hadn't seen them in person, just watched their videos which don't even do them justice!

Brad

Married on 04/17/2016

They were a great band to have for our wedding, VoxBlu will keep everyone on the dance floor moving all night!

Lindsey

Married on 04/16/2016

After several of the other vendors I'd selected for my wedding told me how great VoxBlu was, I had set my expectations high. VoxBlu surpassed them in ways I didn't think possible. The only word for their performance is PHENOMENAL. The music was one of the most important aspects to us in planning our wedding, as our friends really, really dance, and VoxBlu kept the energy at it's highest possible level the entire night - I am almost positive they didn't even take a break over the 4 hours they were on. It has been a few weeks since our wedding and family and friends are still raving that VoxBlu was the best wedding band they've ever experienced, and I agree completely. If you want your guests to be blown away, there is no other choice!

Claire

Married on 03/18/2016

The band was one of the BEST aspects to our whole day. There was no question about DJ vs. Live band.... so the hunt was on to find the perfect group. Once I heard VoxBlu through their videos, I was sold. Our guests did not leave the dance floor all night!!! Michelle Doyle is UNBELIEVABLE and was so attentive to EVERY single question I had. We used a string trio for our ceremony and cocktail hour, they learned "throne room" from star wars for my husbands entrance to our ceremony ---- he was beyond thrilled. Any song request we made was handled and I was sweating up a storm from dancing the night away. There is nothing better than LIVE music at a wedding and VoxBlu did not disappoint. Even my husbands grandmother said she had the time of her life because the music was so fantastic. They sing such a range of music that appeals to all guests in attendance, there was not one complaint to be found. Thank you so much, Michelle and the group, for keeping our guests on the dance floor and the energy alive until the wee hours of the night! xoxoxo

Amy

Married on 03/05/2016

I cannot say enough great things about VoxBlu and Michelle!!! They truly played an integral role in making my wedding night the best experience of my life! All of our guests had a blast at the reception and so much of that was because of VoxBlu and how energetic, talented, and fun they were. We received countless compliments about VoxBlue from our guests.

From the very first time we met with Michelle we immediately felt her passion for the band and for music. VoxBlu is extremely talented, understands exactly how to work a crowd, and makes sure that every guest is on their feet having a great time. I would strongly recommend VoxBlue for any type of events. They looked and sounded amazing from the moment they stepped on the stage. Even the strings that they had for our ceremony and cocktail hour were beautiful.

Every single member of the band is filled with energy, talent, and a love for music that is so evident when they perform. My husband and I were, as well as all of our family and friends, were truly blown away by VoxBlu. Thank you again for making our night perfect!!!!

Kathryn

Married on 12/12/2015

Voxblu performed at my wedding on 12/12/2015 and they were truly the most amazing, lively, upbeat, and fun band I have ever seen. They performed a wide variety of music perfectly (with several different vocalists, each of which was incredibly talented) and kept the dance floor packed the entire night. They seemed to feed off of the audience and knew exactly what song to play at each moment. I am not exaggerating when I say that every guest I spoke to could not stop raving about the band.

Michelle, the band leader, was also very responsive, sweet, and helpful throughout the entire process, which was SO helpful and refreshing during the planning phase. My husband and I lived in New York while we were planning the wedding, and therefore weren't able to meet any bands in person, which can definitely be a little scary. However, Michelle made the process easy and Voxblu absolutely blew us and every one of our guests away. If you are considering booking Voxblu for your wedding, DO IT!!!

Avantika

Married on 11/21/2015

Vox Blu brought the house down at my Indian wedding reception! We had a very energetic, dance-happy, crowd (Indians know how to party), and the band killed it. We were almost 45 minutes late to our wedding entrances due to unforseen circumstances, and the band literally had all 275 of our guests on the dance floor dancing like there was no tomorrow. During one of her breaks, Michelle approached me and said "we have never had to ask people to stop dancing and sit down before the reception has even started, your crowd is so amazing!" We also had a Indian DJ (at an indian wedding you have to have indian music), and Michelle the band leader and our DJ coordinated seamlessly to keep the night young and fresh and exciting. I will not hesitate for a moment to recommend Vox Blu to anyone who knows how to throw a party!

Irina

Married on 11/01/2015

It was an absolute pleasure to work with VoxBlu, and I am so happy we chose them as our wedding band, after a long search! We worked closely with Michelle, who was extremely patient, understanding, detail-oriented, professional, helpful, and easy to communicate with. She really took the time to understand what we wanted and accommodated us in every way. We threw many questions and worries her way, but she was able to calm us down and give great advice for everything - and at the end, VoxBlu really delivered and gave such an amazing performance. For example, we wanted a guest singer sing some traditional Russian, Jewish, Persian songs - and Michelle and VoxBlu were happy to accommodate this for us and figured out how to make it work. At the wedding, Michelle and VoxBlu really blew us away - the quality of their music was FANTASTIC!! Seriously!! We had string trio for our ceremony and cocktail hour - and they were SUPER!! For reception, the singing and music was just unbelievable! :) Everyone in our wedding kept saying how this is the best wedding band music they have ever heard! Not to mention, they also played many songs that we requested and really wanted to hear! Michelle also did a fabulous job MCing the party throughout the whole night, My fiance and I and our family were just blown away at how amazing VoxBlu was! I'd recommend VoxBlu to anyone who is looking for a top-notch wedding band!!

Katie

Married on 10/17/2015

Vox blu was amazing and had our whole wedding dancing the entire night! I can't say enough great things and highly recommend them!!

Wow...VoxBlu was exceptionally. We are from out of town and booked the band from the video on line. The video was excellent, but didn't do the band justice. Our crowd was a fun one, but the band took it up a notch. Our guests never left the dance floor. VoxBlu played every song we wanted to hear and more. It was a great mix. Our guests kept asking us..."where did you find them." The singers, musicians and especially Michelle were so talented and professional. We were sad when the party ended.

Lauren

Married on 02/28/2015

WOW!!!! Michelle and team at VoxBlu were absolutely perfect!!! We had people coming up to us all night and still to this day saying how fabulous the band was. It was so so much fun and Michelle and her entire group really know how to keep a party going. They don't just have one signer either. They all switch up, it's incredible and I want to have another event just so I can hire them again!! Our wedding guests were chanting one more song because they didn't want the night to end. Thank you so much for helping make our wedding night an absolute BLAST. :)!!!!

Hillary

Married on 02/15/2015

VoxBlu, and particularly, Michelle were fantastic. From the beginning, Michelle was a pleasure to work with. At the wedding, numerous guests came up to my husband and I to praise the band. The music they played was the perfect mix of contemporary pop and decade hits. Would absolutely recommend VoxBlu!

After going back and forth with possible dates we ended up in the position of having to book VoxBlu without never hearing them play. VoxBlu received rave reviews from our other vendors, but as the party aspect of our wedding was of utmost importance to us, to say I was a little nervous would be an understatement.

From the get-go, Michelle was a dream to work with, providing almost immediate responses to my (many) emails and was able to provide cocktail musicians and an expanded horns section to give us the feel we were going for.

The night of the wedding VoxBlu surpassed our expectations. They had every guest up and dancing, and a month later we still have guests raving about the band! We cannot thank VoxBlu enough for the large part they played in the absolute best night of our lives! I would not hesitate to book them again.


Voxblu was absolutely amazing!!! We had so many comments from our guests - both local and out of town that this was the best wedding they had ever attended. The dance floor was packed the entire time. The band leader, Michelle, was also a joy to work with. Very professional. Recommend them highly!!

Alexandra

Married on 11/01/2014

We booked VoxBlu solely based on the amazing recommendations and reviews that they had received (both online and from other vendors). Since music is a big part of the evening and I am the type of person who likes to know what I am getting, doing this was a little nerve-racking.....but I cannot begin to say happy I was and how amazing this group is!!! We loved VoxBlu's music selections and energy -- and so did our guests. They danced all night! Michelle was a pleasure to work with, and the other members are incredibly talented musicians (many of their songs were BETTER than the originals!). VoxBlu turned what was already the best day ever into something even more special. Without hesitation I would book them again!!


Lauren

Married on 10/12/2014

VoxBlu was absolutely amazing. Their performance took our wedding to another level. My husband and I are from New York, and were having a destination wedding. We had never seen Voxblu perform in person, and had only watched their videos online. They were 100x better in person, which is really saying a lot, as their videos are very good. They were by far the best band that we have ever seen. One of the most impressive things about them is the range of music that they can perform, due to having multiple vocalists. Also, they included a few very new songs, that had only become popular within the last 1-2 months, which our guests loved. Our guests are still talking about how impressed they were with our band. I am so happy that we chose them!

Evelyn

Married on 09/27/2014

When planning our wedding my husband and I both agreed that having a great band was of utmost importance. We weren't sure how we would find a band that would satisfy our VERY eclectic taste in music, and desire to entertain both our younger guests and our more "mature" guests. Our wedding coordinator suggested that we check out VoxBlu and we couldn't be more grateful to her for it!

We had pretty high expectations and VoxBlu blew our expectations out of the water! They weren't just a "wedding band", they are all highly skilled artists/performers who put on an amazing show. In addition to that they are highly tuned in to what's happening in the room and almost instinctively know how to get the energy in the room happy and positive. I had some dress issues that almost started to get me bummed out, but before I could get upset I swear that the band leader saw this happening and pulled me out on to the dance floor and out of what could have been a funk (like distracting a cranky kid with an ice-cream cone)...LOL

We had so many friends and family comment on how they've never had more fun and that they'd never been to a better party bc of how great the band was. A friend who owns an event production company in Los Angeles is trying to fly them out for their next event and we are already looking for an excuse to travel back to FL and throw a party just so we can experience the VoxBlu experience again.

This will be the best investment you could make if you want your party or reception to be the event that no one can stop talking about!
Are you interested?
Send a message