Voice On Demand - Professional DJ Sound & Lighting Reviews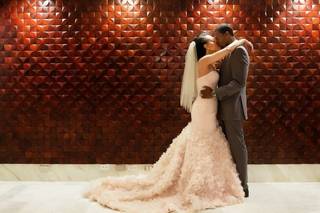 Voice On Demand - Professional DJ Sound & Lighting
Port Saint Lucie, FL
View more information
101 Reviews
Recommended by 99% of couples
Quality of service

Rating 4.9 out of 5

Average response time

Rating 4.9 out of 5

Professionalism

Rating 4.9 out of 5

Value

Rating 5 out of 5

Flexibility

Rating 4.9 out of 5
Fer N.

Married on 05/21/2021

Love it!!!!!

George is fantastic!!!! That's all

Adriana

Married on 06/19/2020

Great Consultation!

Very professional and easy to work with. Would recommend. Looking forward to working with George to make our wedding reception a blast!

Danielle H.

Married on 02/29/2020

Above and Beyond

George with Voice On Demand was such a pleasure to work with. He made the whole process super easy and seamless. He went above and beyond from the very start. He was easy to communicate with and he even helped with my Wedding Timeline. He made the wedding with his excellent DJ skills and wonderful personality. High recommend Voice on Demand for your DJ/Lighting needs.

Lisa T.

Married on 01/04/2020

Mother of the Bride

My experience with Voice On Demand was very positive from booking to the event. As the mother of the bride, I appreciated their guidance, professionalism, clear communication and gentle assurance of a beautiful day for our families! Thank You Mr. G and Voice On Demand for a great party!

Meghan F.

Married on 03/16/2019

Everything you could ever want in a DJ

DJ George was absolutely amazing. It rained on my wedding day at an outside venue and he made everything work flawlessly. He was always quick to respond and made my wedding day a dream come true. He kept the dance floor busy all night and played a wide range of music that was perfect to keep everyone enjoying themselves. He is everything you could ask for in a DJ and he made my wedding night better than I could have ever imagined. I highly recommended, 10/10!

Jennifer

Married on 02/01/2019

Mr. G is the best!

I had the pleasure of checking Mr. G out at a friends wedding prior to my own and once I saw him I knew that we had to have him! He is awesome, super talented, and knows just what the crowd wants!!! I dont think one person sat down the entire night! The website makes creating your playlist so easy and user friendly! I highly recommend giving him a call, he will put all your worries to ease!!!

Andre

Married on 11/25/2018

Truly Wonderful Experience!

George! You knocked it out of the park yesterday! Everybody can't stop talking about how great you were. Thank you so much for helping to make our special day so wonderful!!!

Marc

Married on 11/24/2018

Wedding Reception

George was amazing. Timed the music perfectly and kept everyone dancing all night long!

Bill S.

Married on 10/27/2018

Pleasure to work with!

George was very professional and made the experience very painless!! Definitely recommend the photo booth as well!

Tawni

Married on 06/09/2018

DJ George was absolutely amazing and kept our guests dancing all night long during our wedding reception! He was highly recommended to me by a friend, and I am so glad I trusted her judgement because our night went perfectly thanks to him. He was VERY reasonably priced, but more importantly, he kept everyone dancing throughout the whole night (which was our main concern!) provided just the right amount of context to special songs when necessary (as we asked), provided a wireless mic for our ceremony, and was an all around genuine, sweet, and super accommodating guy to work with. George even drove down to our venue (about an hour away from where he is located) prior to the wedding to check out the space and see what sort equipment he would need. He kept the evening on track and on schedule and provided some awesome dance floor lights too. We highly recommend him to anyone in the South Florida area!

Echo

Married on 02/03/2018

DJ G. Is amazing, the level of professionalism is impeccable. He made our wedding magical. He had great suggestion to make the evening flow. I will use his service again! Thank you George!

Alena

Married on 01/13/2018

Where do I even begin for DJ G....I honestly can't say enough great things about him. He MADE the wedding. First of all, I had guest coming up to us all night saying what a great DJ he was, everyone loved him, the music was incredible, he knows his audience, his voice is soothing, he is just the greatest.
I don't think we paid him enough for everything he did for us. He created our wedding timeline, was essentially our wedding planner. He made sure everything was on time and running as smooth as possible with 170 people-that's not easy!!
We had a song that we found off youtube that we made a dance to, well come to find out a DJ had made that song esp for that couple and we already practiced our whole dance to it and were freaking out because we could not find that version of the song anywhere- called DJ G. He mixed it himself to match the youtube video exactly and had it to us THE NEXT DAY so that we could continue to practice. It was PERFECT. Everything that we were nervous about, he calmed us down and had such a relaxing demeanor.
The cops actually came because our venue was an outdoor venue (botanical garden) and I guess the neighbors called the cops because the music was too loud (not true-it was perfect). And DJ G kept going even though the owner was telling him to turn it down. He refused and kept the party hyped up and partying.
Those are just SOME of the reasons why we loved him. I would recommend him to EVERYBODY I know. You will not be disappointed. I literally cried to him when the wedding ended because it was so perfect and I just truly appreciated everything he did for us.
Don't even feel like I said enough lol!!!! I forgot to mention the communication of always answering the phone or calling us back 2 minutes later, how good the mic system was, how he had 3 different DJ booths set up so that he wouldn't be moving equipment in front of my guests, visiting the venue before hand.
Thank you DJ G. You are simply THE BEST!!!

Ryan

Married on 12/30/2017

Wow what can you say about the DJ, had to be the best wedding ever music was amazing, lights were on point, everyone is Still talking about the wedding,

Caitlin

Married on 12/30/2017

Working with Voice on Demand was absolutely effortless. George is so upbeat and kind. The music at my wedding was amazing! My cousin got married 9 months before me and she said "this is the type of music I wanted! How did you get this Dj?" I got lucky because George and DJ Marc had the best song choices! The songs were so on point I can't even describe how perfect their choices were! George came up with my reception timeline and it was flawless. People say "oh don't get upset when something goes wrong at your wedding " Well guess what nothing went wrong at mine!!! Your DJ runs the entire reception so pick a good one and with George you literally do not have to do much except pick your first dance songs. I planned my whole wedding alone and George made it easy! I cannot say enough!

Lynette

Married on 06/04/2017

When your wedding guests tell you they were so entertained they can't believe how quickly the night flew by, you know you had an outstanding DJ. George kept the groove going all night. Guests were smiling, moving in their seats and all around enjoying the reception because George keep things hopping. He was just perfect with a word or intro to keep things flowing with the reception but also not chatting so much guest couldn't enjoy their dinner or table guests. George was DJ, wedding coordinator, and event manager when needed. He made sure we did not have to think about or worry about what was coming next. I'm certain we did not pay him enough for the many hats he wore at our reception doing his part to make our day special! Fantastic event, fantastic company, fantastic DJ. - Many Thanks! Lynette and Jacqueline

Katelyn

Married on 06/03/2017

DJ George Coles was fantastic for our wedding. He was professional, organized, and worked seamlessly with my photographer and venue coordinators. He took the time to explain everything to me (I had no idea was uplighting was), and held the crowd the entire night. I loved the pre-reception worksheets he used to figure out what kind of music, who to dance to what, etc. 10/10 recommend.

Crystal

Married on 05/27/2017

Voice on Demand was the first vendor I booked for my wedding and I could not have made a better choice!!! Mr. G consistently went above and beyond the call of duty and always offered very helpful advice. He was very thorough with his questions and helped develop the PERFECT timeline for my reception. My guests LOVED his music choices and the fun atmosphere he created. His prices were incredibly reasonable. I would ABSOLUTELY recommend him to anyone in need of a DJ!!! He is the BEST!!!!

Peyton

Married on 05/12/2017

Voice on Demand and DJ George Coles was one of the best choices I made in my wedding planning process. Starting off, he answered any and all questions I had and was always very quick to respond. I never waited over a day to hear back from him. Making any changes to music or package deals always went very smoothly too. He was constantly very comforting about how sure he was that he'd be able to make my day go as smoothly as possible, and it did. The day after my wedding I even continuously got compliments on how awesome the DJ was because he kept music fun and played such a variety that fit all ages. 10/10 recommend!

Shannon

Married on 04/08/2017

Dj cole was great! Very accommodating to myself and my family members at the wedding. A true professional.

James

Married on 03/25/2017

Worth EVERY PENNY!!! In planning the flow of our wedding, George led us when we kind of had no idea which way or how. The equipment, speakers and lighting were all professional quality. During the actual event, George was the perfect fit as his "feel" for audience kept the music flowing and really took a great wedding to an unforgettable wedding in the words of our guests. Would NOT have been the same without George Coles!

Melissa

Married on 03/25/2017

Worth EVERY PENNY!!! In planning the flow of our wedding, George led us when we kind of had no idea which way or how. The equipment, speakers and lighting were all professional quality. During the actual event, George was the perfect fit as his "feel" for audience kept the music flowing and really took a great wedding to an unforgettable wedding in the words of our guests. Would NOT have been the same without George Coles!

Sarah

Married on 03/17/2017

We hired George for our intimate beach wedding. He could not have done a better job! He played the roll of both a DJ and wedding organizer/planner. He created a wedding timeline with us, looked at our location prior to the wedding, and spoke with other vendors.

He was kind enough to come to our home on short notice where he explained how most weddings run, and helped us customize our day. We were able to pick out almost every song played on our wedding day.

George knew what songs to play and when, always had on a big smile, and our guests enjoyed him.

My husband recently told me that he finally relaxed (and didn't feel like he had to control anything) after George reminded him that he had everything under control and that he can enjoy his wedding day.

George is an organized and talented DJ, who is willing to go above and beyond. He helped make our day flawless!

Kyla

Married on 03/04/2017

George did a fabulous job from start to finish. He communicated well with us as far as what songs we wanted for each part of the wedding & reception. When we were floundering on what music, which song, George was right there with suggestions to help guide us through the planning phase. He performed beautifully at the wedding and the reception. A good time was had by all, Thank you George!

Laura

Married on 10/01/2016

Thank you George! You made the event so much fun. Planning a wedding from Los Angeles in Florida wasn't always easy but with you it was easy. You were easy to get a hold of, helped me along the way, music was PERFECT. Thank you again!!

Adrianna

Married on 10/01/2016

Great company and communication. I was at ease on our very first phone conversation. Prompt responses. Stayed in contact and was extremely thorough. Highly recommend Voice on Demand for your DJ needs!