Reviews
5.0 out of 5 rating
Quality of service

5 out of 5 rating

Average response time

5 out of 5 rating

Professionalism

5 out of 5 rating

Value

5 out of 5 rating

Flexibility

5 out of 5 rating
100%
Recommended by couples
80 User photos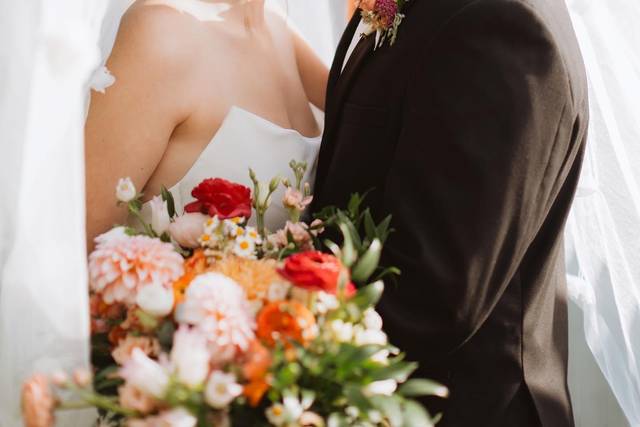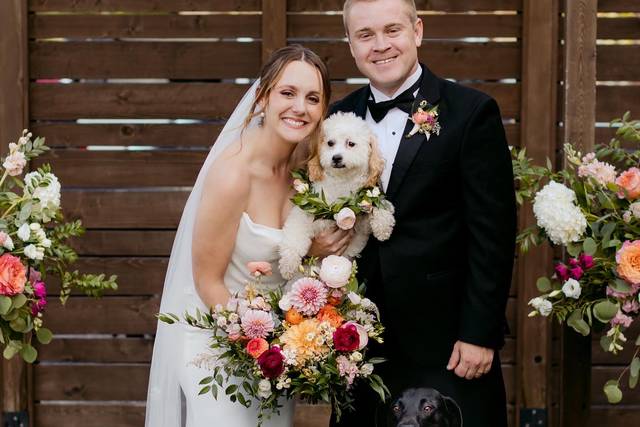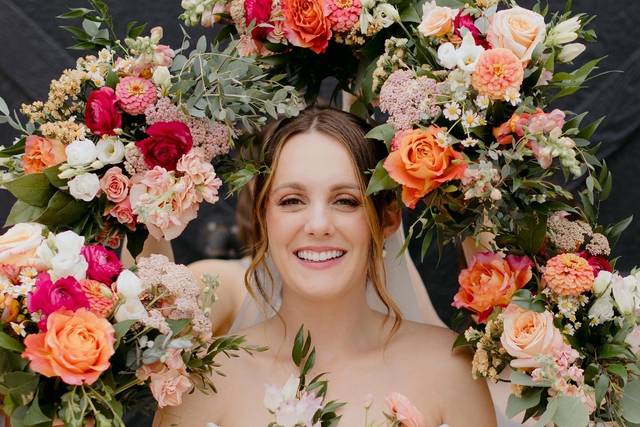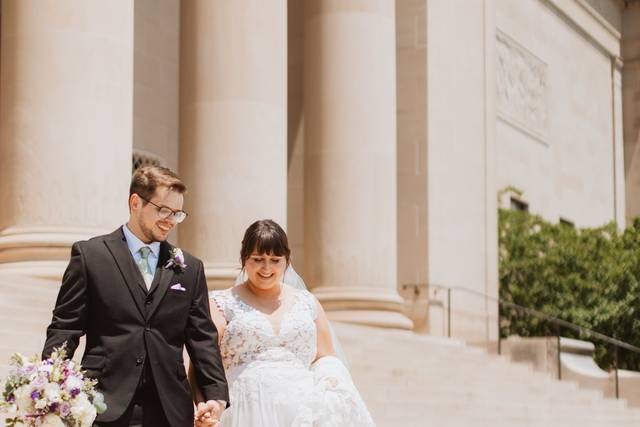 + 76

photos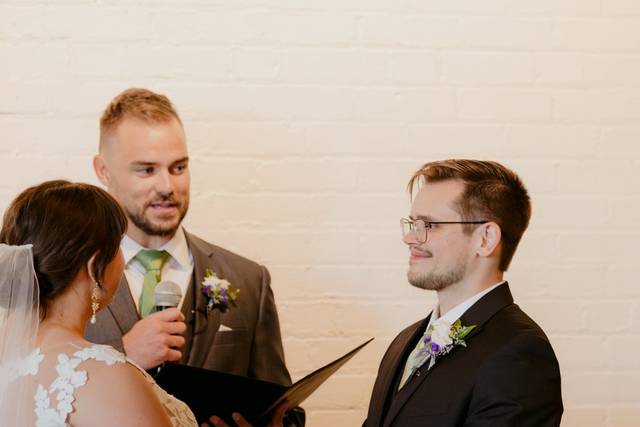 Becca F.

Married on 07/08/2023

Incredible !

We are obsessed with our photos and video- Aubrey and Justin are fantastic and I would recommend them to absolutely anyone. Timely, professional, highly skilled, charismatic, trustworthy. The end results were incredible pictures and videos we will always look back on. Literally everyone can't stop complimenting our wedding photos because they are so good. Would recommend to anyone!!!!

Mackenzie G.

Married on 07/02/2023

Game Changers for our Wedding Day

From the start I knew that Aubrey and Justin were going to be great, however I had no idea the impact they'd have on our big day! Their communication leading up to our wedding was outstanding, we had a lot we wanted to squeeze in to the hours leading up to our wedding, and they helped us curate a perfect schedule to follow for the day. So much so that everything flowed perfectly! I was worried we were going to be rushing to get all the photos in, but it never felt that way. Justin and Aubrey were so on top of it that we were able to get absolutely every shot that we wanted very quickly. Additionally, I had sent Aubrey and inspiration board from Pinterest, and throughout the day she'd say "Oh this photo was on your inspiration board" and get it set perfectly, I wouldn't have remembered those specific photos, but I'm so glad we got them!!

Lastly, we chose the package with the handheld videocameras to have our bridesmaids and groomsmen take "behind the scenes" footage of the rehearsal dinner and getting ready moments, and that was such a wonderful touch to the day! It was such a fun addition to the festivities.

I could not recommend this dynamic duo any more highly, they are GREAT at what they do and they care for their customers so well!

+ 2

photos

Jessica W.

Married on 05/13/2023

Visual Hymn - Highly Recommend!

Aubrey and Justin from Visual Hymn were a dream to work with. They had creative ideas; they were extremely communicative, and the quality of their work was top notch. I would recommend them for any occasion, but they were particularly wonderful to work with during the stressful planning process of a wedding. They put my mind at ease!

Are you interested?

Send a message

Kelly W.

Married on 03/25/2023

Captured our day perfectly!

Aubrey and Justin were AMAZING! Our photos turned out so beautiful and they were so lovely to work with. I would absolutely recommend them to anyone looking for a wedding photographer!!

Jhu M.

Married on 03/23/2023

Superb service! ✨

I contacted Aubrey few weeks before our wedding with our budget and I'm so happy she openly accepted. I'm very picky with how and what our photos should look like and she nailed it beyond expectations, the photos she took are *chefs kiss and looks like straight outa Pinterest. Would 100x/10 recommend! 🤍

Kathy G.

Married on 11/11/2022

Book them soon!

Visual Hymn is amazing. Book
Them sooner rather than later. Aubrey made us feel comfortable when taking photos and Justin was awesome with recording. We would book them for every event if we could!

Andrew G.

Married on 11/05/2022

Absolutely Amazing

From start to finish they were just amazing!

We did an engagement shoot as well as photos and video of our wedding day. I cannot recommend them enough! They really got some amazing pictures while making the process super fun.

The video was also to die for! We have been watching it on repeat ever since we got it back. Everything is just of the highest quality and they are so fun and calming to work with during such a hectic time.

Kimberly S.

Married on 11/04/2022

Thank you so much, Aubrey

I don't think my words will be enough to express how glad we were to have worked with Aubrey. Aubrey was the consummate professional--she arrived early and prepared and knew exactly how to guide us during a crazy hectic day. (We had a thunderstorm lol.)

Aubrey was also really kind and calm and that helped me out a lot. I am so glad we got to take a picture with her. She is a really beautiful person inside and out and I was so grateful for her presence and her amazing photos.

My sister and mom, who were supporting me the whole way (and are also painfully honest), said that we chose an amazing photographer. And they were so glad that I went with Visual Hymn. The photos turned out stunning.

Sarah M.

Married on 10/14/2022

A Dynamic Duo

Book Visual Hymn immediately. They are incredible and worth every penny. Not only are they insanely talented, they are truly lovely people you want to be around on your wedding day! Aubrey has an incredible eye and a calm demeanor that results in photos that are absolute works of art. Justin turned me from a videographer sceptic into a true believer. The video he delivered is so far beyond any expectation I had regarding what it would be. It's pure magic. I would hire them 1000 times over. Do not hesitate to scoop this dynamic duo up!

Natalie D.

Married on 09/24/2022

The best photographer/videographer in town!

Visual Hymn is incredible to work with. They far exceeded our expectations. I would recommend them to anyone looking for AMAZING photo/video work for their wedding. We are extremely happy with their work and are so happy we will be able to look back on our day with these special pictures and video.

Emma P.

Married on 09/03/2022

Visual Hymn is amazing!

Choosing Aubrey and Justin to capture our wedding was truly the best planning decision we made. Aubrey took stunning photos and has such a timeless and elegant editing style. She is so easy to communicate with and went above and beyond with offering advice on timeline planning. They both had creative posing prompts and kept photo+video easy and enjoyable. The highlight reel Justin put together is so perfect. We can't stop looking at pictures and watching the video. Highly, highly recommend :)

Kami H.

Married on 07/23/2022

Amazing Videographer!

Aubrey and Justin were amazing to work with during the wedding planning! They were easy and quick to communicate with and did an amazing job on our wedding video! During the wedding day, Justin was organized and had everything set up to help make the day run smooth. He worked well with our other vendors as well! The handy-cams were a huge hit and make the video fun and unique! We couldn't recommend Visual Hymn enough!!

-Kami & Kasey H


Madi L.

Married on 06/24/2022

Best photo and video duo!

Justin and Aubrey did our wedding back in June and we couldn't have picked a better duo to capture our day! They come with great knowledge and made the whole process super easy! Definitely recommend them!

Abigail

Married on 06/10/2022

10/10 Recommend!!

John and I absolutely loved our experience with Justin! We have watched our wedding video no less than 100 times since our big day - to say we're obsessed is an understatement. We asked if it would be possible to get an aerial shot of our venue, and Justin delivered! Justin was the definition of professional, all while capturing the best shots behind the scenes. Very polite, encouraging, and made us feel like royalty. Even showed up a little early to get that stellar aerial shot. We loved that Justin incorporates separate handy cam footage into the highlight reel, as it gives the film different perspectives and some of that old time feel. We worked with Aubrey before the big day to get everything prepared. She was always quick to respond to any questions we had, very accommodating to requests, and always eager to please. Our only regret is that we didn't get the toasts recorded. We wish we would've emphasized our wedding party to use the handy cams a little more during the reception, or do the longer highlight reel to include more of the toasts into the film. Overall, hiring Justin to be our videographer at our wedding was one of the best decisions we made. We cannot recommend Visual Hymn enough. Every detail, even down to the shipping of the flash drive, is thought out with the utmost care.

Emily B.

Married on 06/04/2022

AMAZING! You want Visual Hymn for your wedding

We can't say enough wonderful things about Aubrey! 10/10 choose Visual Hymn for your wedding day. She was wonderful from the start. Neither my husband or I feel very comfortable/natural infront of a camera, however Aubrey made the process feel easy and natural. She guided our poses and captured "us." She worked with our crazy dogs being in our engagement photos and got the most wonderful candid photos of the dogs. On our wedding day she was so patient with us, our wedding party, and family. It rained during the pre-wedding photos, but she adjusted on the fly and we got the coolest photos in the adjacent greenhouse. AND OUR PHOTOS.... She gave us a teaser 5 days after our wedding and then got ALL of our photos back in 3 weeks! We have too many favorites. It was great reliving our wedding day and knowing that we have these moments captured for the rest of our lives. Aubrey truely has a God given gift for photography. I hope you get the opportunity to work with her.

Sydney B.

Married on 06/01/2022

AMAZING experience

Aubrey and Justin were a amazing to work with. We did our engagement shoot with Aubrey and did photography and videography coverage with them for our wedding day. They were so easy to work with. They are experienced and really professional- they helped the day go by so smoothly! Their style of photography is trendy but timeless at the same time. I got SO many compliments on the photos and video when I shared them. They were able to capture our and our bridal parties' personalities so well. Their work is going to live on in our lives for years to come. Our wedding day would not have been the same without them. They were on top of everything, and helped this stressed out bride relax and enjoy her wedding day! Couldn't recommend them enough!

Halle C.

Married on 05/21/2022

The absolute best wedding videographer!!

Justin and Aubrey were so amazing to work with, and the end product (our highlight reel) was even better than we could have imagined. Our family and friends can't stop commenting on how amazing the video is! I am so beyond glad we booked Justin and Aubrey to capture our day - they are extremely professional, but fun, and worked with our photographers (Jefferson May Photography) so well. They had so many great ideas, but we never felt like our day was consumed of video footage. We also had the opportunity to read our letters to each other and readings were included in our highlight film which was very special. They did the perfect amount of 'unfiltered' and scripted content. Their turn around time on the finished product was also incredible - so fast!! Overall, I would highly highly recommend Visual Hymn (Justin and Aubrey).

Lacie S.

Married on 05/20/2022

Book Them Now!

Our photographer was the first vendor we booked after selecting our venue not only because we wanted engagement photos but also because we knew our pictures would be the most lasting in preserving our memories after the wedding was over. We wanted photos that felt natural, organic, and captured the essence of our relationship; nothing too staged. Visual Hymn was the only one out of the many I researched that fit exactly what we were looking for.

Their business consists of a wife/husband duo, with Aubrey as the photographer and Justin as the videographer. After meeting with both of them, my now husband and I decided on a package including only photography. Although Justin's work was beautiful, having our friends and family take videos at the wedding worked perfectly fine for us.

Our photo sessions are some of my most favorite memories I have with my husband. The photos were exactly what we were looking for: beautiful, natural and perfectly captured our feelings for each other. Not only was Aubrey punctual and professional but she was also relatable and easy to work with. She was very open to letting us choose specific locations for both our engagement session and our wedding and open to the specific style and poses we wanted to capture. She did a great job minimizing any awkwardness by giving us prompts to capture the most natural-looking photos possible. The day of our wedding, she even showed up a little early and took some photos outside of our booked 6-hour window and also worked with our other vendors to help the night flow as smoothly as possible. Book her now! It will be one of the easiest wedding decisions you'll ever make.

Ella

Married on 04/30/2022

Wonderful Experience!

Aubrey was amazing to work with! She was very professional while making us feel comfortable in front of the camera- capturing our wedding day perfectly! The photos are timeless and beautiful. So thankful we went with Visual Hymn to capture our big day!

Mackenzie

Married on 04/23/2022

Great videographer duo

Aubrey and Justin were very professional and we are so glad we hired them! We weren't sure we were going to hire a videographer until about a couple months out, but are so glad we did as they captured our day beautifully.

Mallory A.

Married on 02/25/2022

I n c r e d i b l e

Aubrey and Justin were absolutely phenomenal to work with. They both offered kindness, patience, professionalism and did everything in their power to make our day as special as possible. They really treated us as royalty the day of our wedding. I have already recommended them to many people, and I will continue to do so! For everything we received, their prices were very reasonable and the quality of work that was received was exceeded all of my expectations! I love their unique style and individualism. Anytime I needed anything, my questions were answered promptly—even after the wedding. If I had to go back and change anything about Aubrey and Justin, it would be absolutely nothing because they're perfect. Everyone deserves to have people as genuine as them capture the best day of their lives. We will be using them again! OH! And also, we got everything back within 2.5 weeks of the wedding date—748 edited photos, a 7 minute long highlight real of our day, and all footage of camcorder's handed out to wedding party.

+ 13

photos

Emily M.

Married on 10/09/2021

This duo is a wedding day must!

Audrey and Justin were on it from the start. They never made us feel rushed through things and captured every detail- no matter how small. They helped bring our visions to life and the turn out of both photos and videos from our special day exceeded our expectations by 1000. I definitely recommend this amazing duo!

Taylor E.

Married on 10/02/2021

She is incredible!

Aubrey did such an amazing job capturing our special day. She did so well capturing all of the candid moments that made our day so special and really makes the photos come to life. I will cherish the pictures she took forever and highly recommend her for all of your photography needs!

Hope M.

Married on 09/24/2021

Exceptional!

Picking the perfect photographer and videographer was at the top of my list during wedding planning. I knew that this was the best way to remember the memories for years to come. I could not have picked a better vendor. They were timely, professional and amazing at capturing the perfect moments. I honestly could not recommend them more.

Leia F.

Married on 09/18/2021

Could not imagine our day without them!

Visual Hymn went above and beyond. Aubrey and Justin made the entire process so easy (from booking, paying, engagement session, bridal session, and day of). They were so flexible and accommodating (which is saying a lot considering my family is absolutely crazy and they handled them like pros). Any event in my life, I know I'll be contacting Visual Hymn to capture the special moments because they make the day about love and sharing your love. They knew the right moments to capture amazing pictures without taking away time from our family or from the wedding.
And guys. THE PICTURES AND VIDEOS ARE FREAKING STUNNING. At this rate my house is going to be covered in canvases of our day.

Are you interested?
Send a message