23 Reviews
Recommended by 99% of couples
Quality of service

5 out of 5 rating

Average response time

4.8 out of 5 rating

Professionalism

5 out of 5 rating

Value

4.9 out of 5 rating

Flexibility

5 out of 5 rating
3 User photos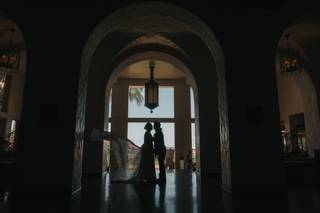 Niki

Married on 07/09/2022

Picture Perfect!

We originally hired Visionari as our wedding & engagement photographer for our wedding in 2020 but due to the COVID pandemic, we had to postpone our wedding until 2022. When we informed Visionari (Leanne + team) about our decision to postpone our wedding they were very accommodating and even offered to return our non-refundable deposit. If a company is willing to go above and beyond to return a non-refundable deposit, it shows that they truly care about their clients.

Fast forward to 2021, we reached back out to Visionari when we started to replan our wedding, and Leanne and the team were responsive to our requests. They were able to find and honor the contract from 2019.

July 2022, on the day of our wedding, we met our photographers Jon and Mike, who were professional, creative, and understanding. Mike and Jon went above and beyond to capture special moments that made our wedding day special. A few weeks after the wedding, we received our wedding photos (over 1000+ pictures), and my wife and I loved all of them! Their artistry, creative use of natural lighting, and attention to detail make them the go-to wedding photographers in Hawaii. I would highly recommend them for your wedding.

Thanks again Jon, Mike, Leanne, and the Visionari team!



Jenilee C.

Married on 06/15/2019

Highly Recommend!

Visionari was absolutely great to work with. They were very prompt with answering any questions. It was very easy to book with them and communicate the needs of my husband and I. We are very pleased with just our previews they sent us and are so excited to receive the rest. Ryan was great to work with as our photographer on our wedding day! We highly recommend them! Mahalo to the whole visionari team!

Visionari's reply:

Hi Jenilee and Reuel!
Thank you so much for your review and your kind words! Our team truly enjoyed working with you as well! Please let us know if you ever need anything! Thank you, Jenilee & Reuel and a big congrats to you both!!

Emelyn

Married on 02/04/2017

My husband and I met Visionari through our wedding venue. We're so glad to have booked Ryan (and his team) as our wedding photographers. Ryan was professional and very communicative through our months of planning. He and his team were great to work with on our wedding day. They were attentive and helped us with our posing to look our best in the photos. We just received our wedding photos, and my husband and I love all of them! They captured special moments through out the day and even the tiny details of our decor. Thank you again Ryan and Visionari!

Are you interested?

Send a message

Ryan and his team at Visionari were the PERFECT photographers for our wedding on Oahu's North Shore. From my first business call with Ryan, I *knew* that he was the one I wanted to capture the moments of my big day, and that he and his team have the creative talent to make it happen.

When they arrived to meet us the morning of our wedding, it was all smiles and all business. They made sure I was prepared with everything they would need to take photos of, they made sure I was in the right place at the right time, and the direction they provided to us and the guests for our group photos was clear and concise. It felt completely natural being in front of the Visionari's cameras, and they made sure that we were always comfortable.

When we received our photos after the editing process was completed, we were literally BLOWN AWAY! They captured my vision and not one little detail went unnoticed as they went about the day putting their creative talents to work. :) Truly, the value they provide is worth every penny! HIGHLY RECOMMENDED!! Love you guys, mahalo from the bottom of my heart. <3

Julianne

Married on 05/10/2014

Totally worth the money and then some!! These guys are the very BEST. I received over 500 fabulous photos from my wedding!!

Rosa

Married on 08/16/2013

Our wedding was 1 year ago, August 16, 2013. I had written a review last year, but from the looks of it, I forgot to publish it, oops. So here we go:

Everyday we get SO MANY compliments on our wedding photos. Lisa has a talented eye and knows how to direct to get the perfect lighting and composition.

Shoot, Lisa went knee deep into the ocean - WITH HER EXPENSIVE EQUIPMENT - to capture me and my crazy bridesmaids, who were frolicking in our dresses, in the Hawaiian waters.

During our reception many of our guest and myself barely noticed Visionari's presences snapping away --- they are like ninjas -- dressed in black and incognito, while capturing all the memories.

My WHOLE family, plus wedding guest, LOVE LOVE LOVE Lisa and her crew. My dad wanted to have Lisa marry into our family, lol. He couldn't stop talking about how impressed he is with her and the professional cameras, tripods, etc. that Visionari used.

My husband and I had the time of our lives at our wedding. We had no worries what so ever about our vendors, specially Visionari. They rocked our socks off with their professionalism, fun personalities, and ninja like ways with the cameras.

Hands down the BEST photographers we have ever worked with. Captured the colors and memories of our day perfectly. Bottom line, they are well worth the money.

I am so proud and honored to have had Visionari capture our wedding and also part take in the craziness at the reception, lol. Here is a video photo college link of our memories:

Here is a video link to our photos Lisa made for us:
Link: http://vimeo.com/77834012
pswd: yamashita

Enjoy!!!

I can't say enough good things about Mike and his team at Visionari. Not only were they so professional, easy to work with and had such great personalities, my pictures turned out AMAZING!!! Every single person I showed them to said that they captured the true beauty of my wedding. His photos were a mixture of emotional, funny, artistic... everything you would want in your wedding photos. They make a slideshow for you of some of the best photos (which is hard to do because they are all spectacular) made everyone I showed cry. I had a destination wedding and even people on the mainland (I am from Southern California) want to hire them as their photographer. A lot of people also said that the pictures looked like they should be in a magazine. They are worth every penny.

Victoria

Married on 07/18/2013

Johnny and Debbie from Visionari were our photographers for our wedding in Honolulu on 7/18/2013.

They were so much fun to work with!!! I know my pictures will look amazing! Thank you Johnny and Debbie!!

We worked with a really great team on our wedding day. The photographs are stunning. We had a long wedding day with a lot of little elements and details that we wanted to capture. They worked with us and were so patient with our unique requests. They are incredibly professional, and just lovely people to have around you on your wedding day. We've actually had guests tell us after the wedding how much they liked our photographers, which tells you how well they worked with everyone.
Would definitely recommend Visionari for your wedding.

Visionari is the BEST photography team a bride could ever ask for! They treat you like you are family and are so easy to work with!

I could not say enough great things about Visionari. Aside from their evident photography and artistic talents, they are so personable and connected to their clients. They make the entire experience very personal. They do not treat you like they have shot a million weddings before you, they treat you like you are their only wedding. They are kind, responsive, friendly, and so accommodating. If you want to capture a lifetime of memories in the most classy and artistic fashion, go with Visionari. They are among the best photographers I have ever worked with. Their creativity exceeded my expectations. Even after our wedding, they continued to be responsive and helpful. They are a quality team and one of the best decisions you will make. Aloha! :)

Grace

Married on 09/01/2010

The best decision besides getting married to my husband on my wedding day, was hiring VISIONARI! The team is exceptional and professional and boy, do my wedding photos look like theyre straight out of Vogue!! We just died when we saw how beautful our photos turned out and family and friends couldnt stop oooh-ing and ahh-ing over them. I knew some were even jealous! the team are great to work with, totally professional and i had no reason to stress. They even shot are 1 year wedding anniversary pictures and Im sure they will be doing my family photos in years to come. You will NOT regret hiring Visionari, they are without any doubt, THE best around!

I could not be any happier with their service. They exceeded my expectations in every single way. This was a destination wedding so I could not meet with them prior to the wedding and that made me nervous but when I saw their website which moved me to tears I knew I had to have them take our wedding photos. All comunications through email was prompt and clear. They were all very professional,kind and warm. They made us feel like a king and queen at our wedding. Can't wait to see the pictures.


Sou

Married on 02/20/2010

thank you to the team at visionari for capturing all of our wedding memories and moments.

we shopped around and found that a lot of the photographers out there present pictures that all have the same look and feel. the photographs that were presented at our initial meeting with ryan had a different look and perspective. visionari brought a team of professional photographers who were able to catch different views; capturing our most memorable moments. on the day of our event they made us feel very comfortable; and had a very professional approach to everything.

when receiving our pictures a few weeks after our event, we were surprised at the level of quality. it was well worth it.

Thuy

Married on 11/14/2009

As a bride, it was my first priority to find the perfect team of photographers to capture a very special day for me and my hubby. We wanted the RIGHT photographers whom wasn't your cookie cutter photographer with boring and unnatural photographs. We needed a very creative eye, a modern and contemporary photographers that understood us.

My husband and I were very very fortunate to have found Mike, Jon, Johnny and Ryan. I was very impressed with their work ethics, professionalism, creativity and their attention to details. We never felt like we were just clients.

We had a FABULOUS engagement session in San Francisco and had so much fun and the pictures they created for us were absolutely stunning and beautiful. I am still completely in awe as I view the slideshow they created for us. I couldn't have been more excited to see what was in store for us on our wedding day in Sacramento, CA.

Wedding day was absolutely nerve wracking, yet, they made me feel very comfortable by coming early and they were fully prepared for a long vigorous day. It was wonderful to have familiar faces whom we had so much fun be there to capture our every special moments. The wedding party loved working with them. It was more like an small intimate party than a wedding session photography. We had a fabulous time.

I've had countless numbers of friends and families comment to me that the pictures were absolutely breath taken after viewing our engagement and wedding photos. The beautiful pictures were felt with such joy and emotions in every shots. It was an incredible gift to have found Visionari. It would have been the biggest regrets for us not to have them as our photographers and guest at our wedding.

We were blessed to have Visionari be apart of our wedding and would recommend them to all our friends and families. I can't really say 'Thank You' enough to Visionari. I ADORE YOU GUYS and YOU GUYS ROCK!!






Siejen

Married on 07/19/2008

They say that "a picture is worth a thousand words", however, the extraordinary talent of Jon, Mike and the Visionari team has given this proverb new meaning and has set a new industry standard in helping you relive those special moments over the course of a lifetime. Their beautiful work will leave you amazed and speechless. We previously reviewed the portfolios of several renowned New York City photographers; yet, none had quite the ability to evoke the deep love and emotions that the Visionari team from Hawaii had elicited through their work. Each of their portfolios speaks for themselves and has the unique ability to tell the story on its own. Jon and Mike are not only true professionals who have a deep love, passion and enthusiasm for what they do, but, they also possess the innate ability to capture the true essence of what is at the heart and soul of every loving moment. Furthermore, they are also a genuinely kind, extraordinarily patient and a truly fun duo to work with. With only the highest form of praise and accolades for Jon and Mike, it would be our greatest pleasure to recommend the Visionari team to those who want to captivate and relive those special moments over the course of a lifetime and with generations to come.

Siejen & Pete
July 2008 Wedding - Kings Point, NY

Mina

Married on 04/24/2008

Everyone's wedding day is one that is most lasting through photos and I wouldn't have gone to any other photographer than Visionari. Their professionalism and attentiveness to detail was utterly incredible. They are so talented and the two lead photographers, Jon and Mike are friendly, sweet and do an amazing job. You can tell they love what they do and partake in the celebrations with you. I loved most of my photos and all of our friends and family raved about our photos. Truly artistically beautiful!

I definately love their work and their professionalism yet so friendly. They made me very comfortable in front of the camera and we love our photos. The color, the angle, and services..... one world to describe AMAZING. We booked them for 8 hours but they are willing to stay for 12 hours until our wedding ended. They gave us such good experience and had a great time at the wedding.

Sandra

Married on 02/20/2011

My husband and I worked with Jon, Mike and Johnny to photograph our engagement photos and our three day wedding event in San Jose del Cabo, Mexico in February 2011. They were incredibly professional and nice to work with. And the results were stunning! I wouldnt hesistate to recommend the Visionari team. Please see their website at www.visionari.com for some samples of their beautiful style. Please feel free to contact me at sandra@girari.com if you have any questions or would like additional information on working with Visionari.

Kind regards,
Sandra and Gerard

Lani

Married on 12/06/2014

After seeing how wonderful my sister's photographs turned out for her wedding, we knew we had to go with Visionari for our big day. We requested Mike (who had done my sister's wedding) and we were so happy with how smoothly everything went. Mike was such a pleasure to work with and him and his team were so professional and pretty much just awesome! Can't wait to see how all the pictures turn out, but I already know that they will be wonderful! We HIGHLY RECOMMEND Visionari!

Meng

Married on 10/06/2009

We loved Visionari for our photographer. They were super professional. They were quick to work and very nice! The only problem we had with them is that they were slow to response to emails and voicemails. That can be a bit frustrating for a bride who is from the mainland. But the photos, guys, they made me cry...we only saw the slideshow (the DVD of all the photos will be arriving in the mail). Just the photos on there were great! I highly recommend them! I really think they are the best photographers on the island!

Amy

Married on 03/16/2008

They are the best, very professional and you can see how serious they are into photography but they are fun to work with at the same time. We are very comfortable with the group. There's nothing much I can describe about their service, brilliant!!!! Our wedding photos look fantastic, we are very happy and glad we went with Visionari. They stayed with us every minutes and seconds taking every little details of things and people. We aren't disappointed at all. Thank You Visionari.

Julia

Married on 05/25/2012

Visionari was the photographer on the list of preferred (for the Kahala, required or you pay 1,000 dollars to use a non preferred photographer vendor) vendors, but certainly one that we enjoyed working with. We chose them based on their photographs listed on the website, and from contacting Ryan. He was easy going, and relatively easy to work with. Overall the administrative side was pretty painless.

On the day of, Visionari's team did a really excellent job and we felt so comfortable with them. They ended up there for more hours than contracted, coming early to take pictures of the dress, rings, flowers, etc. They were pretty good at being discreet and made us feel comfortable enough to take natural looking happy pictures. We just received our photos (which took slightly longer than they first said, but we didn't mind -- about 8-9 weeks), and they look great. We do wish only that they'd taken a few more pictures of our guests vs. just us, but it seems pretty normal for photographers to focus on the bride/groom/party. Overall, we would highly recommend Visionari.
Are you interested?
Send a message