72 Reviews
Recommended by 99% of couples
Quality of service

5 out of 5 rating

Average response time

5 out of 5 rating

Professionalism

4.9 out of 5 rating

Value

4.9 out of 5 rating

Flexibility

4.9 out of 5 rating
41 User photos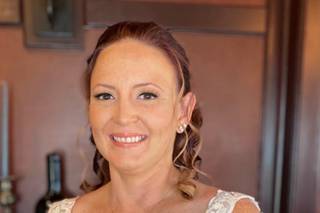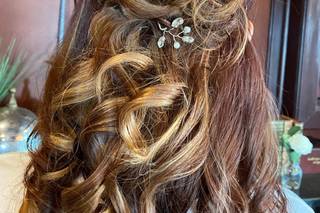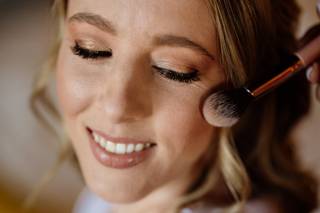 + 37

photos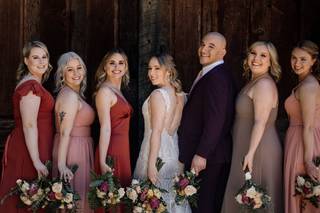 Christina

Married on 10/01/2022

Look stunning on your big day!

Wendy takes excellent care of her brides / clients, ensuring everyone looks stunning while everything behind the scenes runs smoothly. She is an expert and highly skilled - the entire party looked gorgeous, while the make up lasted all day and photographed beautifully.

She also kept the big day running smoothly with attention to the schedule and direct communication to ensure everyone was where they needed to be.

Wendy really cares, taking the time to make sure you are happy with the final looks and give your all the supplies for touch up through out the rest of the day (but made sure to give someone else instructions on how to handle them - ensuring to limit stress on the bride) .

She was great! So happy I had her as part of my day! Thanks Wendy!

Visage Joli Airbrush Makeup & Hair Chicago's reply:

My goodness Christina what a lovely review ! It was a true true pleasure to make up you and your family. I loved them all !

Ashley G.

Married on 09/03/2022

Book wendy!

Wendy was absolutely amazing. She is very responsive and professional. She took her time to understand my needs. She even took time to help me with a lipstick trial so we could nail down the perfect look. I couldn't recommend her enough.

She is highly skilled and has an incredible work resume. You'll be in excellent hands if you book Wendy.

Visage Joli Airbrush Makeup & Hair Chicago's reply:

Thank you for your beautiful Review Ashley ! We truly enjoyed spending time with you and you Family.

Katie S.

Married on 06/25/2022

Amazing Wedding Makeup!

Wendy and Niki did a fabulous job on me and my bridesmaid's wedding makeup. Wendy was easy to communicate with leading up to the wedding and fully understood the look I was going for. My bridesmaids and I were very happy with how we looked on the day of the wedding. I highly recommend Wendy and Niki!

Are you interested?

Send a message

Sandy Y.

Married on 09/04/2021

Wedding Make up by Wendy & Niki

Wendy and Niki did make-up for my 4 bridesmaids and I, as well as my mom and mother-in-law. They listened to our requests and adjusted the look based on preference, which resulted in everyone loving their make-up. Would highly recommend Visage Joli! Great results and both Wendy and Niki are friendly and fun!

Visage Joli Airbrush Makeup & Hair Chicago's reply:

Thank you so Much Sandy ! We adored your family (especially your Mom) and all of your Maids ! You are the Sweetest !

Linda M.

Married on 08/21/2021

Beautiful and Natural!

Wendy was very responsive, professional and easy to book with. She was also very thorough and precise in explaining everything. She has over 30 years of experience and did a beautiful job on the make-up for myself, my sister, my daughter-in-law and my niece. We all looked beautiful and it lasted all night! Her airbrushing and make-up was very natural and photographed beautifully! I received many compliments on my "look"! Great!

Visage Joli Airbrush Makeup & Hair Chicago's reply:

Thank you for your wonderful review Linda ! We really enjoyed spending time with you & your family. So glad that you were pleased with you beauty services.

Colleen F.

Married on 07/03/2021

My beautiful wedding look

As an older bride I wanted to look lovely but understated in my makeup. Wendy totally got this and In the words of my guests I was beautiful, looked amazing and beaming. Wendy is meticulous in her preparation and application and delightful to work with! Erandi styled my hair in lovely loose waves that withstood a rainy day. I would definitely choose this team for any special event where you want to shine

Visage Joli Airbrush Makeup & Hair Chicago's reply:

Colleen was a fantastic client ! Thank you for your beautiful review Colleen. Erandi and I loved working with you !

Hala S.

Married on 06/12/2021

Great work

Wendy did a great job for me and my sisters

Visage Joli Airbrush Makeup & Hair Chicago's reply:

Thank you so much Hala… Erandi and I loved working with you and your wonderful sisters ! I hope you too have a beautiful life together

Rachel R.

Married on 05/15/2021

Picture perfect bridal look

Wendy and Erandi are professional, down to earth, and reliable. They took their time during the trial to make sure everything was exactly the way I wanted to look on the day of. Still in awe of how my bridal look came to life and how they took every detail into account. If you are looking for a fun and personable group, Wendy and Erandi should be at the top of your list, they will make your dream look come to life in a way that's even better than your expectations!

Barbara C.

Married on 02/26/2021

A Find and A Savior

Two days before my daughters wedding the makeup/hair provider canceled. I found Wendy of Visage Jolie by goggling. Her location was near us. Fortunately she was able to get me in for a morning appt. I was nervous knowing nothing except her website and talking to her on the phone. I'm 73 and knew I wanted to look natural, get rid of my dark circles and accent my eyes and of course I had a limited time as I was not at the venue as originally planned. She was wonderful, handled my nerves gently, listened to my desires and finished in the hour I had given her. And everyone including me thought I looked wonderful and a best version of myself. WIsh the pics were back so I could include. I highly recommend Wendy.

Visage Joli Airbrush Makeup & Hair Chicago's reply:

Thank you so much for your amazing and kind review ! You are a charming & beautiful woman..I am posting a photo of you on this site.

Nicole

Married on 12/01/2020

Can't imagine a wedding without Visage Joli!

Wendy and Renee are the team to have! They set up in my living room and spare bedroom to get my cousin's bridal party ready for her big day. Last minute hair decisions were no challenge for Renee, while Wendy made sure every girl was perfectly contoured and lined. We all looked perfect in every picture and were still glamorous into the 3am hour! Visage Joli is a must have for every wedding.

Deshani G.

Married on 10/10/2020

Beautiful makeup and professional service!

Wendy did mine and my mum's makeup for my microwedding. She was really professional, super helpful in choosing my look for the day, and had great attention to detail. The makeup turned out so natural and beautiful and looks amazing in the photos. I'd recommend Wendy to any bride and bridal party!

Visage Joli Airbrush Makeup & Hair Chicago's reply:

Many Thanks to you Deshani ! Erandi and I really enjoyed spending your wedding morning with you and your Mum.

Mary M.

Married on 10/02/2020

Beautiful makeup with attention to detail

Wendy is a terrific and very talented makeup artist! She prepared methodically to create a completely custom look for each of us, and honored my desire for a very natural appearance to look like myself. My makeup was flawless, lasted throughout the day and night, and our photos turned out beautifully. I can't recommend her enough to every bride! Top scores for communication and flexibility too... she is a true professional.

+ 3

photos

Katie M.

Married on 10/02/2020

The perfect MUA

We were lucky to already know Wendy from
her decades in tv news! It was all beyond what we could have expected. As a person who makes a living on the air, she's the best there is. Period.

Sarah S.

Married on 11/16/2019

Wonderful, experienced, caring professionals!

I had a fantastic experience working with Wendy and Renee for my wedding!
Wendy is so caring, detailed, experienced and responsive. I couldn't imagine someone who was more invested in making sure I, and every other woman in my wedding, looked their absolute best at my wedding while feeling totally comfortable with their makeup application. She is extremely attentive to every detail, not only for me (the bride) but also for my mom, MOG, and bridesmaids. Wendy asked for pictures of everyone in advance, as well as what color dress everyone would be wearing so she could come prepared with ideas and all tools necessary. I've never worn a lot of makeup and wanted a natural look, and Wendy did wonderful work delivering on natural while making sure it was enough to come through in photos!
Renee can do whatever you want with your hair! She is super easy-going, efficient and creative. She can look at an inspiration photo and easily replicate it, but she's also willing to offer suggestions if the look won't work or look right with your particular hair. Just to give an example of Renee's personality - my mom didn't want to get her hair done, but when she walked in to my hotel room after getting dressed (with her short hair looking very flat), Renee gently suggested "can I touch up your hair for you?" - and proceeded to make my mom's hair look 100x times better in 5 minutes (my mom agreed).
Both Wendy and Renee have decades of experience and they're competitively priced with all the "big box" hair and makeup outfits in Chicago. They're also much more flexible (no "you have to have x many people for us to come to you...") and much more personable than any other options I found in Chicago. You are definitely getting a fantastic value going with them! I couldn't recommend them enough!!

+ 3

photos

Visage Joli Airbrush Makeup & Hair Chicago's reply:

I told Sarah she was a dream Bride and that was so True ! Renee and I Loved working with her through the whole pre-wedding process and on her wedding day. Both Moms and her Bridesmaids were also lovely !

Lauren V.

Married on 10/26/2019

TV Makeup Professional!

It POURED sideways on my Wedding Day. Not only did Wendy and her team keep me in good spirits despite the forecast, but her makeup held up during my outdoor, rainy pictures splendidly. Wendy was very attentive during my makeup trial, spending hours creating a beautiful wedding day look that was elegant, timeless and natural - different than my normal look at work that requires heavy makeup. During the week, Wendy is the makeup artist for some of Chicago's biggest news anchors. Her professionalism shows!

Rebecca M.

Married on 09/07/2019

Wendy is the BEST!

Wendy is a true artist! She did my wedding make up in September. I brought her a few references for my look, and she executed it with skill and precision. Such a wonderful person to spend time with on your special day as well. Really showed a lot of care for the work she does and the people in her care. Thanks, Wendy!

Linda

Married on 08/25/2018

Would recommend Wendy and Renee for anything- not just weddings. They were perfect - my trial was great however they made adjustments after they reviewed the photos they took. I continually got notes from them, everything was explained as far as costs from the beginning- and no hidden charges. I cannot say enough about the professionalism and I would go back to both of them for any time I want to look amazing. Additionally, they followed up with me after the wedding.

Visage Joli Airbrush Makeup & Hair Chicago's reply:

Thank you so much ! I will add to the photos posted and by the way the 2nd photo is of Diane, Linda's sister and her fabulous Mom whose makeup and hair we also did. We had a terrific time with everyone !

What can I say about this team!! Wendy and Renee are superheroes.
Wendy does TV make up during the week and has applied makeup for many celebrities. People, you're getting an experienced celebrity makeup artist! Because of that, Wendy has great stories to share and can more than handle wedding day-related drama with no problem. Wendy is truly an artist and helped me achieve a really gorgeous look during the trial and wedding day. I didn't even know that that kind of "red carpet look" was possible for me! Additionally, my wedding was held in an unairconditioned church on a 90 degree day!! The makeup had no problem making it through not just the hot ceremony, but the ENTIRE day/night— these were conditions that would have easily melted any of my DIY attempts off my face. Wendy did an awesome job with my bridesmaids, who had diverse skin tones and ethnicities— my bridesmaids were not use to having event makeup on, but they looked stunning once they had the complete package with hair and their gowns.
Renee is an amazing hairstylist, she has an easy-going demeanor and produces some gorgeous hairstyles. She created an updo for me that fit my face and gown, it looked like origami! On the morning of the wedding, Renee had an idea for my hairstyle and she found the time to run over to the beauty store and get an extension;what a generous thing for her to do! For my bridesmaids, she worked quickly on her wedding morning to give them a style they loved.
If you're not someone who typically wears a lot of makeup or fancy hairstyles, I definitely recommend doing the trial. It helped me get over the "shock" of having makeup on, get used to the look, and gain feedback from friends that I still looked like me! I still looked like me... it just took me a while to seeing myself in the mirror glammed up like that. Anyway, you won't be disappointed going with Wendy and Renee at Visage Joli for your wedding or special event! Once I have more photos, I'll share them!

+ 4

photos

Visage Joli Airbrush Makeup & Hair Chicago's reply:

Thank you Diana… What an absolutely beautiful review!

Allison B.

Married on 07/06/2018

Wendy helped make the biggest day of my life perfect!

From the initial make up demo, to the big day, Wendy had my best interest at heart. She was prepared and spent the time to make sure I looked flawless for my wedding. The entire group that got make up done had nothing but outstanding compliments given to them! My make up lasted all day and evening, theough the tears and sweat! THANK YOU WENDY!!!!

+ 3

photos

Tom & Flor's Wedding

Having recently came to US way of Fiancee visa, the wedding plans had to be in place soon and having proper makeup was a must. My Fiancee heard of a person who had many years of experience in the field. Wendy Kimmel, a makeup artist for Visage Joli Makeup & Hair Chicago, was very helpful. She is very good in knowing what makeup is best for one's skin and on which portion of the face to highlight. She is very good at seeing all the features in ones face and bringing them together beautifully. She asked me for several pictures of myself and had me view several pictures of others to help zero in on what would work best. Wendy was very accommodating as she was there on site of the wedding with all her equipment until after the ceremony. "With great care and skill Wendy truly made my bride the highlight of the day" says Tom, the groom, " I always get compliments on how beautiful my bride appears when people see the pictures. Thank you Wendy for all you have done to make our day very special."

Visage Joli Airbrush Makeup & Hair Chicago's reply:

Thank you so much Flor & Tom ! I lived getting to know you Flor and really enjoyed designing your Bridal makeup.

Tara

Married on 09/01/2017

Wendy and Renee are absolutely fabulous! They even were able to accommodate a last minute hair and make up to my sister in law! They are so talented and easy to work with and will use them in the future and recommend them to anyone. Trust me, when you leave their chair, you will feel like a queen!

Ali

Married on 08/26/2017

I cannot recommend Wendy and Renee enough! They did hair and makeup for myself, 4 bridesmaids, and my two moms for my wedding day. Everyone looked absolutely incredible and I appreciated how Wendy and Renee really captured everyone's unique style and aesthetic so everyone looked and felt their best. I'm a professional actor so I'm used to getting my hair and MU done. Hands down, this was the best hair/MU experience I've ever had.

Jeanne

Married on 07/15/2017

Wendy Kimmel is the best of the best! Truly a class act!!! I treated my step-daughter (and myself) on her wedding day to a princess/movie star experience with a TRUE professional. Emily (never had experience with a professional tv makeup artist) had the opportunity to work with Wendy before her wedding day during the trial and get a sense of the experience to come and hence, one stressor of her wedding day was alleviated. She left Wendy's initial consult elated. She was very happy. Wendy took ample time to get to know Emily and her likes and preferences. Wendy's goal is to enhance your natural beauty. Wendy's team allowed the bride and the bridal party to sit back, relax and enjoy the pampering and avoid the wedding day jitters/anxiety of primping oneself.
Brides, honor yourselves: Treat yourself to the exquisite pampering Wendy and her crew can offer to you.

Rachel

Married on 09/24/2016

Wendy is amazing! She did the makeup for my whole bridal party and everyone looked flawless! Wendy is a true professional and a real delight to work with. I was also in need of a hair person, and she recommended Renee, who was also great to work with and did a great job. If you are looking for an amazing makeup artist, Wendy is your lady!

Visage Joli Airbrush Makeup & Hair Chicago's reply:

Thank you Rachel...we loved working with you !

Andi

Married on 06/11/2016

Wendy did an amazing job on my makeup - it lasted all day (about 14 hours) with no touch ups needed. She is extremely knowledgeable and skilled. She even worked with me when I changed my mind on the original lip color we tried. I was so pleased that I will likely book some time with her to discuss 'everyday' make up. She recommended a hair stylist, Rene, and she was awesome, too! I showed Rene a picture of what I wanted and she made it happen. We did outdoor pictures and my hair stayed perfect throughout the night even though it was 93F and humid and I have very curly hair. My hair looked good and felt good, too - not stiff or overly hair sprayed. Both ladies made me feel comfortable and made sure my day started out right - and they made sure my bridesmaids looked great, too.
Are you interested?
Send a message