345 Reviews
Recommended by 99% of couples
Quality of service

5 out of 5 rating

Average response time

4.9 out of 5 rating

Professionalism

5 out of 5 rating

Value

4.9 out of 5 rating

Flexibility

4.9 out of 5 rating
128 User photos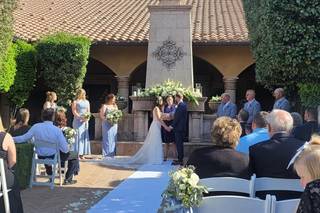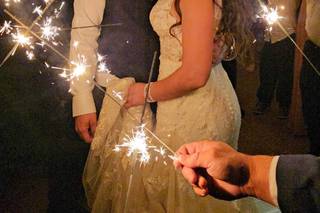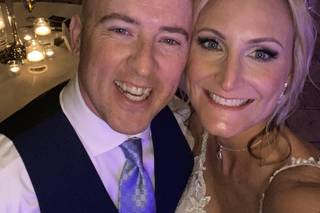 + 124

photos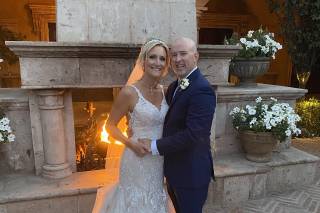 Adrienne F.

Married on 05/06/2023

Simply Elegant

Venue speaks for itself! Plus has wedding coordinators who helps makes the wedding planning easier and the stress of day of wedding set up a breeze. You bring the decor and they set up. Also their food was amazing! Guest loved the venue and thought it was so beautiful! Thank you Paige for being our wedding coordinator!

Villa Siena's reply:

Thank you for such a kind review, Adrienne! I enjoyed every minute of working with you and Joseph and was so happy to be your coordinator! Congratulations on this next chapter of life. The entire Villa Siena team wishes you all the best!

Jane O.

Married on 03/26/2023

Best day of my life!

I recently had my wedding at Villa Siena and I can't say enough great things about the experience. The venue itself is breathtakingly beautiful and the greenery they have around the property matched perfectly with our wedding colors. From the moment we walked in, we knew it was the perfect place for us.

Our wedding coordinator, Kayla was an absolute dream to work with. She was incredibly attentive to our needs and went above and beyond to make sure our day was everything we wanted it to be. She was always available to answer any questions we had and made sure every detail was perfect. The staff was very professional and accommodating, throughout the process and they made sure that everything ran smoothly. The team also made it so easy for us to secure vendors with their list of excellent DJs, florists, catering and cake bakery. I am still getting so many compliments from my family and friends on the food, wedding cake, and music.

Thank you so much to the Villa Siena team for making sure that our wedding exceeded all of our expectations, it was truly dream come true! I highly recommend Villa Siena to anyone who is still looking for a wedding venue.

Villa Siena's reply:

Oh my goodness what a wonderful review! Please know that we loved working with you just as much and we are so happy to be a small part of those happy memories you will cherish forever. Congratulations on such a beautiful day for beautiful people!!

Jessica J.

Married on 03/19/2023

Best of the Best

Our day was absolutely perfect. Kayla took such great care of us and our families. From arriving, to unloading our car, to ensuring we had all of the necessities, she took absolutely great care of us. She allowed us to enjoy every part of our weekend and ensured she walked us through every step on our actual day. I could not say enough great things about her. All of our guests complimented the beautiful venue, the service, the food, our bartenders, and so much more. There is no other place to get married or have a wonderful celebration. Kayla and her team are the best of the best.

Villa Siena's reply:

Hi Jessica,

Thank you for your kind words! We are so happy to hear of how helpful our coordinator team was to make your special day so memorable :) Congratulations on your beautiful marriage!

Are you interested?

Send a message

Brent J.

Married on 02/03/2023

Villa Siena Wedding Coordinator Laina Kane

"As an event coordinator myself, I noticed an attribute about Laina that I really appreciated and really liked. She definitely put Colette first and I loved that. Whenever there was a timing issue at the wedding and Colette would ask, "Do we have time?" Her answer was always yes, but yet always moving Colette in the direction of the schedule that needed to be kept. I liked it. It kept things moving while not making Colette feel stressed. Laina's response to Colette was always, "We can do that! It's your wedding!" But yet she held her to a schedule without pressuring her. Quite a clever technique."

Villa Siena's reply:

Brent & Colette!

It was an absolute pleasure walking with you both through the planning process! I am so glad you enjoyed your perfect day!
Wishing you all the best!


Alyssa A.

Married on 01/22/2023

Wonderful Experience

From beginning to end our experience with Villa Siena was amazing. We absolutely loved everything about the venue and our wedding day was perfect! Our coordinator Paige was amazing and so incredibly helpful. She made everything so easy on us. Our dream wedding! :)

Villa Siena's reply:

Alyssa, thank you so much for your kind words! We are so happy that your wedding day was so special and everything you'd imagined it would be! Thank you for letting us be a part of it. Cheers to happily every after!

Guillermo F.

Married on 12/30/2022

5 Start Service!

Dream Wedding! Kayla was the heartbeat of the operation. Truly an amazing person. We are so grateful for Kayla! The Villa Siena staff were all so beyond AMAZING. Thanks for making our wedding so wonderful! You all deserve an award!"

Villa Siena's reply:

Carey and Guillermo, thank you so much for your wonderful review! We were so happy to host you and your wonderful families for your special day. We wish you the happiest ever after!

Greg K.

Married on 12/10/2022

Magnificent Venue!

If you want a Beautiful, Upscale, Classy Venue with a fabulous staff. We've been here Many times and each time is a new experience in the perfect Wedding Event. Between the Courtyard Ceremony and different spaces for the Reception you'll not only be impressed with the Venue but also it has the element of feeling 'at home' also. Some places can be very impressive but a little 'sterile' in a sense but this Venue is more 'at home' and welcoming in it's decor and feel. Recommend this Venue highly!

Laura L.

Married on 10/07/2022

Best wedding venue ever

Villa Siena was the perfect venue for us. Everything was so beautiful and exactly how we expected. Our coordinator, Kayla, was so knowledgeable, responsive, and amazing.

Villa Siena's reply:

Thank you for your kind words! We loved serving you on wedding day and are so happy the day was so special and filled with love and happy memories!

Sydnee R.

Married on 10/02/2022

October 2nd

This venue does not need words to describe how magical it is because you can see that just by stepping foot on the property. And I already know they have raving reviews because, well, I read them myself! But none of those prepared me for how amazing this venue TRULY was to book with.

From the moment we took our tour I cried from its beauty and knew it was our venue. And every step of the way was so simple and stress free. We decided to take their list of vendors and use them for convenience, but they have the most amazing list of vendors who all work together and made our lives so much easier so we could enjoy the process!

Their communication with any questions or concerns was always so efficient and they let us come walk the venue as many times as we needed!

Then the big day came, we were fortunate enough to have Kayla as our coordinator who was BEYOND amazing for words. She was so on top of everything being perfect and handled all the vendors and set up. She made me feel so relaxed knowing everything was in her hands. She had literally thought of everything! She even gave us some food to bring home before our send off because she knew we would probably be hungry again in an hour!

I can not say enough kind words about Kayla or this venue as a whole. If you are considering it at all, and somehow aren't convinced, let this be your sign to pick it!! Because we are SOO thankful we did.

Villa Siena's reply:

Sydnee,

Thank you so much for your kind words! We had so much hosting you and your beautiful family at our venue. It's so nice to know how stress-free and positive your experience was with our group of talented professionals. Congrats on your marriage and we wish you many many years of love and happiness!

Tim S.

Married on 08/19/2022

Villa Siena for our Vow Renewal

Strong attention to detail, professional, accommodating, and easy to work with. Aspen was awesome!!

Villa Siena's reply:

Hi Tim!

Thank you so much for your kind words! It was such a pleasure to work with you and Kerri! I hope your big day was everything you dreamed of!

Michelle R.

Married on 07/03/2022

They were professional, helpful, clean facility, reasonable price

Villa Siena was such an accommodating venue. Not only did they have a great and beautiful facility but they also had packages with vendors. As well as helpful vendor lists. They made the whole experience so easy.

Villa Siena's reply:

Hi Michelle! Thank you so much for your kind words about Villa Siena! We loved hosting your wedding, it was such a wonderful evening! I wish you and Karlton a lifetime of happiness!

Brandon M.

Married on 03/14/2022

Fairytale Wedding!

Villa Siena hosted our dream wedding and it was EXACTLY that, a dream! From day one, Jenna Conklin welcomed us with a warm smile, strong confidence, and tons of knowledge. Whenever we had questions, she was always there to put our minds at ease and provide insight (even about the questions we didn't even know we needed to ask). The day of the wedding was absolutely flawless from the decor, the helpfulness of the staff, the cleanliness, to being able to actually eat at our own wedding, all the way down to Jenna seeming to be everywhere at once! We couldn't have asked for a better experience from the day we stopped in to take a tour, all the way to our last dance. Would highly recommend Villa Siena to anyone who wants to have a fairytale wedding!

Villa Siena's reply:

Amber and Brandon, you are so very kind! It was seriously a dream to get to work with you two and host your special day here at Villa Siena! Sending our very best!

Madi

Married on 02/26/2022

A Perfect Wedding (if that exists)

We booked our venue back in September of 2020 for our wedding in 2022. The moment we walked in the door we were amazing at how gorgeous it was inside. We met with Hope who answered all of our questions and was so accommodating in the initial signing process. She actually answered questions we didn't even think about. We looked at a few other venues and nothing blew us away quite like Villa Siena did.
For the next 18 months, they were quick to respond to my questions and were very helpful when booking other vendors and customizing our event.
Meeting Paige, our coordinator, at our final planning meeting was such a pleasure. She was so sweet and so excited about our wedding that it made us ever more excited about our big day. She handled our rehearsal with ease and was so supportive. I had asked a family friend to iron our tablecloths that we were providing and at rehearsal, she told me that she didn't want to spend the extensive amount of time ironing them. I told Paige about this and without any hesitation she offered to take care of them for me. Any issue that arose, she took it head on and was just an amazing support for me and my groom. Our day was as close to perfection as a wedding can be and I owe all of that to Paige.

Villa Siena's reply:

Madi! Thank you so much for your kind words. You and Glenn had such a wonderful wedding day and it was my absolute pleasure to be your coordinator and work with you both! I wish you a lifetime of love and joy!

Brianna

Married on 02/26/2022

Best day of our life!

My wedding day at Villa Siena could have not gone more perfectly. Not only does Villa Siena offer the most beautiful backdrop for wedding photos, but they are a well-oiled machine. While Villa Siena is mostly all-inclusive, we opted to also add in their DJ and florist. They made everything so easy and seamless for us. Their food is also incredible and so visually pleasing. The people who work for Villa Siena are truly top notch. I first want to speak to our venue coordinator Jenna Conklin - She is AMAZING. I could rave about her all day long. She was so attentive to us throughout our 14 months of planning, but also managed our entire wedding day and made sure everything ran perfectly. She did everything from coordinating with our vendors the day of the wedding to bustling my dress , pinning boutineers on the groomsman, and honoring any in-the-moment requests. I could go on and on, but Villa Siena has found a gem in Jenna. Now for our florist that was paired to us through Villa Siena, Blume Events - they made our floral dreams come true. In fact, they surpassed any expectations we had and made truly gorgeous floral centerpieces. Our DJ, also paired to us through Villa Siena, was Marcus from the company RayTheDJ. Marcus is one of the sweetest and most positive people we had met through our wedding process. We gave him creative control of music since he's the pro (gave him little reception guidance and just asked him to feel the vibe of the crowd), and he absolutely killed it. He checked in on us throughout the night, and was prompt with all special request songs. Finally for our photographer Matthew Wheeler. Matthew wasn't vended through Villa Siena, but he has experience there. He has an unmatched talent in photography and an amazing eye for the most spectacular shots. If you're getting married here, contact him for your photography! You won't regret it. Thank you Villa Siena for the best day of my life.

Villa Siena's reply:

Thank you for the thoughtful review, Brianna! We are thrilled that you had such a wonderful experience with both our team and some of our preferred vendors – it was a truly beautiful event! Congratulations again!

Sheree O.

Married on 01/29/2022

Absolutely perfect

Absolutely amazing experience and I couldn't have asked for anything better. Paige was fabulous and gave us everything we needed and everything we didn't know we needed. The perfect experience.

Villa Siena's reply:

Sheree! Thank you so much for your kind words. Your wedding was so beautiful and such a fun day! I wish you and Kim a lifetime of happiness!

Nick D.

Married on 12/11/2021

Amazing Venue!

Villa Siena was amazing and Kayla was a phenomenal coordinator. Exceeded our expectations and made our day so special.

Villa Siena's reply:

Hi Nick!

Thank you for your amazing review! We are so happy that wedding day is filled with so many positive memories to last you a lifetime. Congrats again! :)

Lauren J.

Married on 12/03/2021

The most stunning and perfect venue!

Kayla and the Villa Siena team went above and beyond our expectations! Communication was always quick and easy. They took care of everything from setting up the decorations to even putting our photo guestbook/seating chart together. Kayle was there every step of the way making sure every aspect went smoothly. It was the absolute most perfect day thanks to Kayla and the Villa Siena team!

Villa Siena's reply:

Lauren, Thank you so much for your kind words! We are so happy that your experience was smooth and just the way you imagined! Congrats on your beautiful day and your happy marriage together!

Mary

Married on 11/09/2021

A dream come true!

This venue is literally a fairytale, with fairy godmother included! Jenna wasn't just our wedding coordinator. She was our hype-woman, our expert advisor, our confidant, and a dear friend in a time of uncertainty and stress. Our wedding was postponed 3 times due to Covid outbreaks and spikes in our area and it was an easy situation to get overwhelmed by and lose hope. But Jenna kept us together, never let us get discouraged, and turned our special day into an absolute fairytale. From planning to postponing to re-planning to set up to tear down, Jenna and the Villa Siena staff were there to support us, guide us, and make sure that what we needed to happen could happen. The facility is beautiful and allowed us to make payments on an easy-to-understand payment plan, always keeping us updated and staying in communication with us. When we first visited the facility, we knew it was the one for us but we had no idea that it would be a place that would also take such good care of us and help us to achieve our dreams despite the hurdles we were facing as a couple and a country. They were extremely understanding with all of our covid concerns and took every precaution we asked. If you've ever wanted to feel like a real-life fairytale love story, don't look any further than this GORGEOUS VENUE (Arthur's Round table is included)!


+ 6

photos

Villa Siena's reply:

Mary and Andy, it was a pleasure hosting your special day here at Villa Siena – it truly felt like a fairytale! We are so honored to have been even the smallest part of your beautiful wedding! It was so bittersweet finally sending you two down the aisle, wishing you nothing but the best in this exciting new chapter!

Jamie C.

Married on 11/06/2021

Absolutely AMAZING Experience

Our wedding with Villa Siena was absolutely perfect. We wouldn't have had it any other way. Jenna and Hope were amazing from start to finish. We would definitely recommend Villa Siena to anyone planning a wedding!

Villa Siena's reply:

Jamie, thank you so much for the sweet words! It was such a treat to work with you through the planning process and was truly our pleasure hosting your beautiful wedding day here at Villa Siena! Sending our very best to you and Derek!

Julianna P.

Married on 10/28/2021

Absolutely incredible experience here!

Jenna was so wonderful and helpful! She made sure everything was taken care of day of and we didn't even have to stress or worry about everything. She was always ten steps ahead! The food was phenomenal and the venue is beyond gorgeous. Highly recommend!!!

+ 4

photos

Villa Siena's reply:

Julianna, thank you so much for your review! It was absolutely our pleasure being a part of your beautiful day! Congratulations!

Melanie J.

Married on 10/23/2021

Dream come true!

I cannot begin to describe how perfect our wedding day was. Villa Siena is not only beautiful but their staff is incredible. They were so professional, on time, efficient, sweet, caring and made us feel so special on our special day. Our wedding coordinator/planner was Jenna C. and I literally hope my little sister gets married there because I want to experience it all over again. They took care of absolutely everything and MORE! I took their advice on all of their recommended vendors for the Dj and the Cake and I cried from how beautiful everything was. I felt like a princess and I cannot recommend Villa Siena more!! Our guests were taking pictures of the architecture and telling us this was the most beautiful wedding they had ever been to.

Villa Siena's reply:

It was truly our pleasure having the opportunity to take part in your special day, Melanie! Thank you so much for selecting Villa Siena! Wishing you and Daniel the very best in this exciting new chapter!

Grace P.

Married on 10/17/2021

Truly magical!

" As a bride that almost had her wedding at another venue and was able to experience service at another venue I can say Villa Siena is unparalleled. It made all the stress of planning almost go away. Laina especially was AMAZING to work with. She made sure the whole day and all events leading up to it went smoothly. I felt liked she had everything in control and ensured all parties were where they needed to be. I was able to focus on enjoying the day and not any of the stress for flow of events.

Laina made our wedding so much fun and easy we can't thank her enough. I have high expectations and thought some part of the day would not meet them, but I can honestly say every moment was lovely. Thank you Laina!"

Villa Siena's reply:

Grace and Eddie!
Your wedding was a dream come true! Thank you for choosing Villa Siena-- planning with you was a delight! Wishing you two a lifetime of love and happiness together! P.S. Your photos are incredible!!! :)

Brittney M.

Married on 10/11/2021

Incredible!

Villa Siena was literally everything and then some! From the time we toured up until the day of our wedding everyone at Villa Siena has been absolutely wonderful! I couldn't have asked for more everything was taken care of and beautifully done I would choose Villa Siena all over again for our big day! Laina was the best to work with and literally made everything so simple and seamless! I literally didn't feel a single dose of stress knowing everything was going to be done and done correctly without having to question! She was the sweetest most down to earth person to work with! She literally took care of every little thing down to placing names on the tables! She made sure everything was planned out and taken care of! All questions, phone calls, and emails were always answered right away and we couldn't have been happier!

Villa Siena's reply:

Brittney and Colton!
We wish we could relive your gorgeous day over and over!! It was just a joy planning with you and LOVE your gorgeous photos!! You two have the most beautiful family and we loved having you!
Cheers!!

Laurie C.

Married on 10/03/2021

Amazing experience in all aspects

" Laina is amazing and so sweet! So helpful and totally on point! Blessed to have her! The staff at Villa Siena are hardworking, polite and wonderful!"

Villa Siena's reply:

Laurie!

Thank you for your sweet review! You are the sweetest! We absolutely loved having you and your family! It was a wedding filled with so much joy--we will never forget your wonderful wedding! :)
Wishing you all the best!

Candice N.

Married on 09/11/2021

Beautiful, professional, elegant

Wonderful wedding! Absolutely beautiful venue, the staff is incredibly professional and attentive! Wedding coordinator Jenna was hands on with everything and very thoughtful, always checking with us making helpful suggestions, and so understanding of last minute things. We had our 7 month old baby there and she set up our pack and play for us, and all of our other hundred baby things we had to bring, and helped the nanny with him. The vendors they provide in the package are also really great! So beautiful and memorable!

+ 8

photos

Villa Siena's reply:

Thank you for the kind words, Candice! Wishing you, Steve and your sweet baby boy the very best in this exciting new chapter!
Are you interested?
Send a message