The Bella Donna Wedding Chapel and Event Center, Formerly Vesica Piscis Chapel Reviews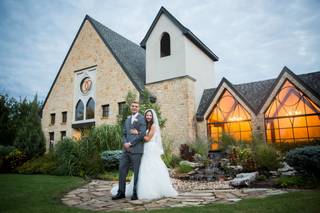 View more information
81 Reviews
Recommended by 99% of couples
Quality of service

Rating 4.9 out of 5

Average response time

Rating 5 out of 5

Professionalism

Rating 4.9 out of 5

Value

Rating 4.9 out of 5

Flexibility

Rating 4.9 out of 5
9 User photos
+ 5

photos
Featured

Tricia G.

Married on 06/22/2019

Elegant and Classy

I can't thank cristal enough for making my dreams come true and capture my taste and vision of one of the most important days of my life. She provided a place of elegance and class. She was excellent to work with. She kept me on track which is what a bride needs. Knowing everything was provided for in one setting from the DJ, catering and the cake. It was all amazing. Vesica makes the wedding planning so easy for the bride and family.

The Bella Donna Wedding Chapel and Event Center, Formerly Vesica Piscis Chapel's reply:

Tricia, thank you so very much. It was truly a blessing to host your wedding at Vesica Piscis. I so enjoyed working with you and your sweet family.

Mariza

Married on 08/22/2021

Amazing wedding

Amazing! Magical and very spiritual 😻😻😻😻 best chapel for your wedding

Erin W.

Married on 12/12/2020

The Perfect Wedding Venue!

Our wedding at Vesica Piscis Chapel/The Bella Donna Event Center was an absolute dream! Christel and her team ensured that the day was stress-free and everything ran smoothly. They helped with everything from decorating the reception venue for us, to keeping the wedding day timeline on track, to ensuring my husband and I had a plate to eat. I cannot imagine a more perfect place to get married! Everyone was so professional and accommodating. Not to mention the chapel and reception area are absolutely beautiful. I recommend this wedding venue 10/10!

Grant R.

Married on 12/28/2019

Winter Wedding

We had our December wedding at VP. Could not have asked for a more beautiful venue or passionate team to work with.

Beautiful place, looks exactly like picture even better in person. Food was amazing!!!!! so help full with everything, very relaxed.

Shea G.

Married on 08/30/2019

Would book this place all over again!

Absolutely loved this beautiful venue. It was a smooth process & loved having everything I needed in one spot! (catering, florals, DJ, cake, etc.) They were flexible with arrival, set up, and accommodated how I wanted to decorate!

Stephanie Z.

Married on 01/19/2019

amazing experience!!!

Judy and Christel were amazing to work with!!! They were attentive, professional and truly cared!!! They had a great group of professionals and vendors who also work with the chapel!! They made the whole wedding process easy!! The chapel is beautiful and well maintained!! The food at the chapel was amazing!!

The Bella Donna Wedding Chapel and Event Center, Formerly Vesica Piscis Chapel's reply:

Stephanie, thank you so much for the amazing review. We truly loved working with all of your family. Your wedding was absolutely beautiful in every way. I can't thank you enough for choosing Vesica Piscis Chapel and trusting us with your special day.

Kelli

Married on 12/31/2017

They did absolutely amazing! Made our wedding day as easy as possible. The set up was perfect and exactly what we spoke about. The food was great, all of their vendors were great. Definitely the best place to go for a perfect wedding day. Made our day perfect!

Macayla

Married on 11/24/2017

Vesica was absolutely he best! If you're looking for a stress free wedding, simple, elegant wedding, this is the one for you! Best chapel/people ever!

Megan

Married on 11/19/2017

It is difficult to overstate how happy we were with our experience at Vesica Piscis. From the first phone call to every detail of our wedding, the staff of VP were professional, warm, and just fun to work with. The location is beautiful, the food was delicious, and we didn't have to worry about anything. We did very little 'extra' and it didn't really matter since the facility is already beautiful. Loved, loved, loved everything about Vesica Piscis. Do yourself a favor and take the stress out of your day so you can just enjoy it!

Kelsi

Married on 10/28/2017

Vesica Piscis Chapel was the most fabulous place to celebrate our Big Day! The venue is absolutely breathtaking. The staff are very knowledgeable and extremely helpful! They truly think of every detail and have it all planned out. There was not a single aspect that we were less than happy with and we are forever grateful for that!

Christal

Married on 09/23/2017

We were so lucky to have found the beautiful Vesica Piscis Chapel. The venue is dreamy and all of the women that helped us along the way were beyond amazing. From the minute we stepped foot into the chapel, until our grand exit, they made everything so easy for us. They welcomed us with open arms and were at our side through the whole planning process. We cannot say enough great things about this venue and the team they have!

Mollie

Married on 06/16/2017

The staff at Vesica Piscis went above and beyond to make our day absolutely perfect. We had several meetings with them leading up to the wedding, as well as a food tasting, where they planned out every detail of our wedding day. They were always available to answer any questions we had as well. The day of the rehearsal I brought extra decorations to be set up and Kyla had them all set up exactly how I wanted in a matter of minutes! We were given exact instructions on how the wedding would run and they were able to accommodate special traditions for a military wedding. The day of the wedding was perfect. The chapel was so beautiful, the reception venue was decorated exactly how I wanted, and the food was amazing!! The night went by so smoothly with no lag time in between events. All my guests raved that it was one of the best weddings they had attended. Thank you so much to everyone at Vesica for making our wedding day absolutely perfect. I wouldn't have wanted to get married anywhere else!!

Hayley

Married on 06/10/2017

Vesica Piscis is a beautiful venue filled with very helpful and kind staff. I had to plan my wedding by myself and I had no idea what I was doing. The staff at Vesica helped me immensely! My wedding was perfect! I would highly recommend to anyone!!

Gorgeous venue. My sister in law got married here. Everyone was extremely happy.

Misty

Married on 09/24/2016

They make your wedding stress free and easy. We just had to show up!! The staff is amazing, and I am still hearing how the food at our wedding was amazing (We used Chow Baby). I want to thank them for making my wedding truely the best day of my life. Yes, it seems like a lot of money, but it is so so so so worth it!!!

Lexi

Married on 08/06/2016

This venue is so awesome! It is beautiful on the inside and outside, and has a great team who will help you to make your wedding the best it can be. The food is also great - we had pizza and pasta from Andolini's, which everyone thought was so great. Nothing to complain about at all, everything went so smoothly, and it's all because we chose this venue!

Jessica

Married on 07/30/2016

I couldn't have asked for a better venue! Not only is the building and it's surroundings breathtaking, but the staff is so helpful and accommodating. They really took the stress out of my planning process. The best part was that my family and bridal party were able to enjoy the day instead of having to help set up and clean till all hours of the night because Vesica did all that for us!

Kate

Married on 07/29/2016

Vesica Piscis Chapel is beautiful venue to get married in. All of the staff were friendly, patient and very helpful whenever I had questions about the wedding. The staff at Vesica Piscis contact all of the vendors they include in their package and the vendors contact you to set up appointments. This really made the planning process a lot less stressful. I would highly recommend Vesica Piscis Chapel to anyone getting married.

Mary P.

Married on 06/04/2016

I called them probably 100 times about tiny details and they were overly kind and so willing to help every time. They didn't make me feel crazy or annoying. The rehearsal was so organized and everything was taken care of! When I arrived on my wedding day everything was set up just how I imagined it. Made me cry!! They were SO on top of everything. My husband agrees! We are so thankful we chose Vesica!!

Samantha

Married on 05/07/2016

Definitely recommend Vesica Piscis to anyone for any event. We looked a ton of great wedding venues in OKC and Tulsa but Vesica Piscis really stood out from the crowd. Me, my groom, and my Mom all immediately said "This one!" as soon as we finished our tour. The location on top of the hill really makes it feel like an event when your guests arrive. The chapel is completely gorgeous and makes great photos. The layout of the facilities is really well designed to make for a smooth ceremony to reception transition. The bride and groom's dressing rooms are both really nice. And the price is right on par with other venues. I cannot say enough great things about the staff. They really know what they are doing and think of every detail. They were so fun and friendly to work with, especially Kyla and Christel. I could tell that they loved their job and really cared about making my wedding awesome. Could not have been happier with our experience with Vesica Piscis!

Patty

Married on 05/07/2016

On a scale of one to ten, Vesica Piscis is a 100! The wedding of a daughter is a stressful time for a Mom but the staff of Vesica made everything so much easier. Their grounds and facilities are beautiful. Their location is so convenient to the Tulsa airport for out-of-town guests; and just up the road from great hotels and restaurants. They are so professional and truly thought of everything. And beyond all that the ladies of Vesica were so fun and friendly! We loved meeting with them and had such a great time.

Sarah

Married on 04/23/2016

I recently got married at Vesica Piscis Chapel, and I am SO SO happy we chose Vesica. First, the venue itself is absolutely gorgeous. The scenery outside is so beautiful, and makes for wonderful photographs. The inside is even more beautiful! I went to a wedding there in 2007 when I was a senior in high school, and I can still remember the bride walking down the aisle. It was snowing, but it was beautiful and sunny (if you can even imagine) It still gives me goosebumps thinking about it! I thought it was gorgeous then, so of course I was in love. Since then, they have made many changes, including these beautiful, romantic chandeliers in the reception hall. The ladies on staff, particularly Christel and Kyla, are seriously amazing!! They are so helpful, knowledgeable, and they are always so quick to get you answers or make sure your every need and want are taken care of. Also, the variety of packages they offer are incredible! I was worried when I got engaged that the whole wedding planning process would be soon stressful; not with Vesica! The package I chose literally included everything! (Catering, both wedding cakes, floral centerpieces, DJ, uplighting, tables & linens, a sound tech for the ceremony music, a limo even took us home!) I could go on for days about why Vesica is the best place to get married. My wedding day was the best day of my life, and I could not imagine it being anywhere else but Vesica Piscis Chapel. As much as we loved our wedding venue, our guests may have loved it even more! If you are looking for the perfect, fairytale venue then Vesica Piscis Chapel is the choice for you!

We loved our experience with Vesica. It was a wonderful venue and the staff was always responsive to our needs. They make sure you are concentrating on everything that you need to be and just want you to have the best experience with them. Our wedding day was perfection.

The staff is AMAZING! They make your day completely worry free! You have meetings at the chapel at 6 months, 3 months, and 1 month, but they are also always available for questions through email or phone. It made it so easy to have everything included in the package, you didn't have to go to a million tastings with caterers and cake shops or look through tons of reviews to find a good DJ or bartender, they have great vendors that they use to make your day wonderful! I received so many compliments from family and friends about how easy and stress free the day was. My family said that when they tried to help clean up and pick up the decorations at the end of the night, the staff kept telling them to put things down and let them take care of it all. I loved having my ceremony and reception here and felt like I was in very good hands!