Reviews
5.0 out of 5 rating
Quality of service

5 out of 5 rating

Average response time

5 out of 5 rating

Professionalism

5 out of 5 rating

Value

5 out of 5 rating

Flexibility

5 out of 5 rating
100%
Recommended by couples
35 User photos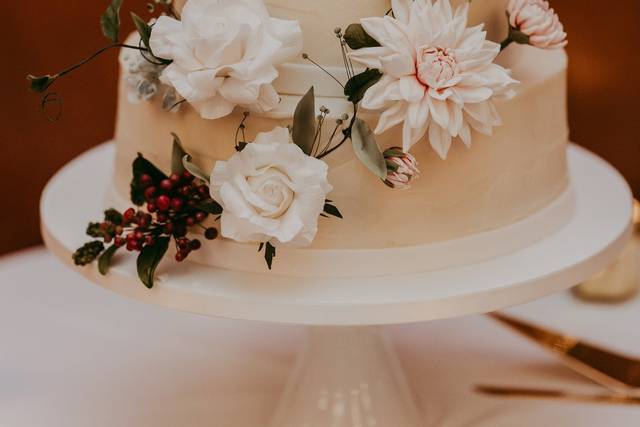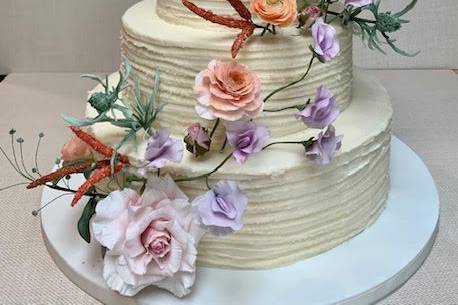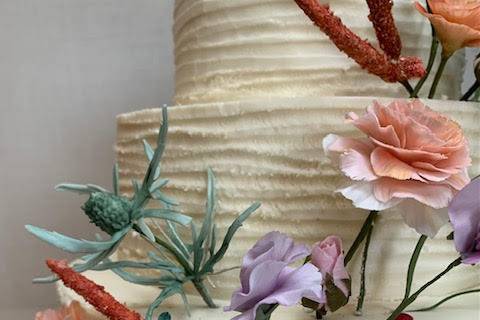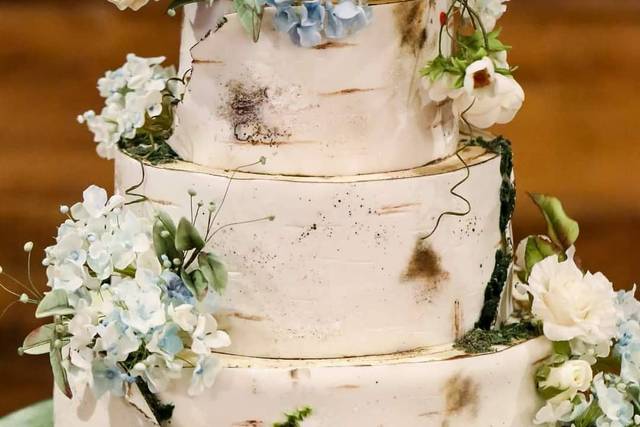 + 31

photos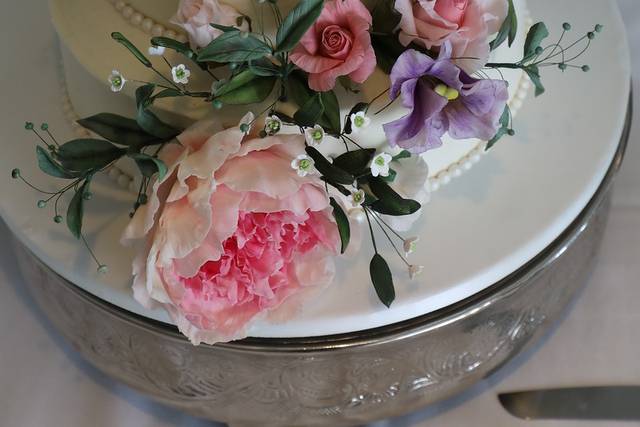 Meredith M.

Married on 09/23/2022

Marion is the best! Cake of our dreams!!!

Marion was absolutely amazing to work with for our wedding! Marion is extremely professional, was always on time, and helped to deliver on the cake of our dreams for our fall Vermont wedding! She is kind, caring, and works so efficiently to make your ideal vision come true on the wedding day! I cannot recommend Marion and cakes enough! She is SIMPLY THE BEST and helped to made our day so beautiful with her incredible talent and cake design. Thank you for all you did Marion! Appreciate you so much!

Leslie W.

Married on 06/04/2022

Tasty, beautiful, and memorable!

Never thought I would be so excited about a cake before. We had the best experience with Vermont Sweet Tooth for our wedding in Stowe. Marion is an absolute pleasure to work with. The tasting was lovely. We had three flavors for our cake and each one was absolutely delicious. The sugar flowers were perfectly gorgeous. We have them on display in our home and will cherish them forever. Could not be more pleased and cannot recommend enough. Truly a unique cake artist.

John F.

Married on 06/12/2021

What a cake!

Marion created a work of art...that was also absolutely delicious. Our birch tree cake was covered in custom made (and edible) flowers and leaves that I didn't believe were fake until I ate a few. The cake was a hit with everyone visually. And then we ate it and it was a hit all over again! We planned for lots of extra cake and all the leftovers were taken immediately.

We were unable to have a tasting before due to travel restrictions but Marion talked us through the flavors and was very helpful.

If I could give this cake (and Marion) more than a 5 of 5 rating, I would.

Are you interested?

Send a message

Marie M.

Married on 09/12/2020

Vt Sweet Tooth Wedding Cake

If you can't decide where to get your wedding cake made, then Vermont Sweet Tooth is where you need to go. Marion, the owner, couldn't be more helpful and gracious. We went up for a cake tasting and she had three different flavors for us, chocolate, lemon and a maple bourbon. We loved all three, so decided to have a layer of each. Although we only had 50 for our wedding, the cake was enough to feed 80. We wanted to have enough cake so that guests could have have 2 or more slices and believe me, they did! Everyone raved about how delicious the cake was. Another thing that the guests and even the staff at Shore Acres couldn't believe that all the flowers on the cake were handmade with sugar paste by Marion. The flowers were taken off the cake before serving and I can save them, see pictures. Marion, thank you for your part in making our wedding celebration so special.

Vermont Sweet Tooth's reply:

Thank you so much, Marie! I am looking forward to seeing you both in November!
My fond regards, Marion

Diana D.

Married on 04/12/2020

absolutely amazing!

You should look no further than Vermont Sweet Tooth for the best wedding cake you will ever have! Marion is top notch, not only for her amazingly unique and delicious wedding cakes, but also very responsive to emails and a true professional from start to finish. She can do anything! Our Christmas-themed/winter birch bark wedding cake was exactly as I dreamed and by the end of the night, not a drop of it was left and our guests were raving about it. Thanks again, Marion!!

Jennifer C.

Married on 12/07/2019

Delicious and decorated perfectly

- Marion is phenomenal—I cannot say this enough. When we first met her to have a tasting, we were in awe. This was hands down the best cake either of us had ever tried. The cake was moist and flavorful—the frosting perfect and not too sweet. Marion is such as kind and caring person as well. She was extremely receptive to all emails and requests we had. She responded quickly and kept in contact throughout the planning process. Our cake was far beyond anything I hoped and dreamed for --- it was absolutely AMAZING. The birchbark appearance blended perfectly with our décor and the flowers she sculpted herself were works of art!!! This is something truly unique that Marion does – sculpting the flowers herself from sugar. She cared enough to know what florist we used and what our floral arrangements would look like – and she was SPOT ON. All of the guests thought the flowers were provided from the florist because they matched perfectly and looked so real. They were amazing when we told them that Marion had sculpted them herself! The cake on our wedding night was perfect with every single detail we wanted. It was truly one of the most beautiful cakes we had ever seen at a wedding! The flavors were delectable! We had went with the lemony snicket and vanilla maple bourbon --- BOTH WERE AMAZING. The other flavors we had tried at our tasting were phenomenal too and it was very hard to choose! The best part of our cake was the fact that Marion sculpted our two dogs (two miniature dachshunds) on the cake. They looked amazing --- she took so much time to get the body structure, colors, and markings right on each dog. She sculpted them perfectly! She asked for pictures from every angle so that she can truly sculpt the dogs the way they were. It showed how caring she was to make something we wanted to come to fruition. We described their personalities and she was even able to portray them on the cake in a way that everyone knew which dog was which based on what they were "doing"" on the cake. We are SO HAPPY we went with Vermont Sweet Tooth and would highly recommend Marion for any event you are having – she is a sweet person, her cake is the best we have every had, and her decorating skills are impeccable.

Laura

Married on 10/19/2019

Marion is the best!!!

Marions cakes are so delicious!! We chose a variety including chocolate chunk, pumpkin spice, carrot cake and almond. They were all delicious and everyone loved them. The tasting was amazing and her house is beautiful! She even created my dog out of sugar to put on the cake. Can't recommend her enough!!

Hannah H.

Married on 10/18/2019

Wonderful experience with Vermont Sweet Tooth

We are so lucky to have had Marion bake and craft such a gorgeous and delicious wedding cake for our wedding a few weeks ago. I don't think I've ever tasted such a delicious wedding cake! Marion crafted a perfect two tier wedding cake for us (along with 4 dozen cupcakes of varying flavors), decorating it with flowers she sculpted from sugar, that perfectly matched the flowers in my bouquet and centerpieces, and even sculpted our puppy to include him on our wedding cake. The sculpture of our puppy looked exactly like him and made it so that we could include our pup in our wedding, even though he could not travel with us for our destination wedding.
Marion's ability to sculpt such realistic flowers from sugar is absolutely amazing! Now we have the flowers Marion sculpted and our puppy which she sculpted to remember our wedding forever!
Having a destination wedding and planning from afar, I was nervous about being able to work remotely with all of our wedding vendors. Marion was so responsive to all of our questions and make the process of planning our wedding cake so seamless! Thank you Marion!

Alicia S.

Married on 10/06/2019

Absolutely amazing!!

I can't even describe how happy I am with how our wedding cake turned out. Marion is so incredibly talented and our cake was absolutely stunning and delicious. Incredibly easy to communicate with. The detail of the cake was perfect and tasted sooooo good. Everyone was blown away by her work and creativity. Thank you so so much!!

Randi B.

Married on 08/17/2019

Vermont Sweet Tooth is the BEST!

We highly, highly recommend Marion at Vermont Sweet Tooth to make your cake for any occasion. She made us a three tier, three flavor birch bark wrapped wedding cake and it was gorgeous! She is a creative mastermind and will follow through with any vision! Her ability to sculpt flowers out of sugar is mind boggling. Thank you Marion for being the best - SO happy we found you!

Lindsey

Married on 07/06/2019

Wedding Day Ease

I found Vermont Sweet Tooth through wedding wire. Our wedding was taking place in Vermont so I needed to find a cake
Company that would take in our ideas and make a master piece. Are you looking for attention to detail, maybe beautiful flowers, or something that means a lot to you like where you got engaged the scenery. Look no further, you found it! Marion Peer is a talented, compassionate and caring cake designer. I had an envision of whites, ivory and greens and she made that happen. Marion does not use real flowers on food you will be eating, simply due to pesticides. Marion has a gift and a craft that she has mastered over the years. What do I mean? She creates beautiful realistic flowers made from sugar, sugar? Yes sugar! They last forever if cared for properly. Sitting in her kitchen at our taste testing looking at all the beautiful flowers not knowing what was real and what was sugar I questioned how she got such beautiful flowers in the middle of winter. Low n behold to my surprise she placed them in front of me and asked me
to touch them, like a rock and carefully detailed to resemble the real deal it was surely sugar. I could not believe it, I was so impressed and had to go with flowers on our cake. Just envision what it is that you want, beautiful peony's, roses, tulips, daisy's, lily you name it she can make it. We went with all her 3 famous flavors which I won't spoil for you, because you have to taste them before making up your mind and I'll tell you this you will be glad I didn't spoil the experience. Day before our wedding we drove and met up with Marion our truck was like an icebox but our frame of mind was I want my cake to last and its 85 degrees outside in July with increased temperatures with no cloud coverage and I need it to last until I can get it into the temperature suitable fridge at the venue. It lasted we got to share our beautiful cake with our family and friends and the amount of compliments I received was amazing. No one could believe the flowers and the pearl string detail on our cake, Marion even added a little lady bug on there for good luck! Choose her, choose Vermont Sweet Tooth you will not be disappointed.

Maeve

Married on 06/29/2019

Still dreaming of this cake!

Cake is my favorite food, so my wedding cake was extremely important to me! I had high expectations and Marion exceeded them! I went with the vanilla bourbon cake with maple buttercream and it was to die for! It was so delicious that I asked my coordinator to bring the leftovers to the bridal suite for me so that I could eat them the next day! People always say that the guests do not really care about the cake at the wedding, but I received SO MANY compliments about how our cake was the best cake they have ever tasted! Not only was the cake delicious, but it was absolutely stunning! I have no idea how she does it, but Marion sculpted the most beautiful flowers (to match our real flowers) out of sugar. You would have never known that they were not real flowers! It is so special that we get to have them forever as keepsakes. Marion was also so incredibly wonderful to work with! She is the absolute sweetest and I could not recommend her more!

Jessica

Married on 05/24/2019

Beautiful and delicious!!

So so happy we got our cake from Marion. She's so super sweet and the cake was more delicious than I could have even imagined!! I absolutely loved the birch bark tree she made for us, and I was in absolute awe with how realistic the flowers were.

Christina

Married on 09/29/2018

Marion was outstanding! She responded to messages quickly, was always in communication and happy to adjust to our needs, and she did a stellar job. Not only were our cake and cupcakes gorgeous but they were also delicious. No one could believe that the flowers weren't real, and even guests who don't typically like cake just LOVED ours. We highly recommend Vermont Sweet Tooth. Marion made our wildest dreams come true.

+ 2

photos

Judith

Married on 09/22/2018

Scrumptious and Beautiful Wedding Cake!

The moment I read Marion's story about Vermont Sweet Tooth, I knew I wanted her to make our wedding cake. The day we both sat down in her kitchen to try 3 heaping pieces of her most popular cakes, I died and went to wedding cake heaven. Not only are Marion's cakes perfectly scrumptious and slightly decadent, her warmth and dedication to creating a truly unique and beautiful cake that represents you is apparent. I couldn't recommend Vermont Sweet Tooth enough! We chose a relatively simple cake with handcrafted sugar peonies, dahlias and garden roses to decorate the top with (which we can save forever!). It was a pleasure to meet and work with Marion and I'm truly grateful for the pleasure her cake brought to us and our guests!

Melinda

Married on 09/15/2018

I can't say enough how wonderful it is to work with Marion Peer on my wedding cake. I've heard many sad stories where B&G's were disappointed with their cakes and I knew the minute I saw Marion's design that my wedding cake is going to be the catering highlight of the night! It was unique, beautiful and delicious! Marion has a way of interpreting your vision and style into the cake she designs - it's just amazing! We received many fantastic comments about our wedding cake and we can't wait to have our anniversary cake! Thank you so so much, Marion! You are so sweet to work with! You are six stars in my opinion.

Trey

Married on 08/11/2018

Marion was an absolute joy to work with. She is a true artist! We could not believe the level of detail that went into our cake. She was super flexible and willing to do whatever we asked. Her sugar flowers are masterpieces. This was the best experience that we could have asked for. Seriously, you can end your search here.

Gabrielle

Married on 06/23/2018

I highly recommend using Vermont Sweet Tooth for your wedding cake. Working with Marion was amazing! I was planning our wedding from Washington state which made finding vendors a little harder, but Marion was kind and responsive from the moment I contacted her. Our cake was absolutely incredible - it tasted delicious, sweet vanilla with fresh strawberries, and it looked like something out of a magazine with beautifully crafted, hyper-realistic blush and white peonies. My husband didn't believe me when I told him the sugar flowers weren't real, he thought I was kidding until he actually touched them and felt that they were made of sugar! Marion is a true artist.

Caitlin

Married on 06/16/2018

Marion made the most beautiful, delicious wedding cake I could have imagined. First off, she welcomed us into her home for a taste testing and was very accommodating. She created my dream wedding cake and made the most beautiful sugar flowers that my guests were convinced were real! She also made my beloved dog out of sugar and her attention to detail is incredible. Not only was her cake stunning and contained so much detail, it was the most delicious cake we had ever had! I usually am a chocolate fan, but we went with her lemon cake which was so fresh and yummy! I highly recommend and couldn't be any happier with our cake and overall experience!

Hannah

Married on 06/09/2018

Marion Peer of Vermont Sweet Tooth is an absolute MAGICIAN!!! From the first correspondence to the final delivery of the most beautiful and delicious wedding cake imaginable, Marion was so helpful, responsive and wonderful to work with every step of the way.
Our meeting at her lovely home studio/kitchen was so nice; she had three kinds of cake and frosting — with edible sparkles, to add to the magic — ready for us to try, and we were blown away by the flavors and textures. Her cakes are so moist and flavorful, and the icings are such a perfect complement. I'm not usually a fan of vanilla cake, but we ended up choosing two layers of vanilla-bourbon cake with maple buttercream, and one of a very rich chocolate fudge chunk cake. I wish we could have had a 10-tier cake to experience all the flavors.
Even if there was no decoration at all, the cake would be memorable and totally enjoyable, but Marion's sugar artistry adds another dimension — a true feast for the eyes. Her blown-sugar flowers are practically indistinguishable from real ones, but they last much longer! We brought in some inspiration photos and our invitation suite, and talked with Marion about the flowers and plants that would be used in our wedding. She PERFECTLY captured the vibe and look of the whole wedding.
Marion was very communicative and responsive; it was easy to email her, she asked lots of questions, and I felt totally confident that she would bring my dreams to life. She was very clear on instructions to ensure the cake would be served well, from checking on cooler space before arrival to including a box full of foam to protect the sugar flowers afterwards. She knows exactly what her creations need to be transported safely, and while we were lucky to be close to her studio, I'm sure any order would arrive in perfect shape. and she is absolutely just a lovely person as well! I cannot recommend Vermont Sweet Tooth highly enough!

Lillian

Married on 12/16/2017

I would recommend you look no further than Marion and Vermont Sweet Tooth when it's time to make your wedding cake decision in Stowe! From our initial tasting in Marion's beautiful kitchen where we were able to taste six different flavors of cake to our wedding day, everything was seamless and delicious. Marion was very responsive and easy to work with over email and the cake was more beautiful and delicious than I could have dreamed. We had 205 guests and decided on a chocolate fudge chunk and vanilla bourbon layer cake with vanilla buttercream frosting. The four tier cake was served to the tables and it was so good that by the end of the wedding, every plate was wiped clean and every guest raved about how great it tasted. The cake's flowers (which matched the flowers on the tables) were all hand-crafted from sugar and we saved them as a keepsake from our special day. Thank you for everything Marion!

Anna

Married on 12/02/2017

Dream wedding cake

Marion is truly the best out there. I just can't say enough good things! When we met Marion we tasted cakes in her kitchen and then designed our cake together and it was magical! She is kind, attentive, and outstandingly talented. Our wedding cake was more perfect than I had even imagined. She listens to what you want and delivers with such detail- our guests were in awe of our cake. Our wedding was in 2017 and guests STILL talk about how beautiful and delicious the cake was! Thank you Marion again for such a wonderful wedding cake! And to the bride who is reading this- you are in wonderful and amazingly talented hands. Marion will make your dream cake come true.

Anna & David

Raquel

Married on 10/13/2017

My husband and I live in San Antonio, Texas and recently got married in Vermont after 25 years. I called Marion 3 weeks before my wedding hoping I could order a special cake for my husband for our special day and stressed how important getting this cake for him was. As busy as Marion was with several wedding orders for the week/weekend, she accepted my order request and made the most beautiful and delicious Bourbon and Vanilla Bean cake with a beautiful peony flower that I was able to keep as a keepsake after. My husband was very Happy, our guests loved the cake and my peony flower made to back to Texas and is beautifully displayed with our wedding portrait. Thank you Marion for helping make our Wedding Day so special and memorable.!!!

Susan

Married on 09/17/2017

Love Vermont Sweet Tooth!! Marion is great to work with and provided cupcakes for our daughter's wedding. Delicious and Beautiful!! We choose the Bourbon Vanilla Bean with Maple Buttercream frosting. They were presented with a dusting of edible glitter with a maple jelly bean on top! Guests were raving about them!! Luckily, I was able to sneak home a few after the wedding! Yummy!! Thank you Marion for helping make the day so perfect!

Karen

Married on 08/11/2017

We had a cake made for our 55Th wedding anniversary and the guests are still raving about it!! There was not a crumb left! Highly recommended!
Are you interested?
Send a message